Impossible Foods is coming to retail AND expanding nationally to 7,000+ Burger King locations
Impossible Foods just announced FDA approval for grocery store distribution, a co-manufacturing partnership with OSI, and their imminent expansion to all 7,000+ Burger King locations.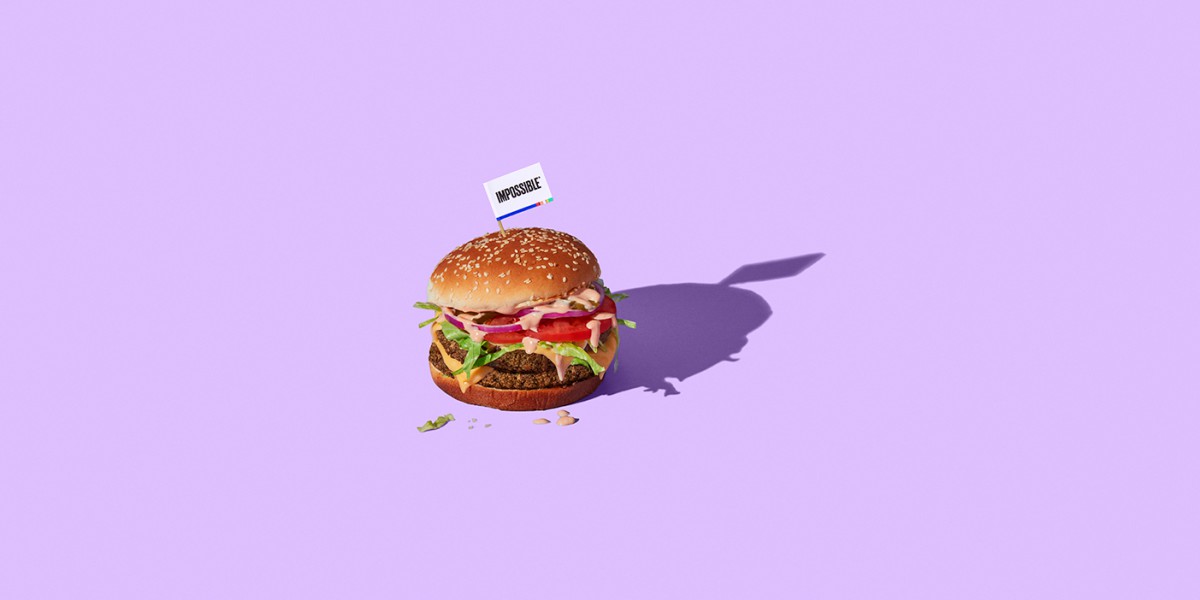 UPDATE (AUGUST 8, 2019): Impossible Foods has announced the launch of a partnership with foodservice giant Sodexo. Starting this fall, Impossible Burgers and eight other plant-based options will be available at 1,500 colleges, corporate cafeterias, and hospitals across the United States!
"Sodexo is committed to providing customers with more plant-forward and sustainable options as part of their diet," said Rob Morasco, senior director culinary development, in a press statement. "We are excited to expand our menu to include the Impossible Burger's flavorful blend, which will be featured in several new products this fall."
The U.S. Food and Drug Administration (FDA) has officially approved Impossible Food's plant-based heme—the protein that gives Impossible Burgers their meaty taste—for sale at retail. This stamp of approval means that you will soon be able to find Impossible Burgers on the shelves of U.S. grocery stores!
The retail roll out
Soy leghemoglobin is a plant-based, iron-containing protein. Largely referred to as heme, animal-based heme is found in red blood cells and is responsible for the meaty taste signature of red meat. (Remember hemoglobin from high school biology? Heme is found in all living organisms.) After discovering that heme was essential to the color and cooking properties of beef, Impossible Foods figured out that heme could be harvested from the root nodules of legumes like soy. They then innovated a method for producing soy leghemoglobin at scale using yeast fermentation, the same method used to produce insulin for treating diabetes.
Last summer the FDA granted heme GRAS status (Generally Recognized As Safe), but in order for the Impossible Burger to be sold uncooked in grocery stores, soy leghemoglobin needed FDA approval as a color additive.
And that just happened. Impossible Burgers can now be sold in grocery stores in their raw form for anyone to cook up at home. They plan to roll out in retail come September.
The Burger King expansion
Consumers have been able to order the Impossible Burger in at more than 7,000 restaurants nationwide, from White Castle to Qdoba and select Burger Kings. This number is set to double in a matter of days, as the Impossible Whopper expands to all 7,000+ U.S. Burger King locations on August 8th!
The production partnership
Impossible Foods also just announced a co-manufacturing partnership with OSI Group, one of the world's largest food producers. This collaboration will enable Impossible to quadruple its production of the Impossible Burger by the end of 2019 and help bridge the gap between supply and demand.
In a press statement, OSI North America senior executive vice president Kevin Scott said, "We look forward to lending our expertise to Impossible Foods as it embarks on one of the most ambitious startups in the food industry. At the same time, Impossible Foods will help fulfill the OSI Group's commitment to sustainable food production—one of the core prisms through which OSI management makes operational decisions."
With this partnership and the added ability to sell in U.S. grocery stores, Impossible Foods' momentum and ability to provide hungry consumers with the plant-based options they crave (U.S. retail sales of plant-based foods grew by 31 percent in the past two years alone), will only continue to grow. We're so here for it.