U.S. retail market insights for the plant-based industry
Explore our overview of retail sales data for plant-based meat, dairy, eggs, and other categories in the U.S. market including key category insights, size, growth, and purchase dynamics for the industry.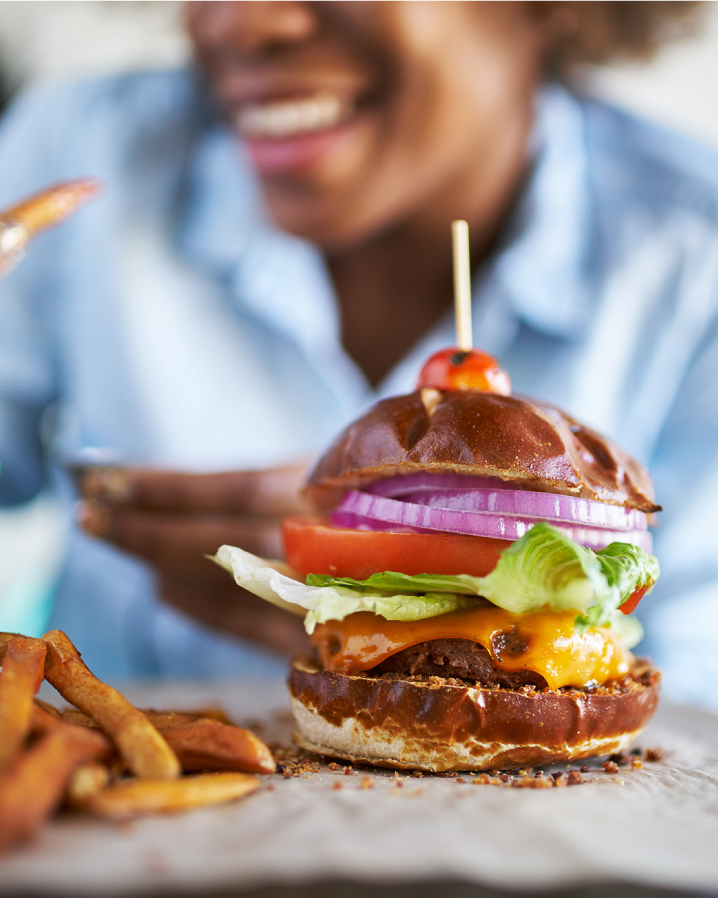 The plant-based food industry is evolving
Food manufacturers ranging from startups to leading CPG companies to the world's largest meat companies are innovating rapidly in the plant-based market. Next-generation plant-based meat, egg, and dairy products are increasingly competitive with animal products on taste, price, and accessibility, though more opportunities remain. Distribution has meaningfully expanded over the past several years and products have increasingly appealed to meat-eating consumers. In U.S. retail in 2022, 93% of households that bought plant-based meat also purchased conventional meat.
In U.S. retail alone, plant-based foods are an $8 billion market
Insights released by the Good Food Institute (GFI) and the Plant Based Foods Association (PBFA) based on retail sales data commissioned from SPINS show that the plant-based food market in U.S. retail in 2022 is worth $8 billion, with dollar sales up 7% from 2021, and units down 3%, mirroring total food and beverage and animal-based food. While dollar sales are up across several categories due to price increases, notable plant-based categories that saw unit sales growth in 2022 despite challenging market conditions include plant-based eggs, plant-based seafood, plant-based creamers, and plant-based protein liquids and powders. With inflation and consumer spending concerns playing a large role in the retail market in 2022, many plant-based categories saw overall dollar sales increases and unit declines. Distribution in several plant-based categories increased slightly, including plant-based meat (driven by new product launches and expanded distribution in key areas like plant-based chicken), plant-based creamer, and plant-based eggs.
In the long-term, plant-based foods have represented a key growth driver for U.S. retail food. From 2019 to 2022, benchmarking before Covid, plant-based food unit sales growth outpaced that of both animal-based food and total food. Meanwhile, consumer tailwinds are still strong, with consumer research showing that many are interested in cutting back their meat consumption and/or increasing their consumption of plant-based foods. Research from Credit Suisse found that, among consumers aged 16-40 across 10 countries, 66% plan to spend more on plant-based meat and dairy alternatives in the future. Yet product development and enhancement opportunities remain, including to improve taste and lower prices in the plant-based meat category.
Taste is the primary barrier to consumption of plant-based foods. According to Mintel, 53% of all consumers agree that plant-based protein products should taste indistinguishable from meat. Similarly, research from FMI shows that perception of taste is the top reason why consumers haven't tried plant-based meat or dairy, as well as the top reason why consumers who have tried them once or twice haven't continued purchasing. Cost is overall the second most important factor: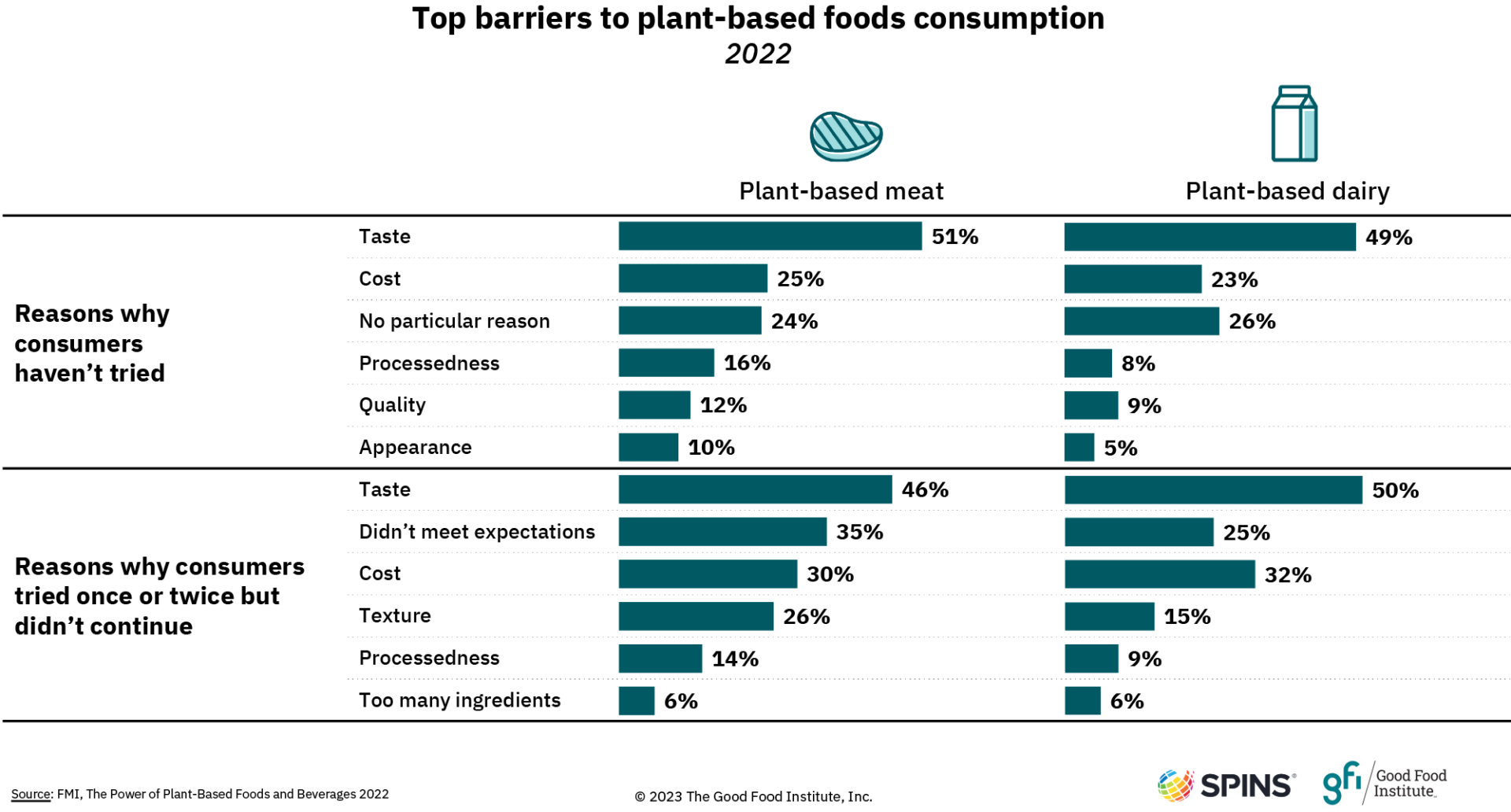 These trends underscore the need to continue investing in advances toward plant-based products that reach taste and price parity with conventional products. This will help attract new consumers, particularly meat-eaters, to the category and increase repeat rates with existing consumers.
Note: The data used in this report, unless otherwise noted, is based on SPINS plant-based positioned attribution, with the additional inclusion of plant-based private-label products. Due to the nature of these categories, the presented data may not align with standard SPINS categories. Read more about our methodology. We've summarized highlights from the data below to help you understand key metrics for the U.S. retail plant-based food industry. We cover both the plant-based food market as a whole and key plant-based categories like meat and milk.
$8 B
The U.S. retail market for plant-based foods is worth $8 billion.
6 in 10
6 in 10 U.S. households purchased plant-based foods in 2022, similar to prior year.
1.4%
Plant-based foods made up 1.4% of total retail food and beverage dollar sales in 2022.
93%
93% of households that bought plant-based meat in 2022 also bought animal-based meat.
Summarizing plant-based food market sales data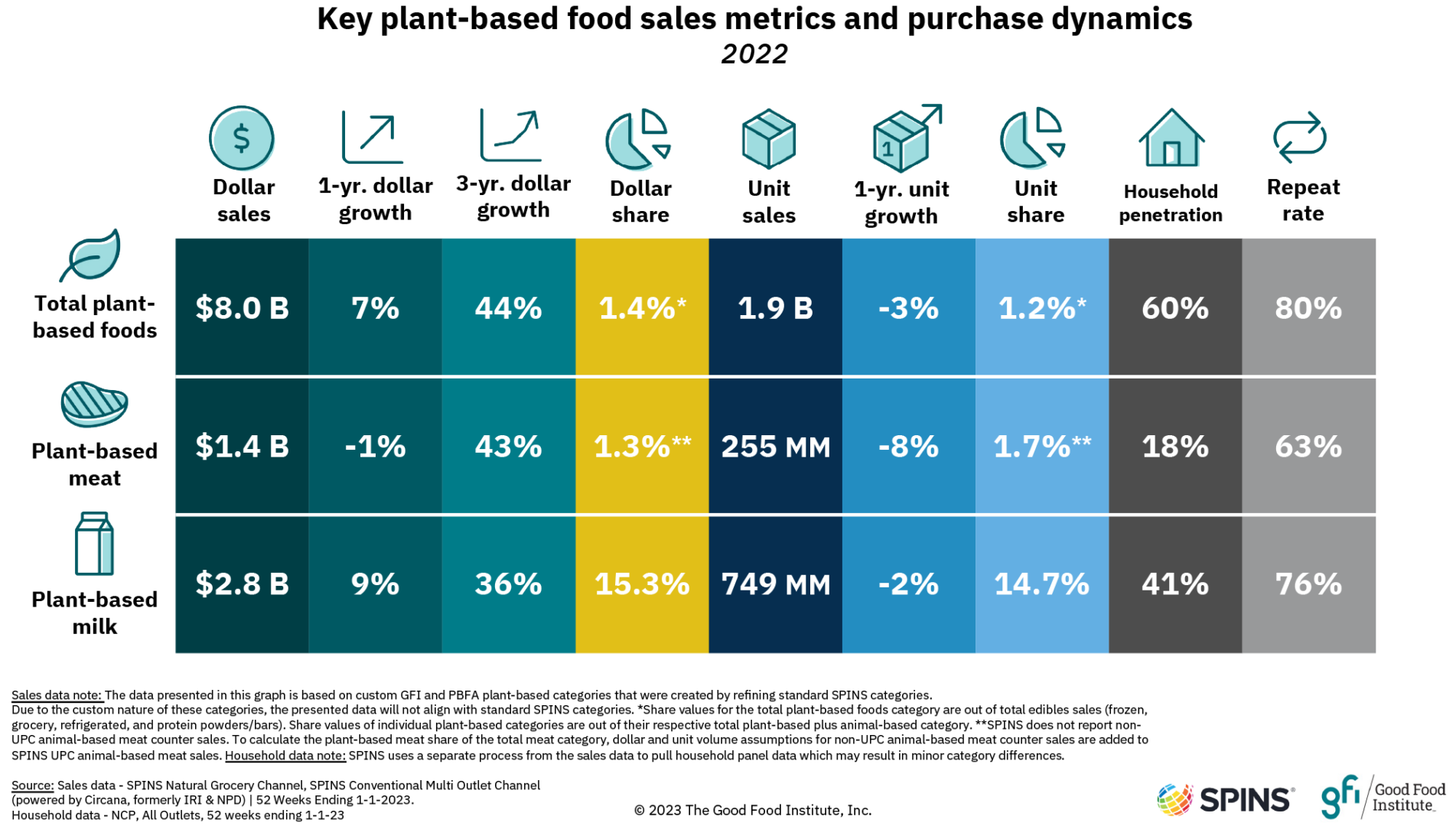 Impacts from global trends
Inflation
Inflation was a major story across the globe in 2022, particularly in the food sector. In the U.S., from December 2021 to December 2022, food-at-home prices rose 12%, which influenced how consumers shopped. According to IRI's December primary shopper survey as reported by 210 Analytics, 8 in 10 consumers report making changes to their shopping behavior as a result of price increases. Full-year 2022 data on total edibles shows a decline in total food and beverage consumption with unit sales down 3% and dollar sales up 11% versus the prior year. Notably, categories like conventional meat and plant-based meat experienced gaps between dollar sales changes and unit sales changes, representing significant price-per-unit increases.
In addition to price increases for a given category, inflation cuts into consumer budgets and tends to influence consumers to trade down from existing premium categories—almost all plant-based categories continue to sell at a price premium per pound compared to their animal-based counterparts.
Reaching price parity with conventional meat remains a large barrier to mass adoption for the plant-based meat category. According to Mintel, 26% of consumers who don't eat plant-based proteins today say the products are too expensive. Research from FMI shows that cost is a major factor identified by almost a third of consumers who stop buying plant-based meat or dairy. Overall, the premium prices of plant-based foods present a barrier to reaching more consumers and with more frequency, particularly given that consumers are likely to be increasingly mindful of prices in the current economic environment.
Supply chain disruptions
A major contributor to the decreased affordability and availability of food in 2022 was continued ingredient shortages and supply chain disruptions. Events including but not limited to the war in Ukraine, extreme weather, continued pandemic impacts like labor shortages, and avian flu outbreaks have had ripple effects across the global food network.
Neither plant-based nor animal-based foods have been entirely immune to these challenges. Both plant- and animal-based proteins were impacted by lower-than-anticipated global pea and soybean yields, sanctions on Russia—the world's largest fertilizer exporter—and elevated energy costs, all of which drove up costs of production. Rising sea and rail freight costs also contributed to price increases for both plant and animal proteins. Yet the environmental benefits, production efficiencies at scale, and minimized supply chain vulnerabilities compared to the animal agriculture industry make plant-based foods a powerful tool in building a stable food supply. The plant-based industry is still small relative to the total food industry. Plant-based milk has a 15% dollar share of total milk, plant-based meat has a 1% dollar share of total meat, and the plant-based egg category has a dollar share of 0.5% of overall eggs in U.S. retail. Continued public and private investment are needed to scale the industry, improve taste and price parity with conventional meat, egg, and dairy products, and improve the industry's ability to attract and retain consumers.
Lingering pandemic impacts
Looking at the retail channel alone risks missing the larger picture of plant-based food sales in the U.S. given individual channel volatility across retail, foodservice, and ecommerce in the past four years. In 2020, due to the pandemic, a large portion of foodservice dollars shifted from foodservice to retail. Across categories, this resulted in unprecedented retail growth—and high bars for lapping this growth. 2021 and 2022 have seen the foodservice channel earn back much of its prior volume, and retail volume has started to settle. Meanwhile, ecommerce sales have grown rapidly, although on a very small base, stimulated by the pandemic.
Stabilization after volatile channel switches during peak pandemic
Combining retail, estimated foodservice, and ecommerce sales (which GFI has for only the plant-based meat category) helps to smooth out some of the individual channel volatility during and after peak pandemic shopping. In 2022, estimated total plant-based meat dollar sales increased slightly by 2% while estimated pound sales decreased by 4%.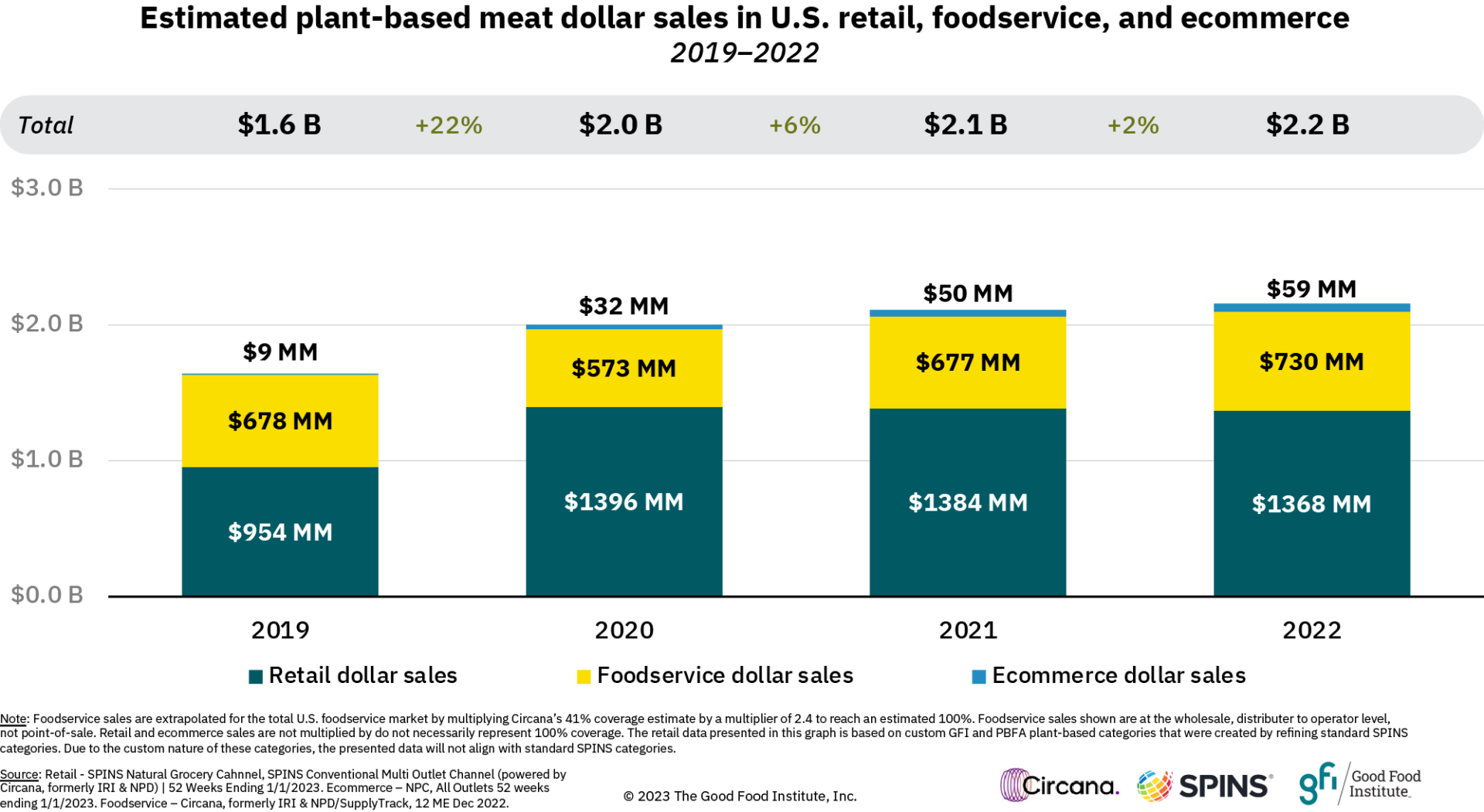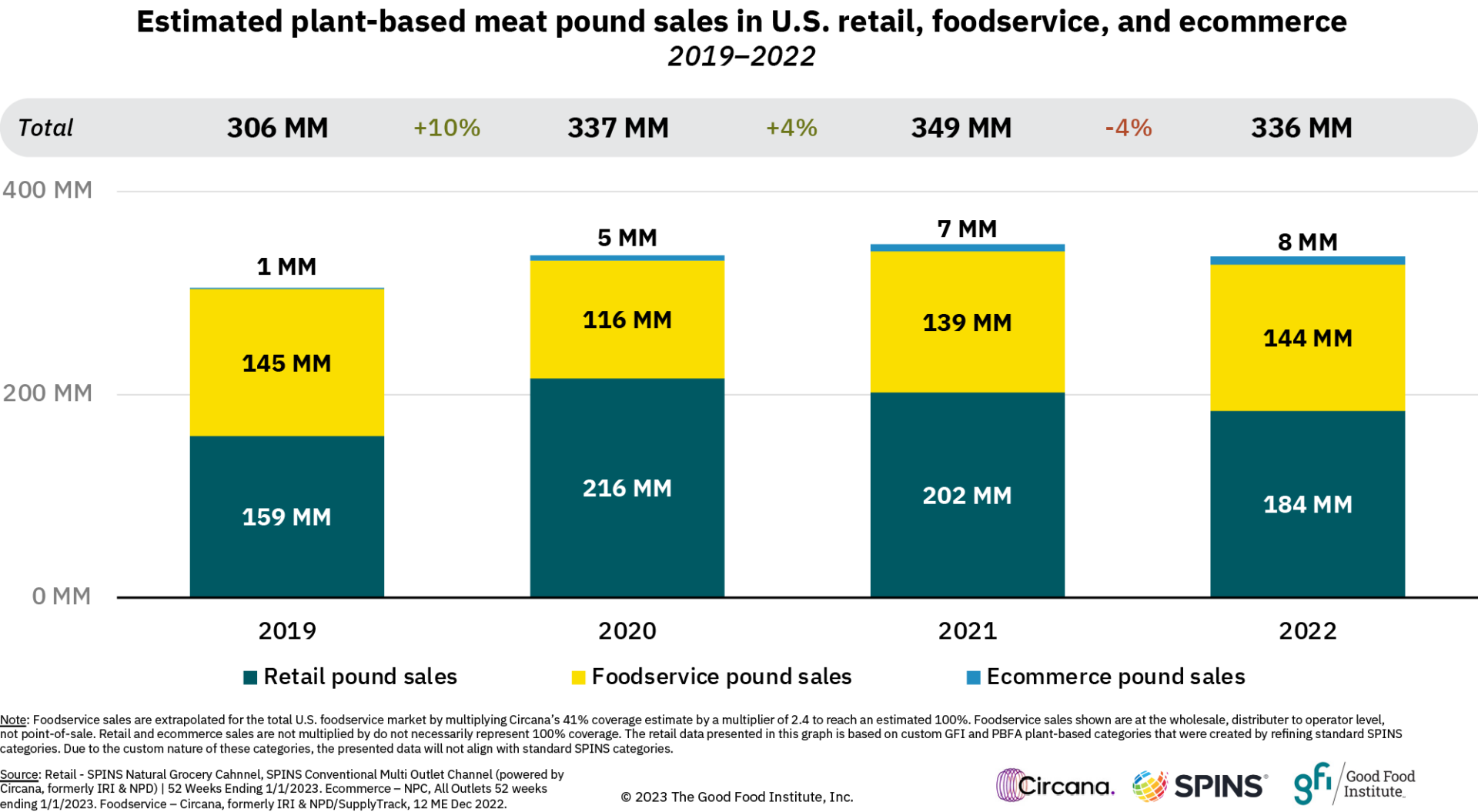 Notes: Foodservice sales are extrapolated for the total U.S. foodservice market by multiplying Circana's 41% coverage estimate by a multiplier of 2.4 to reach an estimated 100%. Foodservice sales shown are at the wholesale, distributor to operator level, not point-of-sale. Retail and ecommerce sales are not multiplied but do not necessarily represent 100% coverage. The retail data presented in this graph is based on custom GFI and PBFA plant-based categories that were created by refining standard SPINS categories. Due to the custom nature of these categories, the presented data will not align with standard SPINS categories.
Today, although restrictions have continued to lift and purchases have stabilized, the pandemic continues to have lasting impacts on the broader food industry and consumer behavior. A brief example of an opportunity for plant-based foods at retail is buying in bulk—one of the pandemic's lasting impacts on shoppers is an increased tendency to buy in bulk. However, many plant-based products are not available in bulk sizes, which often offer consumers greater efficiencies in per-pound prices.
The challenges discussed above represent significant hurdles not only for the food system at large but especially for the emerging plant-based food industry. Volatile periods like those seen over the last four years underscore that the success of plant-based categories is not inevitable. In order to continue to drive consumer demand and compete with conventional products, plant-based foods need increased public and private investment to improve critical attributes such as taste, price, and accessibility. Such investments can increase the positive impacts of plant-based foods to help sustainably and efficiently feed billions of people, mitigate the global climate impact of our meat production, and, notably, protect public health and lessen the risk of future pandemics.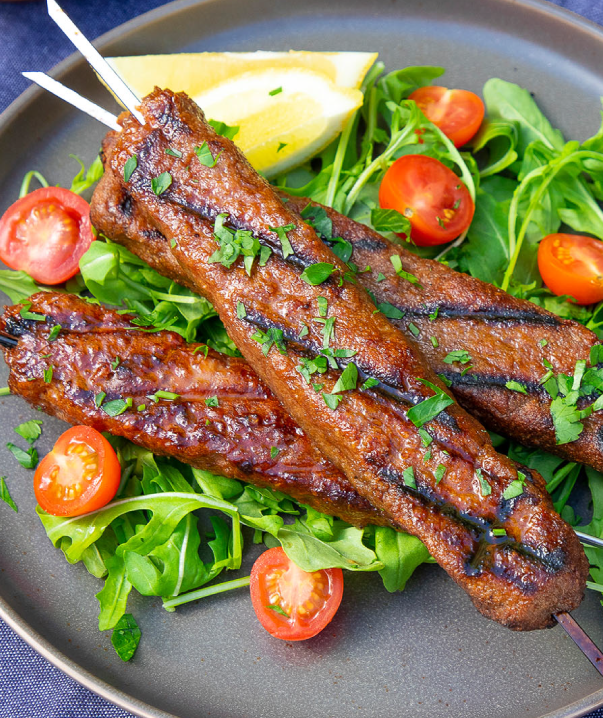 Plant-based meat and seafood
After record growth in years prior, in 2022, plant-based meat and seafood dollar sales declined very slightly by 1%, while unit sales declined 8%.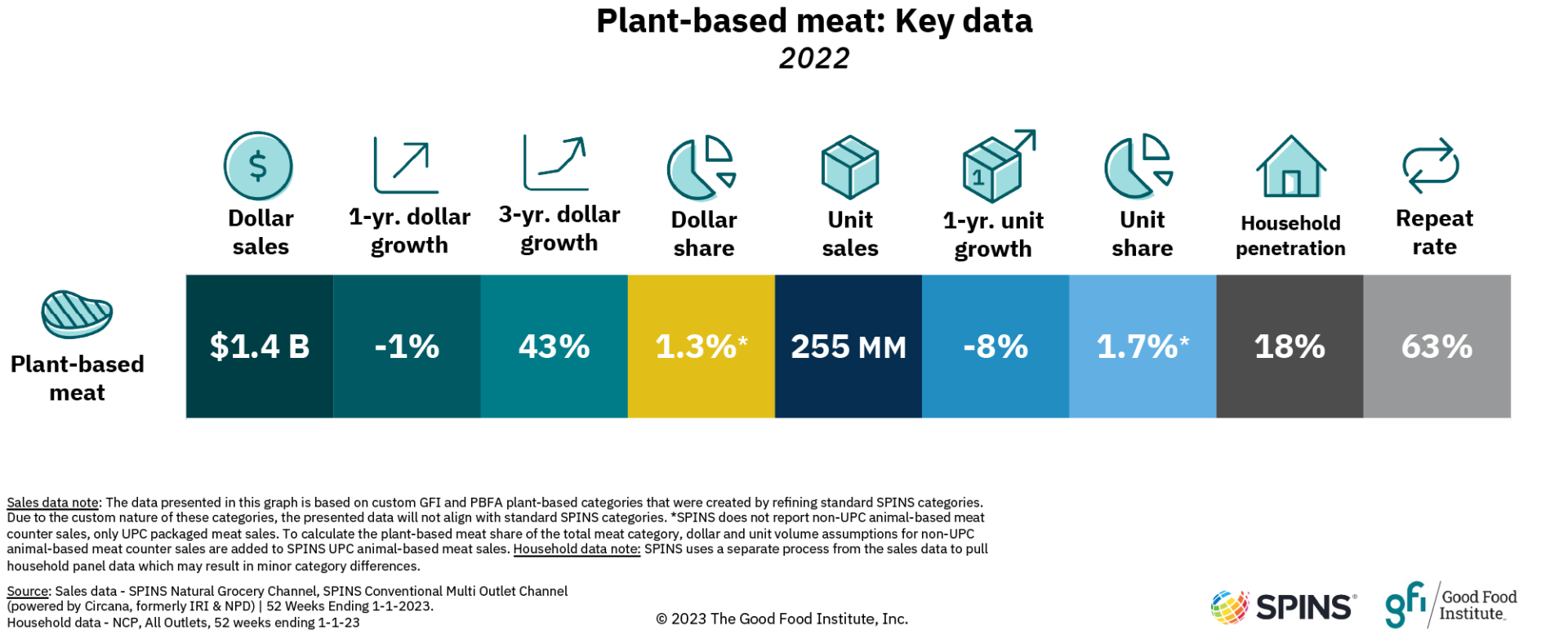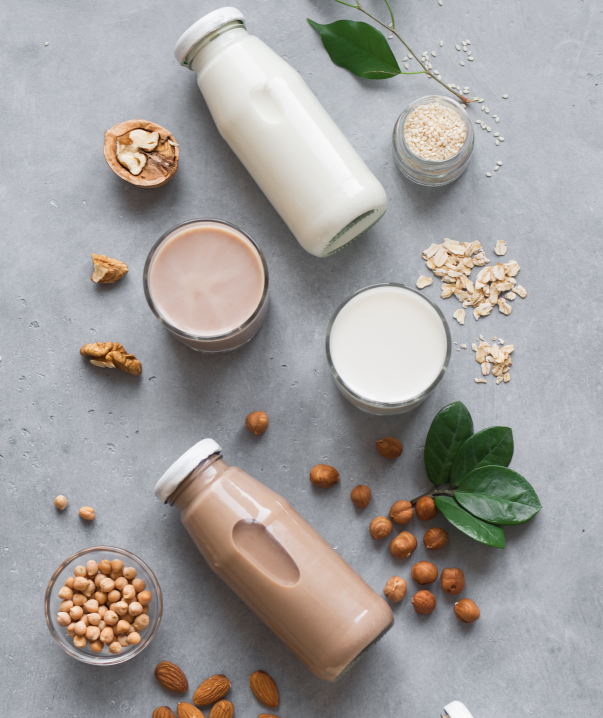 Plant-based milk market
The plant-based milk category is the most developed plant-based category, worth $2.8 billion. By dollar sales, plant-based milk alone accounts for 35% of the total plant-based food market.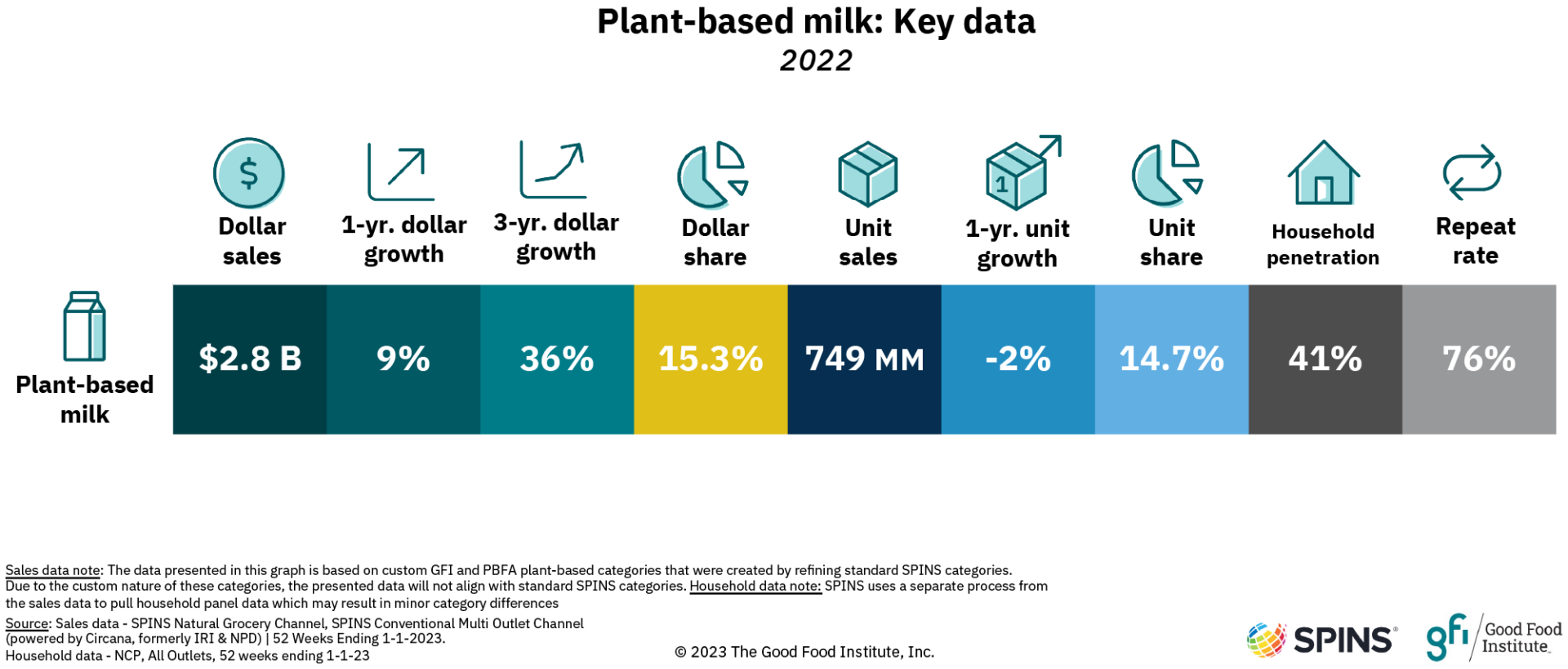 Category sales
Plant-based milk sales
Plant-based milk is a sizable category accounting for 15 percent of all dollar sales of total milk in U.S. retail. In 2022, plant-based milk saw significant dollar sales growth while unit sales declined slightly, indicative of increased average prices-per-unit, in line with retail trends.
Plant-based milk serves as the innovation leader in the milk category, supported by key advancements in ingredient diversification and product development that seeks to replicate both the sensory experience and nutritional attributes of cow's milk.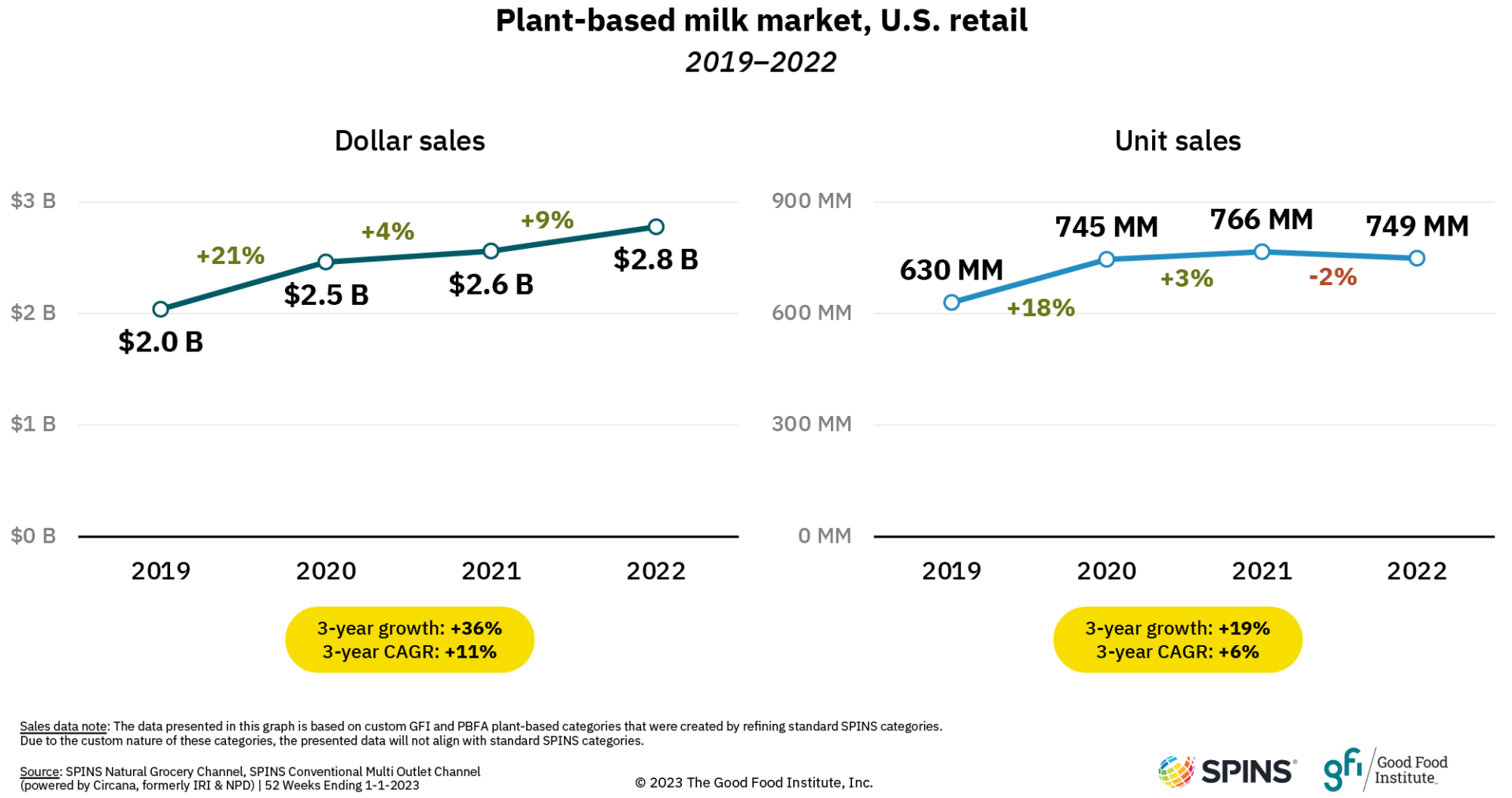 Key insights
Plant-based milk has been a major growth engine of the overall milk category in the past several years. Plant-based milk unit sales grew 19% from 2019 to 2022, compared to animal-based milk, which saw unit declines of 4% over the same period.
In 2022, plant-based milk's dollar share held steady. Plant-based milk's dollar share of the total milk category held flat from 2021 to 2022 at 15%. The plant-based milk category experienced price-per-unit increases consistent with other retail categories.
In the natural channel, plant-based milk composes a sizable portion of the total milk category. Innovation often starts in the natural channel, where plant-based milk represents 42% of all milk sold by dollar sales.
Households with young children and households with high income levels are more likely to spend more on the plant-based milk category. These demographic insights are consistent across 2021 and 2022.
Segment insights
Plant-based milk segment insights
Ingredient base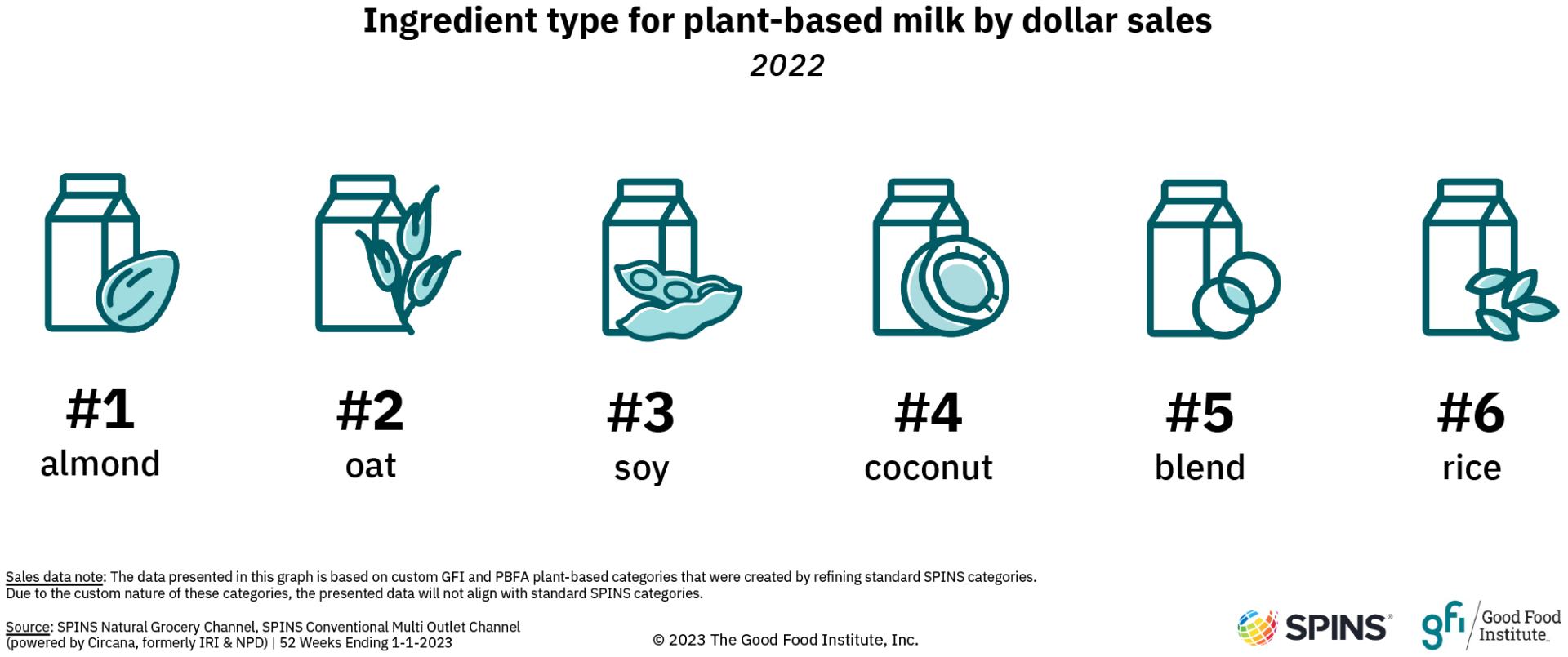 As the plant-based category with the greatest dollar sales, plant-based milk continues to benefit from product innovation and merchandising of the category adjacent to the conventional milk set.
Almond milk is the largest subcategory by dollar sales, accounting for 57% of plant-based milk dollar sales.
Oat milk has skyrocketed in dollar share over the last three years, growing from 4% of plant-based milk sales in 2019 to 22% in 2022. Oat milk was the top-growing plant-based milk segment in 2022 with dollar sales up 32% and unit sales up 20%.
Refrigerated vs. shelf-stable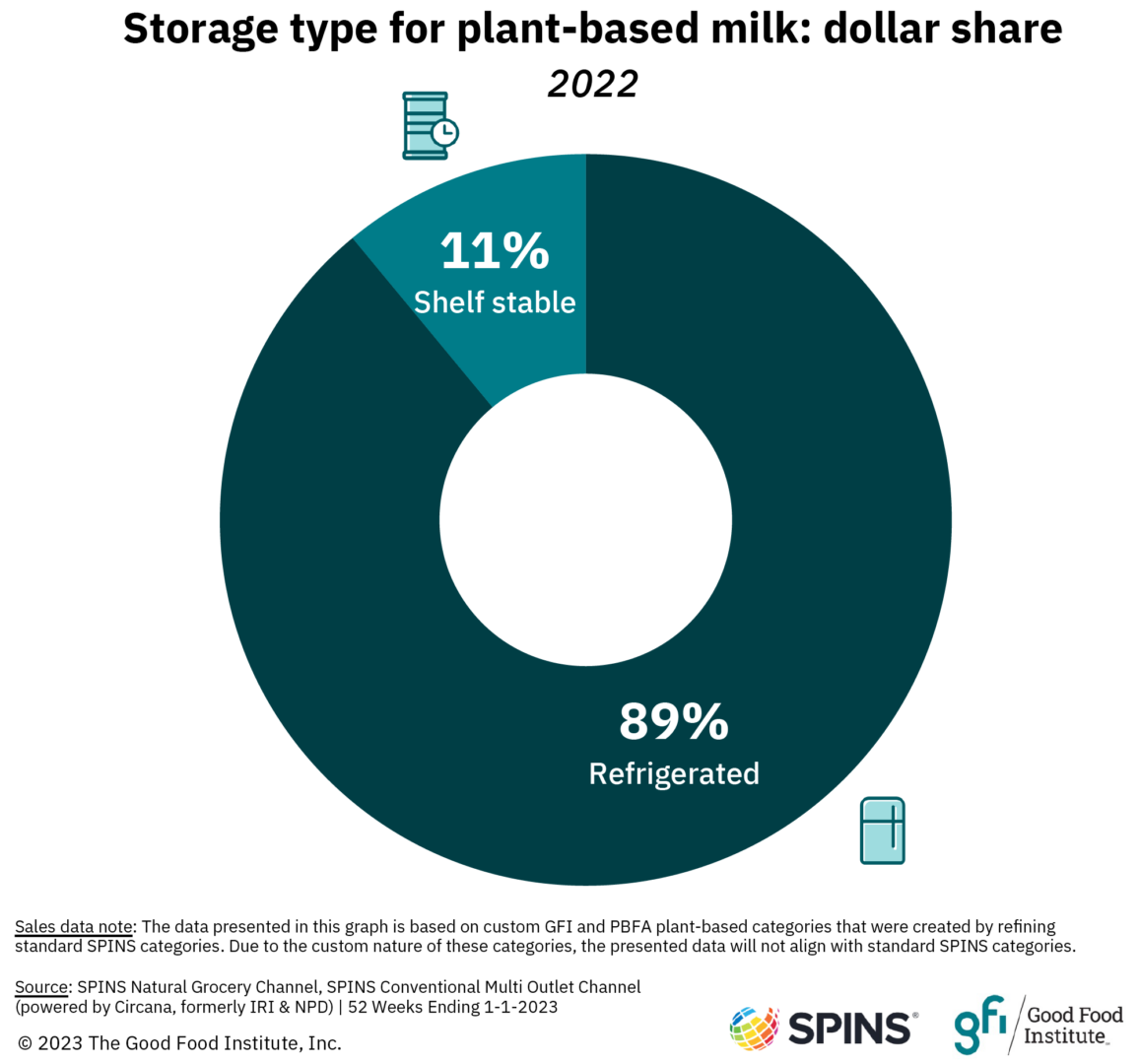 Refrigerated plant-based milk continues to dominate the category, representing 89% of plant-based milk sales.
Today, refrigerated milk is consistently shelved adjacent to animal-based milk. This has been critical to the rise of plant-based milk over the past decade to the 15% market share of total milk dollar sales it has today.
For more insights on how to leverage merchandising to best capitalize on the growing plant-based market, check out our merchandising guide.
Purchase dynamics
Plant-based milk sales
Household penetration and repeat purchase
The household penetration of plant-based milk held relatively steady in 2022. Plant-based milk is a major entry point for households trying products across plant-based categories. Plant-based milk is the leading plant-based category for the percentage of U.S. households purchasing, at 41%, down just one percentage point from 2021.
Plant-based milk has the highest repeat rates of any plant-based category. 76% of households purchased in the plant-based milk category on more than one occasion in 2022.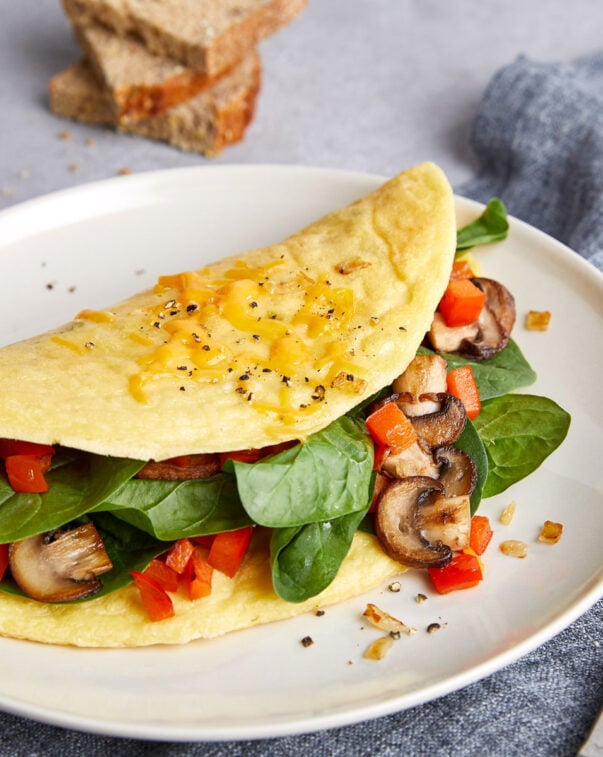 The market for other plant-based dairy and eggs
Other plant-based dairy and egg categories are in various stages of maturation.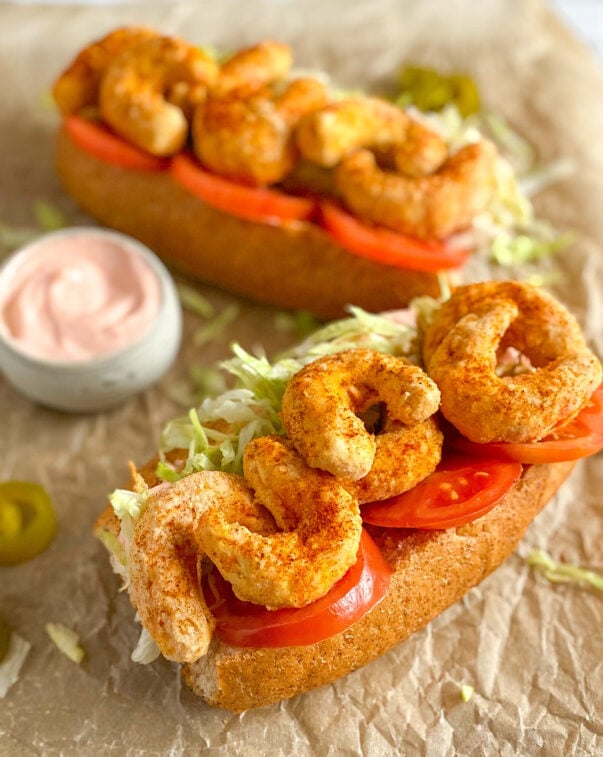 Other plant-based foods
Additional plant-based food categories such as meals; protein liquids and powders; bars; tofu, tempeh, and seitan; condiments, dressings, and mayo; and baked goods provide additional options to consumers seeking more ways to add plant-based foods to their diets.
photo credit: Mind Blow
About the data
Point-of-sale data
To size the U.S. retail market for plant-based foods, GFI and PBFA commissioned retail sales data from the market research firm SPINS. The firm built the dataset by first pulling in all products with the SPINS "plant-based positioned" product attribute. The dataset was further edited by adding plant-based private-label products. Inherently plant-based foods, such as chickpeas and kale, are not included. Due to the custom nature of these categories, the retail data presented on this page may not align with standard SPINS categories. Additionally, SPINS pulled in relevant mainstream subcategories (excluding plant-based positioned products) in order to create the conventional categories discussed above. Finally, the total edibles category was pulled bringing in all grocery, frozen, and refrigerated edible items across the retail grocery landscape as well as protein powders and bars. SPINS obtained the data over the 52-week, 104-week, 156-week, and 208-week periods ending January 1, 2023, from the SPINS Natural Grocery Channel and Conventional Multi-Outlet Channel (powered by Circana, formerly IRI & NPD). SPINS defines these channels as follows:
Conventional Multi Outlet (MULO): More than 110,000 retail locations spanning the grocery outlet, the drug outlet, and selected retailers across mass merchandisers, including Walmart, club, dollar, and military.
Natural Enhanced: More than 1,900 full-format stores with $2 million+ in annual sales and 40% or more of UPC-coded sales from natural/organic/specialty products.
This is generally considered the broadest available view of retail food sales, although not all retailers are represented. Some companies, such as Whole Foods Market, Trader Joe's, and Costco, do not report their scan data to SPINS or Circana (formerly IRI & NPD). Please note that this methodology has changed compared to that used in previous reporting by GFI. We do not recommend comparing data released in prior years to the data included here.
Consumer panel data
To understand consumer purchasing dynamics and demographics, GFI and PBFA also commissioned consumer panel data from SPINS. The process for pulling the panel data was separate from that for the POS data, which may result in minor category differences. SPINS acquires its panel data through the National Consumer Panel, a Nielsen and Circana (formerly IRI & NPD) joint venture composed of roughly 100,000 households. SPINS obtained the data over the 52-week, 104-week, 156-week, and 208-week periods ending January 1, 2023, from all U.S. outlets.

About SPINS
SPINS connects shopper values to product innovation by combining POS data across the conventional, eCommerce, and natural channels with deep product knowledge. By translating product data into attributes, we ensure retailers, brands, and their partners know just as much about the products they create, stock, and sell as the shoppers that buy them. These attributes create a common language that promotes collaboration and growth across the ecosystem.
Meet the authors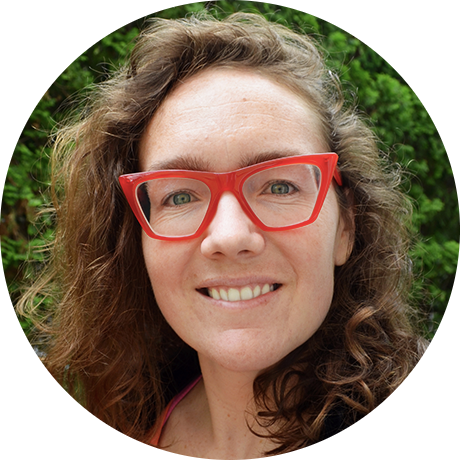 Emma Ignaszewski
ASSOCIATE DIRECTOR, INDUSTRY INTELLIGENCE & INITIATIVES
Emma Ignaszewski oversees the corporate engagement team's industry intelligence and initiatives to catalyze corporate innovation that will radically transform the food system and deliver alternative protein products that compete on the key drivers of consumer choice: taste, price, and convenience.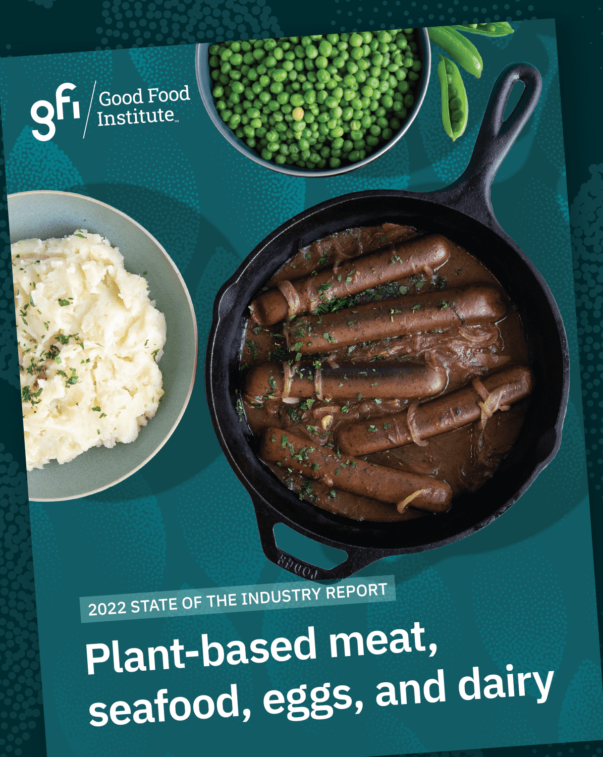 Resource
State of the Industry Report: Plant-based meat, seafood, eggs, and dairy
This report details the commercial landscape, sales, investments, public funding, and innovation trends in the plant-based meat, seafood, egg, and dairy industry.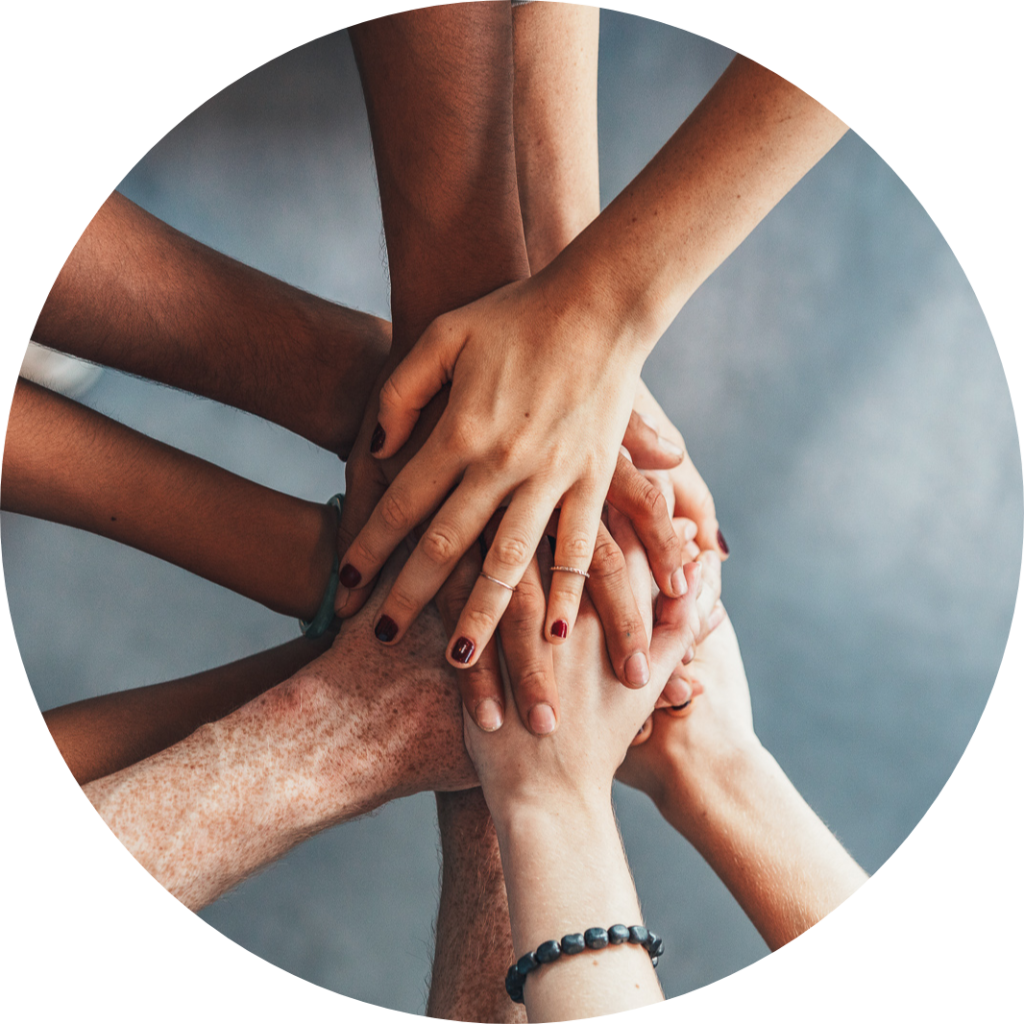 Support our work
Our industry engagement is made possible thanks to our generous, global family of donors. Philanthropic support is vital to our mission. Connect with us today to discuss how you can help fuel this transformative work.
Check out related resources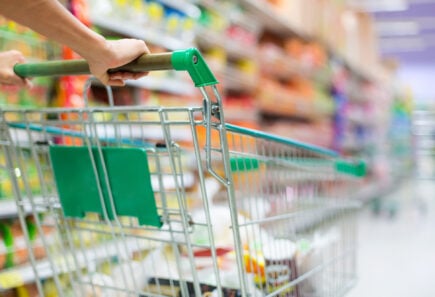 Understand consumers, demographics, adoption, motivations, category descriptors, and opportunities for future research in alternative proteins.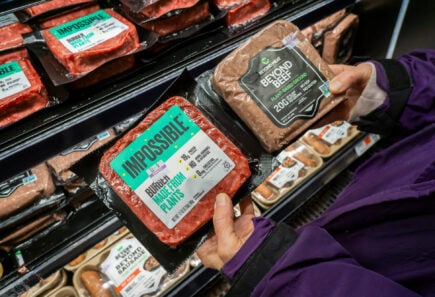 Explore the landscape of plant-based, cultivated, and fermentation companies including consumer brands, manufacturers, and ingredients companies.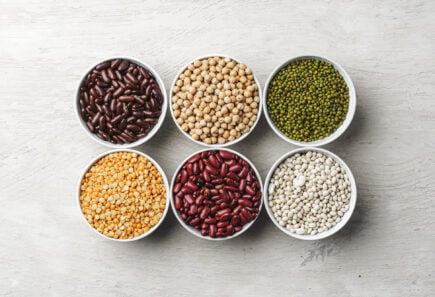 Find information on nutrition, functionality, price, sourcing, and consumer perceptions of plant protein sources for plant-based meat.
Contact us
Have questions? Would you like to learn how to work with us? Get in touch!