Students will lead the alternative protein revolution. GFI's Alt Protein Project is here to help.
As the leaders of tomorrow, students are uniquely positioned to help build a better food system. That's why GFI launched the Alt Protein Project.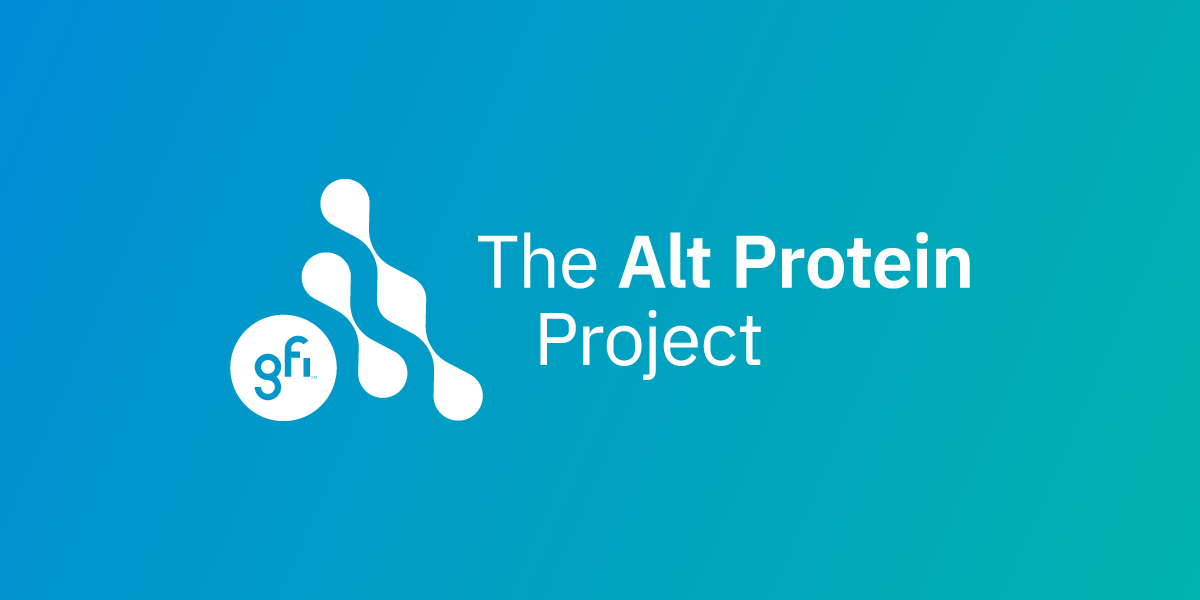 To transform our food system, we need a broad alternative protein ecosystem—one where scientists, entrepreneurs, policymakers, and organizations of all sizes can co-innovate and overcome the challenges facing our planet today. Who better to help us build it than the leaders of tomorrow?
Students play a pivotal role in creating this alternative protein ecosystem, and they are uniquely positioned to influence some of the most powerful institutions in our economy: colleges and universities. GFI started The Alt Protein Project to help motivated, visionary students find each other and access the resources they need to spark an alternative protein revolution at the schools best positioned to lead the charge.
The Alt Protein Project is more than a social group—it's a global student movement dedicated to building educational offerings, driving innovative research, and exploring commercial applications of new food ideas. Student leaders of The Alt Protein Project work with a team of dedicated peers at their schools to address some of the global food industry's most pressing challenges by:
Building an education pipeline
To power the future of food, we're going to need a new generation of experts trained in the skills and techniques that allow them to improve plant-based, fermentation-derived, and cultivated meat, egg, and dairy products. Having scientists and engineers well-versed in tissue engineering, biochemistry, chemical engineering, and a suite of other key disciplines for alternative protein science will be crucial to the long-term success of our future food system.
Student leaders of The Alt Protein Project can help prepare the next generation of talent by working at a number of different levels to provide educational offerings. They can organize panel discussions at their schools with industry and research experts, run student-led courses that focus on certain aspects of plant-based and cultivated meat or fermentation technology, and work with faculty and administrators to establish more permanent curriculum offerings and even degree programs around alternative protein.
Advancing open access research
Right now, much of the innovation we see in the alternative protein field comes from private companies. On the one hand, market competition helps make products tastier, cheaper, and more convenient—all crucial to making animal-free meat, eggs, and dairy products mainstream! But it also means that a lot of important research is proprietary, and industry scientists might be duplicating efforts.
To help raise the baseline of publicly available knowledge, and to help reduce redundant research in the private sector, student leaders of The Alt Protein Project can stimulate and catalyze open access research at their universities. Not only can student leaders reach out to principal investigators and other scientists to advocate for research into enabling science for alternative protein, but students can also support one another in completing their own alternative protein research.
Starting alternative protein companies
Increasing the number and variety of alternative protein companies remains a hugely impactful avenue for transforming our food system. There are scores of opportunities in the alternative protein space, and young entrepreneurs can make an enormous difference by applying their drive and ingenuity to solving a critical industry need.
The Alt Protein Project can build teams that take advantage of ripe white space opportunities, run innovation competitions, and run business-focused conferences centered around alternative protein. And as student groups develop, leaders can take advantage of the diverse expertise in their group to tinker around with product formulations, utilize university facilities to build prototypes, and launch good food businesses.
Building a long-lived community
Every action we take is magnified when we work with others. The Alt Protein Project offers a sense of community: the opportunity to connect with other like-minded individuals who also care about building a kind and sustainable foundation for future generations to thrive. Students not only have the opportunity to flex their leadership muscles, build organizing skills, and work with GFI and its network, but they also get to explore alternative protein with a global community of the industry's future leaders. With their leadership teams, students get to build a lasting legacy of food system change at their schools, and they get to have fun setting up social events like cooking sessions and taste test experiments while they do it.
To realize the best possible future of food, we need to bring a diverse array of voices to the table. The Alt Protein Project's community doesn't just include diversity as a passive metric. We know that having scientists and entrepreneurs who come from every manner of lived experience is a foundational part of building a food system that is truly better for everyone. In service of this mission, we encourage students of every ethnicity, race, gender expression, sexual orientation, religion, ability, and other personal identities to join and lead our communities.
Our successes so far
In the spring of 2020, five amazing student groups at UC Berkeley, UC Davis, CU Boulder, UNC Chapel Hill, and Tel Aviv University helped us run a pilot version of The Alt Protein Project. Against the backdrop of a rapidly-changing global health crisis, these groups demonstrated the awe-inspiring impact that students—across different schools, different degree programs, and different countries—can make when they put their minds together. In three short months, The Alt Protein Project catalyzed a student-led course, inspired a wave of faculty interest and new research proposals, laid the foundations of a research consortium, and hosted events that drew hundreds of virtual attendees from around the world. (To take a closer look at what one of our student groups has been up to, check out The Berkeley Alt Protein Project's semester-in-review.)
And that's only the beginning.
We have big hopes and dreams for this movement. As The Alt Protein Project moves into full force, student leaders around the world will mobilize the next generation of scientists and innovators to overcome the most pressing challenges facing our food system today. And by doing this together, they will accelerate our journey towards a brighter future for our food system and our planet.
Ready to bring the good food revolution to your school? Dive into our student group resource hub.