Clean Protein Q&A
Clean Protein authors Bruce Friedrich and Kathy Freston explain how anyone can move the food system toward clean protein—and away from factory farming.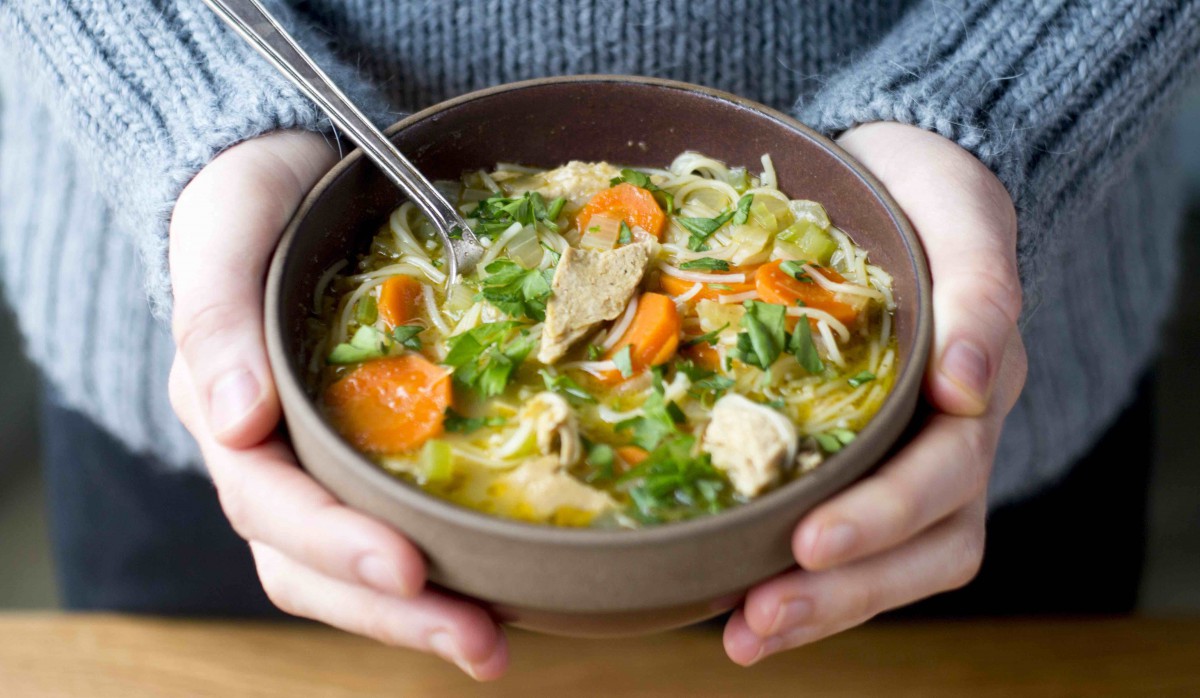 Protein is having a zeitgeist moment, and it's not difficult to see why: Consumers are increasingly aware that where we get our protein has massive implications for personal, public, and planetary health.
At The Good Food Institute, we're laser-focused on supporting the scientists, entrepreneurs, and startups who are looking at producing protein in a new way. But if you're reading this and don't have a company idea or plant biology degree, you might be wondering what you can do in your everyday life to improve our food system.
Clean Protein, the new book from GFI Executive Director Bruce Friedrich and New York Times bestselling author Kathy Freston, is your practical guidebook to eating well while doing good.
[You can order your copy of Clean Protein here!]
I sat down with Bruce and Kathy to bring you insights about Clean Protein and what you can do to be a part of the protein solution.
Enjoy!
Let's start from the start. What motivated you two to write Clean Protein? What's the premise?
Kathy: Protein is a hot topic of conversation for health-conscious eaters as well as those who are concerned with food security as we face an unprecedented rise in the global population. More often than not, these conversations start from the premise that protein and animal meat are synonymous. This isn't just false—it's a falsehood that's keeping us from empowering people about their diets and creating a food supply that's equally good for people and the planet.
Bruce and I both believe that the innovations we describe in the book are vital additions to the hot-button issue of protein production and the future of food.
Elaborate! What exactly are these new-and-improved protein sources? How do you define clean protein?
Kathy: When we talk about clean protein, we're talking about three things: Mostly we're talking about whole plant foods like beans, whole grains, nuts, and seeds. And then we're also talking about plant-based meat, meat made from plants, like what Tofurky, Beyond Meat, and Impossible Foods are doing.
[Just check out that delicious chicken soup above, a la Tofurky!]
And finally, we spend a chapter on clean meat. Clean meat actually is animal meat, but produced by growing animal cells outside of an animal instead of inside of a factory farm and slaughterhouse.
Bruce: These three forms of protein are clean in a more ways than one. For starters, they're literally cleaner from a basic sanitation standpoint in comparison to the products produced on dirty and overcrowded industrial farms. But they're also clean in a way that's similar to clean energy: they dramatically reduce the carbon footprint and environmental impact of protein production compared to animal farming. Finally, it's a cleaner energy source to fuel our bodies, complete with the fiber and vitamins that our gut needs, without the excessive saturated fat and cholesterol that it doesn't.
What is one of your favorite stories from Clean Protein that illustrates just how exciting recent developments in the space have been?
Bruce: I'll never forget when the news broke that Tyson, one of the largest meat producing companies in the world, bought a stake in the completely plant-based protein startup Beyond Meat. Then Cargill invested in clean meat company UPSIDE Foods. Seeing the old guard embrace the future of food and begin to transform from the inside out–those are the stories I loved telling in Clean Protein, and the ones that I think best illustrate what a pivotal moment in history this is when it comes to our food system.
Kathy: Even though Clean Protein just hit the shelves at the start of the year, news of investment activity and new stories of industry support have continued since publication, with a major EU poultry producer backing Israeli clean meat company SuperMeat and Canada's largest meat producer buying up two plant-based meat companies here in the U.S.!
We spend a lot of time at GFI working on the supply-side of clean protein. What are you seeing in terms of consumer demand that's driving the growth of plant-based and clean meat?
Kathy: Conventional meat companies aren't buying into plant-based and clean meat as an act of goodwill. It's what consumers are asking for: a healthier option that's delicious and familiar. Plus, companies are seeing the writing on the wall: factory farming is a system that's at its breaking point. It's inefficient, environmentally devastating, dangerous for public health, and a nightmare for animals. Clean protein is an elegant solution to all of these problems. Even Tyson's CEO Tom Hayes predicts that in 25 years, about 20 percent of meat will be either clean or plant-based—a claim that some industry experts expect to be a low estimate.
Bruce: Consumers want high-quality protein from sustainable and humane sources, and the industry is taking note.
What is the most valuable thing someone could do to support the transition of our food supply from factory-farmed meat to clean protein?
Kathy: Clean Protein is a guidebook for doing just that! So I would start by giving it a read, giving one of the recipes a shot, and sharing that meal and the book with a friend!
Truly, everyone has it in their power to move the food system toward clean protein and away from factory farming simply by putting more plant-based proteins on their plate and showing the meat industry that people want healthier and more sustainable options.
Bruce: And you can also get directly involved in R&D for the clean protein industry! GFI has a number of jobs open and we're always looking for entrepreneurs and researchers with fresh ideas.