Discovering China's role in growing the global plant-based industry
GFI SciTech director David Welch and GFI Asia Pacific managing director Elaine Siu visited some of China's largest plant protein processing facilities to learn about the country's place in the global plant-based supply chain.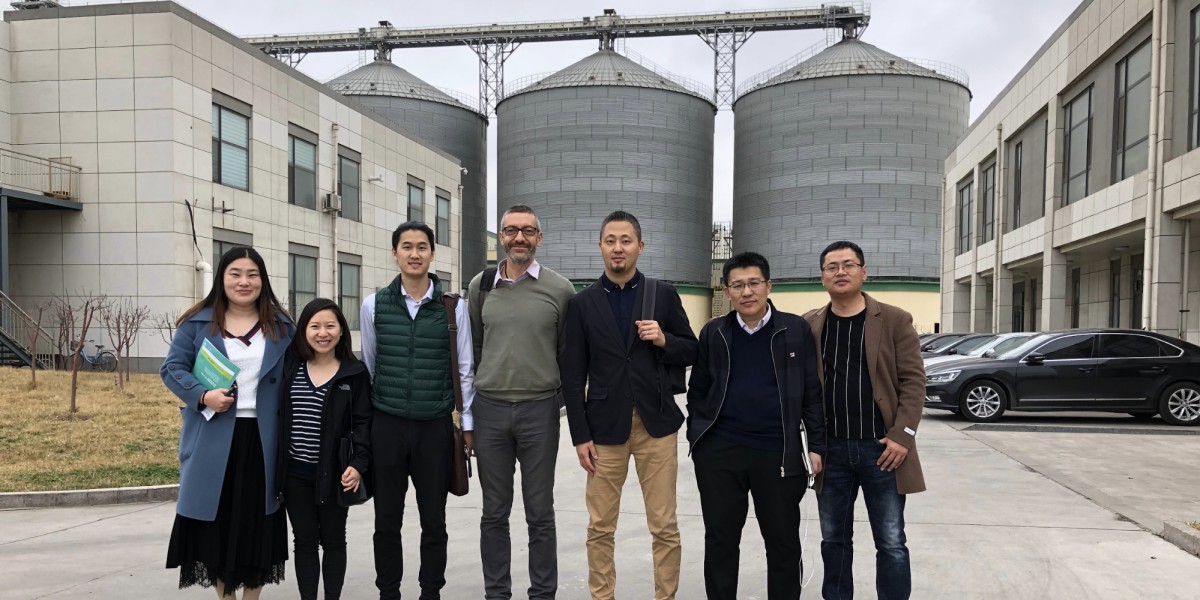 Two thousand miles, eight cities, and 10 days—that was our amazing race in China to discover more about the country's place in the global plant-based supply chain and the role it could play in accelerating this new category.
From the north to south of China, upstream to downstream of the plant-based food industry, GFI SciTech director David Welch and I visited eight factories of some of the industry's largest plant protein processing companies.
Our trip was inspired by the market intel that 70 percent of the world's supply of soy isolate, a primary ingredient in many plant-based foods, is processed in one region in China: Shandong Province. A main goal of the trip was to understand the current processing capacity, both volume level and technological capability, of soy protein and pea protein in China.
To produce better and tastier plant-based products, especially plant-based meat, the industry needs to advance not only at the end product formulation and manufacturing level but in crop selection and raw material processing. Plant-based companies are exploring novel crops, such as mung bean and quinoa, but simultaneously much can be done to improve soy, wheat, and pea for plant-based meats.
As of 2016, China had the capacity to process as much as 79 percent of global soy protein isolate, 50 percent of global textured soy protein, and 23 percent of global soy protein concentrate. As of 2017, there were seven pea producers in China with a total processing capacity of 67,453 tonnes per year, which will increase to 146,313 tonnes per year by the end of 2019, according to expansion plans.   A relatively small number of companies that have generally been around for a few decades process this huge volume of raw materials. Recognizing that China is such a dominant supplier of soy and pea protein to the world, we wanted to find out a few things:
What is the competitive edge of these Chinese companies and what role can they play in accelerating the global plant-based food industry?
What are these raw materials currently used to produce and how can they be improved to create better products?
How can GFI help bridge the gap in research and business opportunities?
While these companies differ in size, strategy, and clientele, they are all keen to gradually move away from the volume-over-margin model and upgrade their offerings to include higher-value-added products. Companies are guided by their buyers' demands. And these companies typically export 50 to 100 percent of processed soy or pea to Europe, North America, and other countries in Asia. Currently, most of the soy isolate and concentrate go into making supplements and protein bars and drinks. Textured soy protein goes into making vegetarian meat (also known as mock meat). And more advanced applications in the form of peptides and pharmaceutical-grade products are also growing.
As the flexitarian consumer segment grows, both domestically and globally, consumers will demand plant-based biomimicry that provides the flavor, texture, and overall experience associated with eating conventional meat with a high degree of fidelity. The challenge and opportunity posed by this new trend is that higher requirements of the end product demand a higher-quality raw material.
Some of the more forward-thinking soy and pea protein processors are interested in optimizing their raw materials for this new market. David shared with these companies the current state of operations he has observed in other parts of the world, including in the U.S. and Europe, and the development trends to note and explore.
The global industry is heading in exciting directions with ongoing research in the pretreatment of raw materials for optimal functionality in extruders, improvements in extruders, alternatives to extruders (e.g., 3-D printers), and better ways to combine fat content with plant-based protein and starch.
As the global plant-based food industry grows, the demand for raw materials, such as processed soy, pea, and mung bean, is increasing. The availability of a high-volume, consistent, and quality supply of raw materials will be key to the continued rapid growth of the plant-based food industry. China currently owns most of the world's processed soy protein supply and half of pea protein processing by high production volume capability and low cost. It also has the competitive advantage of an oversupply of locally produced soybean and consistently decreasing price of soybean as a result.
If China can combine its long history of creating vegetarian meats with modern food science and its huge protein processing supply chain, it will be uniquely positioned to deliver modern plant-based foods to the flexitarian consumer and accelerate this industry both in China and around the world.
If you are interested in China's plant-based meat industry, we are working on a China plant-based meat industry report to be released soon. The report will cover industry background, top brands and products, investment trends and major deals, consumer demographics and behaviors, raw materials and processing, and regulatory overview. Sign up for our newsletter to stay in the know!