The top 7 alternative protein trends to watch for in 2022
As the alternative protein industry matures, which product type, innovation, and investment trends will take the stage in 2022? GFI's experts predict what's next.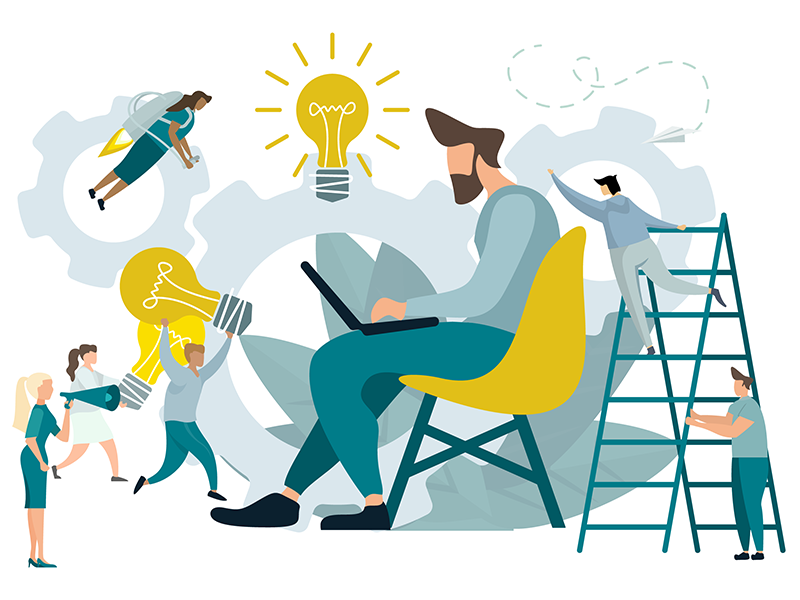 1. Fermentation-derived dairy is paving the whey.
In 2021, consumers had their first taste of products produced with precision fermentation when Brave Robot ice cream made with Perfect Day's fermented whey protein launched in retailers nationwide. In the past year, the animal-free dairy ingredient launched in several products, including cream cheese from Modern Kitchen, Climate Hero Cake mix, and even in animal-free milk at select Starbucks locations. In 2022, consumers will get to try more fermentation-derived products:
The Every Company will be rolling out the world's first fermented egg proteins in early 2022, launching in Pressed Juicery smoothies.
Supply startup Motif Foodworks will license their myoglobin HEMAMI ingredient to end-product producers, which has the potential to improve the meaty taste of plant-based beef products.
Traditional fermentation processes are also being used to improve plant-based products such as milk, cheese, and meat. For example, Naturli' uses fermentation to achieve a dairy-like taste in its multi-ingredient plant-based milk, and Chunk Foods harnesses microorganisms to add taste and nutrition to its plant-based steaks.
The final fermentation category – biomass fermentation – enables the creation of large amounts of protein through fermentation. Last year, biomass fermentation company Nature's Fynd received FDA approval to sell its fermentation-derived Fy protein, and is expected to debut in retail in 2022. Better Meat Co. inked a deal with meat industry incumbent Hormel to use its Rhiza mycoprotein in Hormel's plant-based meat line. Expect to see more products produced by fermentation launch to consumers in 2022.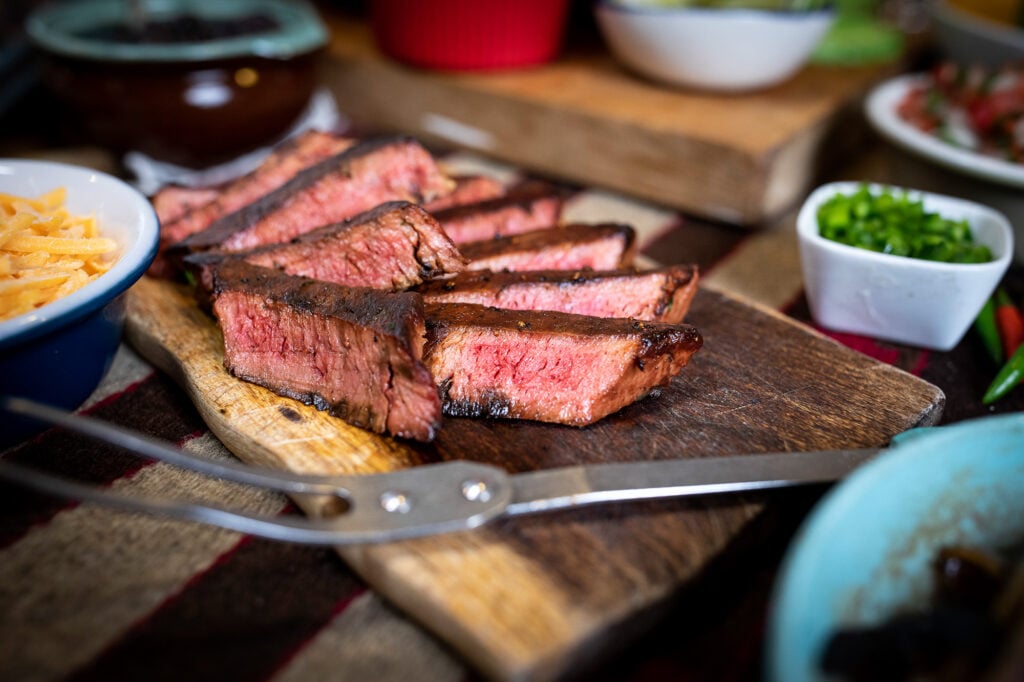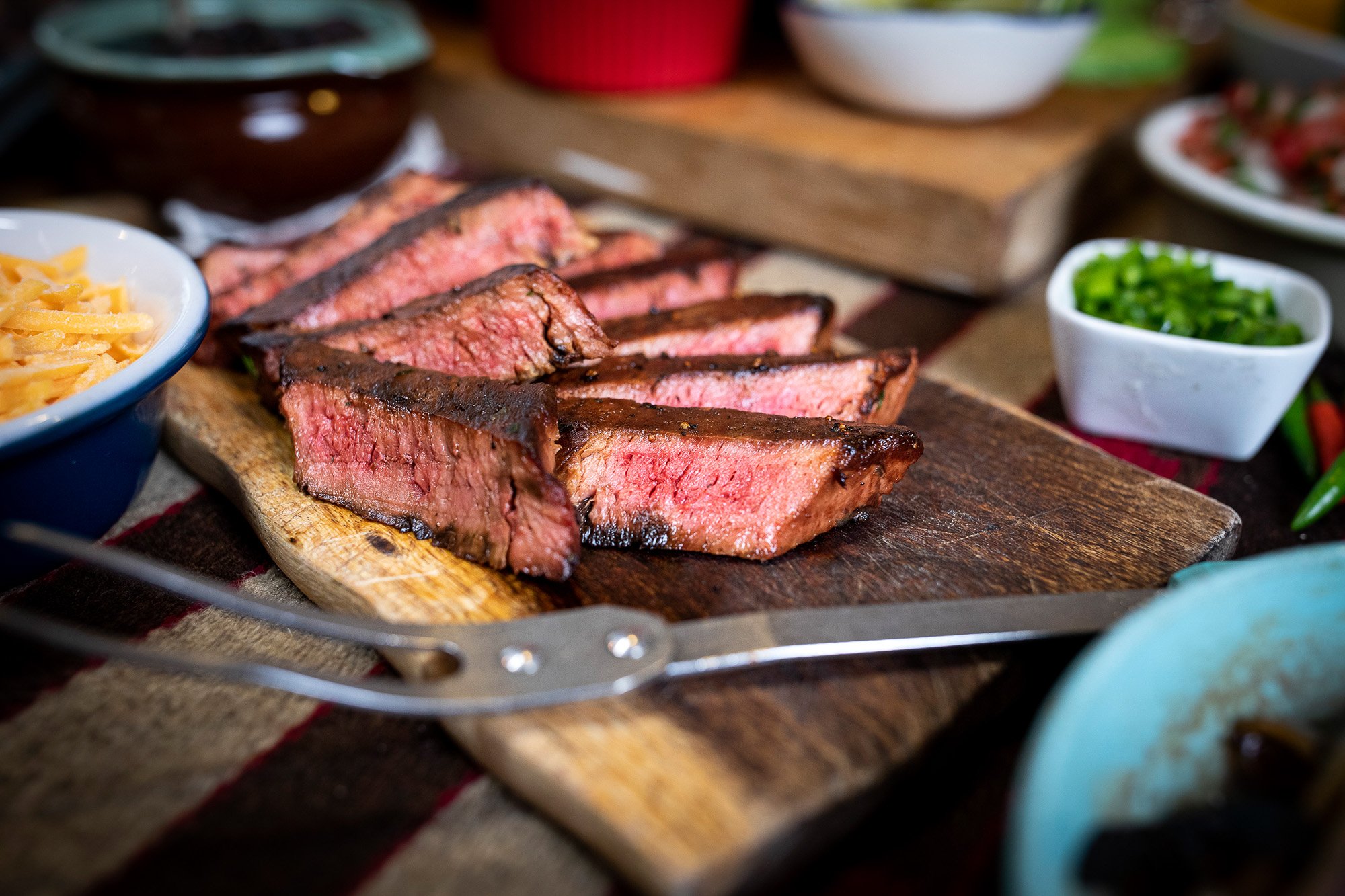 For more on fermentation, click here for GFI's Fermentation State of the Industry report.
Image courtesy of Meati Foods
2. The technology toolkit is expanding.
We can view alternative proteins as an umbrella category for a variety of processes that can replace animal protein production, including the three main platforms: plant-based, fermentation, and cultivated meat. In 2022, the lines between these different production platforms will become blurrier as products are increasingly hybridized:
For example, the Impossible burger is a plant-based burger made with fermentation-derived heme. Motif Foodworks will soon begin to license their fermentation-derived heme to plant-based meat manufacturers.
Many plant-based milk and cheese companies are using traditional fermentation techniques on nuts and other plant-based ingredients to get that authentic sharp and creamy dairy taste of conventional cheese.
We may see cultivated meat products launched as blends with plant protein ingredients, both to lower costs and appeal to consumers who are looking for nutritional features like fiber.
We will likely see the launch of plant-based meat products that are enhanced with cultivated fat to improve sensory properties.
We'll also see the emergence of innovative new processes such as plant molecular farming (PMF), which uses plants as recombinant protein production hosts to produce ingredients that traditionally only exist in animal products. The process is similar to precision fermentation, but uses plants instead of bacteria or fungi as cell factories. Nobell Foods, which raised a $75 million Series B in July 2021, mixes casein protein made through PMF with plant ingredients to create plant-derived cheese that match the stretchiness, meltiness, and taste of animal-derived cheese.
Machine learning and data science advances can also support the development of new processes to mimic the taste and texture of animal products:
For example, Climax Foods develops machine intelligence tools to support product development. 
Culture Biosciences has developed cloud-based bioreactors that generate streamlined analytics and insights and enable companies to more efficiently test and scale their bioprocesses. 
NotCo uses artificial intelligence to find new combinations of plant ingredients to replicate the taste of animal foods.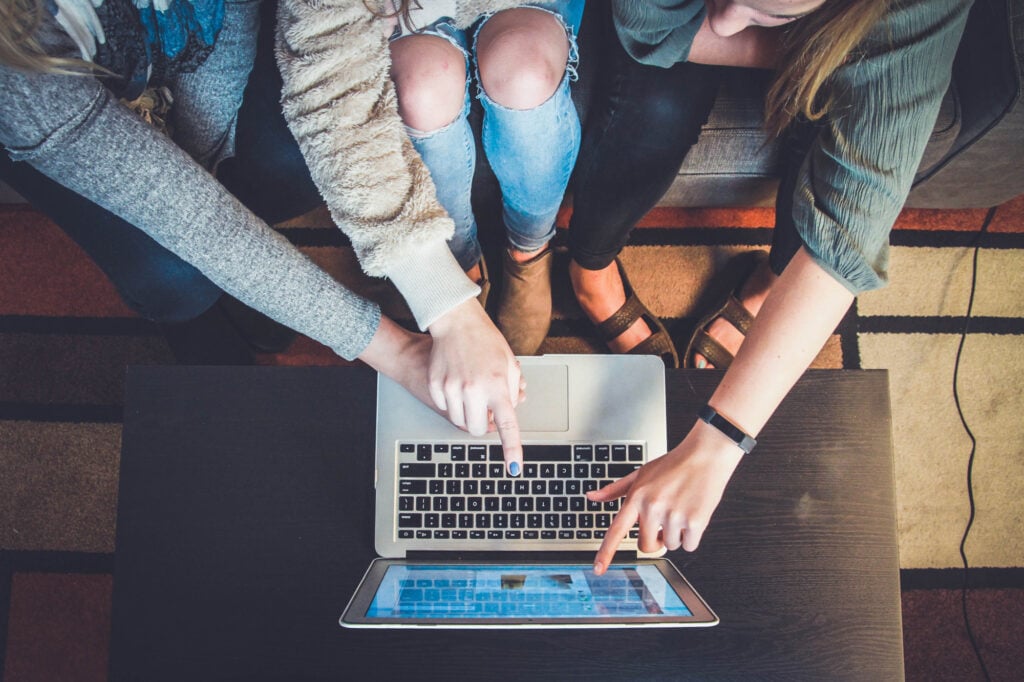 For more on the scientific processes that underlie alt protein production, click here for GFI's free online course.
3. Plant-based product categories continue to diversify and reach higher fidelity to animal products.
Seafood
The first half of 2021 saw record investments into alternative seafood totaling $116 million, surpassing 2020's total investments. More than 87 companies now make seafood from plants, microbes, and animal cells, and leading plant-based manufacturers are expanding their seafood SKUs. In 2022, expect plant-based seafood options to expand in restaurants, grocery stores, and online marketplaces.
Whole-cut formats
Ground and restructured meat products are among the more developed plant-based categories today—think ground beef, sausage, and chicken nuggets—and 2022 will see the expansion of whole-cut product formats that are able to meet an even wider variety of cooking needs. For example, Juicy Marbles recently launched its plant-based filet mignon directly to consumers. And Umiami's new texturization technique is one of the new technologies being developed to scale whole-cut plant-based meats.
Bacon and pepperoni
2021 featured a flurry of chicken launches, and 2022 will see a similar expansion of restructured pork products. Startups working on bacon include Hooray Foods, which currently distributes on e-commerce platforms and in natural grocery stores across the U.S., Trophic, which will start to distribute next year and was founded by a GFI grantee, and Thrilling Foods, which distributes direct-to-consumer (DTC) and in natural grocery stores. Several plant-based manufacturers and consumer packaged goods (CPG) brands are also rumored to be prioritizing bacon in their near-term product pipelines.
Eggs
Eggs are one of the fastest-growing plant-based categories, and we're particularly excited about the potential for plant-based and fermentation-derived egg ingredients to improve the taste of plant-based meat products. There's also ample space for different egg formats including hard-boiled eggs, egg whites, or a one-size-fits-all egg product that can be used in many different cooking applications.
Milk
In 2021 we saw more product launches that shifted focus from the plant ingredients in plant-based milk like almonds and oats toward the value proposition of reaching taste and texture parity with cow's milk. Mimicking animal-based milk will not only appeal to consumers who simply love a glass of milk, but could propel multi-functional plant-based milk products and address issues like acid and heat tolerance.
Advances in plant-based dairy as well as the incorporation of animal-free dairy proteins like Perfect Day's whey or Nobell Food's casein will carry over to other plant-based dairy categories such as ice cream, yogurt, and cheese.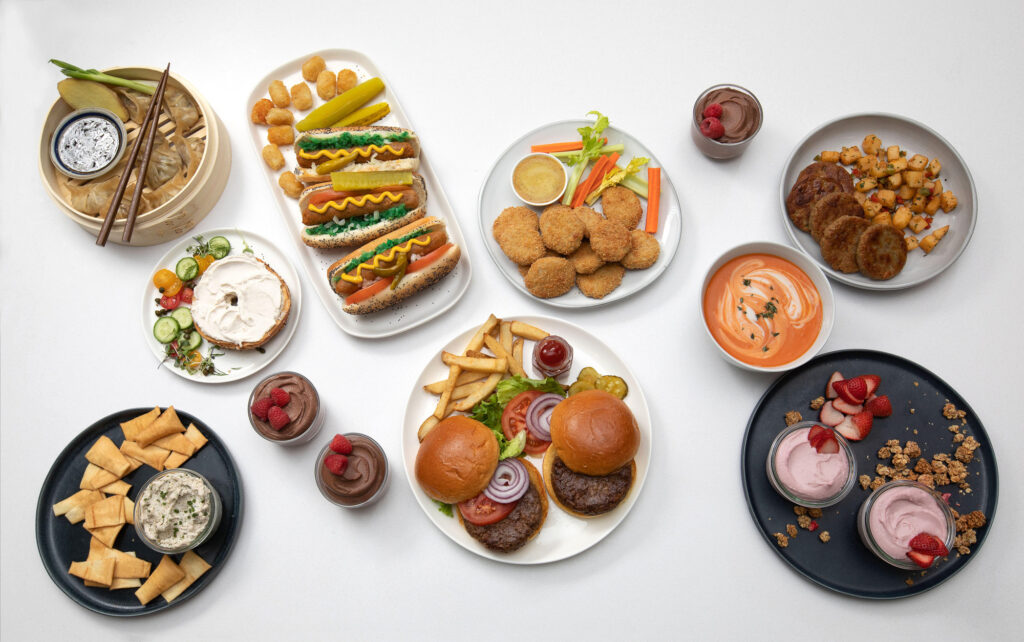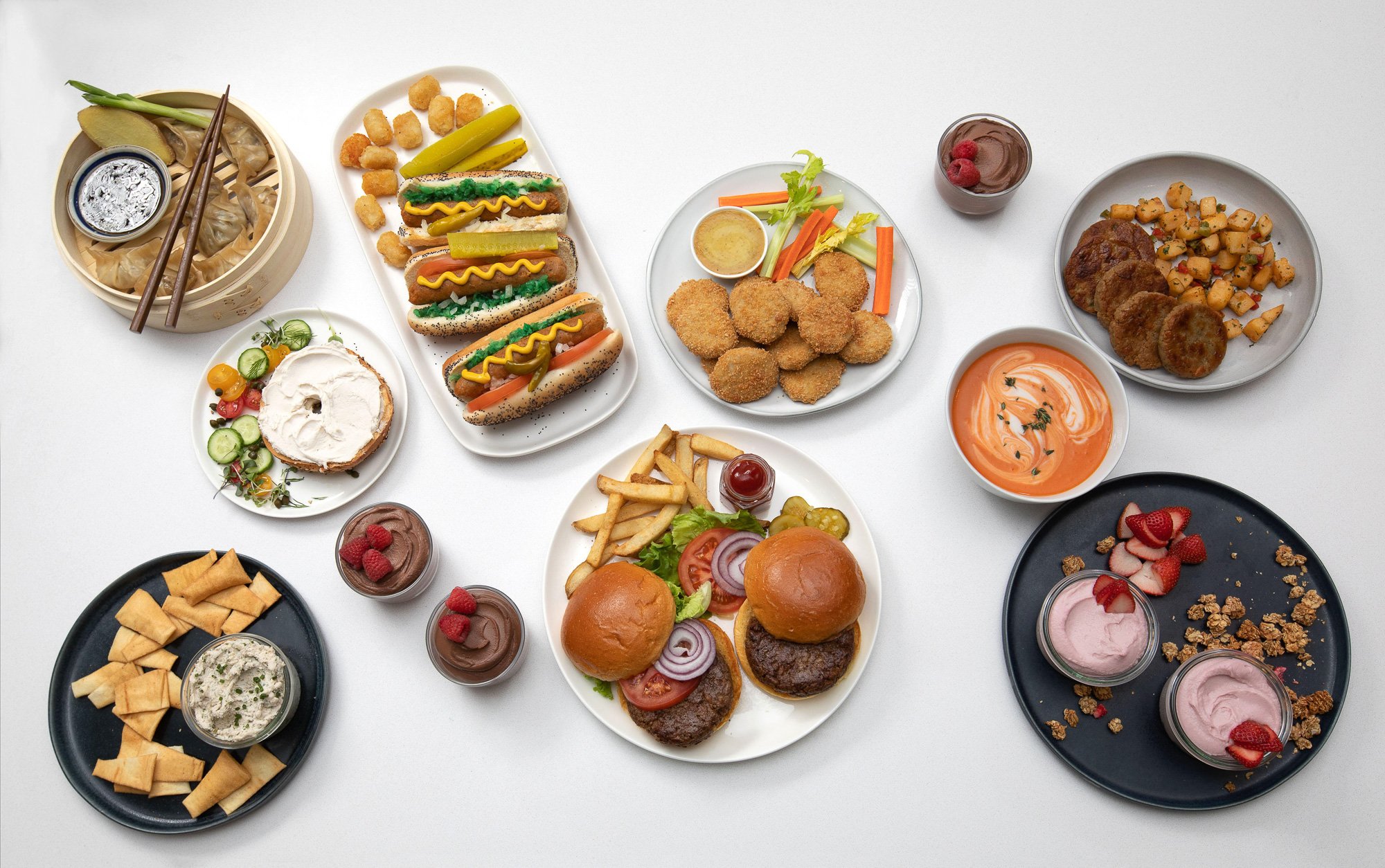 View GFI's market research page for plant-based retail sales data here, and click here for GFI's company database to filter companies by technology and product categories.
Image courtesy of Charles Cherney Photography
4. Cultivated meat is expected to receive further regulatory approvals and launch in restaurants.
As of January 2022, the only nation to approve the sale of cultivated meat is Singapore. In December 2020, Singapore granted regulatory approval to GOOD Meat's cultivated chicken (GOOD Meat is a subsidiary of Eat Just). In September 2021, Singapore again made history by green-lighting contract manufacturing facility Esco Aster to produce cultivated meat, and the city-state recently approved additional GOOD Meat cultivated chicken product formats.
In 2022, more consumers may get their first taste of cultivated meat and seafood products. The U.S. Department of Agriculture (USDA) and U.S. Food and Drug Administration (FDA) have been actively working on a joint regulatory framework for cultivated meat since 2018, and several companies including UPSIDE Foods, Wild Type, and BlueNalu have indicated readiness to launch in U.S. restaurants as soon as they're given the green light.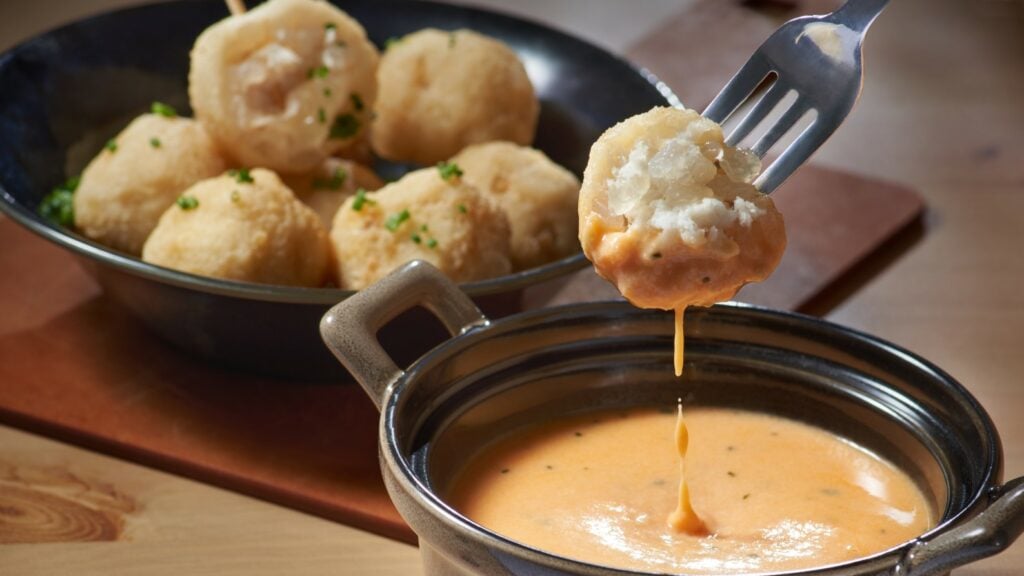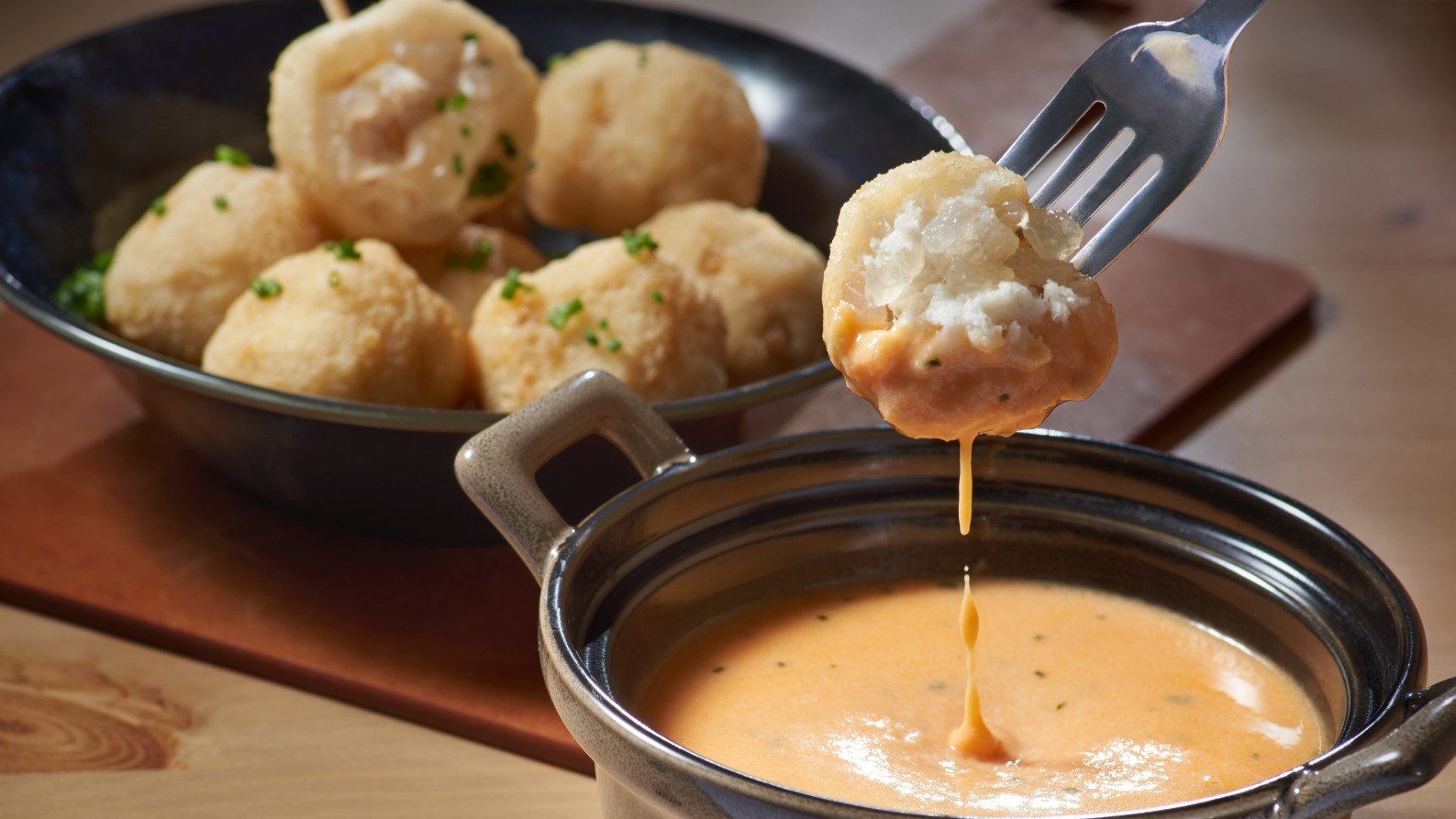 Which nation will approve cultivated meat next? See more on the path to market here.
Image courtesy of Avant Meats
5. Companies further embed sustainable practices within their supply chains as sustainability becomes top-of-mind for consumers and investors.
The sustainability benefits of alternative proteins over animal-based foods on factors such as land use, greenhouse gas emissions, water use, and pollution are well-established. Compared to conventional foods, plant-based food production requires:
86-99% fewer greenhouse gas emissions
97-99% less land use
70-99% less air pollution
83-99% less toxic chemical production
95-99% less water use
But there is still opportunity within the alternative protein value chain to lower environmental impact even further – and potentially lower costs as well – by upcycling ingredients and repurposing sidestream materials, and using sustainable packaging, renewable energy, and efficient transportation.
Several of these solutions are being explored by industry players:
Sustainability is an important motivator for plant-based food consumption, particularly among younger consumers. We also expect alternative proteins to be increasingly identified as a key ESG investment industry, supported by ESG frameworks used in investor due diligence that are increasingly embedding considerations of alternative proteins.
6. Alternative protein companies continue to raise increasing amounts of capital.
As the industry matures, we expect to see alternative protein companies raising larger rounds as more companies enter the growth stage. 2021 saw the industry's largest rounds to date, including a record-breaking $347 million Series B cultivated meat round from Israel-based company Future Meat Technologies. Multiple companies, including Impossible Foods, Eat Just, Motif Foodworks, Aleph Farms, Nature's Fynd, Perfect Day, The Every Company, V2food, and NotCo raised individual rounds in excess of $100 million USD (and most of them in excess of $200 M) this year.
As companies enter later stages, we also expect to see more IPOs and acquisitions in 2022. In 2021, Oatly, Biomilk, Veganz, Gosh! Foods, NextFerm, and Bettermoo(d) joined the few alternative protein companies to go public. Several other companies including Viviera, Peace of Meat, and BioTech Foods were acquired by public companies. In fact, both Vivera and BioTech Foods were acquired by JBS, the largest meat company globally, demonstrating increasing involvement by major meat industry incumbents.
7. Governments are getting more involved.
Governments around the world, including the EU, Israel, and Canada, have granted over $66 million USD-equivalent to alternative protein research projects. This figure is a fraction of the over $3.4 billion raised privately by alternative protein companies in the first half of 2021 alone. Public funding for research is essential to scaling the industry at the needed pace, and we expect to see more public funds dedicated to addressing high-priority infrastructure and research needs that will benefit the entire industry.
Keeping global emissions below 1.5 degrees Celsius by 2050 is scientifically impossible without a transformation in global meat production. Plant-based and cultivated meat are long-term, durable solutions that are pro-climate, market-based, and well-positioned to help meet global climate goals. Alternative proteins also carry a myriad of public health and safety benefits beyond sustainability, including lowering the risk of antibiotic resistance and pandemics and promoting food safety and security.
U.S. Representative and Appropriations Chair Rosa DeLauro agrees: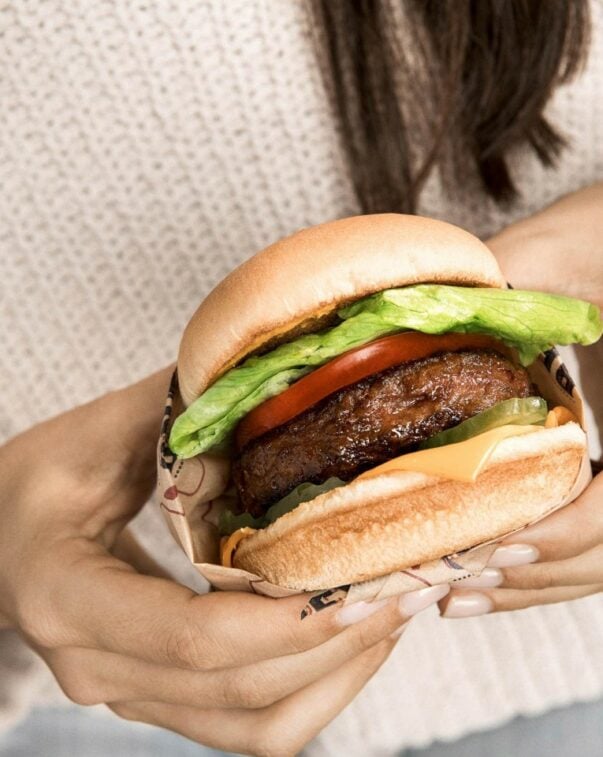 The alternative protein landscape moves quickly.
Stay up to date by signing up for GFI's monthly Alternative Protein Opportunity newsletter.