Alternative proteins offer climate opportunities and mitigate business risk
As the IPCC puts the finishing touches on part two of its Sixth Assessment Report, which assesses the impacts of climate change on our planet and will be completed in February 2022, we explore the implications of part one and highlight opportunities for alternative proteins to mitigate climate impacts.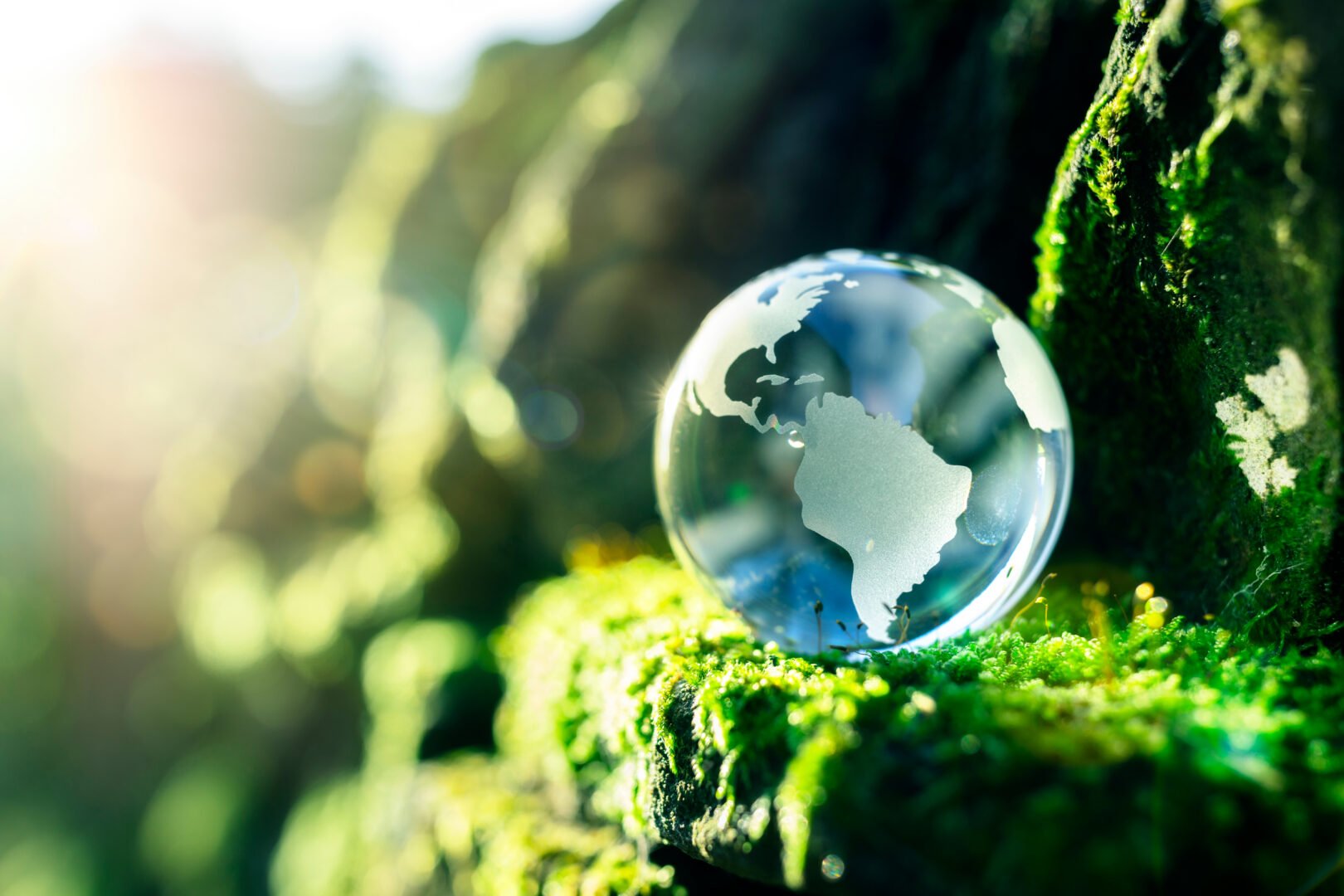 Key insights from the IPCC Sixth Assessment Report
In August 2021, the Intergovernmental Panel on Climate Change's (IPCC) Working Group I released the first installment of its Sixth Assessment Report, which provides more insight than ever before into the extent of climate impacts.
While not explored in this report specifically, the evidence is clear: the way we produce, manufacture, and distribute our food is contributing to climate change. Agriculture, forestry, and land use causes 7 percent of carbon dioxide emissions and 46 percent of methane emissions, much of which is driven by food production. Understanding how agriculture and the food industry impact our planet is a key part of the climate conversation and the identification of solutions. Below, we walk through three key insights on climate change for the agriculture and food industry and three actions food companies can take to support climate solutions.
1. The data is clear: We can avert notable global warming by switching from conventional meat to plant-based or cultivated meat.
IPCC's Sixth Assessment Report narrows the window of climate response — for every 1000 gigatons of carbon dioxide released, the planet will likely warm by between 0.27 and 0.63 degree Celsius (or about 0.5 to 1.1ºF). Like for other emissions sources, these more precise ranges allow us to better estimate the amount of warming caused by food systems emissions. CE Delft and GFI's life cycle assessment found that plant-based chicken emits 86 percent less emissions than conventional chicken, and cultivated chicken produced with renewable energy emits 17 percent less CO2 emissions than conventional chicken. Even more emissions savings are possible with pork and beef products.

2. Making meat in less carbon-intensive ways, via alternative protein technologies, is a clear and feasible solution that can contribute to deep emissions reductions.
IPCC's report shows that we are likely to soar past the 1.5ºC and 2ºC global climate targets unless deep reductions in CO2 and greenhouse gas emissions occur in the coming decades. As demonstrated in the below chart, plant-rich diets are one of the most powerful tools for bringing down food system emissions, and such alternative protein technologies could halve total food system emissions through 2100. For any food companies active or interested in the protein sector, alternative proteins are a clear-cut solution for lowering the carbon intensity of product portfolios.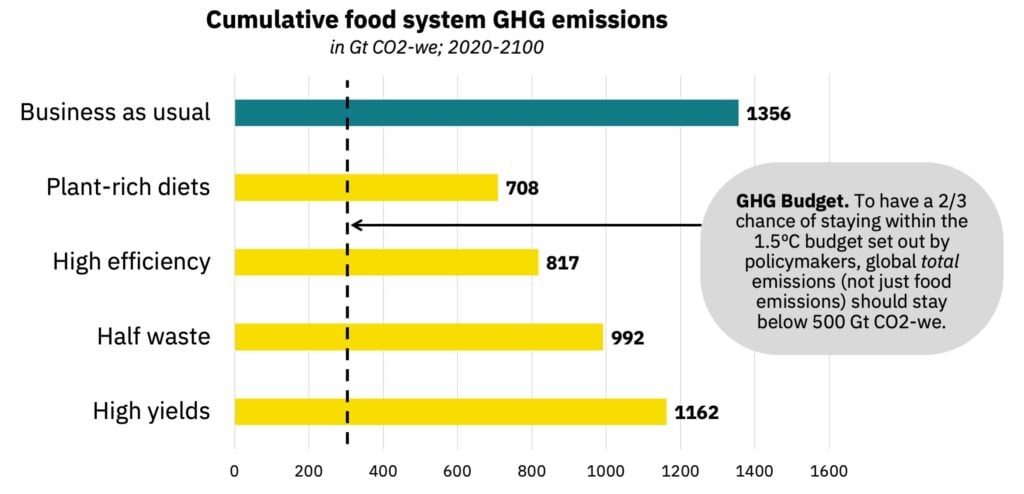 3. As agriculture, forestry, and land use are the largest contributors of methane emissions (46 percent), alternative proteins have the potential to play a unique role in achieving methane emissions reductions.
In the atmosphere, methane is converted to carbon dioxide in about twelve years, after which the carbon dioxide remains in the atmosphere for thousands of years. In those first twelve years, methane is more potent than carbon dioxide at warming. This is why as we look at our emissions trajectory, methane reductions may specifically help minimize the maximum average global temperature during our years of peak global emissions. Large portions of global methane emissions come from enteric fermentation — mainly burps from cattle and other ruminants — as well as manure management. Swapping out a conventional beef burger for a plant-based, fermentation-enabled, or cultivated beef burger can result in 85 percent to 99 percent reductions in emissions.
Three ways food companies can support climate solutions and mitigate business risk from climate change
Focus on Scope 3 emissions
Scope 3 emissions include any supply chain or business activity that aren't owned by the company, including things like purchased goods and services, business travel, and waste disposal. These emissions represent around 80 percent or more of food and beverage companies' total emissions.
Tracking and reducing Scope 3 emissions represents a major opportunity for climate risk management and adds more tools to the toolbox for achieving net-zero emissions. Investor networks like those at FAIRR and CDP, which have $40 trillion and $110 trillion assets under management, respectively, are asking companies to disclose them.
Companies can use supplier engagements to reduce emissions. In fact, CDP has found that corporations that actively manage and plan for climate change secure 67 percent higher return on investment than companies that don't disclose their emissions.
The land use opportunity cost: By using large amounts of land to provide feed for livestock, industrial animal agriculture systems also incur an opportunity cost given the capacity for forested lands to act as carbon sinks. Research by Hayek, et al. demonstrates that shifts in food systems driven by alternative proteins could lead to the sequestration of as much carbon as remains in the 1.5ºC budget, or 300-550 GtCO2.
Analyze the market opportunities and climate potential in sustainable proteins
Food companies that report their scope 3 emissions may note the tremendous role meat, seafood, dairy, and eggs play in the equation. For companies like General Mills and Ahold Delhaize — who are among the few that report on scope 3 — animal agriculture is responsible for more than a third of their scope 3 emissions.
However, in pursuing a trajectory that shifts from producing conventional chicken to plant-based chicken, for example, a manufacturer could eventually cut its per-pound emissions in half while producing 4 times as much product.
Alternative proteins are also proving to be a clear market opportunity. Plant-based food retail sales grew twice as fast as overall food sales in the U.S. in 2020. Consumers are becoming more interested in the environmental risks and benefits of their food choices. For consumers who are choosing to eat plant-based foods more often, health has become less important over the past two years while environmental concerns are rising in importance.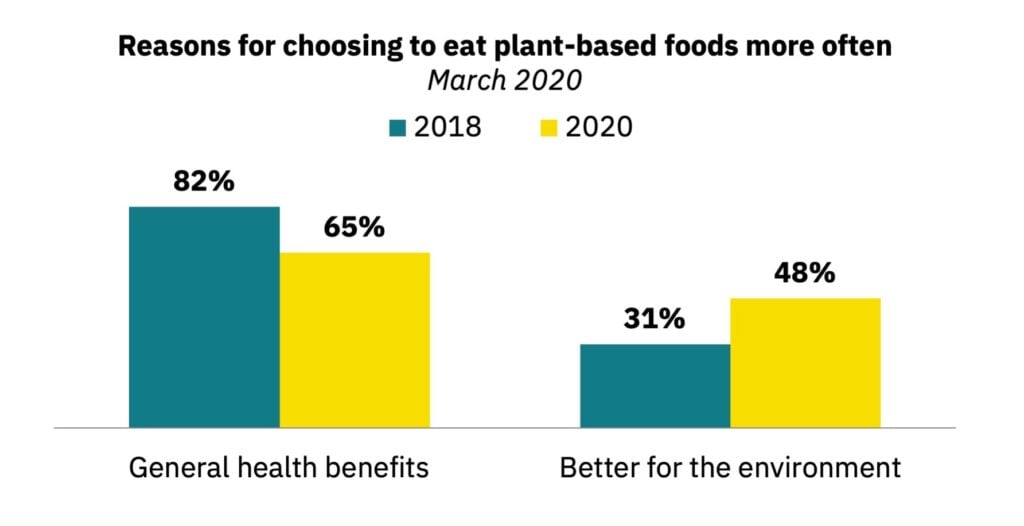 This suggests that as time goes on and concerns around climate change grow, the sustainability aspect of plant-based foods may become an increasingly important driver of consumption.
Recognize alternative proteins for what they are — a tremendous investment opportunity
Once upon a time, renewable energy was an emerging market solution. But as the business opportunity, environmental benefits, and advantages in mitigating material business risks have become clear, renewable energy solutions have attracted trillions of dollars in investments. As a result, the global share of primary energy that comes from renewables has increased from 8 percent in 2010 to 11 percent in 2019. If alternative proteins reach a similar 10 percent share of the trillion-dollar total global meat market, that represents a $100 billion opportunity.

Compared to renewable energy, institutions are underinvesting in alternative proteins as a climate solution. From 2011 through 2020, global investments in alternative proteins amounted to $6 billion dollars, compared to a staggering $1.8 trillion in renewable energy investments. Meanwhile, annual U.S. energy and meat market revenues are strikingly similar, revealing just how underinvested we are in food system solutions.
There are signals here.
The conventional meat sector is sizable enough to attract large investments to food system climate solutions like alternative proteins. There is an enormous opportunity to leverage those alternative protein technologies to reduce environmental impacts. And in the long-term, these investments have the capacity to unlock new technology, more revenue, and greater potential food systems change.
Now is the time to begin managing climate risks, and do so in a way that will ensure a transition to a sustainable, secure, and just food future. GFI's corporate engagement team works with the private sector to drive investment, innovation, and scalability to accelerate the alternative protein supply chain.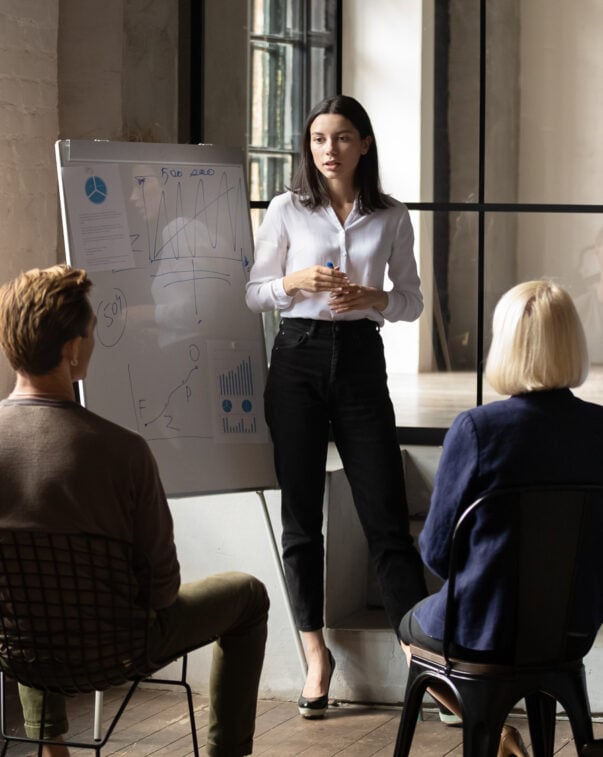 Corporate engagement support
We work with the private sector to drive investment, innovation, and scalability to accelerate the alternative protein supply chain. Learn more about how we can support you in this process.