Three takeaways from a record-setting year for alternative proteins
2021 was the most active year to date for alternative protein company and brand launches, private investments, and retail sales, signaling a climate-forward shift from business-as-usual.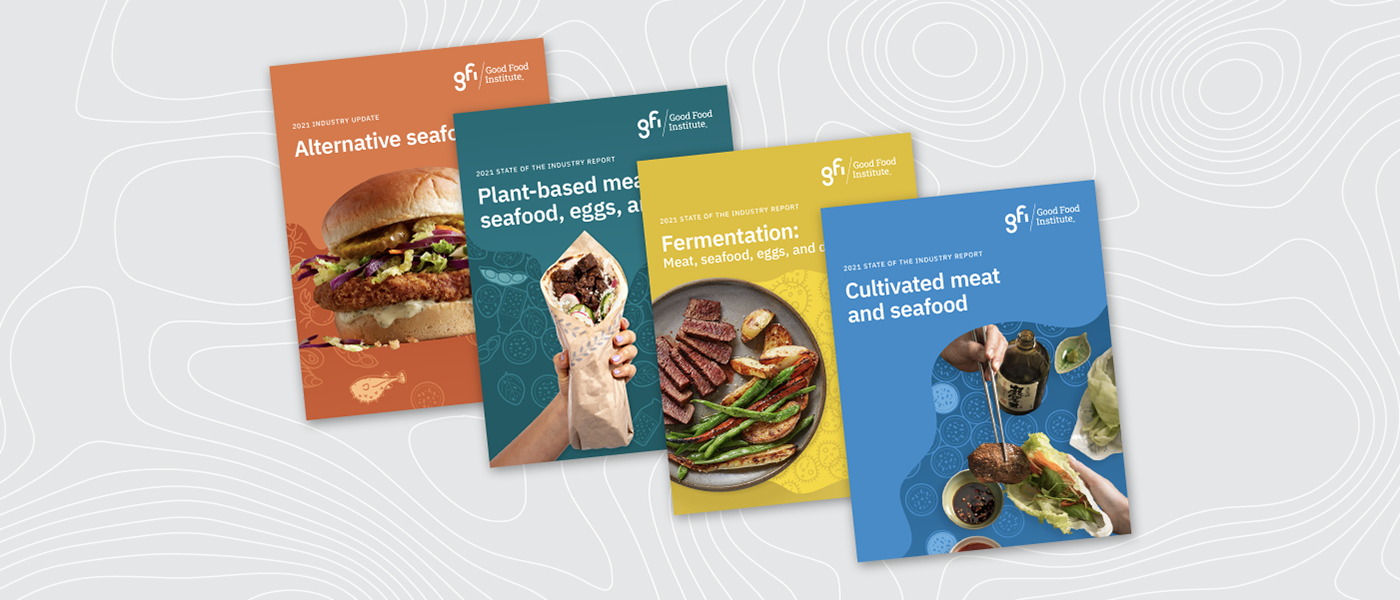 State of the Industry
With products now on the market across the three alternative protein technology platforms of cultivated, fermentation, and plant-based, it's becoming clearer than ever that alternative proteins can transform the trillion-dollar meat market.
GFI's newly launched 2021 State of the Industry Reports dive deep into the key technologies, business advances, and policy developments driving the alternative protein industry forward.
Let's take a spin through some major report highlights
The number of alternative protein companies and brands around the globe is growing rapidly.
Dozens of new companies focused on developing cultivated meat and fermentation-enabled proteins launched in 2021, expanding the commercial landscape of these emerging sectors. 2021 also saw an increase in the number of suppliers focused on key ingredients for alternative protein products and existing companies with business lines in developing or supporting alternative protein technology.
After the first products with precision fermentation dairy ingredients hit retail shelves in 2020, activity in precision fermentation increased in 2021, with nine of the 15 new fermentation companies focused on precision fermentation, while six are focused on biomass fermentation.
In U.S. retail, one signal of high activity in the alternative protein space was the influx of more than 100 new brands selling plant-based products.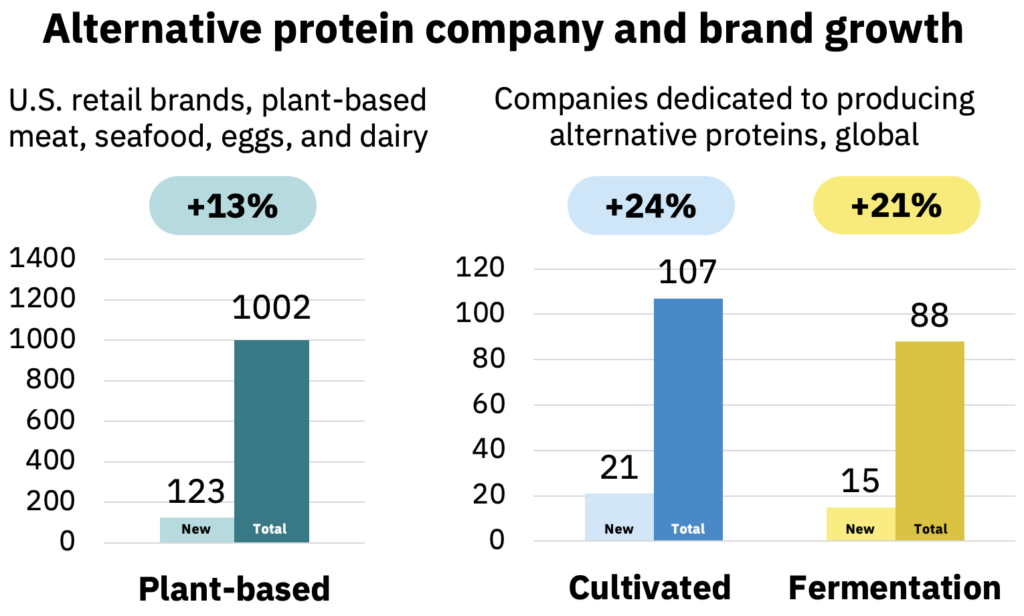 Visit GFI's alternative protein company database for more information about the company landscape.
Investments continue to rise as governments and private investors recognize the market potential—and environmental benefits—of alternative proteins.
2021 was the most active year yet for public investment and government recognition of alternative proteins.
In particular, 2021 was the first year in which multiple governments awarded large amounts of funding toward cultivated meat research, including Israel, the European Union, and the United States.
Private investments also set records—global invested capital in alternative protein companies surged 60% from prior year to $5 billion in 2021. Investment in fermentation and cultivated meat companies in 2021 was each three times higher than in 2020.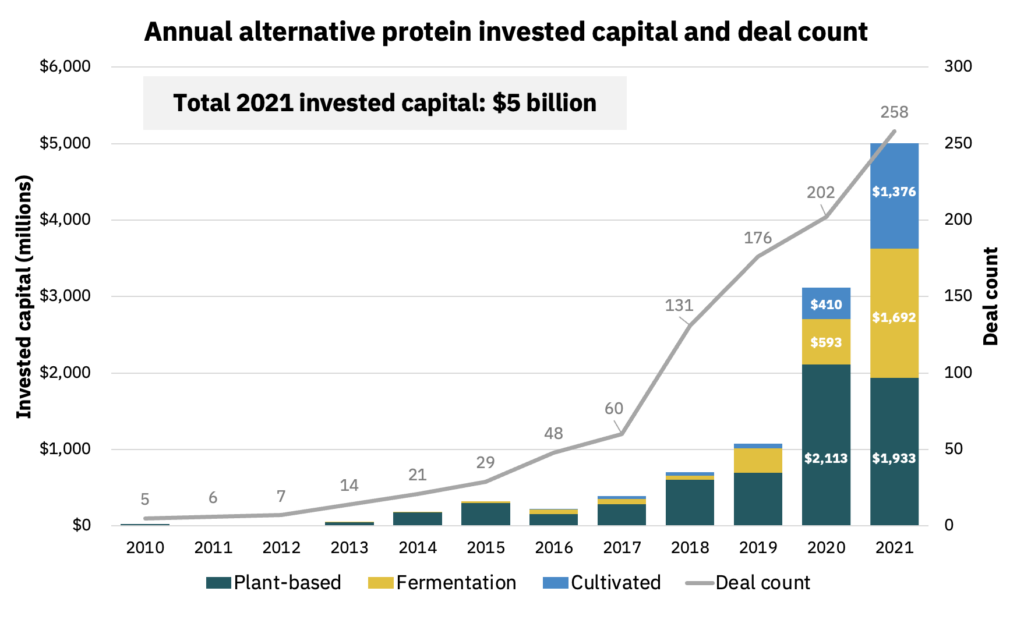 In addition to government support for R&D, there must be fair and efficient regulatory paths in every country for new categories like cultivated meat to succeed in the marketplace. As of the end of 2021, Singapore remains the only nation to approve the sale of a cultivated meat product. But other countries are making strides in the race to approve and invest in these products. Find more information in the Government and regulation section of each report.
As global efforts ramp up to mitigate the climate crisis, address land and water issues, and prevent the next pandemic, the sustained interest in alternative proteins signals a growing appetite for planet-friendly investments.
However, while alternative protein investments have grown at an impressive rate, they remain a small fraction of the trillions of dollars that have been invested globally in climate technology companies as a whole. Indeed, renewable energy and electric vehicle investments significantly overshadow alternative protein investments relative to the climate mitigation potential of each of these industries, which illustrates that alternative proteins are underinvested in as a climate solution.
Retail sales demonstrate an active market—and clear opportunities for continued innovation.
The global market for plant-based foods continues to expand. Global retail dollar sales of plant-based meat grew 17 percent in 2021 to $5.6 billion—doubling from four years ago, according to Euromonitor data analyzed by GFI.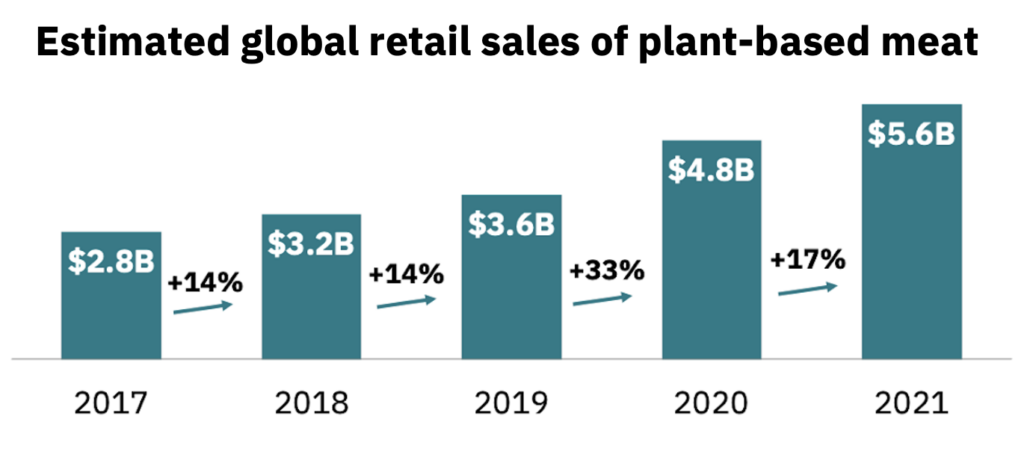 We can see from household panel data that, in the United States, the percentage of households purchasing plant-based meat has increased significantly in the past two years, from 15 percent in 2019 to 19 percent in 2021. While retail activity has been strong in subcategories like plant-based burgers and sausage, 2021 saw an influx of new plant-based chicken products.
Still emerging is the alternative seafood category—where products that meet consumer needs of taste and affordability could earn more of the multi-billion-dollar seafood market and offer a critically needed reprieve for overfished oceans and at-risk biodiversity.
Plant-based seafood U.S. retail sales increased 14 percent in the last year and 42 percent in the last two years to $13.9 million in 2021, according to SPINS data commissioned by GFI and the Plant Based Foods Association. While this growth is encouraging, plant-based seafood remains a small fraction of the overall plant-based meat and seafood category and a white-space opportunity in the market.
Notably, 2021 saw critical research performed in pioneering new technologies in plant-based manufacturing, as shear-cell technology and 3D printing were explored as alternatives to high-moisture extrusion. Developing technologies like this may be pivotal in helping to further expand the variety and improve the sensory qualities of available alternative protein products—taste, texture, and price remain critical challenges to unlocking more growth in plant-based meat.
More scientific and technological developments like this are covered in the Science and technology section in each report.
These highlights are only a sampling of the key developments in alternative proteins in 2021. The industry made considerable progress in expanding the commercial landscape, creating and scaling technology, attracting public and private investments, and evening the playing field so alternative proteins can increasingly compete with conventional meat on taste, price, and accessibility.
There is a lot more work to do, and GFI's teams of scientists, lobbyists, lawyers, and corporate engagement specialists all over the world are focused on projects that will lift up the entire alternative protein ecosystem globally, allowing us to sustainably meet the world's growing demand for protein.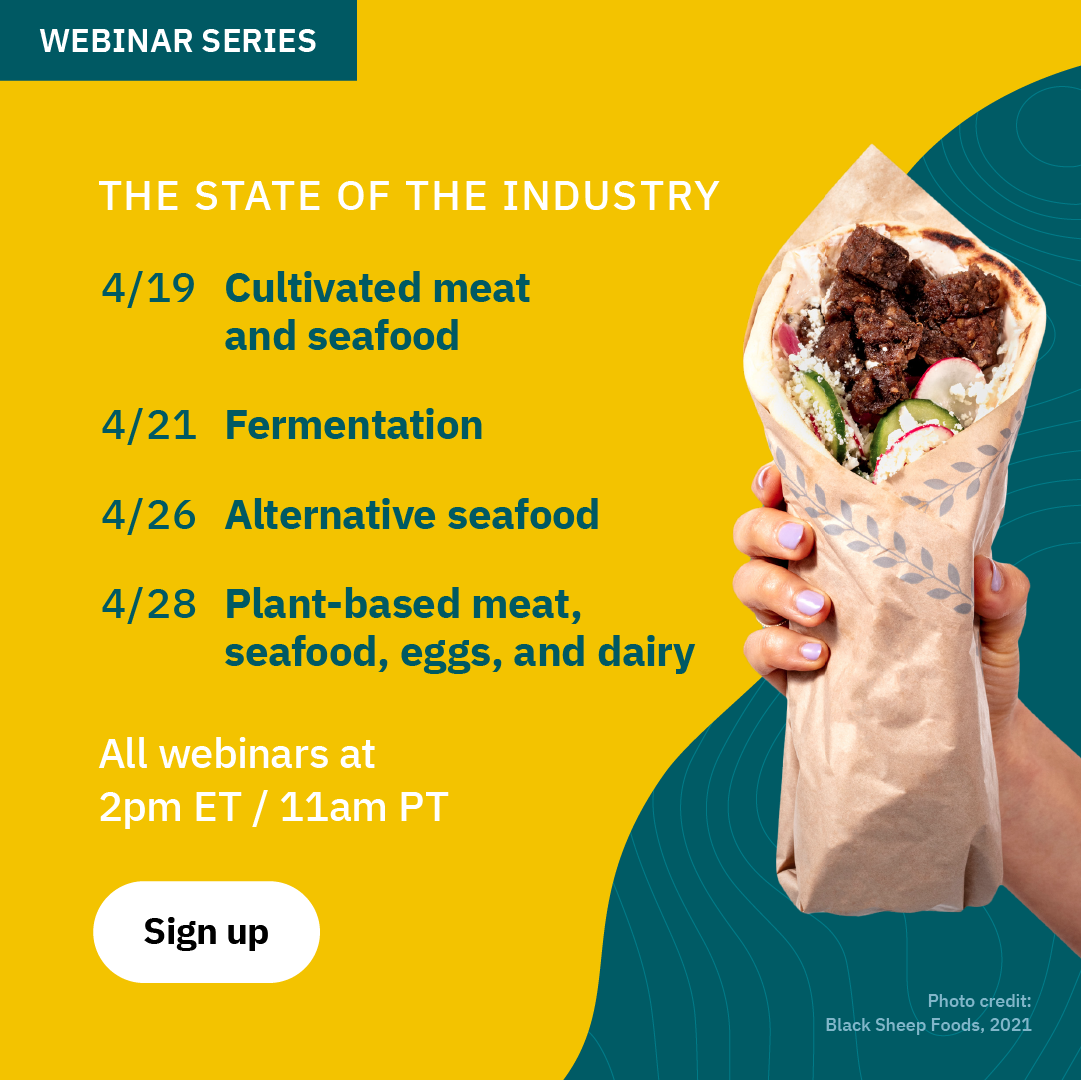 Catch our launch events
For an overview of the insights, you won't want to miss our series of launch events—networking mixers and webinars highlighting key developments across the plant-based, cultivated, and fermentation pillars, as well as a deep dive into the alternative seafood category.