Fermentation
Biosynthetic pathway discovery for fermentation-produced molecules
After identifying specific target molecules or desired functionalities in animal-derived foods, scientists can work backward, mining microbial sequences for candidate molecules in the microbial realm that might provide similar functionality. This process can also elucidate the pathways that produce these molecules and inform strategies for designing microbial strains that produce these molecules at scale.
Production platform
Fermentation
Value chain segment
R&D
Production
Raw Materials, Ingredients, & Inputs
Technology sector
Host strain development
Ingredient optimization
Target molecule selection
Relevant actor
Academics
Industry
Startups
Current challenge
Many of the desirable properties of food derive from specific functional molecules. These molecules include proteins and small molecules with defined structures that allow them to interact with other food matrix components or directly with a consumer's senses to generate particular flavors, aromas, and textures. Food products in which one molecule has been substituted with another often fall short of replicating the sensory experience of the original product. This is due to the high degree of complementarity between a molecule's structure, its function, and the sensitivity of sensory faculties to organoleptic properties. An additional challenge is that, while the sequence or structure of a molecule may often be identifiable, details of the biosynthetic steps required to synthesize a functional version of it remain ambiguous or unknown.
Proposed solution
The totality of microbial genomic information comprises an overwhelmingly vast, diverse sequence space, much of which remains unexplored. Only relatively recently have powerful "omics" and bioinformatics tools allowed researchers to catalog microbial nucleic acids and proteins and organize them into metabolic pathways and functions. Identifying microbial analogs of characteristic molecules from animal-derived meat (e.g., specific lipids, enzymes, and volatile compounds) would allow alternative protein products to mimic animal products more accurately. Strategies for genome mining and molecular manipulation developed by scientists investigating natural products for pharmaceutical candidates could be adapted directly to identify microbial sequences that could produce molecules that mimic these key animal molecules.
In addition to finding animal-free analogs, mining microbial sequence space also promises to discover entirely new food ingredients. Mining microbial sequences for novel biosynthetic capabilities is part of bioprospecting, a mature field of computational biology that has demonstrated success in various biotechnological applications, such as drug discovery and the development of industrial enzymes. For alternative proteins, if the desired functionality is known but not a molecular name or structure, computational strategies established by natural product bioprospectors can help identify candidate molecules that achieve that functionality. A similar approach is currently used by food ingredient companies Shiru and Motif. One particularly rich potential sequence space with untapped potential is metagenomic information: sequences containing unidentified or perhaps uncultivable organisms from microbial consortia. Computational mining of metagenomes will allow for the discovery of entirely new catalytic molecules and pathways for their synthesis.
After identifying specific molecules or functionalities of interest, the next step would be to access microbial sequence information. Most current research on microbial metabolic pathways is not focused on food applications, though interest in this area is growing. Comprehensive repositories of genomic, proteomic, and metabolomic information for microorganisms are available, including databases for microbial natural products and omics tools for food applications built with databases such as KEGG and ATLAS, which are general metabolic repositories that describe biochemical reaction steps for reconstructing microbial metabolic pathways. Greater availability of publicly-accessible computational resources specific to food molecule applications would improve the depth with which microbial sequence space can be investigated and potential candidate molecules can be identified, along with biosynthetic pathways amenable to commercial-scale use to produce these molecules.
Anticipated impact
Computational mining of the microbial sequence space has the potential to identify microbial molecules that mimic functional molecules in animal-derived foods more closely than plant-based versions. Additionally, a computational approach can uncover the enzymatic pathways used by the microbes to synthesize those molecules. Entirely new food ingredient molecules may also be discovered by applying a bioprospecting computational approach, especially when using sequences from metagenome environments. The impact of this approach will not simply lie in the creation of a better mimic of animal meat but the potential for entirely new flavor and texture profiles specific to alternative meat products.
GFI resources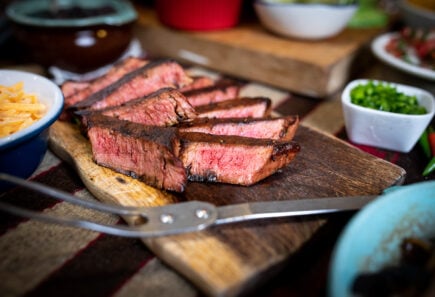 Learn about the emerging role of microbial fermentation in building the next generation of alternative protein products.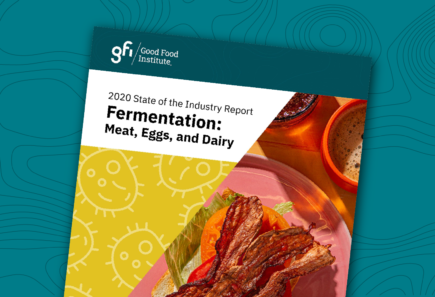 2020 was a year of milestones for the alternative protein-focused fermentation industry. This webinar will provide a global analysis of this rapidly accelerating, transformative market sector.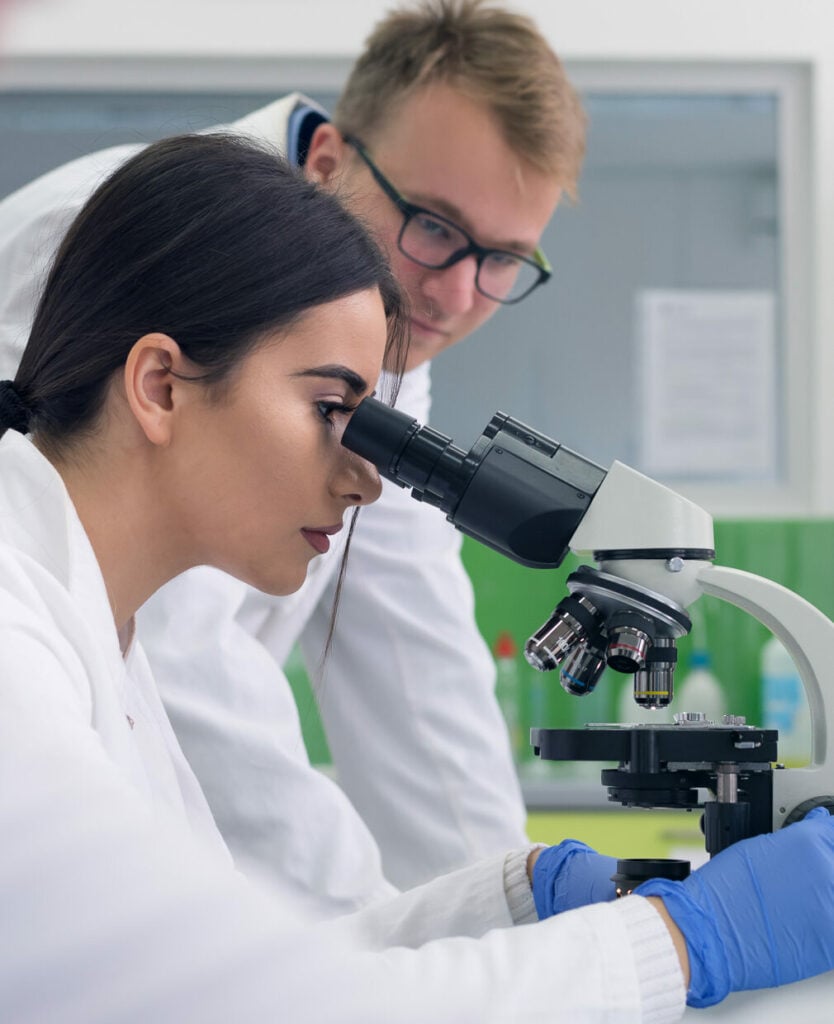 Find collaborators
Join the GFIdeas global community of 2,000+ entrepreneurs, scientists, investors, and subject matter experts. Discuss projects on the members-only Slack community, attend monthly seminars, and use the community directory to help you find collaborators working on similar Solutions!
Related solutions
Fermentation
Microbial fermentation provides an efficient method for generating lipid molecules that are chemically identical to those produced by animals. Research efforts are needed to expand current knowledge about the process…
Fermentation
As the alternative seafood industry scales up, a low-cost and abundant source of long-chain omega-3 polyunsaturated fatty acids will become necessary. Several means of producing these compounds have been investigated…
Fermentation

Plant-Based
In order to appeal to health-conscious consumers, alternative seafood products should contain similar omega-3 fatty acids, especially DHA and EPA, content to conventional seafood. Animal-free omega-3 ingredients can be expensive…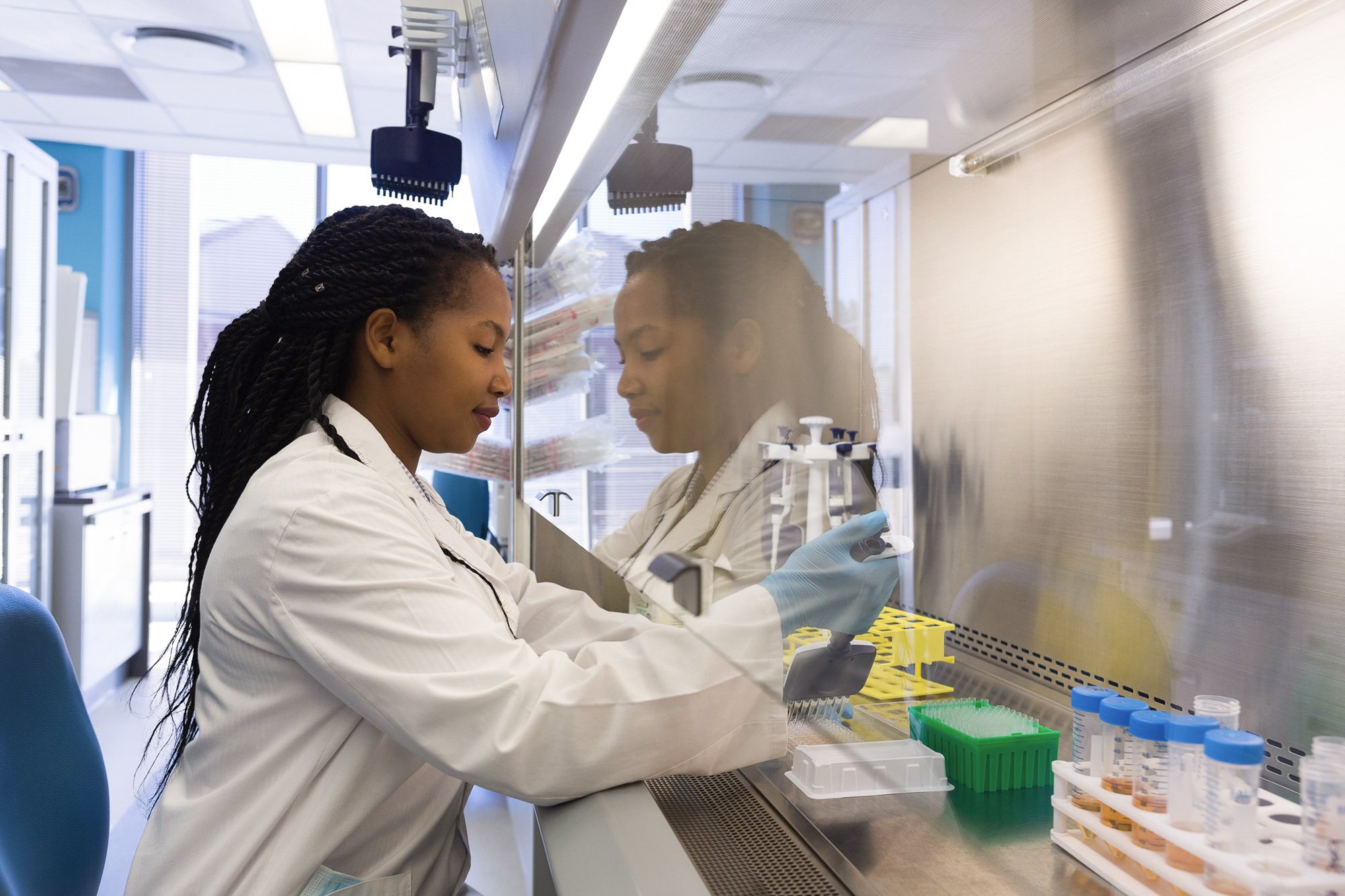 Explore the full solutions database
Browse 300+ startup ideas, commercial opportunities, research projects, and investment priorities throughout the alternative protein supply chain.
Get involved
If you'd like to fund a research project, work on any of these solutions, share information about related efforts that are already underway, or elevate new ideas for advancing the alternative protein industry, we'd love to hear from you!