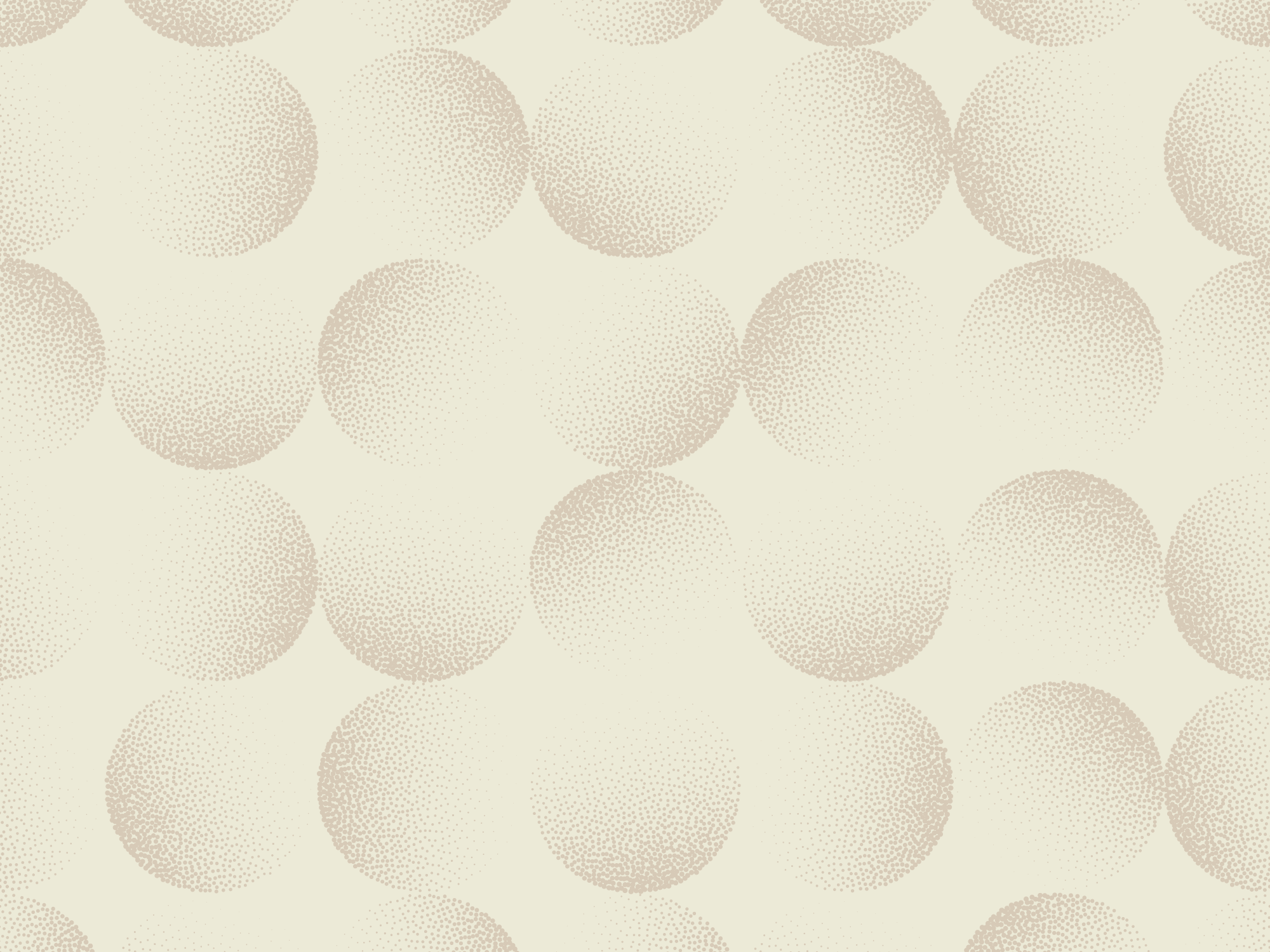 New GFI State of the Industry reports highlight untold stories and transformative potential of alternative proteins
2022 saw a record number of new companies join the fold, unprecedented government support, and a continued expansion of alternative protein products hitting the market
WASHINGTON — Today, the Good Food Institute (GFI) released its signature State of the Industry Reports, which are considered the most comprehensive and authoritative analyses on the alternative protein industry. All-time investments in cultivated, fermentation-derived, and plant-based proteins approached $3 billion, $4 billion, and $8 billion, respectively, by the end of 2022.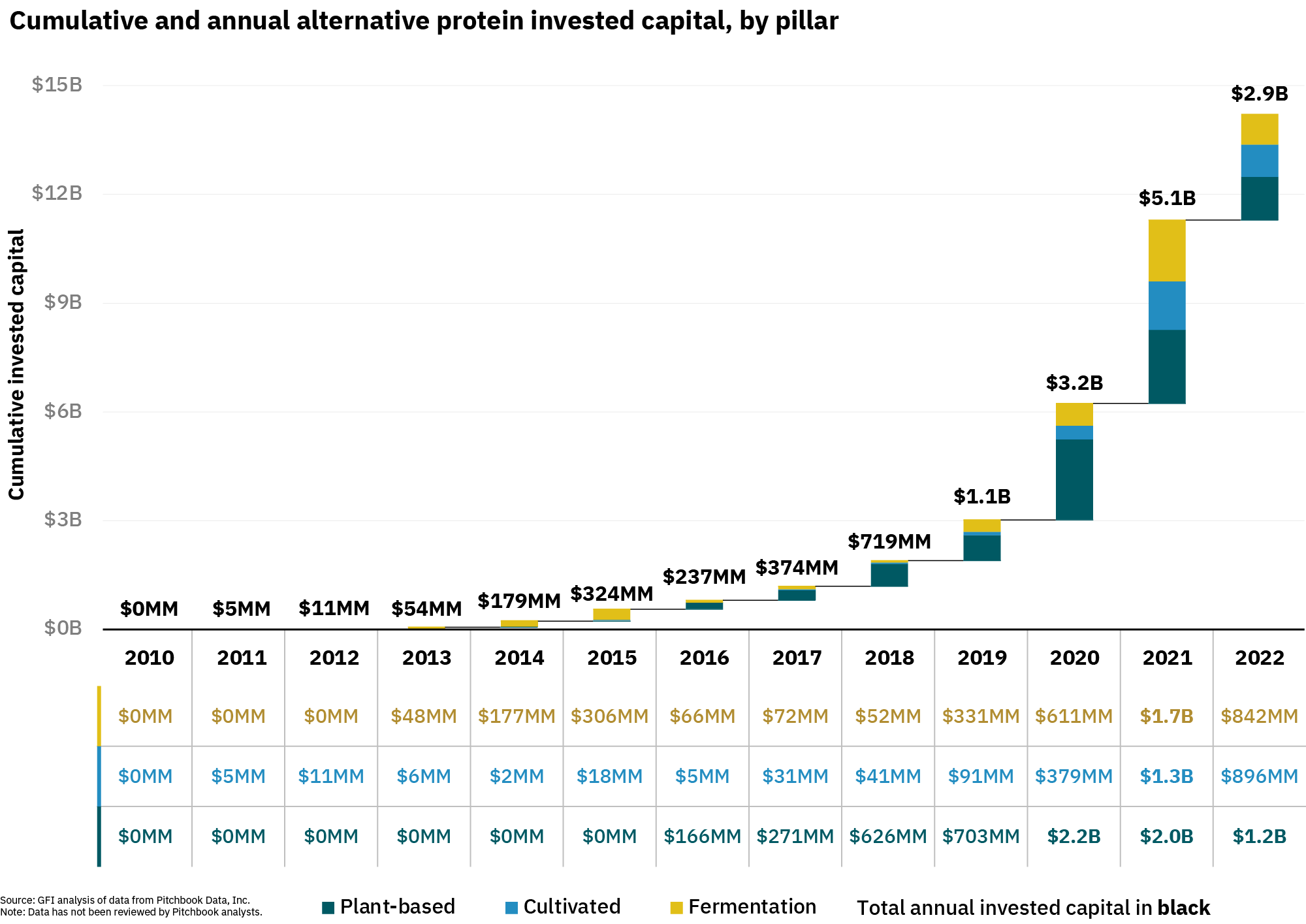 Alternative proteins–which include cultivated, plant-based, and fermentation-derived proteins–represent an opportunity to significantly reduce risks and improve the efficiency of meat production, while offering consumers the meat-eating experience they crave. Rethinking how meat is made can dramatically decrease emissions, protect human health, ensure food security for all, and maintain and improve biodiversity. GFI is calling on governments around the world to invest $10 billion each year in R&D and commercialization to deliver the full benefits of protein diversification.
Commercial landscape and record industry growth
In 2022, the alternative protein industry took steps toward maturation as a number of new companies and brands entered the marketplace, and companies formed new strategic partnerships and industry alliances.
According to Euromonitor data featured in these reports, from 2017 to 2022, the global plant-based meat and seafood market grew 118 percent from $2.8 billion to $6.1 billion.

19 new cultivated meat companies launched, for a total of 156 companies – up 14% from 2021 – across 26 different countries.
15 new companies dedicated to fermentation-enabled alternative proteins launched, for a total of 136 companies across 31 different countries—up 12% from 2021. Nearly 57% of companies focused on fermentation were founded in the past three years, demonstrating the industry's nascency.

The world's largest food companies are leaning into alternative proteins: The majority of the world's biggest food companies now have some involvement in the alternative protein sector–through either investment, acquisition, partnerships, or developing and manufacturing products themselves–highlighting the conventional food industry's confidence in alternative proteins.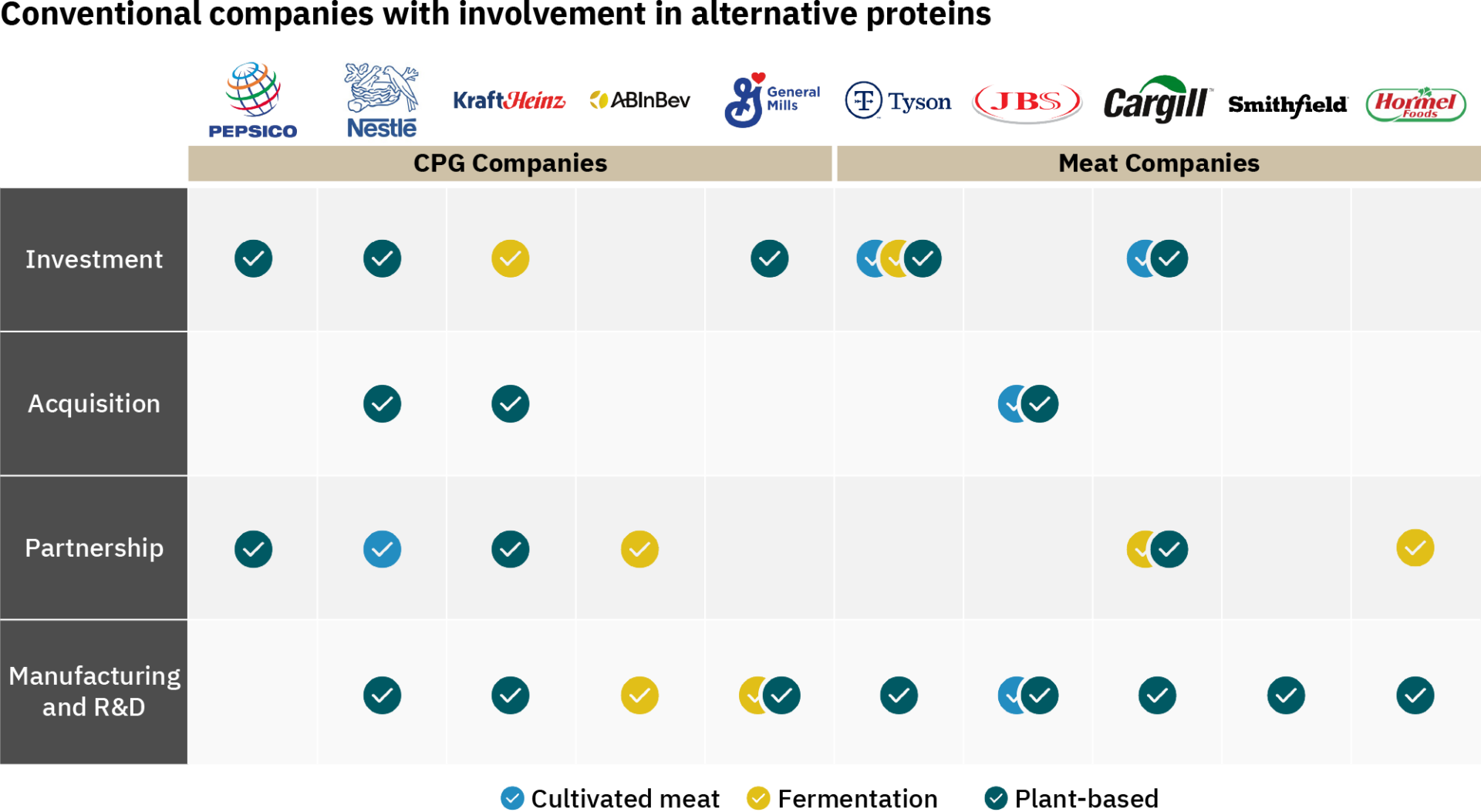 The fermentation for alternative proteins industry showed signs of maturation, with the formation of new industry associations, increased involvement by large food companies, and an expansion of the number of fermentation-enabled products available to consumers.

GFI and ProVeg joined 12 food companies as founding members of a new Fungi Protein Association. In early 2023, nine precision fermentation companies joined forces to form the Precision Fermentation Alliance, the first trade body focused on precision fermentation for alternative proteins.

Hybrid products–combinations of cultivated meat and fat, plant-based and/or fermentation-derived ingredients—can offer new technologies a quicker path to market.

Hybrid solutions permeated the alternative protein space in 2022, as food producers worked to blend plant-based, fermentation, and cultivated meat production in the pursuit of products that reach taste and price parity with conventional meat. For example, the world's first innovation center dedicated exclusively to hybrid cultivated and plant-based meat products opened in Singapore.
Hybrid products can increase access to new ingredients while improving the taste and sensory experience for consumers. For example, adding plant-based protein to cultivated meat not only decreases costs compared to a fully cultivated product, but may also offer additional nutritional benefits, like fiber.

While alternative protein investments decelerated to $2.9 billion in 2022 alongside the 35 percent drop in overall global funding, growth remains strong over the long term: $14.2 billion has been invested in alternative protein companies over the past decade, with investment nearly doubling on average each year. Read on for a deeper dive into 2022 investment numbers.
"Alternative proteins are a scalable solution that, with proper levels of public and private support, can transform our global food system for the better. The growth opportunities for this nascent industry are significant. With further investment and continued innovation to improve the taste and affordability of products, the industry will accelerate and be poised to capture sizable market share."
– CAROLINE BUSHNELL, GFI VICE PRESIDENT OF CORPORATE ENGAGEMENT
Governments commit unprecedented support–but more public investment is needed
2022 saw governments around the world initiate or increase funding for research and development, commercialization, and infrastructure for alternative proteins.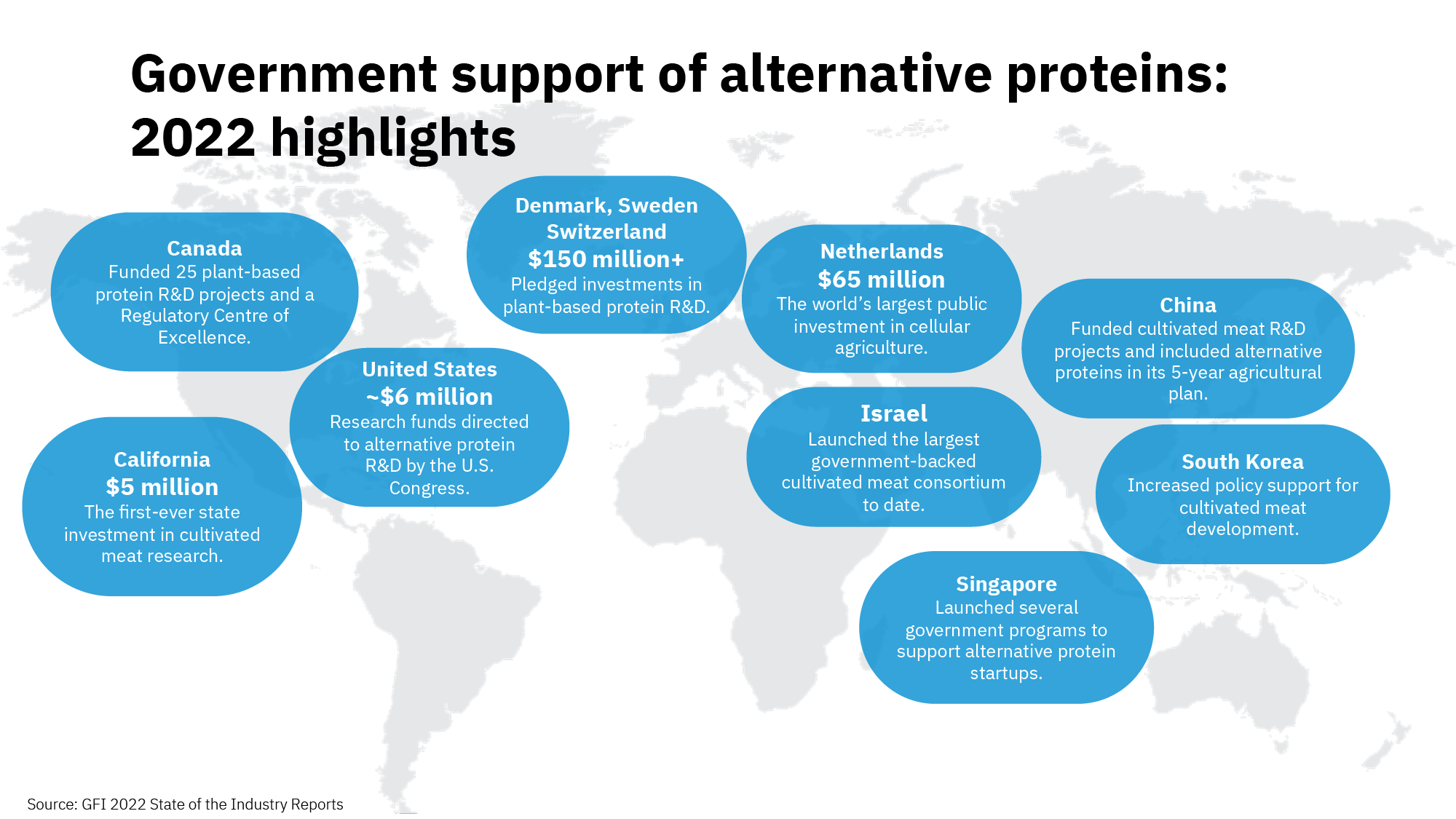 "Governments around the world are increasingly recognizing the urgent need to support the development of alternative proteins, and are providing unprecedented investment in R&D funding and infrastructure support. These investments not only advance technological progress, but also send a clear message that alternative proteins are a critical component of a sustainable food system. While more public investment is needed to meet global climate goals, 2022 showed us that leaders from the Netherlands to South Korea are paying attention and recognize the transformative potential of alternative proteins."
– JESSICA ALMY, GFI VICE PRESIDENT OF POLICY
Infrastructure and innovation continue to fuel the alternative protein supply chain
2022 saw the opening, expansion, and announcement of new facilities from companies around the world, indicating a shift towards more sustainable and innovative protein sources.
Cultivated meat: Numerous cultivated meat companies broke ground on, opened, or announced facilities, bringing the global total number of planned or operational pilot-scale (or larger) facilities to 27:

GOOD Meat broke ground on a new cultivated meat facility in Singapore, which will be capable of producing up to 50 tons of cultivated meat per year.
Believer Meats, formerly known as Future Meat Technologies, broke ground on a 200,000-square-foot facility in North Carolina that will have the capacity to produce at least 10,000 metric tons of cultivated meat per year.

Plant-based: Six companies opened new or expanded production facilities, and 11 new plant-based contract manufacturers were added to GFI's database, bringing the total number of known plant-based contract manufacturers to 127:

Lactalis Canada, maker of Siggi's yogurt, announced that they would transition their Ontario dairy plant to a dedicated plant-based production facility to meet the demand for the company's plant-based yogurts and milks. 
India-based BVeg Foods unveiled their new plant-based production facility, which can currently produce 4,000 metric tons of plant-based meat a year, with plans to scale up to 12,000 metric tons/year. 

Fermentation: A number of companies announced new or expanded facilities, bringing the number of known company-owned facilities to 17.
The scientific ecosystem for alternative proteins experienced impressive growth
As the alternative protein scientific ecosystem continues to mature, researchers published fresh peer-reviewed papers on alternative protein production processes. In 2022, 13 multiyear research projects covering cultivated meat, including those focused on cell lines, serum-free cell culture media development, and scaffolding were published, many in open-access journals.
New evidence continued to support the environmental and societal benefits of alternative proteins.
The university ecosystem focused on alternative proteins continued to grow.

Universities worldwide launched seven new alternative protein courses and one certificate program.
GFI's Alt Protein Project welcomed 20 new student groups, including groups in Asia, Africa, and Australia. This ecosystem-building program now spans 36 chapters across 17 countries and five continents.
"2022 was a powerhouse year for scientists, academics and researchers working in alternative proteins, as we saw the scientific ecosystem reach new levels of maturity and growth. The increasing body of evidence supporting the environmental and societal benefits of alternative proteins, including cultivated meat and microbial fermentation, further highlights why protein diversification is so critical to our global climate strategy. Collaboration and open-access research are essential for the continued success of this field, and I look forward to seeing how this generation of scientists will impact the future of food."
– DR. LIZ SPECHT, GFI VICE PRESIDENT OF SCIENCE & TECHNOLOGY
Press contact
Carolyn Englar The Good Food Institute, carolyne@gfi.org
Methodology
GFI's State of the Industry Reports were compiled through months of research, fact-checking, and insights from dozens of data sources including Pitchbook, SPINS, Circana (formerly NPD and IRI), Euromonitor, Mintel, consumer research studies, GFI analyses, GFI's Company Database, news articles, and stakeholder input. Individual data points are cited directly within the reports.
About the Good Food Institute
The Good Food Institute is a nonprofit think tank working to make the global food system better for the planet, people, and animals. Alongside scientists, businesses, and policymakers, GFI's teams focus on making plant-based and cultivated meat delicious, affordable, and accessible. Powered by philanthropy, GFI is an international network of organizations advancing alternative proteins as an essential solution needed to meet the world's climate, global health, food security, and biodiversity goals.
Since its inception, GFI has been laying the groundwork for cultivated meat to be granted regulatory clearance and enter the U.S. market and markets around the world. GFI advocates for fair public policy and public research funding for alternative proteins globally, which creates the regulatory and scientific foundation for many different companies to flourish. GFI's work with scientists, investor communities, policymakers, and companies across the supply chain, as well as its research grant program, is powered by a global community of donors.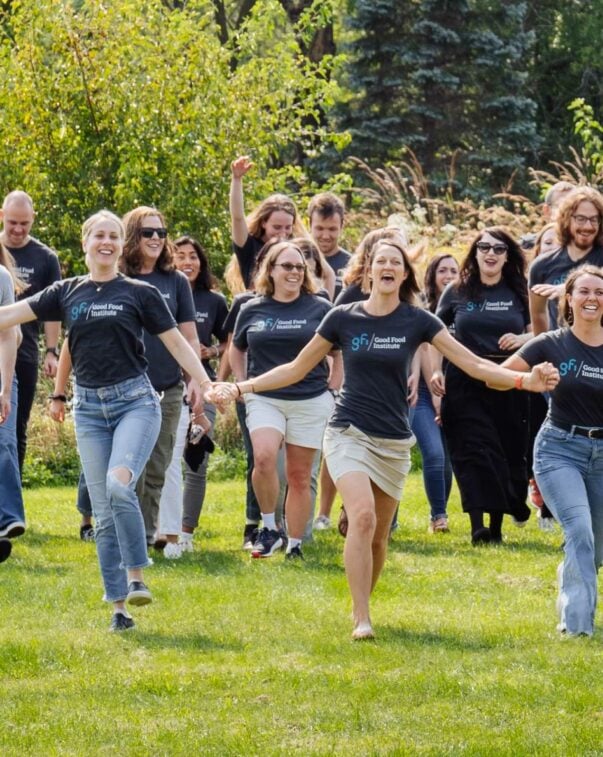 Resource
Monthly Highlights
Subscribe to a monthly report on GFI's work from the desk of CEO Bruce Friedrich.