Charting the course toward an alt protein economy
Learn how GFI is connecting food system change makers around the world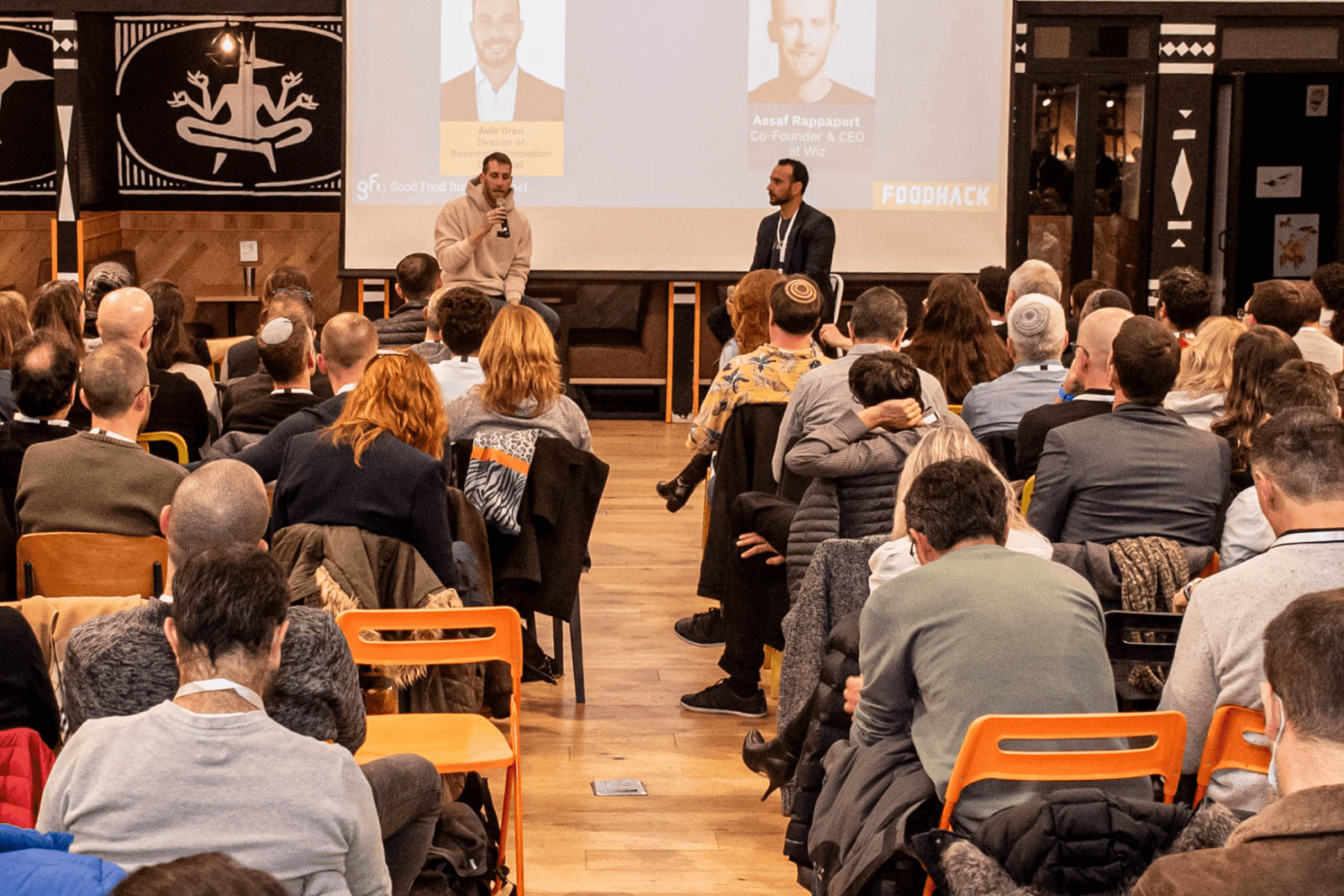 Aviv Oren (right) at the How to Build a FoodTech Unicorn event – Aviv hosted a fireside chat with Assaf Rappaport, CEO and Co-Founder of Wiz, the world's fastest-growing cybersecurity startup.
"Our goal was to bring the community together,"
said Aviv Oren, reflecting on the recent GFI Israel-hosted event How to Build a FoodTech Unicorn. "We're sparking connections, sharing ideas, and helping leaders dream big."
As GFI Israel's director of business engagement, Aviv is an expert in convening industry leaders and turning alternative protein dreams into reality. In-person events are the ideal venue for building trust between CEOs and investors, but Covid had limited GFI Israel's ability to host face-to-face gatherings. In March, with cases finally waning, the team seized the chance to bring together 250 CEOs, entrepreneurs, investors, researchers, and policymakers from across the food tech space. These leaders were eager to finally have a chance to connect: open seats for the event were filled in just a few hours, compelling the GFI Israel team to secure a larger venue.
The focal point of the FoodTech Unicorn event was a panel with the CEOs of four alternative protein startups that have each raised over $100 million. These leaders shared their experiences with finding investors, scaling up, and building a strong team. While the four aspirational companies have yet to become unicorns (startups with a valuation of $1 billion or more), Aviv is optimistic that GFI's support and mentorship can catapult young startups toward unicorn status.
In parallel with their work connecting industry leaders, Aviv and the GFI Israel team are leveraging government support to supercharge the alternative protein ecosystem. GFI recently celebrated a victory when the Israeli government approved an $18 million grant to support a cross-sector Cultivated Meat Consortium, a major milestone that was the result of years of work with the Israel Innovation Authority. For Aviv, this project demonstrates the critical intersection between GFI's work across policy, science, and industry.
Laying the groundwork for a world where alternative proteins are no longer alternative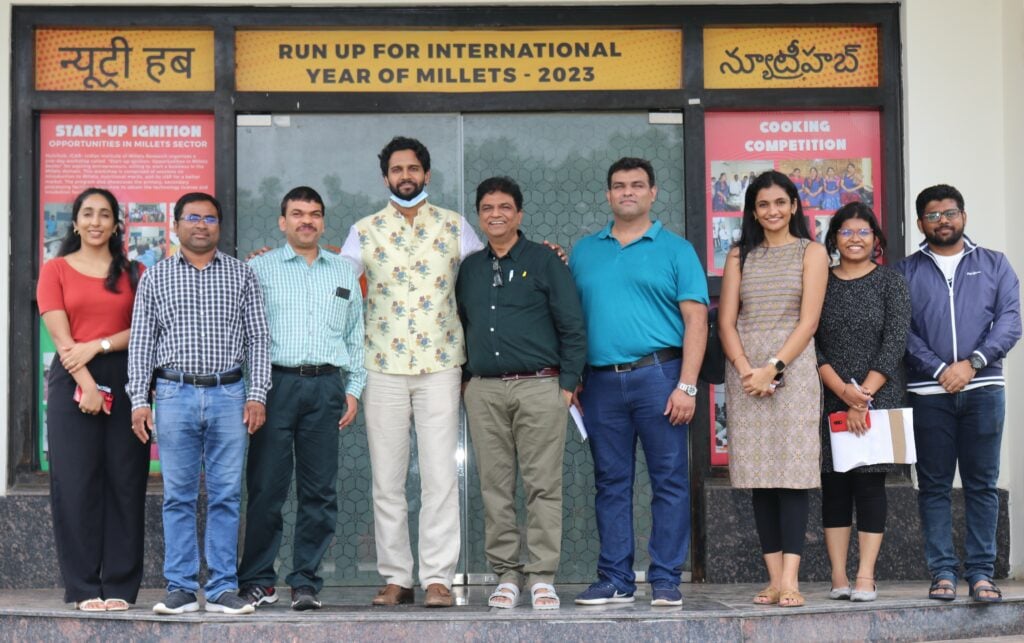 In Israel, India, Europe, Asia Pacific, Brazil, and the U.S., GFI's Corporate Engagement teams are convening the next generation of innovators, strengthening industry relationships to accelerate the sector, and building networks that would not exist without GFI's support. Entrepreneurs and alternative protein leaders turn to GFI when they're looking to make connections, launch a new business, or expand their alternative protein portfolios.
Two resources that are helping food system changemakers connect and thrive are GFIdeas and GFI's new Entrepreneur in Residence (EIR) Program. The GFIdeas community launched in 2019 as a connection and learning network designed for entrepreneurs, scientists, and students who are driving alternative protein innovation.
By hosting regular events, including seminars, roundtables, workshops, and networking sessions, GFIdeas helps forge new connections and inspire fresh insights into the technical challenges facing the alternative protein field today. GFIdeas has spawned local chapters, including the GFIdeas India community and a brand new chapter in the Asia Pacific region. The GFIdeas India community held its first in-person meetup in March in Bengaluru with subsequent meetups in New Delhi and Mumbai.
GFI's EIR Program launched in June and provides an avenue for entrepreneurs to collaborate closely with GFI's Corporate Engagement team to catalyze alternative protein innovation. While GFIdeas serves as a broad network of support for innovators across the industry, the EIR Program is designed for entrepreneurs who have identified a solution that addresses a specific gap in the alternative protein ecosystem.
Tomorrow's good food visionaries
Innovators and entrepreneurs play a special role in the alternative protein sector because they help clear technical roadblocks and launch companies that fill knowledge gaps. GFI India is broadening the path for new talent to find solutions through their flagship initiative, the India Smart Protein Innovation Challenge. Now in its second year, the Challenge is growing a pipeline of innovators and entrepreneurs who will allow tomorrow's alternative protein ecosystem to flourish.
This year's Challenge focused on training the next generation of innovators through intensive programming and mentorship on the business, science, and path to market for alternative proteins. 745 participants from 590 colleges, universities, and organizations across India joined the Challenge with the shared goal of addressing key commercial whitespaces across the alternative protein value chain.
The Challenge culminated with a closing pitch day for teams to present their projects. These included a shelf-stable plant-based egg with a separate white and yolk as well as technology for using vegetable waste to create high-protein ingredients.
By connecting hundreds of young leaders with potential partners and resources, GFI India is paving the way for innovation.
The journey ahead
Powered by donor support, GFI is enabling more and more people to venture together toward a brighter food future. Whether learning from a panel of experienced alternative protein leaders, networking on a GFIdeas call, or pitching the next product or technology, the alternative protein workforce of tomorrow has a place to grow at GFI.
Together, we are building networks and sharing knowledge to fuel the entire alternative protein ecosystem and map out the journey ahead.
Learn more about our impact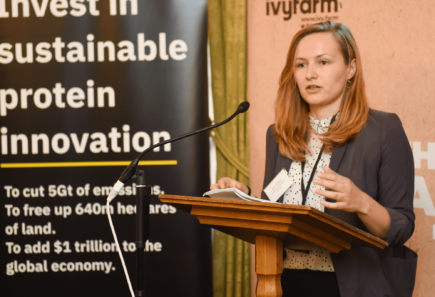 Learn how GFI is making inroads for alternative proteins at the highest levels of government.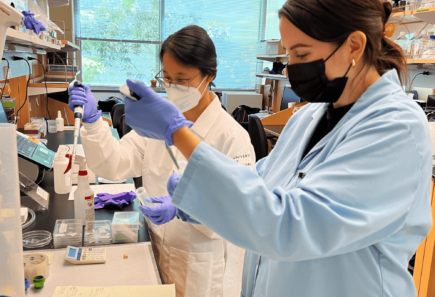 Scientists are using GFI funding to create the next wave of plant-based and cultivated meat.
Learn how students are putting alt proteins on the map in this GFI impact piece.