Engaging governments to lead on food system transformation
Learn how GFI is making inroads for alternative proteins at the highest levels of government.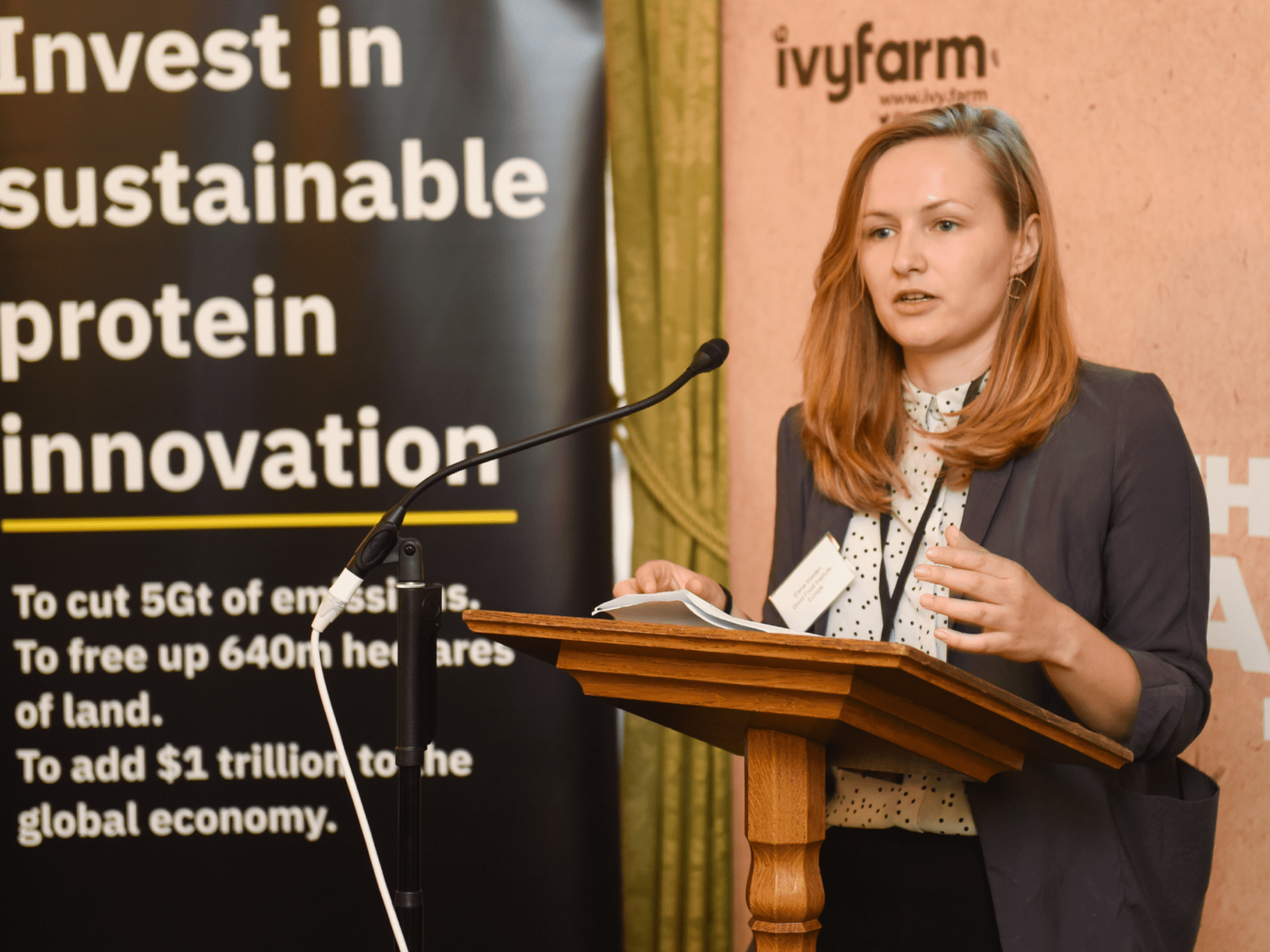 "The UK government should invest in open-access research to accelerate progress and ensure our world-leading universities are at the forefront of sustainable protein science,"
declared GFI Europe policy manager Ellie Walden, addressing 39 government officials at the first-ever United Kingdom Parliament reception dedicated to cultivated meat. "Just as we've done with renewable energy."
In May, Ellie and the GFI Europe team joined forces with cultivated meat startup Ivy Farm to co-host this milestone event. Bearing in mind the valuable opportunity to engage this influential audience, Ellie leveraged GFI Europe's role as an NGO to call for greater government investment in alternative protein research and development, advocating cultivated meat as a solution to mitigate climate change and food insecurity.
Following the reception, GFI Europe briefings and reports were on the desks of 50 members of parliament and other policymakers. Getting these resources in front of government officials advanced a critical goal for Ellie and her team: establishing GFI as a thought leader and trusted source of knowledge on alternative proteins.
GFI Europe's efforts are already having an impact. Just weeks after the event, the UK Parliament held its first-ever debate specifically on the topic of cultivated meat, where a senior MP told the Minister for Farming, Fisheries, and Food that GFI and Ivy Farm had opened their eyes to the potential of cultivated meat. The Minister responded with enthusiasm and affirmation that the UK would continue building on its past support of alternative protein research and innovation.
Clearing the path forward
For Ellie, alerting changemakers to the possibilities of alternative proteins starts with building strong connections. As a nonprofit think tank, GFI is strategically positioned to do just that.
Last year, after the GFI Europe team forged connections and shared information about alternative proteins with the UK's National Food Strategy (NFS) team, the NFS recommended that the government invest £125 million in alternative protein research. This was the first wide-ranging review of the UK's food system in 75 years, and GFI Europe seized the opportunity to build trust with the NFS team by leading a series of meetings, technical conversations, and a tailor-made roundtable.
Recognizing that a recommendation doesn't guarantee implementation, GFI Europe continued conducting targeted outreach to grow support for alternative proteins, including organizing knowledge-building workshops and arranging conversations to answer questions about alternative proteins.
The UK government published its National Food Strategy white paper in June, and this official response to the 2021 recommendations includes four strong references to alternative proteins. Most significantly, the white paper includes the explicit statement that "the government will keep the UK at the front of this growing and innovative sector by supporting alternative protein research and innovation."
The GFI Europe team is getting crucial buy-in from UK government officials to carry this momentum forward. They collaborated with Member of Parliament Jonathan Djanogly on an article in which he responded to the NFS white paper recommendations:
Keeping good company
GFI Europe is not alone as they make inroads for alternative proteins at the highest levels of government. In Asia Pacific, Brazil, Europe, India, Israel, and the United States, GFI teams advocate public funding of alternative protein research as well as incentives for private-sector R&D, manufacturing, and infrastructure investments.
Throughout 2021, GFI's U.S. team worked to place alternative protein research on the climate agenda—and in 2022, it's official. Congress approved four key provisions in the appropriations bill:
Defining alternative protein R&D as climate science, which GFI's global teams have already started building on around the world
Adding alternative proteins as a critical area for funding in the Agriculture & Food Research Institute budget
Defining alternative proteins research exactly as GFI recommended: "research focused on the characteristics of animal meat using plants, animal cell cultivation, or fermentation"
Directing USDA to work with the National Science Foundation to fund nearly $5 million in new open-access alternative protein research.
GFI worked closely with House Appropriations Committee Chair Rosa DeLauro on this first inclusion of alternative proteins in federal legislation.
Creating a level playing field for alt proteins
Government funding is vital to the future of alternative proteins, but unfair regulation can limit their ability to compete in the market. As a nonprofit, GFI is uniquely situated to advocate policies that place all kinds of proteins on a level playing field across the industry. GFI Brazil's policy team celebrated a win in June when, after 18 months of advocacy alongside our partners at the Brazilian Association of Bioinnovation, Brazil's federal government updated their Industrialized Products Tax to remove taxes levied on plant-based milk.
For years, the tax exemption for milk only applied to conventional dairy. By covering plant-based products, the government affirmed that plant-based milk is as essential to the Brazilian public as conventional milk. This victory is a strong signal of governments increasingly recognizing the value of alternative proteins to consumers, opening the door for similar advancements for plant-based and cultivated meat and seafood in the future.
Blazing the trail together
Global problems require global solutions, and our teams collaborate across borders and sectors to help shape the future of alternative proteins. GFI's specialized role as a nonprofit think tank and international network of organizations allows us to advocate climate-forward solutions and nurture connections that spark lasting change.
For advocates like Ellie who are seeking to have the largest possible impact, our role is key to the success of the alternative protein ecosystem:
Because of donor support, we're unlocking the power of government investment and international collaboration to transform our global food system for good.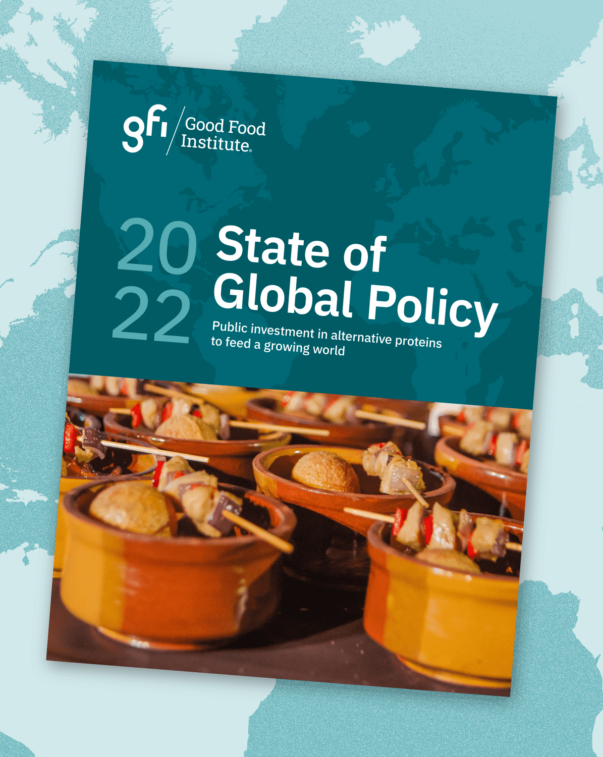 Resource
The State of Global Policy on Alternative Proteins
Our annual State of Global Policy Report tracks public investment in alternative proteins and showcases the actions governments took to position themselves as leaders in the field.