Cultivated meat media and growth factor trends
GFI and TurtleTree Scientific explore key insights from a 2020 cultivated meat industry survey that dives deep into current practices within the space, the direction and pace of progress, ways to close inefficiency gaps, and how to best meet manufacturer requirements.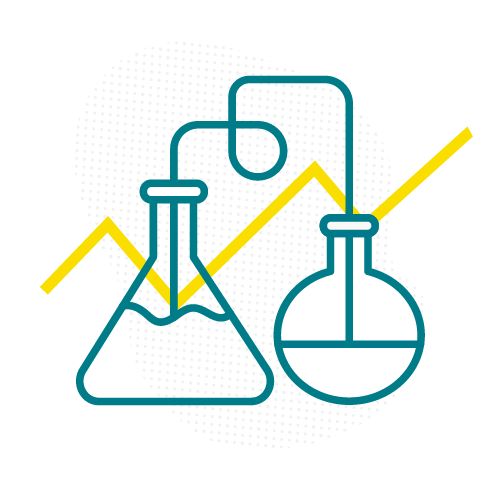 Forecasting demand to feed a growing world
The cultivated meat industry aims to feed a growing global population and to reduce the negative impacts associated with conventional animal meat production by manufacturing real meat from cultivated animal cells. While the industry has rapidly expanded over the past six years, there remains a lack of publicly available information needed for forecasting and future planning. Specifically, more information is needed to develop rigorous demand forecasts for commercialized products and process inputs and to inform anticipated production cost reductions over time.

Mapping industry trends with real-world industry data

Cell culture media compose the majority of current cultivated meat production costs. The majority of these costs are incurred by the recombinant proteins and growth factors added to media to assist cell growth and differentiation and to substitute the function of animal serum. To better understand how cell culture media and growth factors are being used and developed by the cultivated meat industry, a questionnaire was sent in late 2020 to cultivated meat manufacturers and suppliers of growth factors and media interested in supplying the industry. Based on responses to this survey from 19 cultivated meat manufacturers and 21 suppliers of culture media components or formulations, we have distilled a snapshot of this emerging industry's current progress and needs, with an eye toward future demands and cost reduction prospects.

Rapid progress has been achieved, but further improvements will be needed

The data collectively shows that cultivated meat manufacturers have made significant progress in reducing costs and developing medium formulations for various cell types and cultivated species. Many suppliers have begun to make adjustments to meet the unique requirements of the cultivated meat industry. Still, some inefficiencies between supply and demand were observed, such as pricing and availability of species-specific and food-grade versions of growth factors. The analysis presented here includes extensive insights into the industry's current practices, the direction and pace of progress, ways to close inefficiency gaps, and how to best meet the requirements of cultivated meat manufacturers.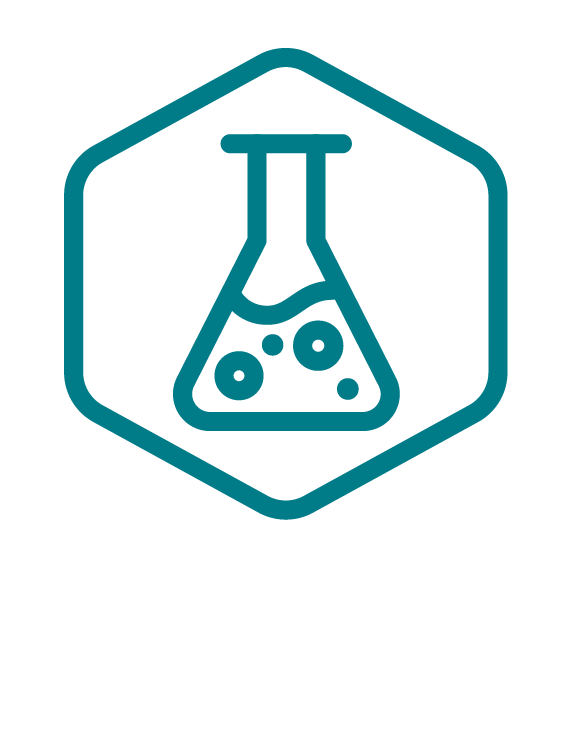 Key research ideas based on survey results:
Assessing hydrolysate-based cell culture media to understand the raw material sources that perform best for cultivated meat applications and provide insights on how to limit variability and improve reproducibility.
Analyzing the performance of feed-grade ingredients in cell culture medium.
Comparative analyses between species-specific versions of growth factors.
The development of medium recycling technologies.
Adaptation of cell lines for lower growth factor requirements.
Discovering plant-based protein homologues for animal growth factors.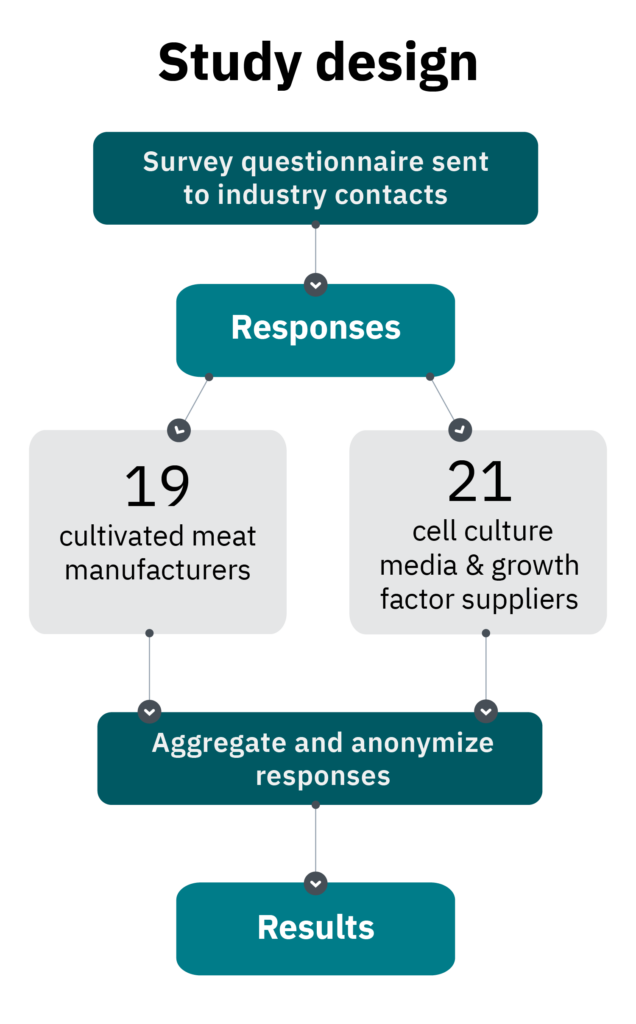 Surveying the cultivated meat industry
In December 2020, a questionnaire was sent to all known cultivated meat and milk manufacturers and all known cell culture media suppliers or suppliers of recombinant proteins and growth factors (hereafter growth factors) interested in supplying the cultivated meat industry. A total of 19 cultivated meat or milk manufacturers and 21 cell culture media or growth factors suppliers that aim to service the cultivated meat industry responded.1
Suppliers ranged from well-established companies that service multiple industries to early-stage startups that are still developing their first products. At the time of surveying, manufacturers had been in operation for an average of 2.5 years. We believe this survey represents the cultivated meat industry, with some skew in the data possible in manufacturer responses, which may be biased toward companies in earlier stages of maturity. Additional information about the survey respondents can be found in Manufacturer and supplier information below.
1 To encourage the highest possible response rates, respondents were not required to answer all questions; some answered the majority of questions while others answered only a partial set of questions. Reported percentages are rounded to the nearest whole number. To incentivize participation, companies that contributed data received early access to the comprehensive aggregate findings, with the understanding that this condensed summary would be made publicly available after an embargo period.
Get involved
If you'd like to participate in future cultivated meat industry surveys, fill out this form to let us know!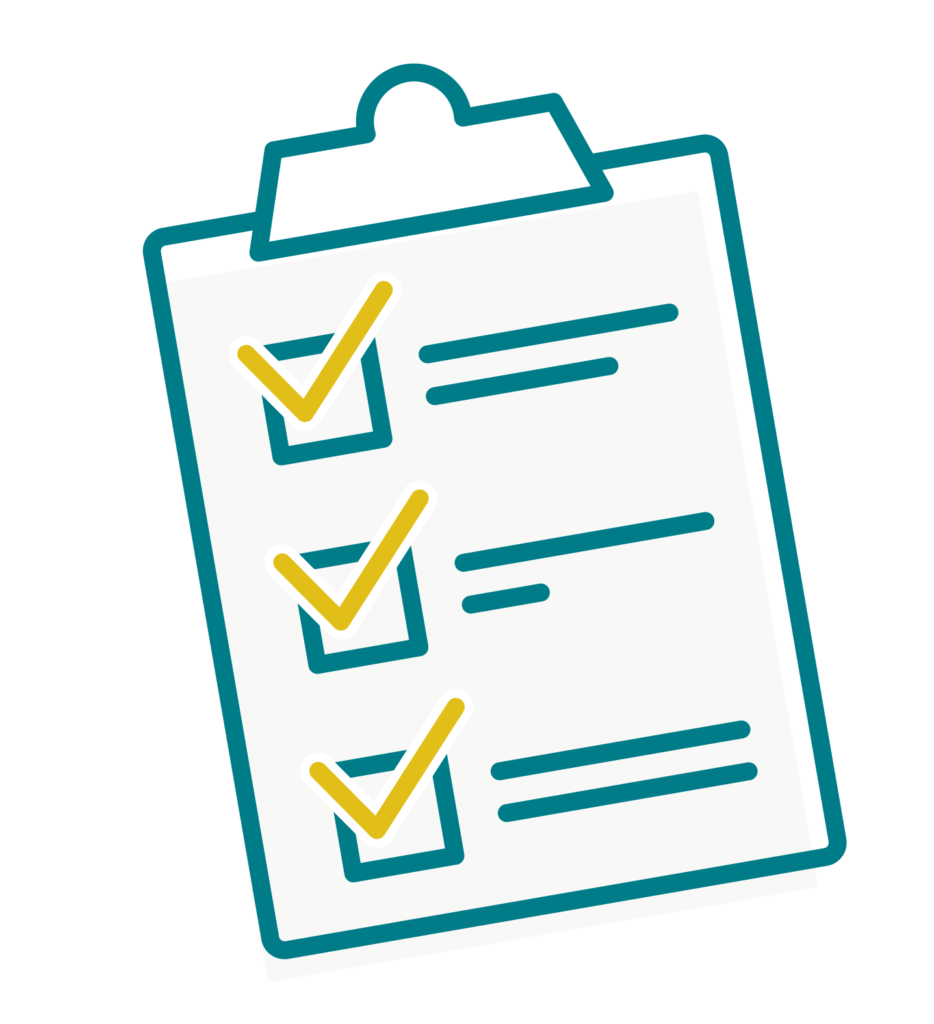 "*" indicates required fields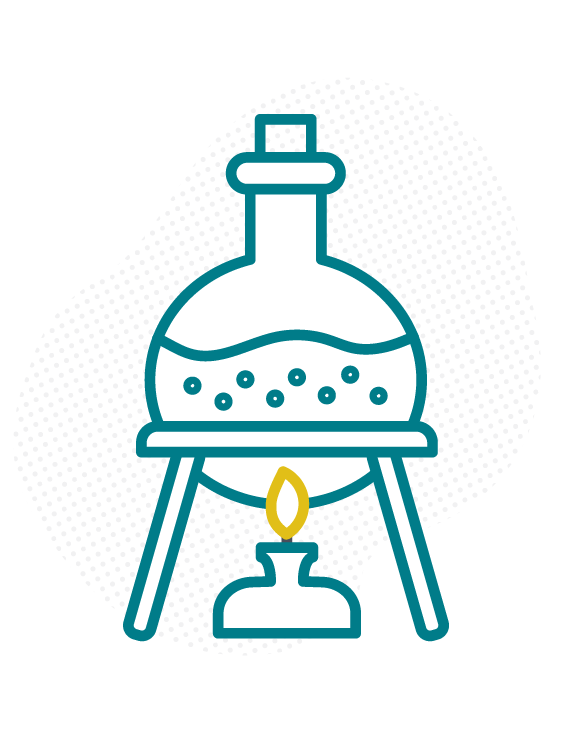 Manufacturer and supplier information
Manufacturers work with a broad range of cell lines and produce a broad range of cell types. Suppliers who aim to service the cultivated meat industry leverage their expertise in supplying other industries.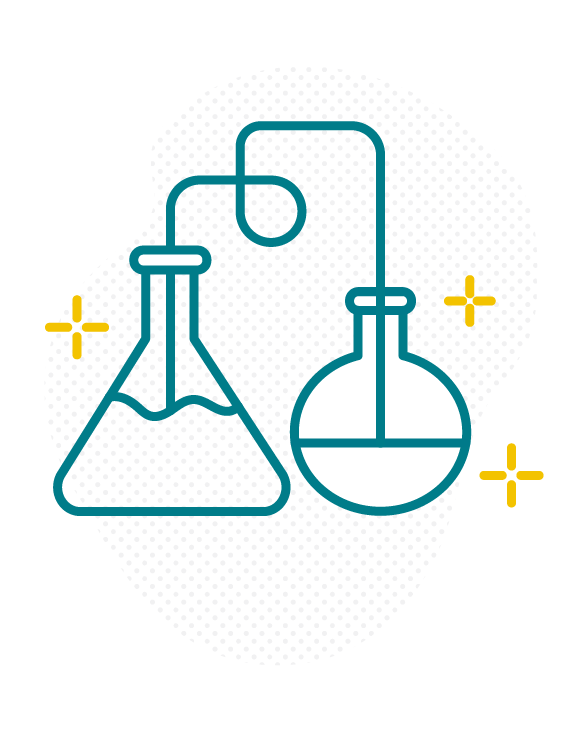 Growth factor production and characteristics
Suppliers and manufacturers use a variety of production platforms to produce growth factors. The industry is moving toward food-grade production of species-specific growth factors and exploring ways to optimize their production.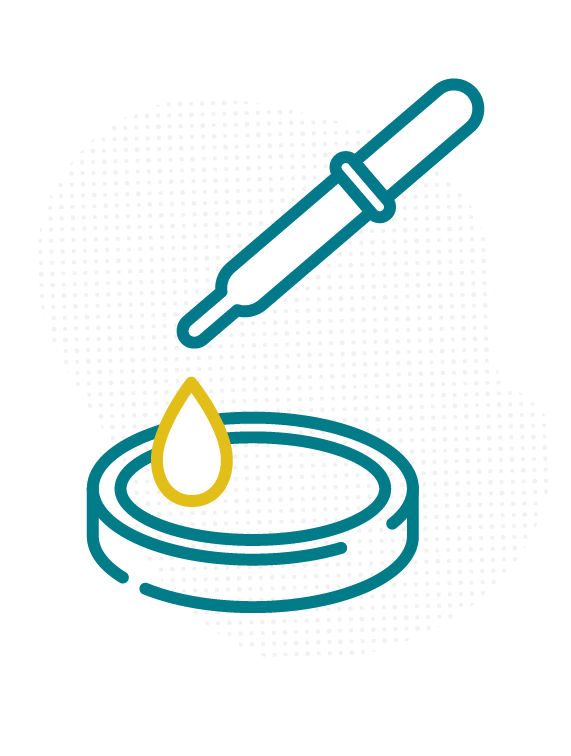 Cell culture media
Suppliers and manufacturers are shifting toward food-grade media components and creating optimized formulations unique to cultivated meat production's cell lines and species.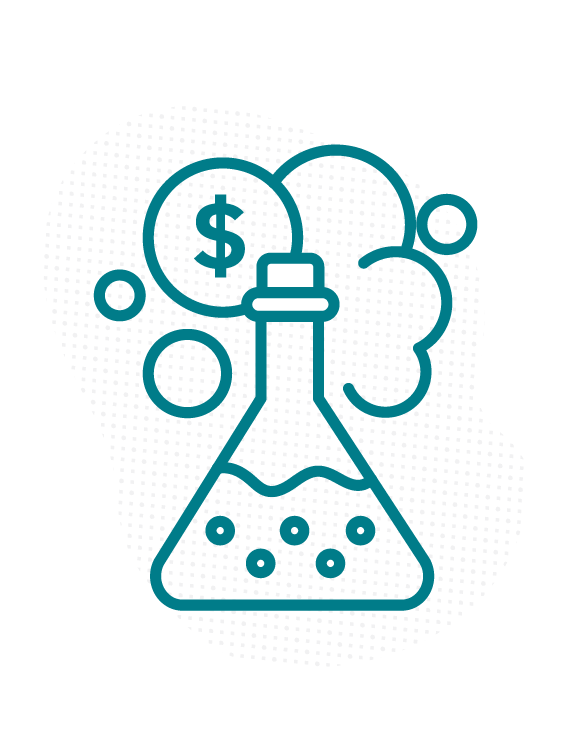 Cell culture media and growth factor costs
Significant progress has been made on reducing the most costly inputs—media and growth factors—throughout the industry.
Media costs
Media costs
Manufacturers indicated that medium generally accounts for most of their variable operating costs (Fig. 28, n = 8).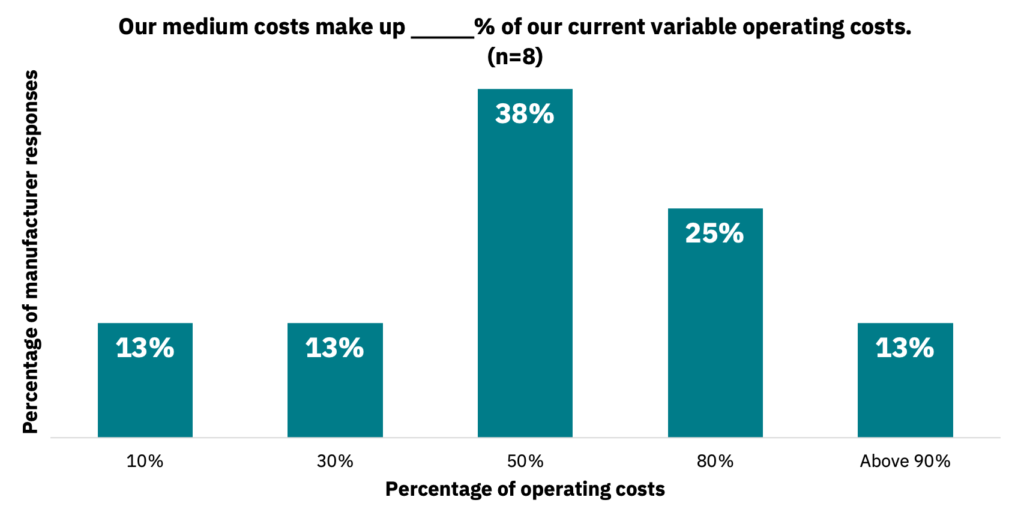 Manufacturers are achieving massive media cost reductions.
33% of manufacturers stated that they anticipate acquiring or producing their complete medium ingredients at a cost below $1.00 USD per liter in the next 12 months (Fig. 29, n = 15). Suppliers also anticipate that they will be able to significantly decrease medium production costs over the next five years. However, suppliers noted that this will be dependent on the growth factor requirements of the cells, which may lead to variable cost estimates (Fig. 30, n = 11).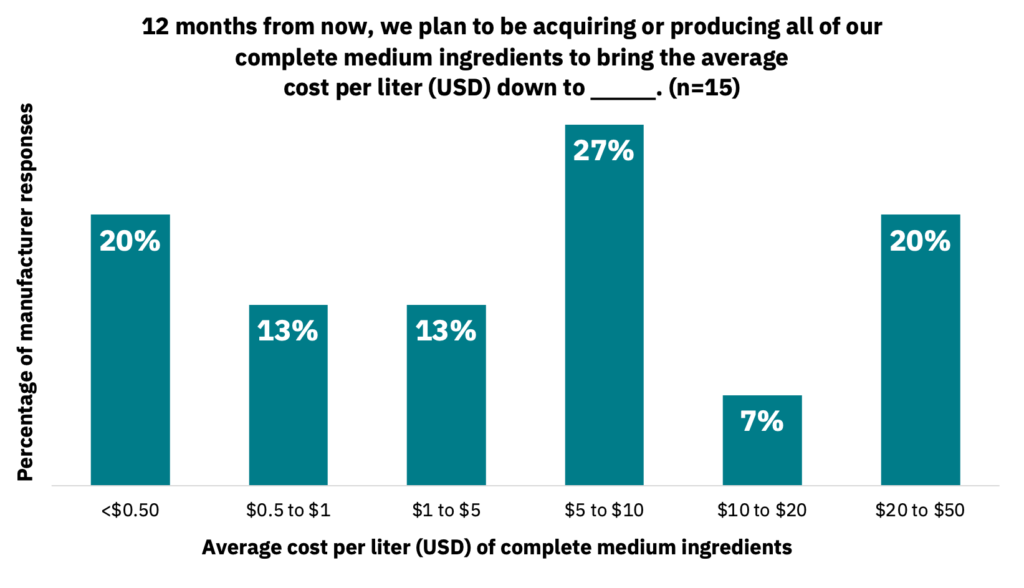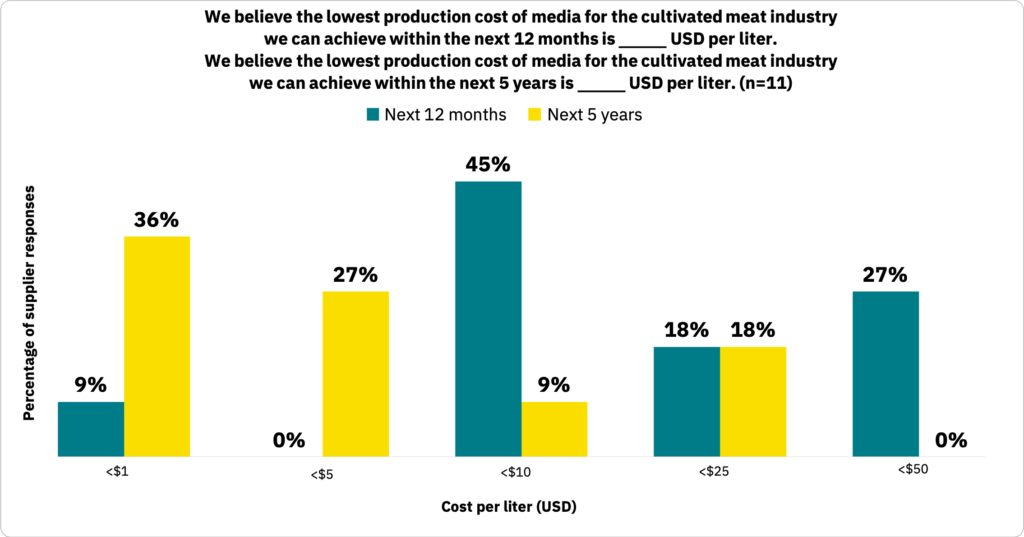 Supply-side pricing for media is still a work in progress.
Suppliers estimated that the lowest selling price of cell culture medium to maintain a viable business would be between $0.60 to $10 per liter (n = 11). Suppliers noted various barriers to lowering costs across their cell culture medium products (Fig. 31, n = 10).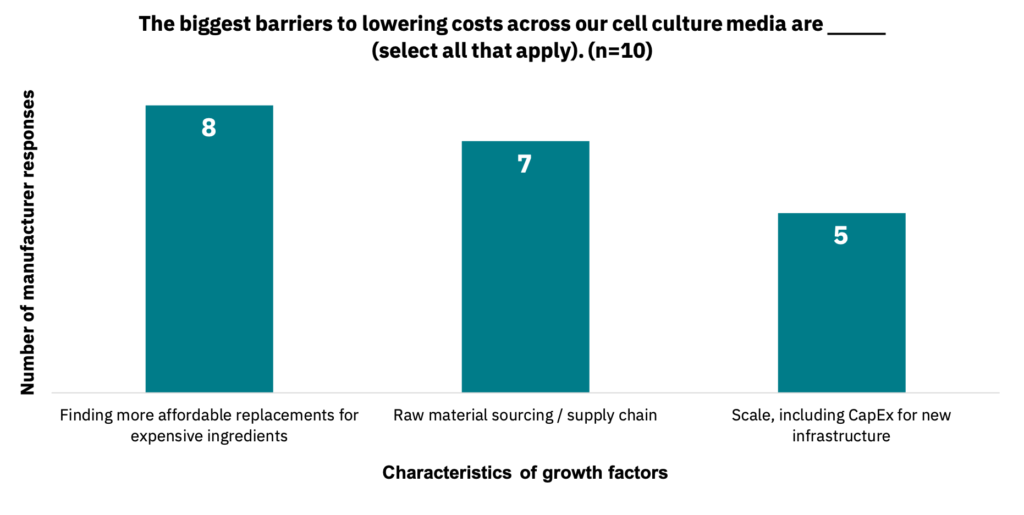 Industry progress points to media cost reduction being a smaller hurdle than originally anticipated.
Consistent with other reports, the cell culture medium was cited as a cost driver for manufacturers. Previous estimates suggested that cell culture medium costs could be reduced by 99% or more from current, off-the-shelf pricing for media containing pharmaceutical-grade components, hypothetically reaching costs as low as $0.24 per liter (Specht 2018). Because most off-the-shelf commercial media formulations for stem cell culture cost more than $100/L, cost reduction estimates less than $1/L represent at least a 99-percent cost reduction.
The survey data confirmed that these cost reduction estimates are already within striking distance for some manufacturers. Some expect to achieve Recent reports from Mosa Meat have also hinted at media cost reductions of 99%. The majority of suppliers also indicated that over the next five years, medium production costs per liter could drop below $5 and, in some cases, below $1. Suppliers also indicated that the sales prices of media could also fall below $1/L, with upscaling and sourcing affordable raw materials and key ingredients being important determinants for how low prices can reach.3 Collectively, these data support previous assumptions that cell culture medium production costs can be dramatically reduced in just a few years without requiring giant technological leaps.
---
3 The vast majority of media on a volumetric basis is water, and the true cost contribution of media for cultivated meat production will be a function of how efficiently the raw materials within the medium are metabolized into biomass. The more efficient the cell's metabolism, the fewer liters of media will be needed for production. Refer to Table 16 from (Sinke, P., Vergeer, R., Odegard, I. 2021).
Growth factor costs
Growth factor costs
Most manufacturers indicated that growth factors make up 60 to 80% of their current medium costs, with one respondent indicating just 30% (n = 8).
The cultivated meat industry uses a shared set of growth factors.
Manufacturers were asked to list the top five to 10 growth factors they use based on total volume (mass) and cost. Responses produced a largely overlapping list of growth factors, displayed as a non-ranked list in Table 1.
| Growth factor volume (mass) | Growth factor cost |
| --- | --- |
| Insulin | Insulin |
| IGF1 | IGF1 |
| FGF2 | FGF2 |
| EGF | EGF |
| LIF | LIF |
| NRG1 | NRG1 |
| | TGFb1 |
Additionally, recombinant albumin is also likely a candidate for both categories based on data inventory from a recent techno-economic assessment (Vergeer, R., Sinke, P., Odegard, I. 2021).
Growth factor costs are expected to fall precipitously in the short term.
Suppliers indicated that the current production costs for growth factors range from $4 to $400,000 USD per gram (n = 4). Suppliers indicated that within the next five years, producing their most efficient growth factors would likely fall within a cost range of $1 to $100 per gram (n = 6). Suppliers noted various barriers to reducing growth factor manufacturing costs, with yield being the largest (Fig. 32, n = 14). Other barriers included the demand for higher scale operation and balancing high bioactivity with low production costs.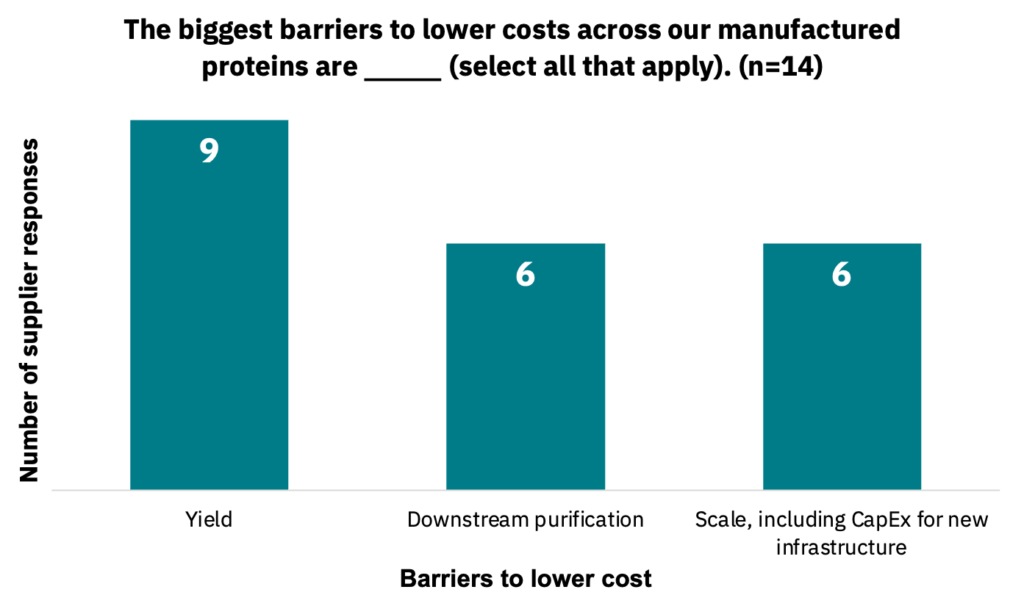 The current profit margin on growth factors for suppliers ranged from 30 to 90%, and suppliers estimated that margins needed to maintain a viable business were between 30% to 60% (n = 5).
With limited data available, manufacturers noted that their estimated costs of production for growth factors were between $50 to $2000 USD per gram when producing them in-house (n = 2).
Existing technologies can reduce growth factor costs to a nominal amount.
Survey data also corroborated other reports identifying growth factors as the primary cost driver of cell culture media (Vergeer, R., Sinke, P., Odegard, I. 2021). Suppliers cited wide ranges of current production costs for growth factors, spanning five orders of magnitude. However, suppliers also indicated that costs are expected to fall between $1 and $100 per gram within the next five years, reinforcing the notion that scaling up production of food-grade growth factors is sufficient to massively reduce growth factor production costs. If growth factor production costs within this range are achieved, the cell culture medium would no longer be expected to be the primary cost driver for cultivated meat manufacturers (Vergeer, R., Sinke, P., Odegard, I. 2021). Interestingly, some manufacturers pursuing in-house production of growth factors have also already achieved significant cost reductions. This is consistent with other reports demonstrating cost-effective growth factor production at smaller laboratory scales (Kuo et al. 2020; Lyra-Leite et al. 2021).
The diversity of growth factors demanded may pose a challenge for suppliers.
Manufacturers across the industry are mainly using a similar set of key growth factors. However, the pursuit of species-specific and engineered versions is likely to increase the overall number that the industry will demand. Nevertheless, identifying key growth factors is critical for suppliers to meet the industry's requirements and presents opportunities for pooled procurement at lower price points. Additionally, suppliers may have to make business plan adjustments based on expected or achievable profit margins for selling growth factors to the cultivated meat industry.
Pooled procurement
Pooled procurement opportunities
One area of alignment across manufacturers and suppliers was the desire for pooled procurement of media and growth factors. For instance, 92% of suppliers indicated they would be interested in offering reduced-price, volume-based arrangements for growth factors (n = 14). 82% of suppliers indicated they would be interested in supplying reduced-price, volume-based arrangements for cell culture media (n = 11). 100% of suppliers indicated that they would be interested in being contacted by manufacturers for co-manufacturing of growth factors (n = 15).
69% of manufacturers indicated they would also be interested in pooled procurement of growth factors, with another 25% answering that they were unsure (n = 16). The growth factors of greatest interest to manufacturers are listed below. Some manufacturers were interested in species-specific versions of these growth factors. Other growth factors than those listed here may be important for cultivated milk production.
Insulin
NRG1
EGF
TGFb1
FGF
IGF
Transferrin
LIF
Albumin (based on inventory data from Vergeer, 2021)
Manufacturers and suppliers agree on the benefits of pooled procurement.
Aggregating demand for specific high-value and high-cost ingredients across many cultivated meat manufacturers can unlock lower prices and increase efficiency in the supply chain for growth factors. The survey data indicate that both manufacturers and suppliers are interested in pooled procurement arrangements, and candidate growth factors of interest have been identified. To our knowledge, current purchasing arrangements are made between individual manufacturers and suppliers. An entity that can procure growth factors on behalf of aggregated buyers could benefit the entire industry.
If you are interested in pooled procurement purchasing opportunities, please reach out to BlueCell Syndicates (andy@blueledgecap.com) to learn more.
References
Kuo, Hui-Hsuan, Xiaozhi Gao, Jean-Marc DeKeyser, K. Ashley Fetterman, Emily A. Pinheiro, Carly J. Weddle, Hananeh Fonoudi, et al. 2020. "Negligible-Cost and Weekend-Free Chemically Defined Human iPSC Culture." Stem Cell Reports 14 (2): 256–70.
Lyra-Leite, Davi Marco, Hananeh Fonoudi, Mennat Gharib, and Paul W. Burridge. 2021. "An Updated Protocol for the Cost-Effective and Weekend-Free Culture of Human Induced Pluripotent Stem Cells." STAR Protocols 2 (1): 100213.
Sinke, P., Vergeer, R., Odegard, I. 2021. "LCA of Cultivated Meat: Future Projections for Different Scenarios." CE Delft.
Specht, Liz. 2018. "An Analysis of Culture Medium Costs and Production Volumes for Cell-Based Meat." The Good Food Institute. https://www.gfi.org/files/sci-tech/clean-meat-production-volume-and-medium-cost.pdf.
Vergeer, R., Sinke, P., Odegard, I. 2021. "TEA of Cultivated Meat: Future Projections for Different Scenarios." CE Delft.
Authors and partners
The Good Food Institute partnered with Turtle Tree Scientific to conduct the industry survey and analysis.
Authors
Elliot Swartz, Ph.D.*
Lead Scientist, Cultivated Meat
The Good Food Institute *Corresponding author
Jess Nguyen
Business Manager
TurtleTree Scientific
Timothy Neo
MSAT Manager
TurtleTree Scientific
Fionna Lee
Chief People Officer
TurtleTree Scientific
Partners
The Good Food Institute (GFI) is a 501(c)(3) nonprofit working internationally to make plant-based and cultivated meat delicious, affordable, and accessible. GFI advances open-access research, mobilizes resources and talent, and empowers partners across the food system to create a sustainable, secure, and just protein supply.

TurtleTree Scientific was founded out of a desire to solve the challenges of cellular agriculture. We're producing food grade growth factors and cell culture media to design the necessary foundations for the industry to thrive. TurtleTree Scientific is started by TurtleTree and is led by an experienced team of industry professionals.
Related resources
Discover papers, GFI resources, ongoing research projects, and research opportunities related to cell culture media and growth factor trends in the cultivated meat industry.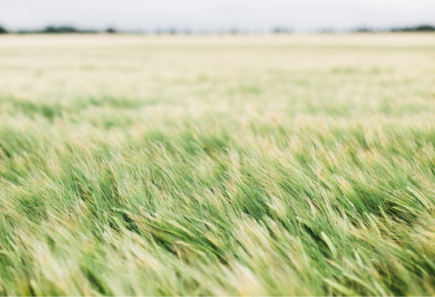 Join GFI Senior Scientist Elliot Swartz, Ph.D., for a review of key insights from a recent life cycle assessment (LCA) and techno-economic analysis (TEA) modeling a future large-scale cultivated meat…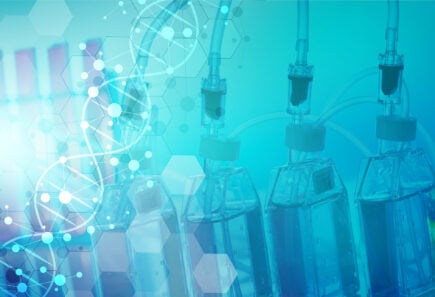 This white paper explains different routes to lowering the cost of cell culture medium and making cultivated meat economically viable.
GFI and collaborators model the quantities and cost profiles of growth factors and recombinant proteins needed for a mature cultivated meat industry.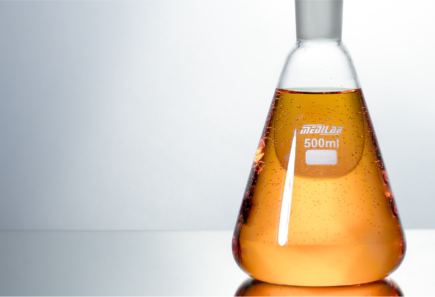 Learn more about cell culture media used in cultivated meat production.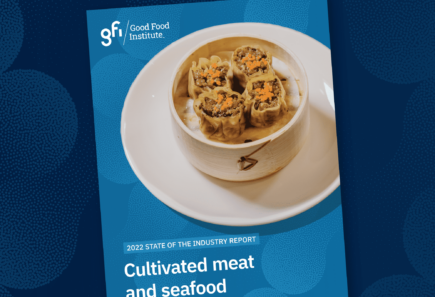 This report details the commercial landscape, investments, regulatory developments, and scientific progress in the cultivated meat and seafood industry.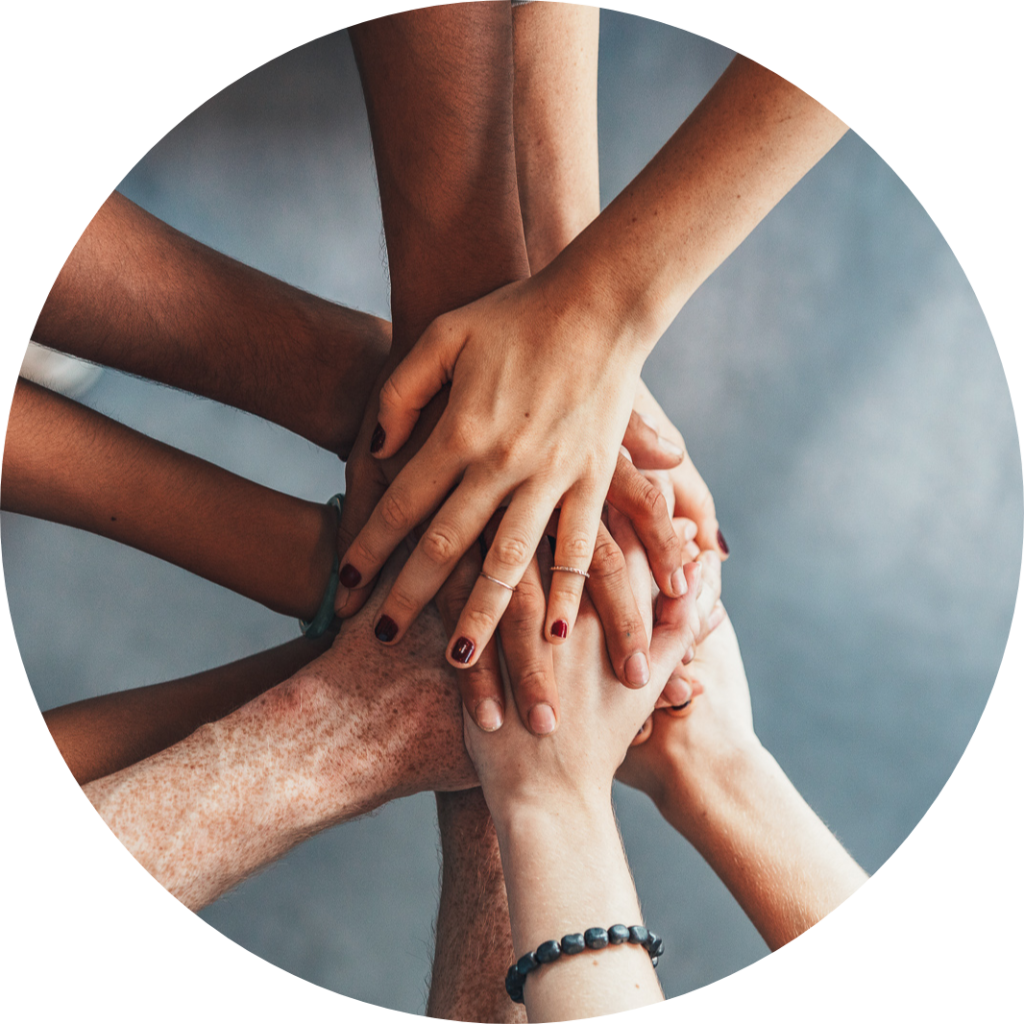 Support our work
Our industry engagement is made possible thanks to our generous, global family of donors. Philanthropic support is vital to our mission. Connect with us today to discuss how you can help fuel this transformative work.