Demand for plant-based meat is growing. We must ensure our supply chain can keep up.
How do we strengthen ingredient and manufacturing capacity for plant-based meat in order to meet demand? GFI's new report explores the future of this sector.
The rising demand of plant-based meat
In 2020, retail sales for plant-based alternatives grew twice as fast as overall food sales in the US. Sales for plant-based meat in particular grew 45 percent. This rising demand is influencing the sector in many ways, including an increasing number of farmers breaking into this "pulsing" category.
In recent years, consumer demand for plant-based meat has often outpaced the industry's supply chain capabilities. In order to keep pace with the rapidly expanding demand for plant-based meat in the coming decade, the plant-based protein industry will need to make significant investments to expand manufacturing capacity and scale the ingredient supply chain.
Anticipating ingredient, infrastructure, and investment needs
Based on publicly available forecasts of plant-based meat demand and production needs, GFI's new report, "Plant-based meat: Forecasting ingredient, infrastructure, and investment needs in 2030", explores a hypothetical production scenario set in 2030, where plant-based meat has captured 6% of the global meat and seafood market, necessitating the production of 25 million metric tons (MMT) of plant-based meat annually.
Potential bottlenecks and areas of opportunity
Our analysis identifies a looming potential for global supply squeezes of cornerstone ingredients, like coconut oil and pea protein, in the coming years while also highlighting opportunities for the industry to proactively mitigate these supply strains. We also conservatively estimate that the industry will need to operate at least 800 manufacturing facilities—each producing on average at least 30,000MT of product annually—at a global capital cost of at least $27B within the decade in order to meet a 25MMT production target. This underscores the importance and urgency of incentivizing bold infrastructure investments to facilitate this transition.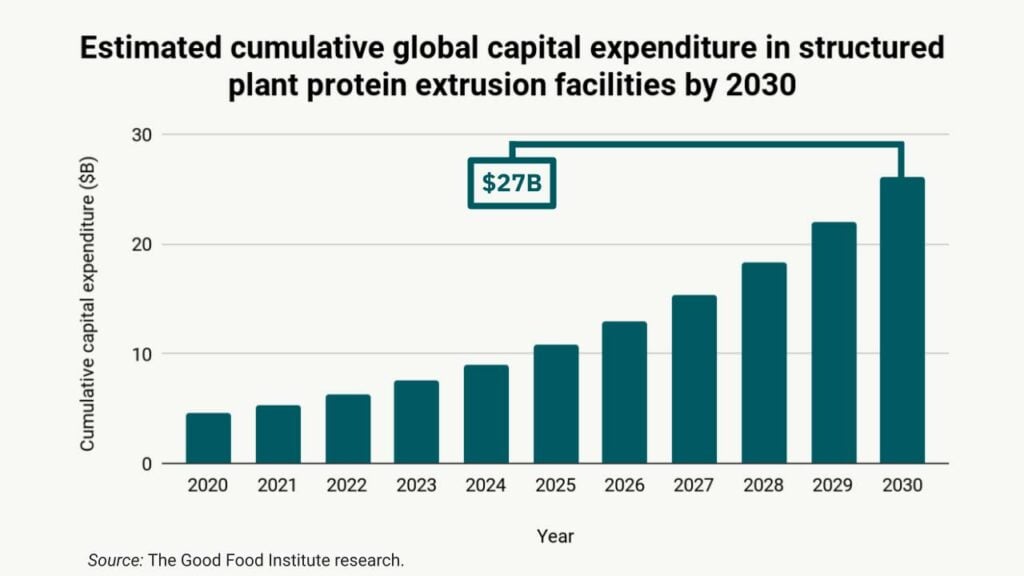 Some of these supply-side constraints are already happening. It is no secret that, in recent years, the plant-based meat industry has been supply, not demand, constrained. Numerous manufacturers are running into difficulties expanding production capacity to meet the needs of restaurants and grocery stores eager to offer novel and sustainable products.
GFI's mission is to accelerate a transformation in our food system toward alternative protein production platforms as quickly as possible. Encouragingly, several industry analysts and market research reports have projected that this transformation may occur very rapidly. However, the topline projections often understate the real-world challenges of meeting such rapidly growing demand.
Market adoption curves can occur with shocking speed in many sectors, but in the food and agriculture system, transformation entails massive ingredient supply chain and infrastructure implications—not to mention impacts on global commodities markets—that can take time and substantial capital to manifest.
This is not like an app on a smartphone, where—in theory—billions of users can download it nearly instantaneously. This is not even like the conversion from traditional mobile phones to smartphones, where consumers made the switch by virtue of a single purchase of a product containing just a few ounces of material. Sustained transformation of the food system necessitates durable changes in the entire end-to-end supply chain of food production and, of course, lasting shifts in consumer purchasing patterns.
The private sector—investors, ingredient processors, extrusion equipment providers, and manufacturers alike—can realize significant financial upside by appreciating and planning for the enormous plant-based meat supply chain build that must take place in the coming decade. Likewise, governments would be wise to recognize that meaningful climate gains from a scaled shift towards plant-based meat will not be achievable in the near term unless they invest soon in open-access R&D and infrastructure for this burgeoning industry.
Meat made differently
Plant-based meat supply chains have structural efficiency and flexibility advantages over their conventional meat counterparts. Despite these comparative efficiencies, the industry should not underestimate the challenges and opportunities in expanding the plant-based meat supply chain to a scale rivaling that of conventional meat. Our analysis quantitatively demonstrates the enormous manufacturing footprint and level of investment necessary to avoid future supply constraints and successfully hit even modest plant-based meat production targets in 2030.
But our effort doesn't stop here! Going forward, GFI will add cultivated meat and fermentation-powered proteins reports that answer similar questions about these critical technologies. These forecast reports are critical in ensuring the alternative protein industry can effectively and expediently realize the promise of meat made differently.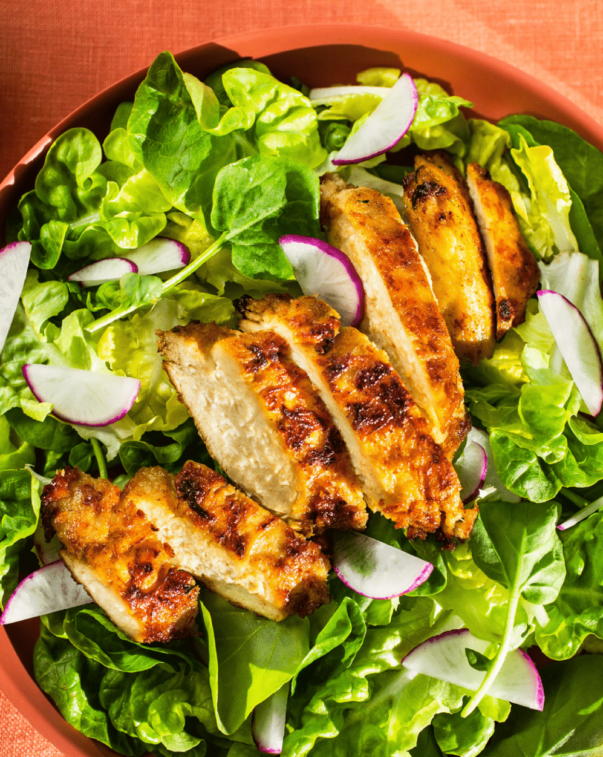 Plant-based meat: Anticipating 2030 production requirements
In this in-depth report, we anticipate plant-based meat production requirements by 2030 to enable early identification of potential bottlenecks for ingredients, infrastructure, and investment needs.