GFI U.S. welcomes new president Ilya Sheyman, as CEO Bruce Friedrich goes global
A conversation about new beginnings, global opportunities, values, and culture. And oh yes, cats and dogs.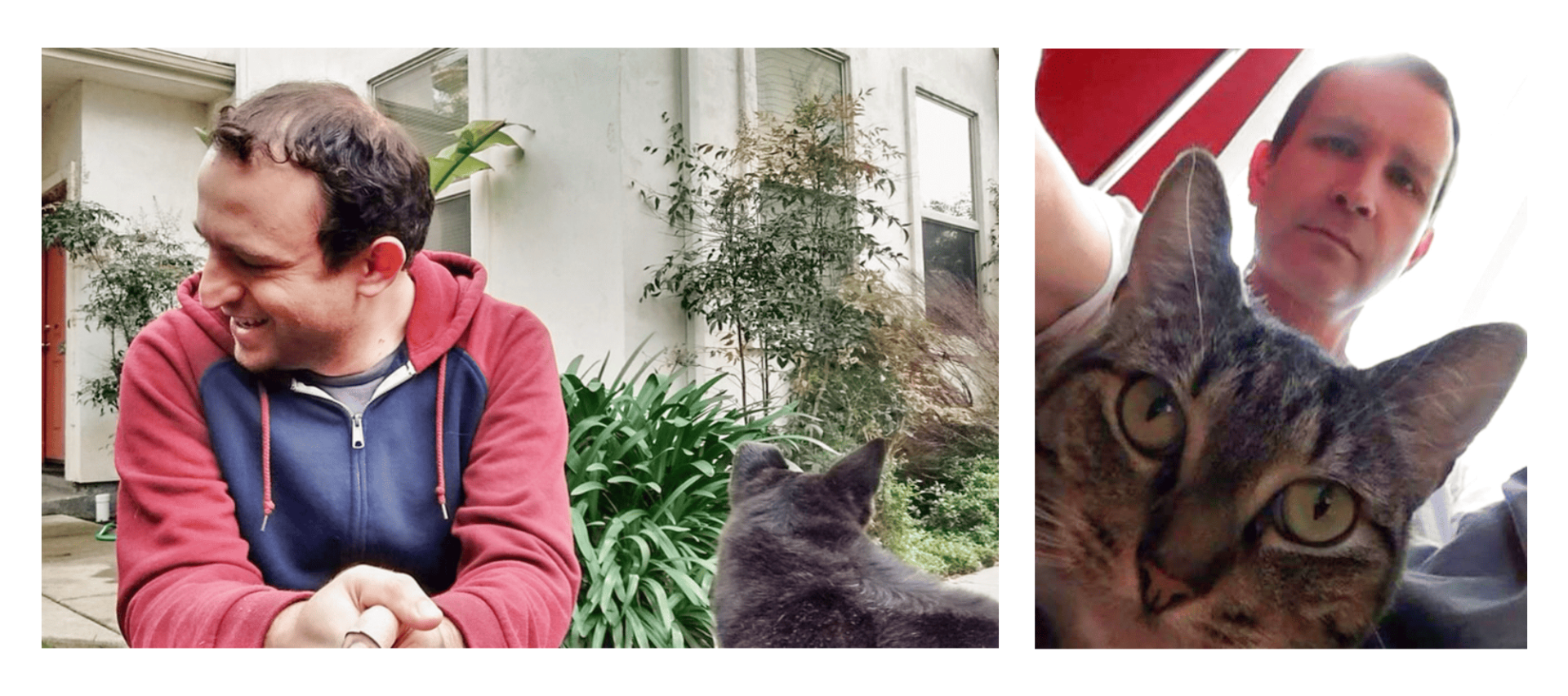 New beginnings
Recently, I had the chance to sit down with two extraordinary colleagues to talk about massive global challenges, inequities driven by our food system, and the importance of solutions anchored in shared values. We also talked about family, pets, joy, and hope. On the heels of a remarkable 2021 for GFI and alt proteins, we gathered to talk about what's next, why we're here, and what energizes us:
Listen and follow along
Sheila Voss: All right, greetings all. A special conversation on deck today. I have the honor of officially welcoming Ilya Sheyman to The Good Food Institute as our new president of the US team and inviting our CEO and founder Bruce Friedrich to share what this moment means to him, how his role is shifting, and what's on the horizon for GFI and alt proteins writ large.
I couldn't be more pleased to facilitate this conversation today. Among the many reasons I'm inspired and energized by the work of GFI on the daily is the fascinating diversity of backgrounds across our global team, as well as the diversity of motivations for doing this work. Our colleagues and partners around the world bring so many different life and career experiences to bear along with an impressive depth of expertise in their respective fields. This diversity in personalities, styles, and subject matter expertise is among GFI's major strengths, and we get to channel all of it into tackling one of the biggest opportunities of our time: reimagining how the world makes meat.
In that spirit, my first question is for you, Ilya. This is your first official week with GFI and there is serious excitement, both internally and externally, around you joining this team and you joining this field. Inquiring minds want to know: What drew you to GFI and in what ways has your life and career thus far brought you here?
Ilya Sheyman: Well, thank you Sheila. And thank you Bruce. That excitement is mutual, I assure you, and I'm happy to share a little bit about why.
We're living through challenging times right now. The pandemic, the climate crisis, all sorts of acute and chronic crises around structural inequities, race, gender, income, and more that present massive challenges to Americans and all of humanity. And as we look in the not-so-distant future, in a world we're going to share with 10 billion fellow human beings by 2050, the question each of us has to ask is how do we help bend the arc on some of these trends. And what I see and what I think The Good Food Institute sees is a shared realization that what we eat, what we grow and where we grow it, what we make and how we make it, how we take care of our ecosystem and the animals in it—these questions hold within them a path to unlocking solutions that can make an extraordinary difference.
There's lots of folks who've been doing critical work on these problems for years, decades, centuries. And others who are new to the field, plugging in in recent weeks, months, or years. All that work is critical. All their work and the work of future people joining this space likely holds some of the keys to solving some of these crises. What drove me to GFI, in addition to the extraordinary team and the extraordinary track record, is ultimately what I see as an incredibly powerful and also simple theory of change: that we need to accelerate the path to a world where plant-based food and other alt proteins are as delicious, affordable, and accessible as animal meat. And that in order to do that, we don't have to hold all the answers, but instead can intentionally situate ourselves in an ecosystem as a partner, collaborator, convener, and catalyst to grow the broader ecosystem around us. That we lead with science and curiosity. That we look for solutions that can scale and have exponential impact.
And ultimately that this work fundamentally requires a practice of optimism and hope. And that's why I couldn't be more excited to be here, embarking on this journey with all of GFI and all of the folks in this broader ecosystem.
Sheila: Hear, hear to all of that. Bruce, I can only imagine right now listening to Ilya's comments what you may be thinking and feeling on many fronts. It's interesting to note that this very month, GFI is marking its sixth year since its founding. Today GFI operates as an international network of organizations in Asia Pacific, Brazil, Europe, Israel, India, and the United States, and bringing Ilya on board to lead the U.S. team is a significant milestone for GFI. And for you. This enables you to shift gears and lean more into GFI's global work. So tell us: What does this moment mean and tell us what you'll be doing more of.
Bruce Friedrich: Thanks, Sheila. And thanks Ilya. Yes, as Sheila said, all of us at GFI, both in the United States and all of the affiliates are so excited to have you joining the team. And it does open up a lot of opportunities for me. I'm excited about doing at least three high-level strategic things.
The first one focuses on climate. I want to ensure that all of the climate influencers, the climate thinkers, the climate NGOs, and others leading the climate conversation are aware of the fact that making meat from plants and cultivating meat from cells is a solution to the food and ag climate contribution, which is roughly a third of all climate change. And that's going to go up.
So I want to make sure that the thought leaders in the climate community—the NGOs, the foundations, and others— appropriately prioritize alternative proteins. There was a spread in the New York Times, maybe six months ago, that excoriated the world for being asleep while the planet burns, shooting all the way back to James Hanson in the 1980s. It was probably 2500 or 3000 words and it didn't mention land or agriculture. They did print my letter in response—but that wasn't because the New York Times was ignoring it—it was because it is not appropriately prioritized by the climate community. So a big part of what I want to do is continue the relationship-building that we've been doing with groups like Breakthrough Energy, ClimateWorks Foundation, Climate Advisers, and others as well as the work we're doing with Aim for Climate (Agriculture Innovation Mission for Climate) and U.N. COP global gatherings. Making sure that climate policy, NGO, and foundation communities are leaning into alternative proteins as a scalable way to address food and agriculture's contribution to climate change and loss of biodiversity.
A second focus for me will be looking deeply at what has worked in renewable energy, what has worked in electrification of transport. GFI's global battle cry is that governments should be putting resources into both open access research and development, as well as private sector incentives for research, manufacturing, and infrastructure buildout. So I want to do a deep dive into the things that worked and haven't worked in renewable energy and electrification of transport. To see what we can do to learn from those things and prioritize complementary strategies.
And the third main thing is really looking at and figuring out what it means to move forward in a way that doesn't leave anybody behind. What are the effective ways to do this in a maximally equitable way? What are the strategies to maximize opportunities for farmers and workers and entire communities? So figuring out proposals around things like carbon farming as a solution for ranchers. What are the policies that we need to develop to make sure that this is a maximally successful way of moving forward, and can scale up alternative proteins at the same time?
And then finally, doing all of this not just in an equitable way, but in a global way. I'm very excited to have GFI organizations in India, Israel, Brazil, and Asia Pacific based out of Singapore. This year, we'll be expanding into Korea and Japan, looking at how we expand in Europe, and figuring out how to integrate the global battle plan to change how the world makes meat. I'm super excited to be able to do more and more and more of that.
Sheila: Wow, thank you. Thank you for that. So a key theme that I heard there is around opportunities for everyone and leaving no one behind. From the production and supply side to the growing side all the way to the distribution and consumer side, opportunities for everyone to participate in as well as benefit from the global protein transition. And as you noted, just like the energy transition that we are all living through right now, we see that policies can help ease and accelerate shifts to new livelihoods, to new jobs, to new ways of feeding our families and communities. I'm also glad to hear that there's that type of cross-sector learning that you'll be digging into.
So with all that as context, my next question is for Ilya. To be sure, growing a sustainable, secure, and just food system will require work by everyone. I don't think anyone gets a hall pass here. Everyone has a role to play in removing obstacles, diversifying the field, and enabling more opportunities for more people. Given your background, given your prior work with social justice, equity, and advocacy, what are some lessons and practices that you're bringing with you to GFI?
Ilya: Well, you know, I'm an organizer in my DNA. What we're aiming to do here is to imagine the world as it can be, one where alt proteins are no longer alternative. Where they're affordable and tasty and accessible, like animal meat. And then to figure out how we get there. But the truth is that's a big change from the world as it is right now. And to those who are not yet on that journey, it can be confusing or destabilizing, or just unknown, particularly in this moment of generalized distrust. Distrust of the media and science and various authorities and given history and past experience that communities have with various institutions.
So, you know, there's a quote I think about in response to this question. If you look around at a dinner table, if you're not at the table, you're on the menu. And I believe that institutions, businesses, movements, and individuals are most successful when people engage with each other as whole human beings. When we listen deeply to each other and we find ways to partner, to collaborate, to build on shared interests, and on mutual respect.
I'm really looking forward to making sure that yes, we have the capacity to move both fast and slow at the same time to accelerate the research and the investment, both public and private. To knock down those obstacles we talked about as quickly as possible while also making sure we're doing the deep and sometimes slower work internally and externally with all of these stakeholders around the shared values we hold for the world and for future generations.
Bruce: I just love the way that Ilya spells all of that out. One of the things important to remember about the harms of industrial animal agriculture and the issues that we're addressing: The people who are most adversely impacted by something like climate change are the people who did the least to contribute to the problem. Climate change sucks for people in the global north, but it's life and death for people in the global south. So the idea of replacing industrial animal agriculture with products that are better for the climate, that are better for biodiversity, that eliminate food's contribution to pandemic risk as well as antibiotic resistance…all of these things are really good for those of us who are leading privileged lives. But Covid-19 was not even a particularly virulent or deadly pandemic and it sent 150 million people into extreme poverty. So the work that we're doing will be very, very good for those of us who are already leading privileged lives, but it will be especially good and especially important for people who are not. So when we're thinking about the work that we're doing and the impact of the work that we're doing, that's one of the things that I find among the most exciting and most important to keep our eyes on.
Sheila: Thank you both for that. You both mentioned folks on the front lines in a couple different ways, including those who are growing our food—farmers, ranchers, fishers. And when I think of what you were just saying there, Bruce, I think about agriculture as both the biggest challenge and the biggest opportunity. When you think about farmers, ranchers, and fishermen, they're the ones with the most intimate understanding of local lands and waters, so they are the ones who can be the heroes in this transition. We need that knowledge.
Okay, so we're talking about food as personal. We're talking about food not only affecting people's lives, their survival, but as you mentioned, Ilya, it's also fascinatingly and deeply personal and cultural, and it's an identity. You also noted that it's important to engage people as whole human beings. Not just their political selves, not just their business selves, not just one part of how they show up in the world. So with that, my last set of questions gets a little bit personal.
Inquiring minds want to know a little bit more about your whole-person selves, both of you. So I'm talking about your family and friends, your favorite places, your interests, your hobbies, your geeky obsessions, the non-humans in your life who bring you joy, all of that. Because that's part of who you are when you show up to GFI. So with that, I would love for each of you to give us a little bit of a glimpse inside that part of you. Who are the special humans and non-humans in your life and what brings you joy? Ilya, let's start with you.
Ilya: Well, so I live outside of Chicago, my spouse and I are raising a couple little kids. Also have a lab shepherd husky mix, who's about 85 pounds, larger than both my kids combined, and a couple cats as well. You know, my kids love animals, they're totally fearless. They're the kind of kids who walk down the street and engage with any wildlife around them. They see a garden and want to know what's growing there. Love it, love them.
This work really is driven by thinking about what their lives will be like in 2050 and beyond. And I have to say ours is very much an alt protein household. You name it, we've tried it. You name it, our kids love it. And one thing that just fascinates me every day. I'm relatively young, and yet the difference between me growing up and them is just extraordinary. We go out on a Saturday, we'll go get an Impossible Burger from Burger King. They'll go to a Dunkin Donuts or local grocery store, and everywhere they go, they have the ability to lead the lives they want to lead with their friends, with their loved ones, with their friends and consume something that's an alternative to animal meat. That's incredible and I love being able to provide it for them. And I love the idea that we can make structural systemic solutions to make that possible for everyone in the whole world.
Sheila: It is their normal, right. And what a difference a little bit of time makes, you're absolutely right. Bruce, give us a glimpse in…oh, you're on mute.
Bruce: Of course I'm on mute.
Sheila: Of course. I have to say that at least once, right? It's not a meeting with you unless we say that at least once.
Bruce: I know, it's true. I'm super techno challenged.
So I live in Washington, D.C. with my wife, who is also technologically challenged, and our three cats, who are teaching us technology. They are excellent typists and really know their way around a Google sheet. We have a Russian blue named Rena, named after my mom. We have two tabs, one of whom is named Tigger after the Tigger character in Winnie the Pooh, and the other one who is named Angie after the civil rights activist Angela Davis. And all three of our cats are extraordinarily unique and wonderful individuals.
My favorite thing to do is give other bicyclists a bad name by riding around downtown Washington, D.C. I am a bit of a Kamikaze cyclist and I thoroughly enjoy that. And Sheila, going with the theme of whole selves, and you being on this video, I think it would be wonderful if you, as GFI's VP for communications, would also reciprocate and talk about your family and a little bit about the things you love to do.
Sheila: Wait, isn't the moderator supposed to be just in the background, like vanilla? I don't know. So Ilya, I'm just a few hours south of you, based in St. Louis. I'm not a native of the Midwest, but I love the Midwest. I have two kids, two teenagers, and one's about ready to go to college. Wow. My husband is a research biologist, and I have a spazzy, mixed breed dog. I don't know what she is. Her name is Jello, but we didn't name her that. The rescue shelter we got her from years ago named her that because she shakes when she gets excited. But anyway, I'm a big gardener, I'm a big hiker. I geek out about iNaturalist, which is this cool app that allows you to document all the species in your backyard or wherever you go in the world. Love the outdoors, and I loved learning about your love of the outdoors too, Ilya, and how you spend a lot of time outdoors with your kids too.
So anyway, thanks for that, Bruce. This is an example of a cool part of GFI's culture. In addition to showing up and everybody bringing their best darn selves to the work, GFI'ers show up for each other and celebrate things like new houses or new milestones. It's just a cool part of this place.
Anyway, so my very, very last question: It's still the early days here of 2022. A lot is happening in the world. Describe for me, both of you, how you're feeling right now in three words.
Bruce: I am extremely optimistic about GFI's future and the future for our mission and our vision and our purpose. I am energized by this conversation and Ilya joining us and all of the work that we are doing. And I guess this is a bit of a synonym, but I'm also just excited. I think there's enough nuance between energized and excited to say, I am really excited about what comes next.
Ilya: Well thank you again, Bruce and Sheila and everyone for the warm welcome. I mean I'll end with three words that feel right right now, which are hopeful, clear-eyed, and resolute. I think we're on the path to achieving transformative change and I just couldn't be more thrilled to be here in service of that work and for what we'll achieve together in the months and years to come.
Sheila: My goodness. So man, after this discussion, my one word is inspired. Well, sorry, I lie. Two words: inspired and grateful. Thank you both so, so much for your time today and for this fantastic conversation. I'm really honored that I got the chance to be the one to chat with you both. Welcome again, Ilya, to GFI. Kudos and congrats, Bruce, on this milestone because it's pretty darn big. And I sincerely look forward to working closely with you both in the years to come. So cheers.
Bruce: Cheers.
Ilya: Cheers.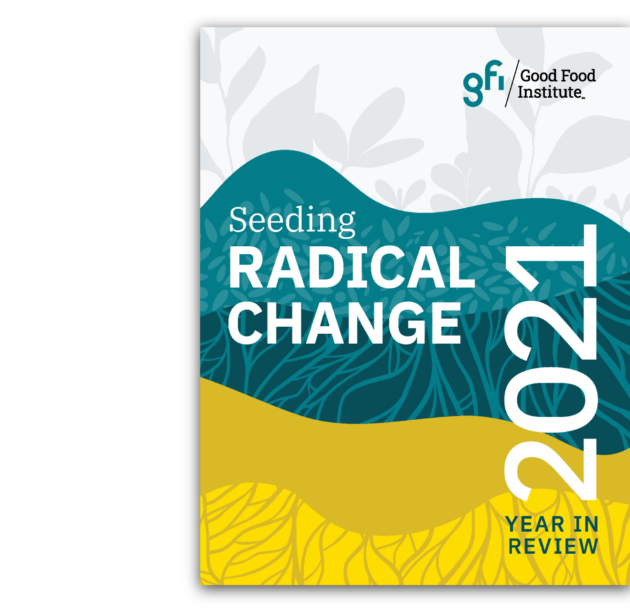 Check it out: Our 2021 Year in Review is here
From biodiversity-based solutions in Brazil to the U.S. government's largest investment in cultivated meat to date, milestones achieved in 2021 grew and diversified the field, spurred science and innovation, and elevated alt proteins as a global climate solution.