World Plant Milk Day is here — and we're ready to celebrate!
This World Plant Milk Day, we're celebrating just how far the plant-based milk industry has come and the path they have forged for future plant-based products.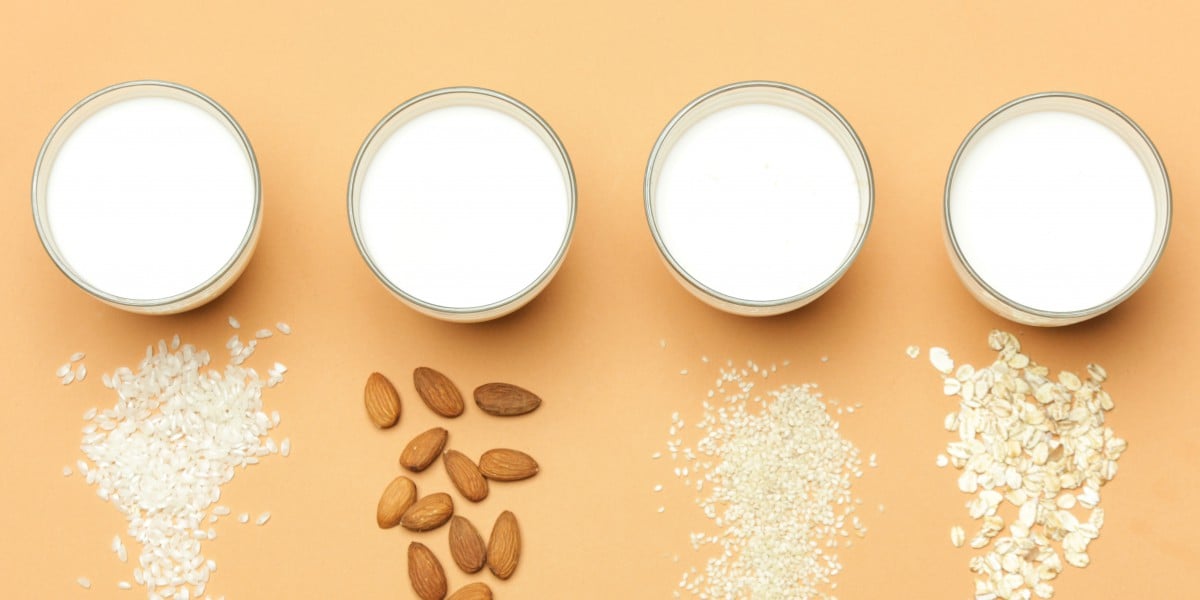 The third-annual World Plant Milk Day is here, and we're ready to celebrate just how far plant-based milk producers have come and the path they have forged for the future of plant-based products!
Organized by ProVeg and Plant Based News, World Plant Milk Day is a celebration highlighting the numerous benefits associated with switching from dairy to plant-based milks—particularly for the environment. Plant-based milks produce far fewer greenhouse gas emissions, require less land, and use less water to produce than conventional dairy milk—a win for the planet and taste buds around the world.
Nuts, and grains, and seeds, oh my!
The days of soy milk as the only plant-based choice on the shelf are long gone. In the past few years, the plant-based milk category has exploded into a wide variety of options for consumers around the world. Nuts like almond, cashew, and macadamia; seeds including hemp and flax; grains like rice, quinoa, and oat; and even legumes (hello peas!) now feature prominently in the dairy-free array.
Consumer demand—and accessibility—is driving the explosion. Since plant-based milk producers began taking an adjacency approach, encouraging retailers to merchandise plant-based milk in the refrigerated section next to cow's milk, sales of plant-based milk have taken off. Now, plant-based milk is by far "the most developed of all plant-based categories," says GFI associate director of Corporate Engagement Caroline Bushnell.
GFI's most recent data from SPINS show that U.S. retail sales of plant-based milk accounted for 13 percent of all U.S. retail milk sales, past the commonly cited "10 percent tipping point" .
Plant-based companies like Milkadamia, Oatly, REBBL, and Ripple Effect are leading the charge to expand the variety of plant-based milk products available. By creating plant-based milk from macadamia nuts, oats, yellow peas, and more, these companies are giving consumers more options to find the plant-based milk that best suits their needs (and their taste buds).
Plant-based milk is going mainstream
Plant-based companies aren't the only ones driving the plant-based milk market expansion. Conventional dairy companies, like major meat producers, are joining in on the plant-based marketplace, helping to meet growing consumer demand through investment and distribution.
Dean Foods Company, the U.S.'s largest dairy producer, has invested in the plant-based milk and dairy company Good Karma Foods. HP Hood, one of U.S.'s oldest dairy companies, now produces Planet Oat Oatmilk. And in 2017, Danone North America recently acquired WhiteWave Foods, the plant-based food producer of brands like So Delicious Dairy Free and Silk, in a $12.5 billion acquisition—the largest that the plant-based industry has seen to date.
The trend is clear: Major dairy players are vying for a stake in the plant-based milk industry, expanding consumer access and introducing plant-based options to more conventional dairy consumers.
Forging a path for other plant-based foods
With plant-based milk sales growing, and more food producers getting involved, consumer demand is spurring further innovation in other plant-based dairy categories. From plant-based yogurts to ice creams, there is fantastic potential for new plant-based dairy products to reach more consumers and create a more sustainable food system.
For now, in honor of World Plant Milk Day, we raise our glasses (of plant-based milk, obvi) to how far the plant-based milk industry has come and the opportunities its success represents for the future of food!
About the data

The data summarized here represents U.S. retail sales of plant-based foods that directly replace animal products, including meat, seafood, eggs, and dairy, as well as meals that contain animal ingredient replacements. This data covers the grocery marketplace and was obtained over the 52-week and 104-week periods ending December 29, 2019, from the SPINSscan Natural, Specialty Gourmet, and Conventional Multi Outlet (powered by IRI) channels. The data is based on custom-GFI plant-based categories that were created by refining standard SPINS categories. Due to the custom nature of these categories, the presented data does not align with standard SPINS categories.
1,2 The Food Industry Association & IRI. (2020). Understanding the plant-based food consumer [Webinar].
*Note: SPINS does not report non-UPC meat counter sales. To account for this, the plant-based meat total retail share calculation uses the $95 billion total meat market size reported by Nielsen, as this number includes both retail packaged meat sales and non-UPC meat counter sales.