Rethinking Meat: Helping students find their place in the alternative protein space
Students from the Stanford Alt Protein Project reflect on their experience breaking ground on alternative protein education at their university.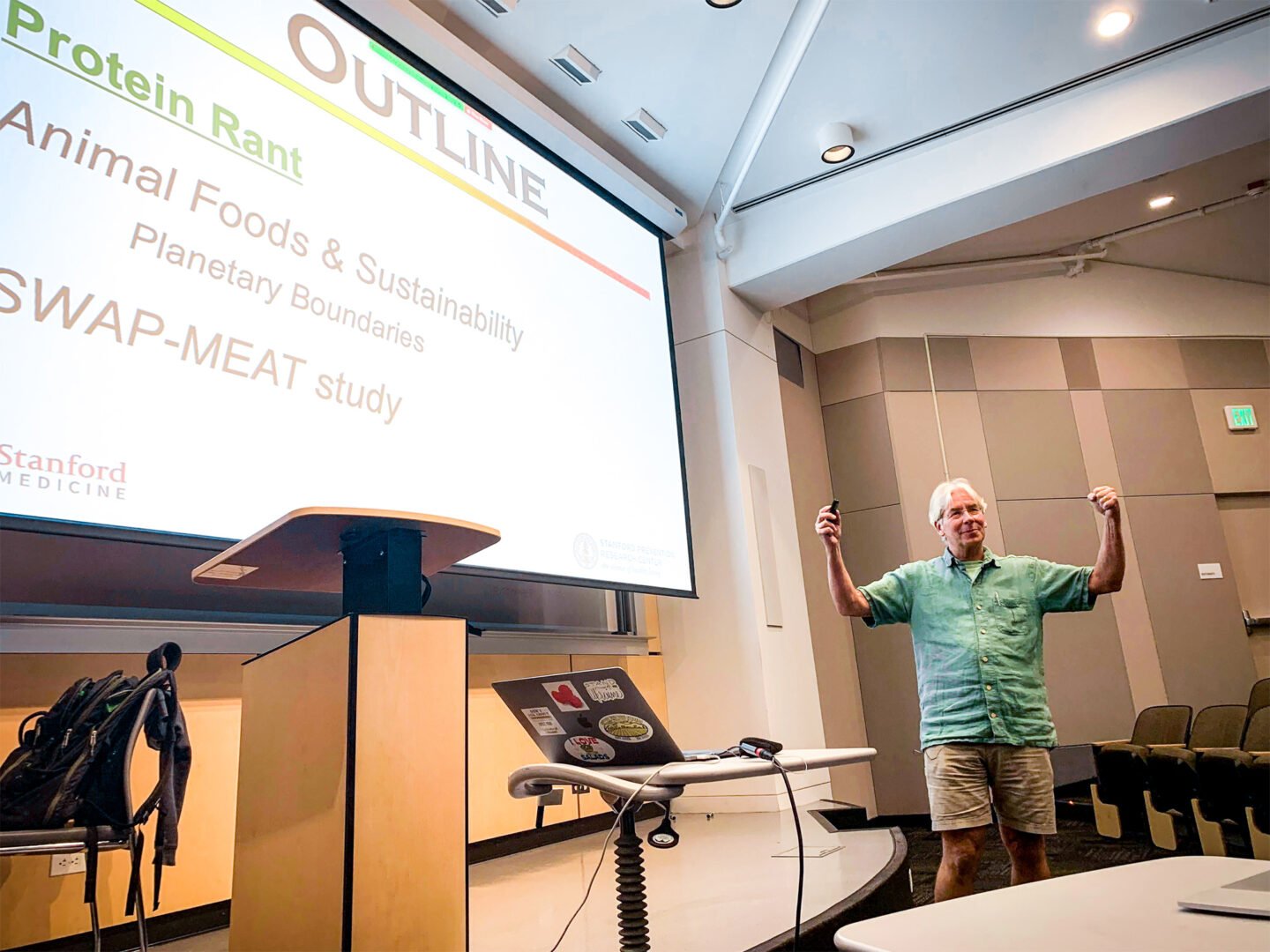 Students pave the way for alt proteins at Stanford
When students of the Stanford Alt Protein Project noticed there were no courses about alternative proteins offered by their university, they got to work. In Spring 2021, they debuted Stanford University's first course in the field: "Rethinking Meat: An Introduction to Alternative Proteins." The inaugural class was a smash hit, with 100 enrollees Zooming in each week to learn about various aspects of alternative protein science, entrepreneurship, and policy.
But the momentum didn't stop there. In Spring 2022, the university opened its campus for the first time since the beginning of the pandemic, and Rethinking Meat was held in person, opening up a whole new set of possibilities for student engagement. In a few short weeks, course enrollment exploded, with over 300 students hailing from a wide variety of undergraduate and graduate programs, all eager to dive into the world of alternative proteins.
The course was so successful it sparked a dialogue across campus and underscored the rise in student demand for more alternative protein education. But don't take our word for it; let's hear from the visionary students behind it all.
Our recipe for a great course: structure, speakers, and samples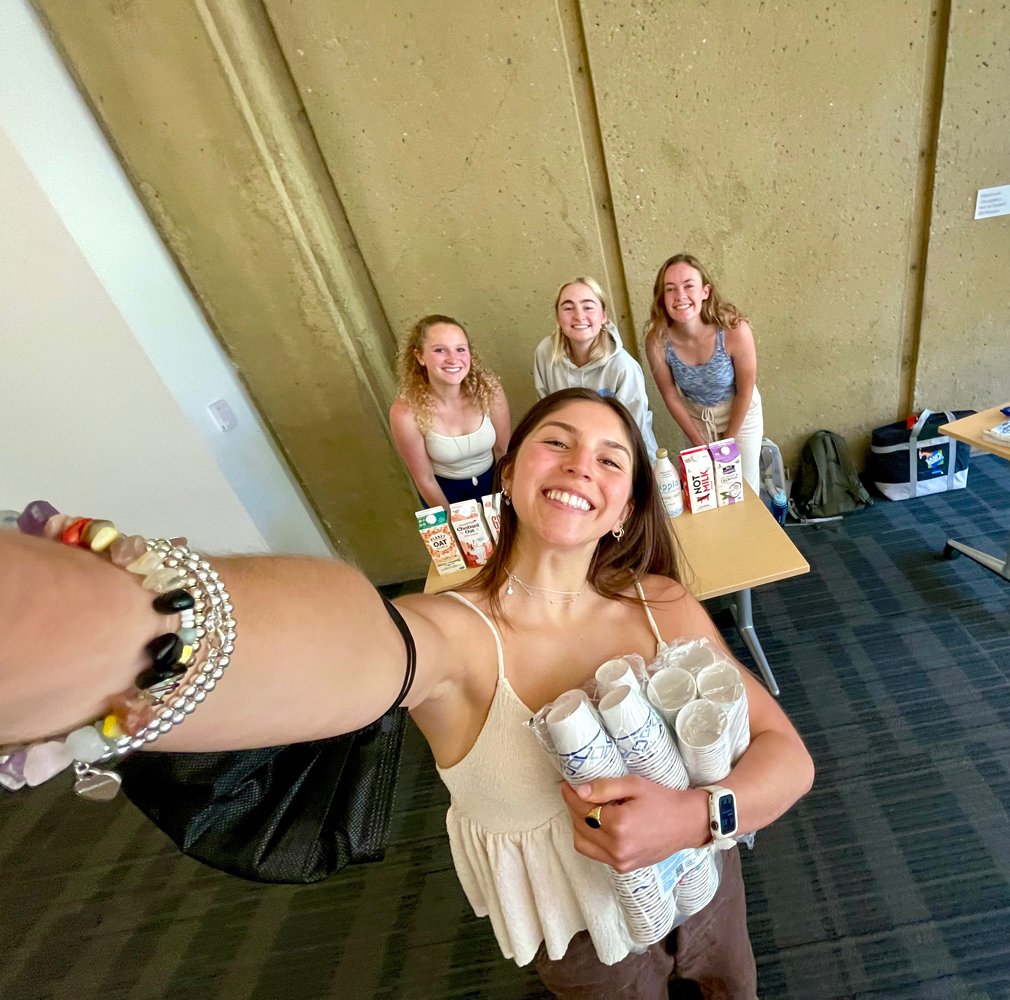 Ellie, Hannah, Gianna, and Chloe here! We've long known about the significant impacts of the meat and dairy industries on the environment, animal welfare, and public health. That's why we were motivated to create the Rethinking Meat course to help educate others, and ourselves, about the growing field of alternative proteins.
One of our primary goals for this class was to expose students to as many different topics and perspectives as possible and let them form their own ideas about the alt protein space. Speakers from industry, academia, and the nonprofit sector often have different styles of sharing information and we wanted our class to equip students with a variety of lenses through which to examine our food system. We hoped students would better understand what changes need to be made to ensure a more sustainable future and where they fit into this movement – or as we like to call it, finding their place in the plant-based.
To do so, we curated a lineup of guest speakers to introduce students to the biological and chemical processes used to develop plant-based, fermentation-derived, and cultivated meat; explore the environmental, social, and nutritional implications of these emerging food technologies; and, finally, navigate the political challenges and behavioral adaptations needed to shift society away from industrial animal agriculture.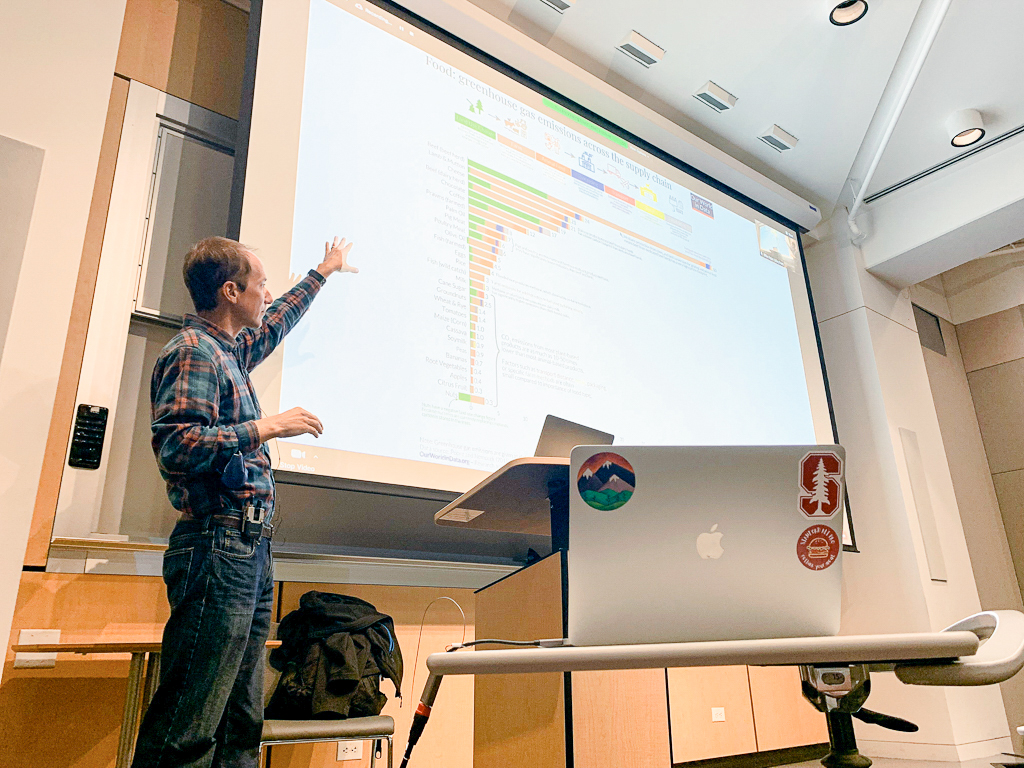 Students heard from pioneering scientists and leaders of alternative protein start-ups, such as Alex Samocha, Ph.D. from Wildtype, Time Geistlinger at Perfect Day, and Oliver Zahn from Climax Foods. They also heard from Stanford professors, like David Lobell and Christopher Gardner, along with guest speakers from Princeton, GFI, and Stray Dog Capital.
In addition to providing information on new and innovative research in this field, it was important to us that students also have the chance to try alternative meat and dairy products, especially members of the class who wouldn't normally reach for these products at the grocery store or who may not have financial and geographic access.
With the generous support of the Plant Based Diet Initiative, we were able to bring alternative proteins off the slide and onto the plate by giving the over 300 enrolled students the opportunity each week to taste-test different alternative protein food products. Class favorites were Eclipse Foods' plant-based ice cream and KARANA's jackfruit-based dumplings.
The end product: student takeaways and final projects
At the start of the quarter, we asked students about their goals for enrolling in Rethinking Meat. Most students had never had much exposure to the field of alternative proteins and expressed that they were most excited to explore the science, environmental, business, and social impact dimensions of the field. After ten weeks of captivating lectures given by industry professionals, academic experts, and other leaders across the field (plus delicious food samples), we got to see Rethinking Meat's impact in action through student's final projects and reflections.
Students taking the course for 2 units were asked to work on a project throughout the quarter "that demonstrated a deeper understanding of one of the topics covered by a speaker, or a related topic beyond the scope of the course." We intentionally left the prompt very open-ended so that students felt empowered to exercise their creativity to the fullest. We didn't know what to expect, but the students blew us away!
Students spent the quarter researching the scalability and economic implications of alternative proteins, transforming their favorite childhood and cultural recipes into animal-free versions, doing blind taste tests of alternative protein products across the Stanford community, and sharing their newfound alternative protein expertise with their friends and families. Explore some of our favorite final project submissions below.
Explore student capstone projects
Reflections on the road ahead
We are incredibly excited about the deep engagement we saw from our students this year and thrilled about the direct impact Rethinking Meat was able to make on student careers and lifestyles. It's clear that opportunities to learn more about alternative proteins are in high demand – in our end-of-course survey, 73% of students expressed interest in taking more alternative protein courses!
Through the course, students were not only better equipped to think critically about our food system and understand the challenges and opportunities for alternative proteins, but, after taking the course, 50% of students also stated that they now eat less meat and dairy than before.
We created this course with the goal of starting a new wave of interest in alternative proteins at Stanford. And given the immense success we've seen this year, we plan to run Rethinking Meat for years to come while advocating for more alternative protein research, courses, and programs of study at the university. Rethinking Meat is truly just the beginning. If you're interested in getting involved with the Stanford Alt Protein Project, fill out our interest form.