Proud at GFI: Diversity equals resilience
GFI's creative manager Heather Mount recaps the first year of the Proud at GFI affinity group, GFI's ongoing internal and external DEI efforts, and explores the strength diversity weaves into all aspects of life — including our mission to make alternative proteins no longer alternative.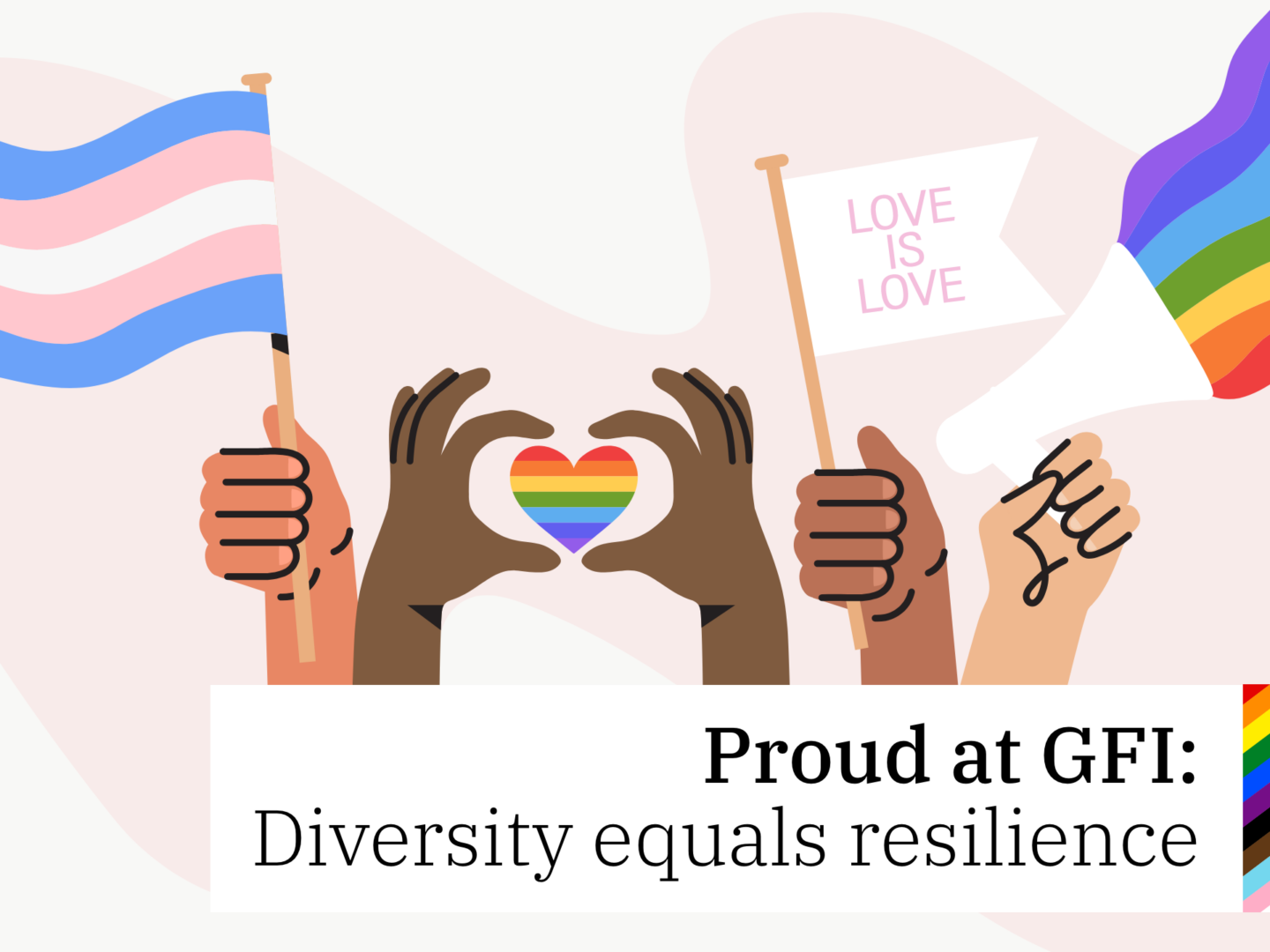 Happy Pride month, y'all!
My role at GFI doesn't usually include writing blogs. You'll usually find me reviewing designs and publishing web pages with an oat milk latte in hand. But as Pride Month kicks off this week, I couldn't be happier to have the chance to share another aspect of my work – leading GFI's LGBTQIA+ affinity group.
As GFI's creative manager, I get to work with pretty much everyone on the U.S. team, and many across our international network of organizations. In close partnership with these colleagues, my team and I design and publish science- and data-driven reports, analyses, and briefs that inform and shape the entire field of alternative proteins and the broader food system. We also steward www.gfi.org—considered by scientists, students, policymakers, and private sector innovators around the world as the go-to hub for all things alt proteins.
Among my favorite parts of working at GFI is the fascinating diversity of humans I get to call colleagues. People of all ages, backgrounds, cultures, and geographies. People with a mad range of skills, talents, and expertise. People with different motivations, passions, and aspirations. Introverts and extroverts, cat people and dog people, straights and queers, left brains and right brains, and even a few supertasters who can't stand cilantro.
It's this group of humans that I credit (and dedicate) this blog to. The culture of inclusion and celebrating differences that GFI has developed is possible because of all of us committing to it together. This kind of environment is something I've never really had in prior jobs—a workplace where everyone is encouraged to bring their whole, authentic selves to work on the biggest challenge of our times: creating a future where alternative proteins are no longer alternative.
Proud at GFI
In June 2021, GFI celebrated Pride Month with a staff Stonewall documentary screening and flipping its social media logos to rainbow versions. That same month, leadership sent an open call out to employees who might be interested in leading a queer affinity group—the first of its kind at GFI. I volunteered. All at once, I was both excited to imagine a queer space at work and terrified that I wasn't 'queer' enough to lead it. The Proud at GFI: Queers & Allies group was born shortly after. Today, the group consists of roughly eight LGBTQIA+ individuals and several dozen allies spread across our multiple departments and teams around the world.
While Proud at GFI's primary goal is fostering connections between queer, allied, and gender non-conforming employees, it has evolved, adding advocation for inclusive policies at GFI to its list of objectives. I have evolved personally as well – leading this group has made me feel so much more valid in my identity as a non-binary queer person and has deepened my sense of belonging in the queer community. This year, as Proud's first anniversary approaches, we seek to acknowledge and celebrate Pride Month and also share the progress GFI is making toward becoming a more inclusive and affirming organization every day of the year.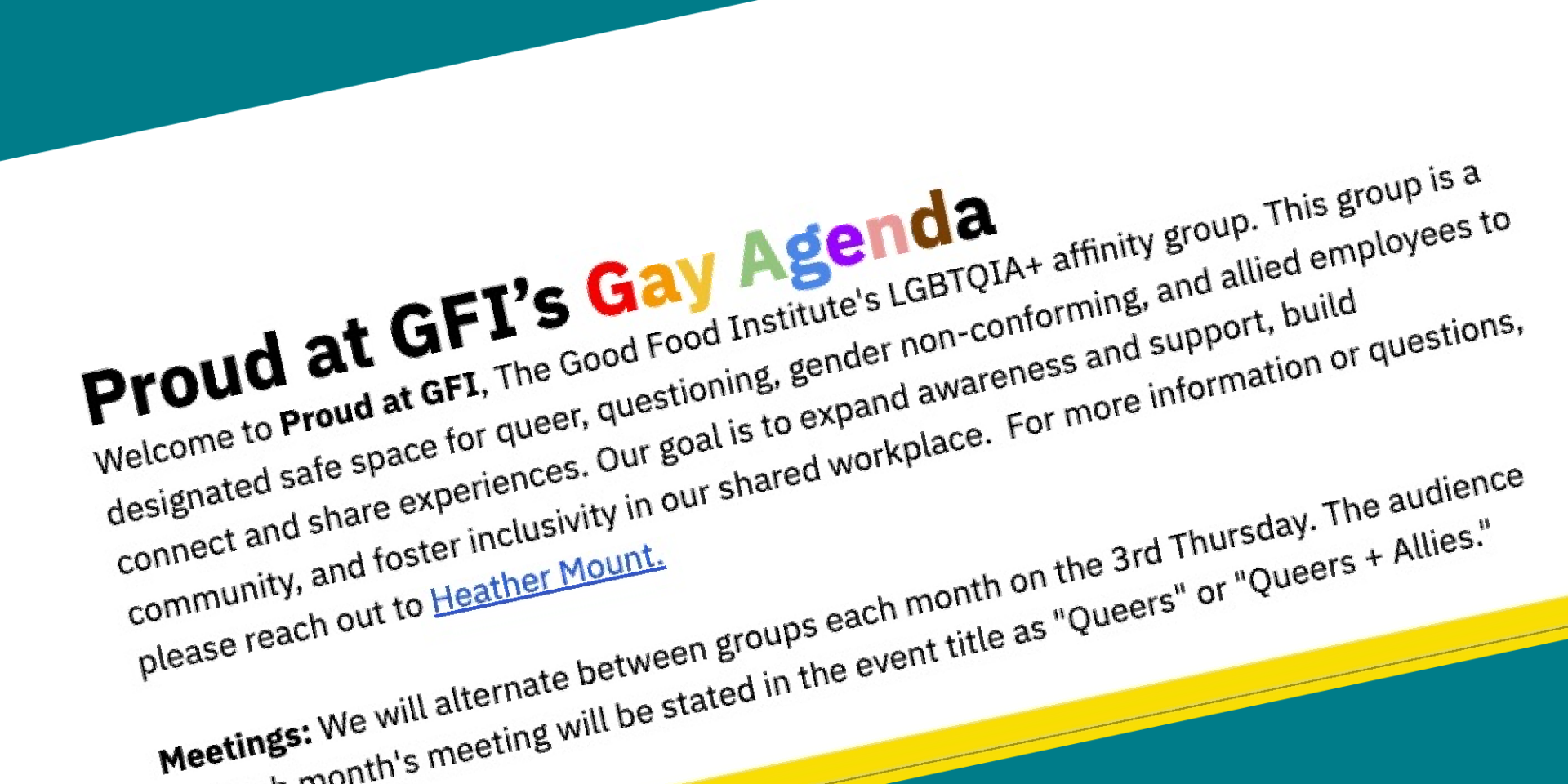 Affinity groups: The power of connection and community
What is an affinity group? At its simplest, it's a group of employees who share a common interest or identity. At GFI, we have a book club (Novel Proteins), cooking club (Good Grub Club), and the Overall Well-being League which is an affinity group centered on mental health, general health, and overall well-being.
Proud at GFI alternates meetings between a queers-only group and a larger ally-joined group each month. These meetings cover a wide range of topics—from what we're watching and listening to and issue-specific resources to supportive discussions about situations many of us experience both inside and outside of the workplace.
In just the first year, the impact of this group on individuals is real and growing. In the queer group, we have supported each other in our identities and in varying states of coming out, as we near holidays and reenter spaces with friends and family, and in the daily joys of discovering ourselves and living authentically. In the joint queers and allies group, we've discussed the impacts of important global and national issues and shared openly and honestly with each other about what we can do to foster understanding and be better allies to our friends and families.
While this specific affinity group is creating and cultivating a sense of belonging for LGBTQIA+ staffers here, it is just one component of a much longer and bigger journey toward universal inclusion and equity—not just for GFI as an organization, but for the broader food system we're trying to transform.
Diversity, equity, and inclusion at GFI
DEI is a core focus for all teams at GFI. We consistently examine our internal structures, systems, policies, and practices to find and create opportunities to grow and operate in more equitable and inclusive ways. While we continue to have substantial room for growth and need to deepen our work around DEI in the years ahead, we have made solid strides on several fronts over the past two years:
Supporting communities and fostering connections: GFI established the Culture Club group in January 2018; The Culture Club is a working group of team members whose mission is to maximize GFI's culture and productivity by focusing on inclusion. GFI established the Proud at GFI affinity group in June 2021, and in 2022, we launched the Overall Well-Being League. We also started a new weekly staff newsletter to share resources and easy, fun opportunities to learn about and connect with others across GFI.
Embedding DEI as a component of every team's planning processes and priorities. Every team at GFI–Policy, SciTech, Corporate Engagement, Communications, Development, Collaborative Assistance and Executive–has explicit DEI commitments built into their planning processes and is held accountable to them as they are other objectives and key results.
A culture of learning: GFI held its first all-staff DEI training series, led by consultant Dr. Roxanne Kymaani from January through May 2021. These sessions centered on understanding privilege, reflecting on our own biases, allyship and advocacy, and how to more fully weave DEI into our department goals and strategic plans. We built on this learning by scheduling time for each team to discuss how to approach DEI within their work and to create plans that are now built into each department's objectives.
Hiring and recruiting: We created a dedicated recruiter position to focus on building diversity in our applicant pool, are in the process of rolling out an anonymized application system to lessen bias in recruitment and hiring, and created several hiring-related training modules to reduce unconscious bias. Our hiring process also follows best practices designed to reduce bias and ensure fair treatment of all candidates: applicants are evaluated based on position-specific standards and requirements, we use structured assessments to evaluate skills/alignment rather than relying solely on interviews (interviews can assess some skills but most often assess whether you like the person rather than whether they're qualified for the role), each assessment is evaluated using a standardized scorecard, and all final interviews are also structured (each candidate is asked the same questions).
Salaries and benefits: We value transparency and list salary ranges on all of our open positions. We establish salaries based on anonymized data gathered by PayScale, and we don't negotiate job offers since this can create inequitable salaries (men and white people are more likely to negotiate higher salaries than women and people of color). GFI US re-benchmarked its salaries in May 2022, increasing pay levels for all positions and job openings. The highest salary is now 3:1 the lowest salary – a comparatively very low wage ratio. In 2021, we also implemented a paid intern/fellow policy.
Universal design and representation: Throughout our written, verbal, and visual communications, we embrace and strive to consistently practice universal design principles to accommodate diverse learning styles. In media and messaging, we work to ensure global voices and perspectives are featured and integrated, especially those underrepresented in mainstream narratives. For GFI-hosted events, we recruit panels representing a spectrum of human diversity.
While these improvements are notable and worth celebrating, we acknowledge we have more work to do. Some of our priorities for the next 6 months include:
Creating an inclusive family leave policy 
Creating a roadmap of resources for trans and gender expansive employees wanting to transition
More fully testing  anonymous hiring software across all open roles to determine if diversity is improved within candidate pools
Planning for an organization-wide DEI Audit in 2023
GFI will continue to strengthen and mainstream DEI throughout its operations, and yes, that's incredibly important and impactful for its employees worldwide. But we hope this work extends beyond the boundaries of our one organization. This work is the future of our field and the key to a sustainable, secure, and just food system.
The road ahead: Diversity = resilience
The concept of diversity equating to resilience can be seen everywhere. In personal finance, if your investment portfolio is diversified, you're less vulnerable to market volatility and swings. In science and technology, the more diverse the research teams are, the more adaptive and innovative they are. In ecology, the more diverse an ecosystem is, the greater its resilience and capacity for renewal and reorganization following periods of stress or major change. When I picture the LGBTQIA2S+ community with its vast richness of identities and experiences, my heart is overwhelmed. Diversity is our biggest strength – instead of conforming to rigid societal definitions of personhood, we celebrate ourselves as we are. Our community is where we survive, heal, connect, thrive, and find unconditional love. 
Within GFI, the diversity of thought, expertise, life experiences, and backgrounds strengthen our collective work. Across the field of alternative proteins, we see how a diversity of crops can lead to new ingredients for plant-based meat and how diversified product portfolios can enable companies to grow new markets and provide consumers with greater choice and access. Across the greater food system, we're seeing how a diversity of innovations and ideas across the research, policy, and private sector can build on each other to remove obstacles, ease and incentivize transitions, and create new livelihoods and careers.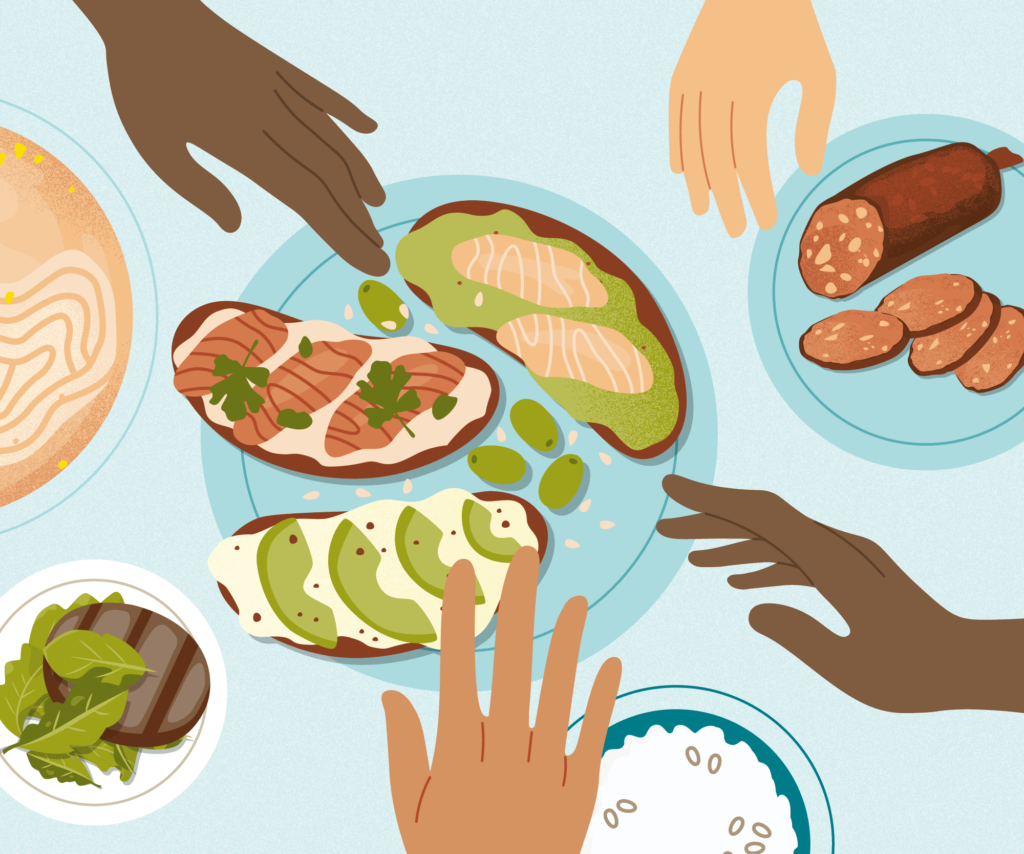 A bigger and more colorful plate and table
For me, work is more meaningful, gratifying, and energizing when it's alongside people who crave diversity: People who create spaces for community-building, seek out different perspectives, challenge their own biases, change policies and practices, and never stop creating a more inclusive world whenever and wherever they can.
I've experienced first-hand how these traits affect my work life, well-being, and sense of agency and purpose. Imagine these traits as commonplace throughout the food system. Imagine if up-and-coming talent included a greater diversity of backgrounds and if more innovators from different fields had opportunities to co-create and problem-solve together. These imaginings guide our work with universities, shape how we convene stakeholders, and inspire new partnerships and programs. At GFI, we are taking actions within our organization and outside of it to center diversity, equity, and inclusion because we know doing so will widen the path and welcome more people to this critical work. If you'd like to join or support us, check out our open job postings and share them with your networks.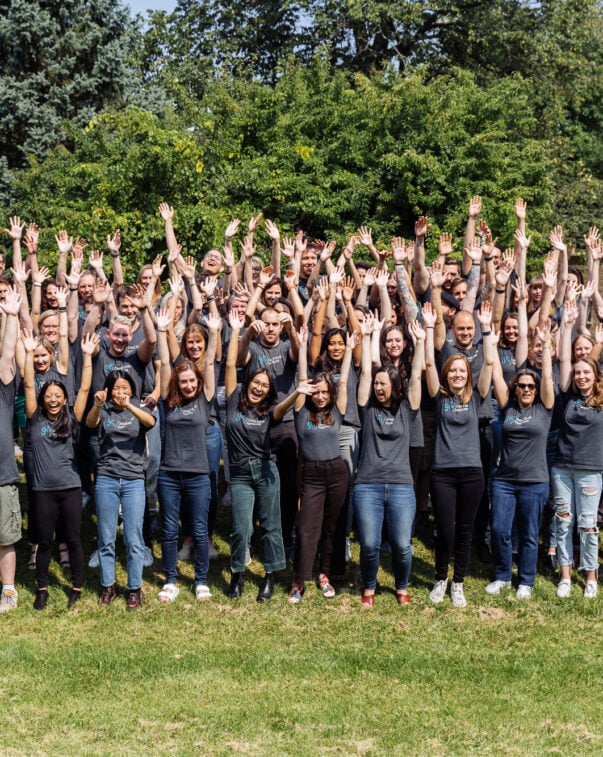 Page
Careers at GFI
Explore career opportunities at GFI! We're building a sustainable, secure, and just global food system with alternative proteins.
Sending deep gratitude to my GFI colleagues and our generous supporters who make this work possible. We still have so far to go, and I couldn't be prouder to be on this path with each of you.