Celebrating five years: Announcing our new mission, vision, logo, and website
Five years after our founding, GFI is launching a new brand and website. Both enable us to triple-down on our commitment to a sustainable, secure, and just protein supply.

The start of a new year gets many of us reflecting on where we've been and where we're going. New decades even more so, especially when they're tied to an audacious set of global goals. For GFI, February 2021 also marks our 5th anniversary. Our reflections are running deep these days.
Given everything — where we've been and where we need to go — we wanted to mark the moment. Five years after our founding, with a nod to our roots and the work ahead, we are launching our new brand and website. Not your typical refresh, the story behind our new look can be summed up with three simple truths:
1. We are grateful for a transformative first five years.
In 2016, GFI started with two people, a starter logo, and an unwavering belief that catalyzing a radical shift in the world's protein supply chain would be the key to creating a more sustainable planet. Our very first blog covered the launch of the first cultivated meat company, UPSIDE Foods, which announced itself to the world on the same day via a Wall Street Journal article by Journal agriculture reporter Jacob Bunge (who has since moderated panels at both Good Food Conferences and a GFI event at the University of Chicago Booth School of Business).
In the world of alternative proteins, 2016 seems like an eon ago in a land far, far away. That landscape had zero major meat companies with alternative protein brands. It had zero incorporated cultivated meat companies, with UPSIDE Foods being the only one to raise any money (thanks IndieBio!). With the exception of the Netherlands and a tiny NASA grant, that landscape had zero world governments that were funding cultivated meat R&D. Plant-based meat research wasn't faring much better, with less than $500k in public funds.
So many questions and unknowns in 2016! Could plant-based meat replicate the full sensory experience of animal meat? Would cultivated meat make it to market in the next decade? Leaders and innovators — from Impossible Foods founder/CEO Pat Brown and Beyond Meat founder/CEO Ethan Brown to UPSIDE Foods founder/CEO Dr. Uma Valeti and IndieBio founder Ryan Bethencourt — showed up and stepped up to answer these questions and more, convincing me and others that a better food future was in our grasp.
2021 is a different world altogether, on so many fronts. From a market and industry lens, alternative proteins are grabbing more of the spotlight. They're showing up as standard fare in fast food restaurants, talked up in corporate boardrooms, and increasingly favored by investors. Through the lens of global health, the prospect of meat grown with zero risk of contributing to zoonotic disease transmission or antibiotic resistance is gaining worldwide traction. And through the lens of climate action, alternative proteins — considered key to a carbon-neutral food system — offer humanity a chance to decouple food production from environmental degradation. Yes!
Honestly, these past five years flew by. I am blown away by where we started and where we find ourselves today, with governments around the world beginning to recognize that public investment in alternative protein R&D can reap massive public benefits, from cleaner air, water, and soil to a more secure, sustainable, and just global food system. Just wow.
2. We are energized and inspired by the talented partners who bring our mission to life every day.
Today, GFI's team comprises more than 100 staff members as well as advisors, fellows, interns, and volunteers across the U.S, Asia Pacific, India, Israel, Brazil, and Europe. We work with scientists, policymakers, companies, investors, donors, and entrepreneurs to transform our global food system by making alternative proteins the default choice.
Our five-year anniversary gave us a moment to reflect, to look again at our planet's most pressing challenges, to renew our vision, and to build on the undeniable momentum all around us. To that end, we embarked on a new brand journey to unify, clarify, and amplify our work. We sought to create a strong, flexible global brand that enhances GFI's ability to engage the stakeholders most critical to driving mission impact around the world. Our new brand makes clear our focused resolve:
Our vision:
A world where alternative proteins are no longer alternative.
Our mission:
We are developing the roadmap for a sustainable, secure, and just protein supply. We identify the most effective solutions, mobilize resources and talent, and empower partners across the food system to make alternative proteins accessible, affordable, and delicious.
Our purpose:
We exist to make the global food system better for the planet, people, and animals.
Our values:
We believe change is possible. We bring determination and informed optimism to our work because we know a better food future is achievable.
We do the most good we can. We focus our time and resources where they will make the biggest difference in order to maximize our donors' support.
We share knowledge freely. Good data, good science, and good strategy have the biggest impact when they are available to everyone.
We act on evidence. Our strategy is grounded in data. We make decisions on the basis of research and the industry insights our experts uncover.
We invite everyone to the table. We foster an inclusive, collaborative work culture. With the same spirit, we bring together a wide range of partners to advance our mission.
We designed our new website with this purpose, mission, and vision and these values in mind.
The new www.gfi.org is a digital hub for sharing alternative protein solutions, knowledge, and resources freely. It's a place to build community and forge partnerships. Through every database, technical deep dive, article, and event, we aim to offer the alternative protein community—from scientists to entrepreneurs, from students to donors—the information and opportunities they need to drive alternative proteins further faster.
Our new website offers more (and better organized) resources, which allows us to scale our work and enables our community to access more information more easily. Like the broader field we champion, we hope the site itself will serve more and more people in the years ahead.
Our new brand's visual identity supports and strengthens our ability to do all of this. And in style: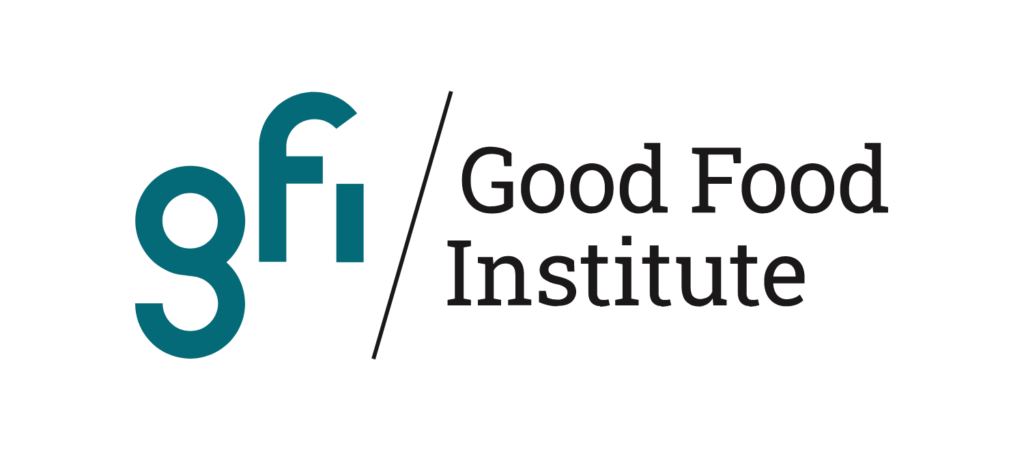 Clear and clean | The design simplicity of our new mark is intentional. To succeed in our mission, we must remove obstacles, eliminate distractions, and be universally understood and accessible. We must show up in the right ways. Coupled with our new tagline—Reimagining protein—our visual identity is about staying relentlessly focused, clear-eyed, and sharp.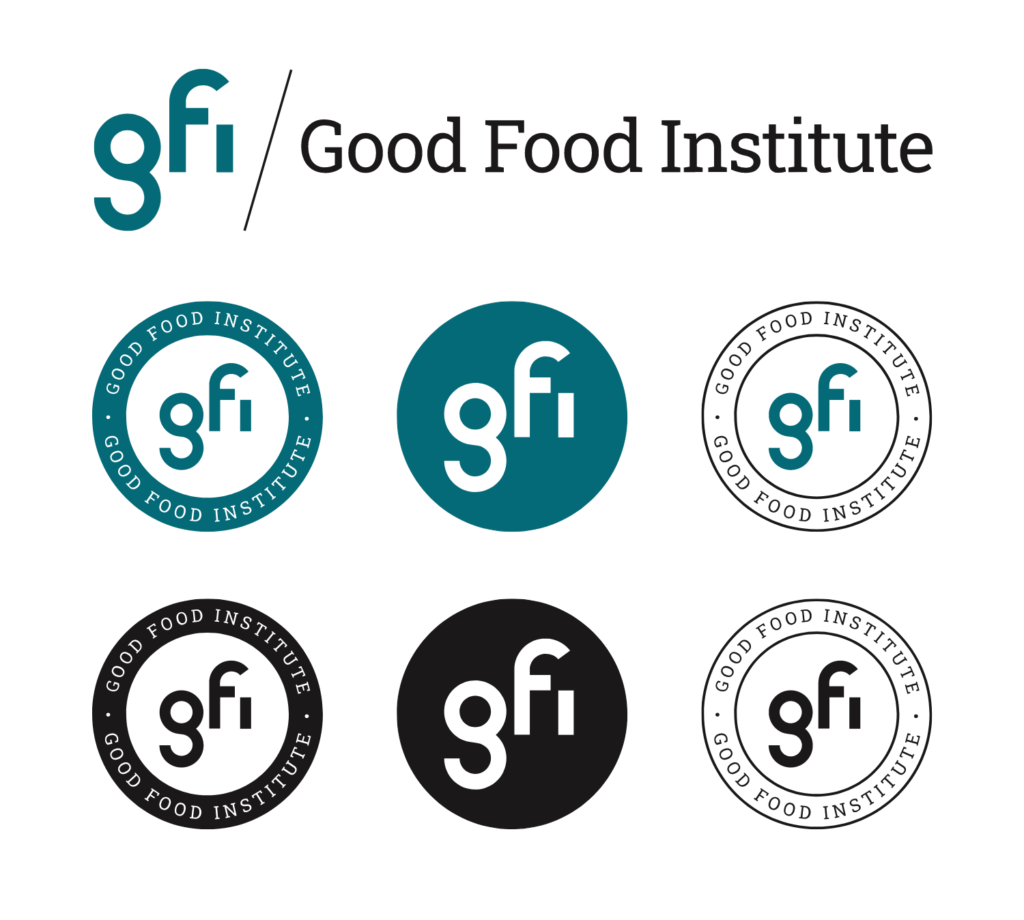 Agile and adaptable | Like GFI itself, our brand is a living thing, always growing and evolving. Our new messaging and visual identity system can be adapted across backgrounds, cultures, and communities. The forward slash in the mark signals our focus on forward movement. We are always seeking what's next and clearing a path that enables as many people as possible to benefit from a sustainable, secure, and just food future.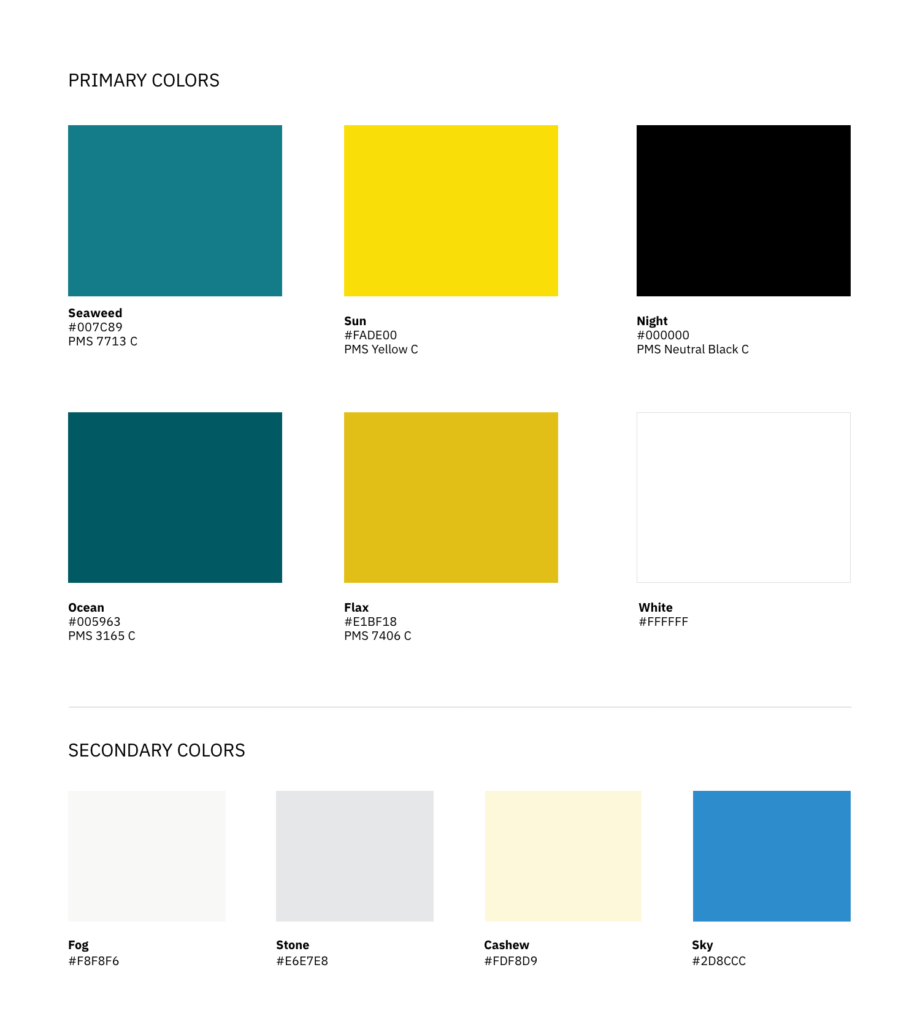 Depth and diversity | The deep hue of our primary mark represents the deepening of our commitment and care that builds upon a 5-year foundation. It represents the in-depth expertise we share freely with the world. Our deep-hued, diverse color palette is a celebratory nod to nature and the living world. With hues ranging from 'night,' 'sun,' 'ocean,' 'sky,' and 'fog' to 'flax,' 'cashew,' 'seaweed,' and 'stone,' our new palette pays homage to the life-sustaining forces that nourish us, heal us, and inspire us.
3. We know—without a doubt—that a brighter food future is possible.
Clearly, a new logo, tagline, color palette, and website do not, on their own, get us closer to the better, brighter food future we and future generations need to survive and thrive. But with this reconstituted identity, fed by both our past and our potential, we are spreading our roots even deeper into the fertile alt protein ground we first dug into in 2016. As we face this new decade, we are ready to reach for the sun.
In the 10 crucial years we have in which to achieve the U.N. Sustainable Development Goals, we have both the opportunity and the obligation to triple-down on our theory of change. We must build the roadmap for a sustainable, secure, and just protein supply. We must identify the most effective solutions, mobilize resources and talent, and empower partners across the food system to make alternative proteins accessible, affordable, and delicious. We must share knowledge freely. We must take a global, cross-sector, long-term perspective. We must focus our efforts on advancing alternative protein development where companies and governments can't or don't (yet).
The years ahead will require much from all of us, and the change we're working for will not happen on its own. Knowing what the alternative protein sector has pulled off in the past five years, I have no doubt that together, we can tilt the world toward a better food future for all. Whether you've been with us from the beginning or are just now learning about and participating in the planet-critical field of alternative proteins, we are incredibly grateful for you.
Cheers to the journey ahead!