Meet Dr. Liz Specht, GFI's associate director of science and technology team
A Q&A with The Good Food Institute's Associate Director of Science and Technology about her past, her future, and the future of science in food.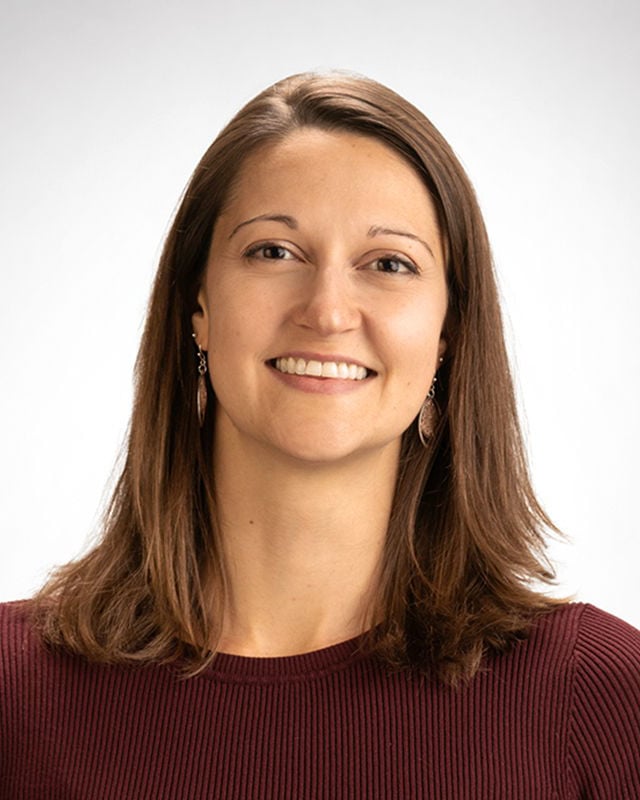 Editor's note, May 2020:
Dr. Liz Specht joined The Good Food Institute four years ago. Since then, a lot has changed within the SciTech team as well as in the greater alt-protein landscape. We wanted to update her original June 2016 interview, so we caught up with Liz to find out how her role has evolved and how her team's priorities have shifted in the wake of the global pandemic. She also shares some exciting developments in the industry.
---
Liz Specht is a veritable whiz kid at using her scientific skills for the greater good.
She holds a bachelor's degree in chemical and biomolecular engineering from Johns Hopkins University, a doctorate in biological sciences from the University of California, San Diego, and postdoctoral research experience from the University of Colorado, Boulder.
Liz also has a decade of academic research experience in synthetic biology, recombinant protein expression, and the development of genetic engineering tools.
She firmly believes in the potential of bioengineering and synthetic biology to solve many of the planet's most pressing concerns, starting with animal agriculture. Given how much has changed since she started at GFI, we wanted to catch up.
Emily: What was the moment that you realized your skills and background set you up to make an impact on issues surrounding the food system?
Liz: I started to realize, investigating global health issues more, that animal agriculture and everything that goes along with it is a global health crisis: from preventable disease to antibiotic resistance—it's just a factor in everything. During college, I went vegetarian just because of the environmental repercussions. At the time I wasn't thinking at all about using synthetic biology to confront issues of animal agriculture—both health and environmental—I just knew we needed to reduce consumption. When I discovered the work of GFI, I realized that we could revolutionize the way we produce animal products, and from that make a really large, direct impact on global health.
Melissa: Since you joined The Good Food Institute, you've moved into an Associate Director role and your team of two has grown to a team of 12! How have SciTech's focus areas changed? What are your top priorities today?
Liz: While my role has evolved alongside the industry, the SciTech team's core aim remains unchanged: to catalyze and accelerate the groundbreaking research that enables all alternative protein companies to develop the best possible products.
Early on, I spent a lot of my time working with investors to explain the technological landscape. GFI wanted to encourage more private investment in brand-new areas like cultivated meat. In the last few years, private investment has taken off—essentially doubling every year—so I am now focused on spurring open-access research in high-impact areas. This research will address key knowledge gaps and increase the number of people working in the industry.
Within SciTech, our analysis team engages with key stakeholders and conducts deep-dives into the scientific literature of relevant fields. One example is my colleague Elliot's stellar analysis of the cultivated meat industry. We can identify the knowledge gaps and technology development opportunities and propose solutions to accelerate the field. In coordination with our outreach and funding teams, we play matchmaker between ideas, researchers, and funding to get projects off the ground.
In some cases, GFI moves straight into project execution. For example, my colleague Claire Bomkamp established a cell line repository to address a crucial barrier to entry into the cultivated seafood field.
M: What are some of the most exciting developments you've seen in the past 4 years?
L: There are two that immediately come to mind. First is the involvement of major industry partners. We've seen some of the largest brands in the world spearhead major collaborative initiatives to promote innovation in plant-based proteins, flavors, manufacturing technologies, and more. Likewise, influential life science and biotechnology leaders have positioned themselves as go-to technology development, supplier, and service provider partners for the cultivated meat industry.
I can't overstate how critical this is. At the drop of a hat, major companies can assemble dozens of world-class researchers with an incredible amount and diversity of experience. Having expertise, financial resources, procurement capabilities, and pilot and manufacturing capacity at one's fingertips is an enormous force-multiplier for the whole industry.
M: That's truly incredible! What is the second?
L: Fermentation—the cultivation of microbial cells including fungi, algae, and even healthy bacteria—has emerged as a true third pillar of the alternative protein industry.
In many cases, this development has taken the form of leading biotechnology recognizing the critical role that fermentation-derived proteins, high-value ingredients, and even scaffold materials can play in advancing both plant-based and cultivated meat. An increasing number of companies are populating the white space of using structured, fibrous tissue from organisms like filamentous fungi or mycelium to create sophisticated whole-tissue meat products. Others are developing innovative flavoring ingredients, functionalizing enzymes, or low-cost bulk proteins from microbial sources.

M: With the industry growing so rapidly, surely there are some growing pains. How does GFI work to address these?
L: In a field growing this fast, it can be hard for new entrants to know where to start or what is the highest-value opportunity for them. The research landscape and the industry itself has become more complex. Siloed researchers are at risk of duplicating efforts with other teams, thus making inefficient use of scarce resources and time.
This is why GFI's perspective across the whole industry has become increasingly valuable. We are able to coordinate activities across a diverse set of stakeholders and help folks identify the high-impact opportunities to focus their efforts. We also use our analyses to proactively identify potential future bottlenecks that may not materialize until five or ten years in the future. We can start catalyzing solutions today and clear these future roadblocks to the industry's growth before it feels the pinch.
M: Speaking of the pinch, individuals, businesses, and organizations everywhere are wrestling with disruptions and uncertainty about the future right now. How has the Covid-19 pandemic impacted your team's work or shifted your focus?
L: With so many events and in-person workshops canceled, we have been using this time to delve deeper into our analytical work. We can generate even more resources to guide researchers in both industry and academia toward the highest-impact research opportunities. There is a lot of writing happening this quarter and next!
This crisis has also spurred some timely strategic planning exercises within our team, with an eye toward ensuring robustness and resilience across supply chains.
M: As you detailed in a recent Twitter thread, the pandemic has reinforced just how important it is that we build a more sustainable and resilient global food system. How can alternative proteins help?
L: Alternative proteins offer one of the most promising approaches to protect our food system. We see volatility and fragility playing out in the conventional meat industry today under pressure from workforce illness, trade disruptions, and fluctuating consumer demand. With a bit of foresight, we can build an alternative protein industry that is not only less compromised but that can actually thrive under rapidly changing market conditions.
A shift toward alternative proteins is an important step towards reducing the infectious disease risks associated with the current food system—including zoonotic diseases and antibiotic resistance. Also, a food system based on alternative proteins can safeguard us against the secondary wave of hardship that will play out in the coming months as a domino effect of disruptions unfolds across our interconnected global food system. Laying the groundwork for this transformation has always been GFI's primary aim. This pivotal moment in history has resoundingly demonstrated that we can't afford to wait a single day longer.
E: Hopefully GFI's work will accelerate this transformation and make it easy for everyone to eat better. That's the ultimate goal, right?
L: I believe people want to do better. But if it seems like it's going to be really inconvenient and disruptive, people are unlikely to think about it. Once we get to the point where every restaurant and grocery store has plant-based and cultivated meat, eggs, and dairy that are just as good (or better) and also competitively priced, then people will make the better choice.
E: Amen to that. Thanks, Liz!