Plant-based dairy and convenience foods steal the show at Expo East 2019
Learn how plant-based food producers are leveraging two of the biggest market opportunities in the food and beverage industry.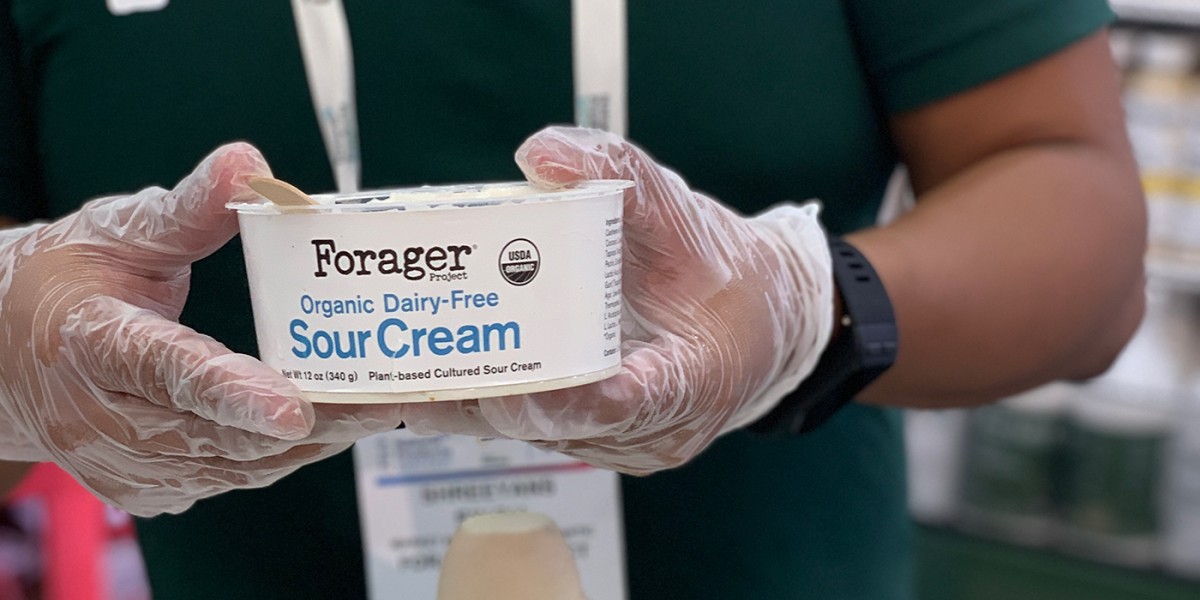 Natural Products Expo East 2019 may be smaller than its West Coast counterpart, but more than 1,500 natural and organic brands gathered on the trade show floor to showcase their latest innovations. Team GFI had boots on the ground to scope out the newest plant-based products and the trends shaping the future of food!
Take a virtual tour on our instagram highlight reel, and keep reading to learn how plant-based food producers are leveraging two of the biggest market opportunities in the food and beverage industry. 
Keeping it cultured
The SPINS data that GFI recently released showed that U.S. retail sales of plant-based milk have grown 6 percent over the past year, now making up 13 percent of all milk sales. But other plant-based dairy products—especially those capitalizing on the popularity of cultured and probiotic foods—are also gaining steam. This trend was on full display at Expo East:
DAHlicious makes authentic India-style kefir, yogurt, and lassis. After launching with cow's milk products, Dah! recognized the emerging plant-based trend and applied their slow-cultured process to cashews to create drinkable yogurt with 15 billion live probiotics.
Parmela Creamery uses a traditional culturing and aging process to create cheeses from cashew milk. They're expanding their current line of shreds and slices to include smokey spreads and aged blocks of familiar flavors like cheddar and havarti.
Forager Project showcased their drinkable, probiotic-packed cashewgurt along with a brand new sour cream that started hitting retailers soon.
Speaking of sour cream, plant-based pioneer Follow Your Heart demoed their new formulation, served as an herb dip with potato chips to highlight its versatility as an ingredient.
We fawned over the Miyoko's Creamery cultured oat butter when it was beta tested at Expo West, so we were thrilled to learn that both the classic and garlic parmesan (!!!) varieties will be coming to market in early 2020! But Miyoko Schinner isn't stopping there…
Her new line of "Traditionally Cultured 100% Plant-Based Vegan Cheese" blocks will also debut next year. To bring even more customers into the fold, these hard cheeses are free from common allergens like nuts and soy and set to have a lower price point.
Convenience is key
Along with great taste and affordability, convenience is critical for the mainstreaming of plant-based foods—especially as working professionals demand high-satisfaction, low-effort meals and snacks. With dollar sales of plant-based meal kits and ready-to-eat meals up 22 percent over the past two years, it makes sense to see so many brands adding new frozen and shelf-stable plant-based convenience foods to their repertoires. Here are a few standouts:
Alpha Foods gave GFI an exclusive sneak peek at their new frozen breakfast burritos at the Good Food Conference earlier this month. Knowing how tasty they are, we couldn't resist grabbing a sample or two (or four) as they made their industry debut!
Known for their line of delicious cheeses made from sprouted brown rice, Italy's Mozza Risella is expanding into frozen "heat and eat" meals that put a plant-based spin on creamy classics like mac and cheese and tagliatelle with mushrooms.
Upton's Naturals demoed their new shelf-stable Real Meal Kits with pre-cooked ingredients that quickly combine to make flavorful plant-based dishes in minutes. On display at the Expo were Pad See Ew, Massaman Curry, Thai Spaghetti, and Thai Curry Noodle.
As our foodservice analyst Zak Weston notes in a recent blog, "Plant-based jerky is well-positioned to benefit from the same trends boosting animal-based jerky." We sampled jerkies made from wheat, soy, and 'shrooms courtesy of No Evil Foods, Leaf Jerky, and Pan's (respectively).
The Jackfruit Co. debuted shelf-stable meal pouches that showcase the jackfruit's versatility and meaty texture.
Seapoint Farms has primarily focused on whole and riced frozen veggies—especially edamame. Now, they're partnering with Gardein to launch flavorful frozen meals with riced veggies and plant-based chick'n.
Though plant-based burgers have been dominating the headlines, it's clear that the industry is moving beyond beef (no pun intended). These exciting and innovative products show just how much the plant-based category continues to mature year over year. We can't wait to see what Expo West 2020 has in store!