2023 outlook: The state of the plant-based meat category
Plant-based meat is a significant growth opportunity for U.S. and global retail and foodservice. We cover 2022 plant-based meat sales and ways to improve consumer engagement.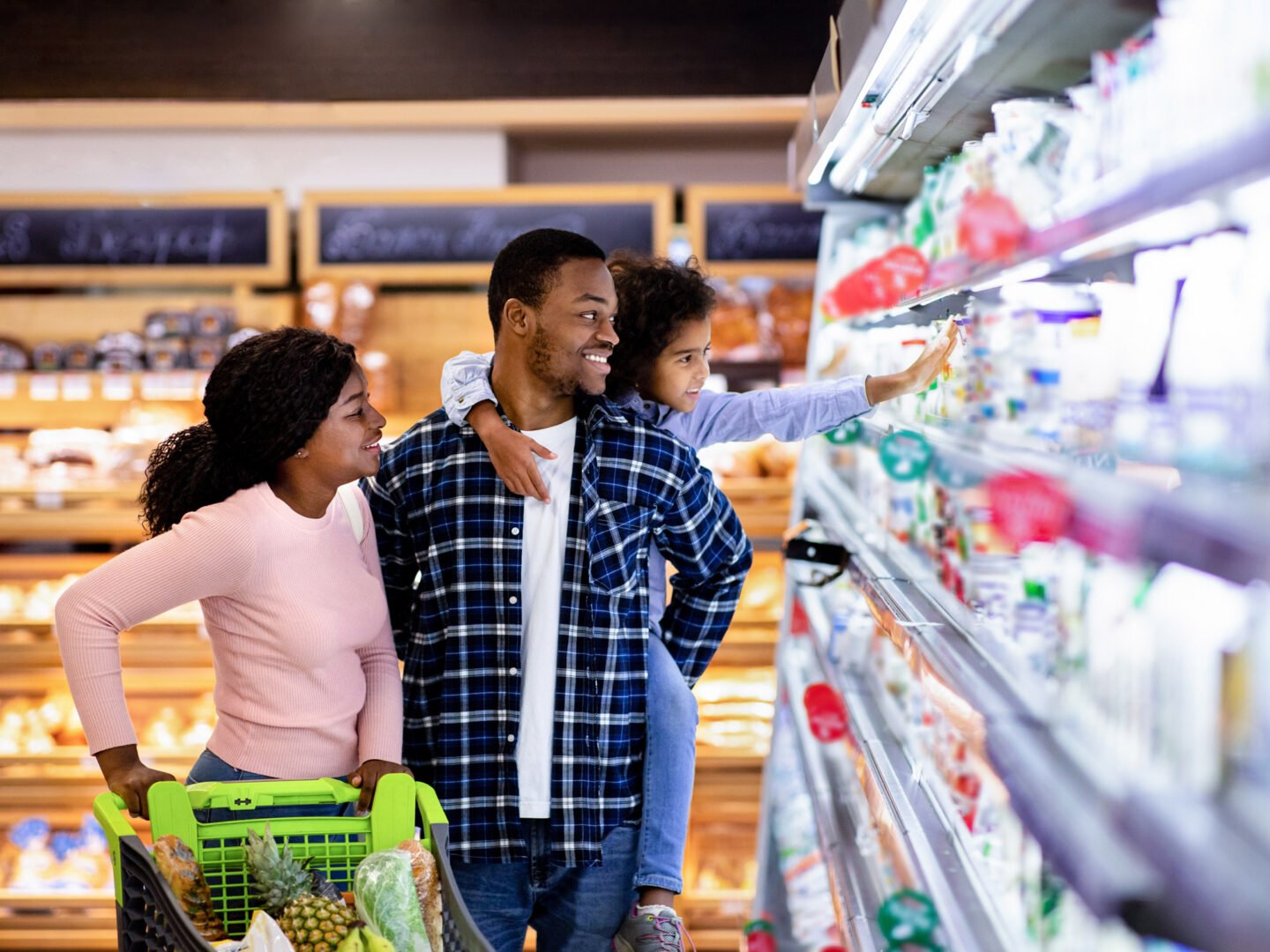 Executive summary
With the global meat market worth upwards of a trillion dollars, capturing a fraction of that could be a multi-billion-dollar opportunity for plant-based meat. The category has a significant growth opportunity. Although plant-based meat sales in U.S. retail declined slightly in 2022, global retail sales saw significant growth and consumer tailwinds remain strong.
The plant-based category has further opportunities to improve consumer engagement via focusing on improving taste parity and affordability, as well as effectively messaging consumer benefits, including health. By competing with conventional meat in meeting consumer needs, the plant-based category has an enormous runway for winning over consumers and growing its share of the total meat market.
Global retail: Global retail sales of plant-based meat in 2022 were $6.1 billion, and grew from prior year by both dollar sales (+8%) and weight sales (+5%), according to Euromonitor, with notable growth in Latin America and Europe in particular.
U.S. retail: Plant-based meat sales in U.S. retail in 2022 declined slightly by 1% and unit sales declined 8% compared to prior year, according to data the Good Food Institute and the Plant Based Foods Association commissioned from SPINS.*

Inflation: Average price-per-unit increased across plant-based meat, animal-based meat, and total food. Given plant-based meat's premium price and this period of inflation, this may have influenced consumers to trade down, underscoring the importance of reaching price parity with conventional meat.
Consumer engagement: The percent of households purchasing declined slightly—however, units purchased per household and repeat rates were steady; more than 95% of existing shoppers remained loyal to the plant-based meat category.
Segments: Pockets of growth in the plant-based meat category are centered on newly launched products in more nascent sub-categories such as plant-based chicken, seafood, and jerky.
Long-term trend: In the last 10 years, estimated plant-based meat dollar sales in U.S. retail have tripled, according to Euromonitor data.
Market share opportunity: With continued product innovation and consumer adoption, the plant-based meat category could earn a similar dollar share of the total meat market as plant-based milk has of the milk market (15%). That opportunity is worth $15 billion in U.S. retail alone.

Combined U.S. retail, foodservice, and ecommerce: ​​In 2022, estimated total plant-based meat dollar sales increased slightly by 2% while estimated pound sales decreased by 4%. Growth in foodservice and ecommerce sales represent opportunities to deliver chef-prepared items that meet consumer needs, and the category's appeal to younger generations like Gen Z and Millennials more likely to purchase food online.
*Unless otherwise noted, the analysis used in this article is based on data commissioned by GFI and PBFA from SPINS. This article dives deep into plant-based meat sales. View the full report covering plant-based foods overall as well as other plant-based categories.
PART 1:
The road to today: Innovation leading to uptake
In the last ten years, the plant-based meat category has been transformed. U.S. retail dollar sales for the category have tripled over the last decade to reach $1.4 billion in 2022. The number of products available at U.S. retail has skyrocketed to nearly 1,000 today. Product types are increasingly developed to serve as swap-outs for beef, chicken, pork, seafood, and more. These product innovations have been accompanied by marketing that has sought to appeal to meat eaters as a larger target group than the vegans and vegetarians who were previously the consumer base. These industry developments, combined with genuine consumer desire to eat more plants and less conventional meat, have succeeded in bringing meat-eaters to the category—today, 93% of households that buy plant-based meat also purchase conventional meat.
These advances have paralleled drives in the public and private sectors to sustainably and efficiently feed billions of people, mitigate the global climate impact of conventional meat production, and, notably, protect public health and lessen the risk of future pandemics.
The potential of plant-based meat to manifest its promise depends fully on the category increasingly competing with conventional meat. Plant-based meat that tastes as good as (or better than) and costs the same as (or less than) conventional meat is the key to unlocking this promise. To see sustained growth, it will also be important to meet consumer needs and offer clear value propositions for switching—including taste and price, but also personal health, public health, social, and environmental benefits.
So what is the state of the plant-based meat category today? Let's dig in.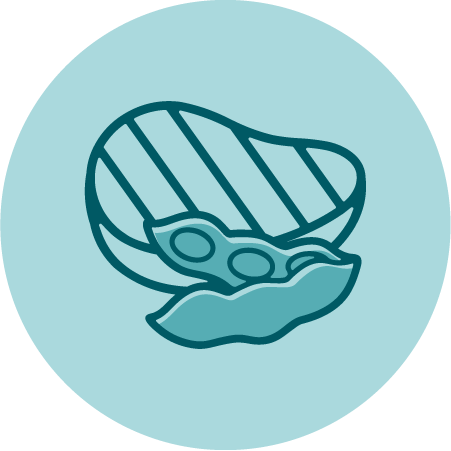 PART 2:
Plant-based meat sales
Recent headlines have characterized plant-based meat sales as declining. While this is accurate in the short-term in the United States—in 2022, dollar sales declined slightly (1%) and unit sales declined 8% compared to prior year, the longer-term picture is different. In the last three years, dollar sales grew 43% and unit sales grew 20%. Purchasing patterns can further illuminate some of the factors at play. Let's dig deeper to understand what's happening.
Change from prior year: Key sales metrics in 2022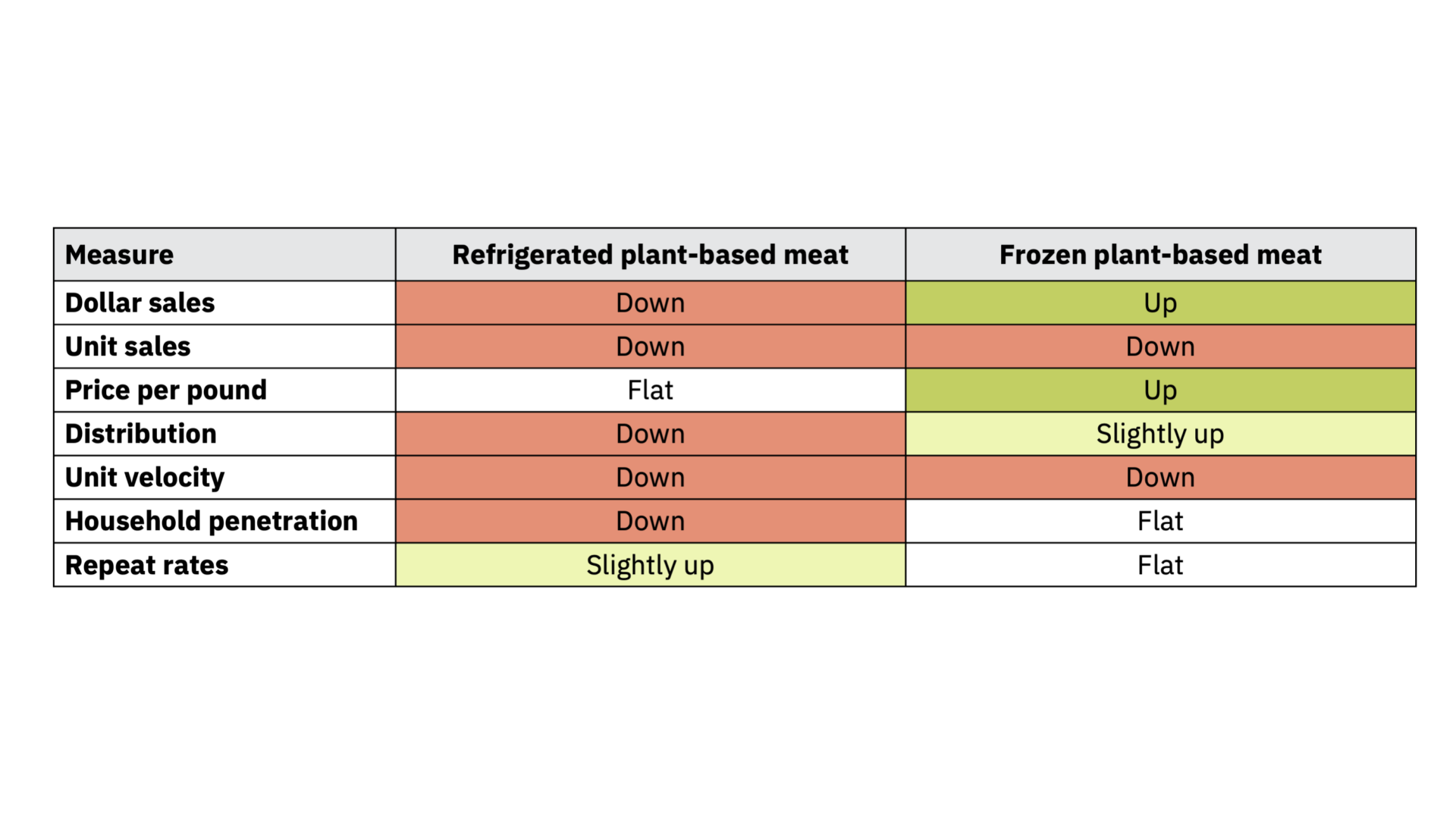 Prices have increased. Units lagging dollars is a trend across the retail food industry as average prices have increased in the last year. In fact, while plant-based meat average price-per-unit increased 8%, animal-based meat increased 12%. Price increases experienced by consumers are also apparent when we calculate price per pound. This is influenced by several factors:

Inflation is affecting food prices across the board. In the U.S., from December 2021 to December 2022, food-at-home prices rose 12%.
The plant-based meat category has seen prices for the total category increase over the last handful of years as a new generation of products has hit shelves. As production scales, we have seen some individual product prices start to come down, and expect them to continue to come down into the future. In fact, brands like Beyond Meat has and Impossible Foods have signaled intent to underprice conventional meat (in Beyond's case, in at least one meat type by 2024). In the meantime, the influx of new products, inflation, and—in some cases—larger pack sizes have resulted in higher average category prices.
In addition to price increases for a given category, recent inflation has cut into consumer budgets, resulting in many consumers trading down from premium categories. And despite some individual companies achieving product price cuts over the past year or two, almost all plant-based categories continue to sell at a significant per-pound price premium compared to their animal-based counterparts.

Distribution is slightly up, although certain subcategories have seen notable declines or increases. After years of rapid distribution growth, plant-based meat distribution as measured by TDP (total distribution points) is slightly up, driven by increases in product assortment in certain formats like frozen breakfast meats and frozen nuggets, tenders, and wings. Meanwhile, there have been declines in distribution for frozen grounds, refrigerated burgers, and frozen burgers. Given that stores have limited shelf space, this tracks with retailers curtailing the number of products available in categories that are experiencing velocity declines, and diversifying their plant-based meat offerings as new products come to market.
Velocity is down. Velocity is the rate of sales (how fast an item turns on shelf). One measure of velocity (units/TDP) for plant-based meat has declined compared to prior year for both frozen and refrigerated plant-based meat. This means that compared to last year, on average, plant-based meat is selling more slowly.
Household penetration is slightly down. The portion of U.S. households purchasing plant-based meat is down compared to prior year, driven by consumers engaging less with refrigerated plant-based meat. Of households that did purchase plant-based meat, 63% purchased more than once in the category, similar to last year. Unit sales per buyer were flat, indicating that, of the buyers who stayed in the category, they purchased a similar amount as in prior year.

Looking at the trajectory of households that purchase both animal-based and plant-based meat, we can discern a reversal of the prior trend. In 2020, 3.5 million U.S. households (out of a total of 130 million) shifted to buying both animal-based and plant-based meat (typically from purchasing only animal-based meat). The following year, an additional 1 million U.S. households joined in on plant-based meat purchasing. In 2022, this trend reversed by about 1 million households, though that means there are still an incremental 3.5 million households purchasing plant-based meat as compared to 2019.
As a point of comparison, in 2022, a projected 1 million households stopped purchasing animal-based beef, 2.3 million households stopped purchasing animal-based seafood, and 800,000 households stopped purchasing animal-based chicken. Although these categories have larger bases, this is demonstrative of an overall volatile year across both plant-based and conventional meat as many shoppers adjusted their purchase behavior given macroeconomic shifts and price pressures.

Long-term sales. Despite the challenges of the last year, a long-term view can demonstrate how rapidly the plant-based meat category has developed. Plant-based meat dollars sales grew 43% and unit sales grew 20% from 2019 to 2022 (benchmarking before the pandemic). In fact, 40% of dollar sales in the last 15 years came from just the last 3 years.
What are the main takeaways for plant-based meat's sales performance in U.S. retail?
Plant-based meat sales declines are being driven by slightly fewer consumers purchasing in the category, mainly in the refrigerated subcategory, amidst an inflationary period in which consumer budgets are tight and plant-based price premiums are difficult to overlook.
Despite increased prices, the households that are purchasing plant-based meat are buying an amount consistent with prior year, signaling loyalty amongst many plant-based consumers.
Pockets of growth in the plant-based meat category are driven by product launches in emerging sub-categories like plant-based chicken, seafood, and jerky.
But, retail isn't the only market to watch. Let's explore U.S. foodservice and ecommerce sales, supply chain disruptions, and the complex macroeconomic environment to build out a more nuanced perspective of what's happening in the U.S. market. It's also worth exploring global retail sales projections for a more complete picture.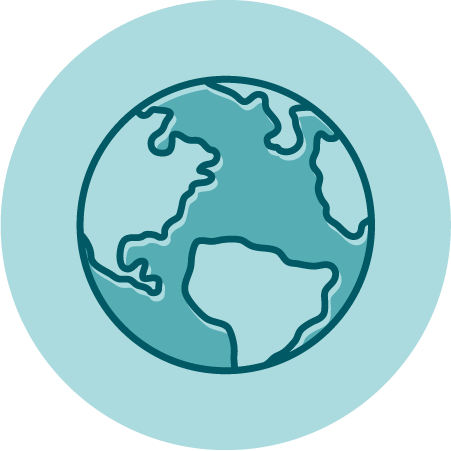 PART 3:
Exploring the fuller picture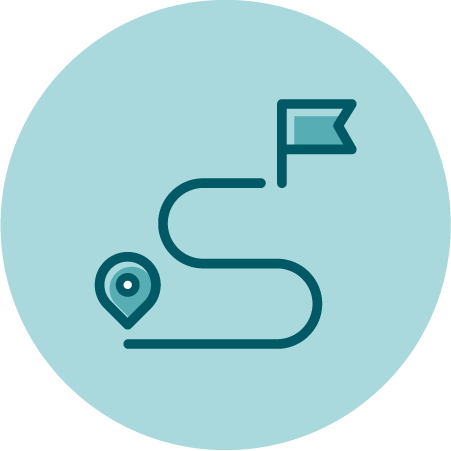 PART 4:
The many paths forward & levers to support growth
Positive indications of consumer desire
Despite recent sales declines, consumer tailwinds are strong. Consumer research indicates that many are interested in cutting back their meat consumption and/or increasing their consumption of plant-based foods. Research from Credit Suisse found that, among consumers aged 16-40 across 10 countries, 66% plan to spend more on plant-based meat and dairy alternatives in the future. Yet product development and enhancement opportunities remain, including to improve taste and lower prices in the plant-based meat category.
The primary barrier to consumption of plant-based foods is taste. According to Mintel, 53% of all consumers agree that plant-based protein products should taste indistinguishable from meat. Similarly, research from FMI shows that perception of taste is the top reason why consumers haven't tried plant-based meat or dairy, as well as the top reason why consumers who have tried them once or twice haven't continued purchasing. Cost is overall the second most important factor.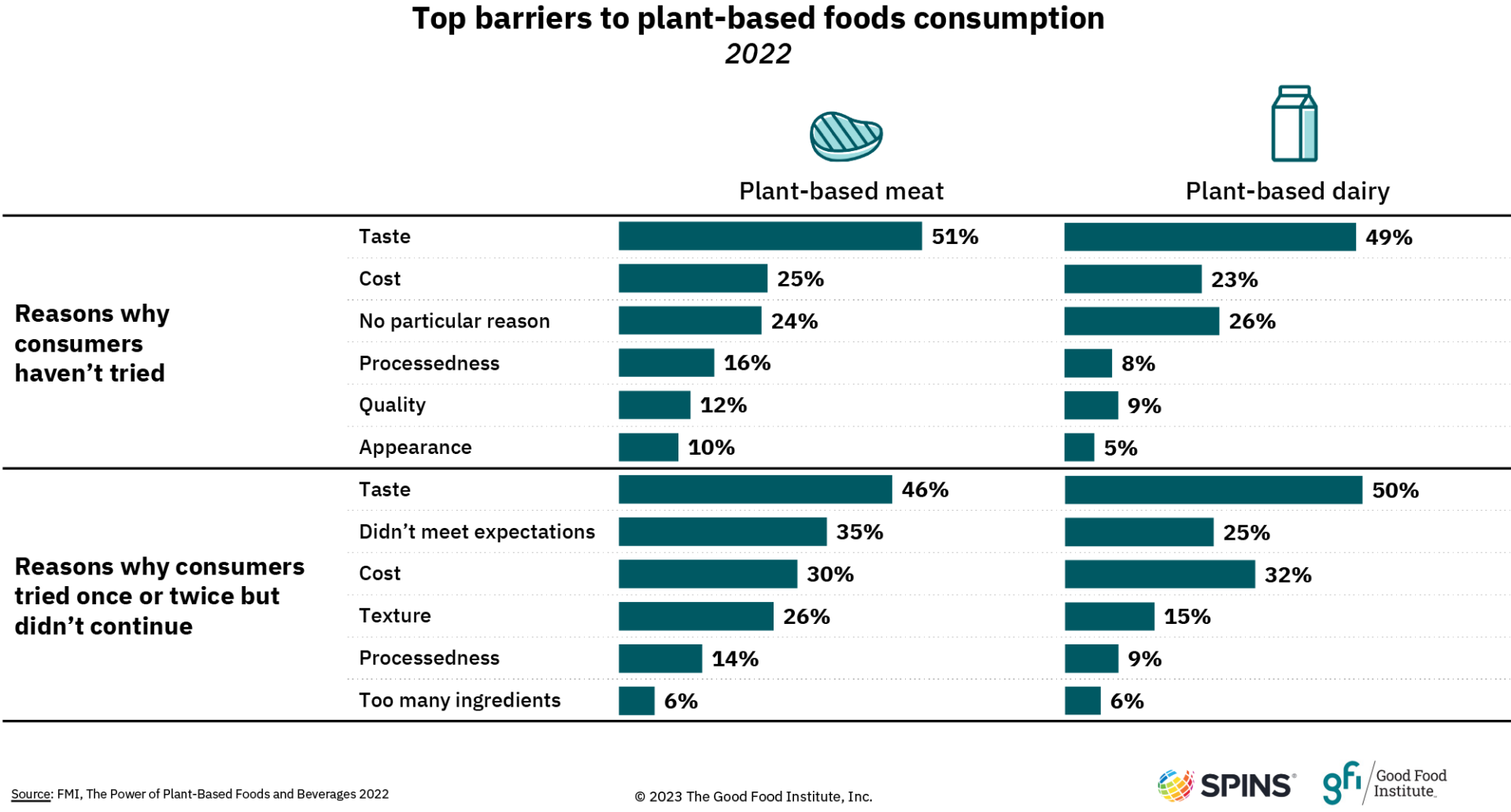 The sustained interest voiced by consumers combined with clear product needs make it crystal clear that plant-based meat is a growth opportunity. The plant-based meat market is characterized by a rush of next-generation products that are aligned with the public's interest in eating more plant-based foods. It's characterized by a bounty of emerging technical advances that are helping products grow closer to sensory parity with conventional products. And it's characterized by an influx of investment that can support scale-up and improved affordability. These measures will help attract new consumers, particularly meat-eaters, to the category and encourage existing consumers to purchase more.
Furthermore, although dwarfed by taste and cost concerns, consumers also report "processedness" and too many ingredients as reasons why they haven't tried or didn't continue buying plant-based meat. Educating consumers on the health benefits of plant-based meat and maintaining or improving health perceptions will be important to its growth in market share, particularly given that health is a leading stated reason for switching in the first place.
The sustained interest voiced by consumers combined with clear product needs make it crystal clear that plant-based meat is a growth opportunity.
Our outlook
Plant-based meat provides a variety of personal, environmental, and public health benefits to consumers. And while benefits like these have spurred record activity in the space in the last decade, in 2022, inflationary pressures, price premiums, and, on average, opportunities to better meet consumer needs contributed to a slowdown in U.S. retail sales. This is against a backdrop of high potential and strong consumer tailwinds—notably, global retail sales grew in 2022, and some regions experienced rapid market development. In the coming years, continued investments in R&D, product quality and affordability, and strategic marketing and category positioning to further engage omnivore consumers will be key to the growth of the category.
There are many agents of change that can spur this industry forward. Companies can lead by delivering tasty, affordable products that appeal to mainstream consumers, manifesting a market opportunity worth billions given the often stated consumer desire to reduce conventional meat consumption and eat more plant-based foods. The research community can lead by encouraging more scientists, from diverse disciplines and at different points in their careers, to jump into the alternative protein field. The world's governments can lead by funding critical R&D to advance science, providing manufacturing incentives to help scale-up, and promulgating regulations that provide a level playing field to allow plant-based meat to compete on taste, price, and convenience. Doing so can address the industry's biggest technical challenges, inspire additional research, create new opportunities for growth, and ensure the plant-based meat category can benefit everyone at the table