Consumer insights
Identify and understand current and potential consumers for alternative proteins. Find information about demographics, adoption, perceptions, acceptance, motivations, barriers, and category language.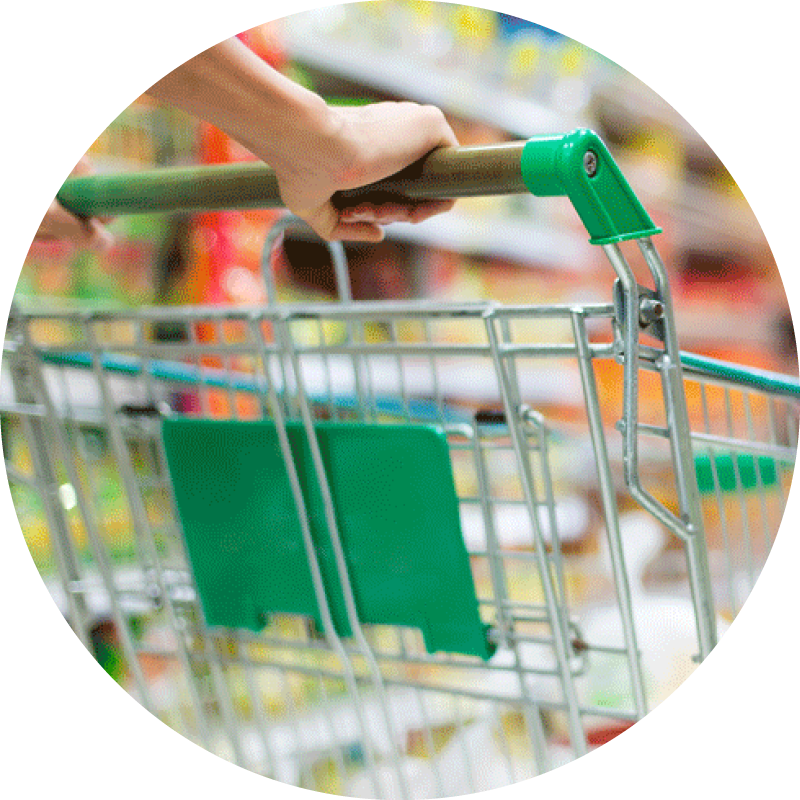 Key insights
More consumers than ever are seeking to reduce their meat consumption and eat more alternative proteins. Given the growing interest in and demand for plant-based products, which consumers represent the largest opportunities? What drives adoption? We cover the key insights from our curated list of consumer research studies below.
Demand for plant-based options is rising
Increasing consumer demand for plant-based options is driving restaurants and retailers to offer more plant-based selections. Of consumers who have tried plant-based meat, 80 percent plan to replace some or all animal-based meat with plant-based meat in the next year.
Meat-eaters are the largest market segment
According to Nielsen, 98 percent of plant-based meat buyers in America also purchase meat products. Impossible Foods and Beyond Meat have also reported that more than 90 percent of the consumers eating their products also consume or purchase animal products. Conversely, 21 percent of meat-eaters purchase plant-based meat, indicating that, while meat-eaters are already the largest market segment for plant-based products, there remains ample room for growth.
Omnivore consumers' desire for plant-based meat has implications for retail shelving strategies—76 percent of consumers want to find plant-based meat in the meat aisle and frozen area where they already shop.
Taste is critical to consumer trial and acceptance
Consumers are interested in plant-based products that deliver the sensory qualities of animal-based meat. Indeed, 73 percent of consumers agree that plant-based meat should mimic the taste of meat, yet taste remains a significant barrier to trial. Consumers report several taste-related reasons for not eating plant-based meat: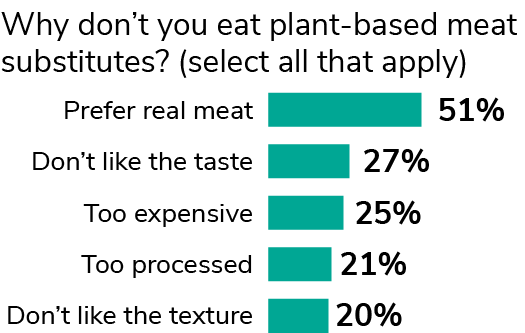 There is also a market opportunity in developing more diverse taste profiles and product types—47 percent of consumers say they desire more variety in plant-based meats. And 51 percent of consumers want more variety of protein sources in plant-based meat, from chickpeas and lentils to navy beans and fava beans.
To encourage consumers to try plant-based meat, food manufacturers should focus on creating plant-based products with the taste that will win over consumers and keep them coming back for more. 
Consumers appreciate the health benefits of switching to plant-based proteins
Meanwhile, consumers say health is also important—56 percent of consumers state that one of the major reasons they eat plant-based proteins is "to be healthier."
More than 70 percent of consumers view protein from plant sources as healthy, compared to about 35 percent who view animal protein as healthy.
Flexitarians, Millennials, and Gen Z offer large and growing market opportunities

Flexitarians are defined as consumers who eat a mostly vegetarian or plant-based diet with the occasional inclusion of animal-based products. Market penetration of plant-based products is high among flexitarians.
Younger consumers are particularly drawn to the plant-based category. Sixty-three percent of Millennials are trying to incorporate plant-based foods into their diet. Meanwhile, 65 percent of Gen Z find plant-based foods appealing.
Shoppers buying plant-based products spend more
People purchasing plant-based foods have a higher basket ring, spending 61 percent more than the average shopper, according to National Household Panel data. Thirty-seven percent of plant-based meat purchaser households earn over $100K annually.
Alternative proteins trend with younger generations, African-Americans, Asian-Americans, and Hispanic consumers
Increasing plant-based consumption is a trend among young and diverse consumer groups. These groups are more likely to express an intent to eat more plant-based foods:

Once consumers have tried plant-based meat, they're likely to choose it again
More than 75 percent of consumers have consumed plant-based meat or are willing to try it. Of those who have tried it, 90 percent say they would eat it again. To increase first-time trials of plant-based meat, retailers and foodservice providers can run promotions on plant-based products, distribute samples, and use inclusive aisle signage or menu language to bring more consumers into the category.
For more insights on increasing first-time trials of plant-based products, please see our retail and foodservice sections.
Page
Plant-based retail market overview
Explore sales data for plant-based meat, egg, and dairy products in the U.S. retail market. Find key category insights, size, sales growth, and purchase dynamics for the plant-based industry.
Motivations
Why is taste the most important product attribute for alternative protein products? Why are foods labeled "plant-based" more likely to drive purchase intent than those labeled as "vegan"? Understanding consumer motivations is key for developing products that consumers will buy. GFI's resources identify several key strategies for appealing to the motivations that are most important to consumers.
Retail point-of-purchase motivators for plant-based foods
We collaborated with Mindlab International to test consumers' implicit perceptions of the plant-based category. This research report outlines strategies for marketing plant-based foods.
The report includes findings on:
Product attributes most likely to increase purchase intent for plant-based products (and why taste is the most important product attribute).
The most effective product descriptors for labeling plant-based foods.
Characteristics of effective package imagery.
Which packaging types for plant-based meat are most appealing to consumers.
The role of taste, familiarity, and health in purchasing decisions.
How attitudes differ among groups and generations.
Adoption
As consumer awareness and interest in alternative proteins continue to grow, how quickly will trial and adoption increase? This collection of resources outlines key considerations for increasing consumer adoption of plant-based, fermentation-derived, and cultivated foods.
Strategies for accelerating adoption of plant-based meat
This strategy paper outlines key recommendations based on a comprehensive literature review on consumer adoption of plant-based meat. The report covers consumers' foundational and evolving motivations for food choices and how these differ by consumer segment. It also outlines three key strategies for accelerating plant-based meat adoption:
Developing products that meet the needs of the target segment.
Designing the choice environment to make selection easier.
Designing messages to change consumption behavior.
Working paper series on consumer adoption of plant-based meat
Because plant-based meat is at a critical inflection point, we conducted a comprehensive literature review in order to identify key influence strategies and determine white space opportunities for further research in plant-based meat promotion. This series provides a practical resource to inform product development and marketing strategies for those working in the plant-based meat industry. It also provides a "launching point" for actionable research to identify further strategies to promote consumer adoption.
Literature review on consumer adoption of alternative seafood
This paper assesses the available literature on consumer attitudes towards seafood. The results of this review informs decisions on how to best serve seafood consumers with plant-based, fermentation-derived, and cultivated options. The report also informs the prioritization of further research for the advancement of these industries.
Profiles of U.S. early adopters of plant-based and cultivated meat
This report outlines sociodemographic and attitudinal profiles of U.S. plant-based and cultivated meat early adopters.
Descriptors & nomenclature
In addition to the study we performed with Mindlab that covers category language and descriptors for plant-based foods, we have performed additional studies on plant-based and cultivated descriptors and nomenclature. 
Plant-based descriptor terms
This study consisted of a series of surveys and experiments to determine effective descriptor terms for plant-based meat.
Science communication tools and nomenclature for cultivated meat
This message design and research project was a collaboration between The Good Food Institute and Mattson with technical advising by UPSIDE Foods. The team developed science communication tools and nomenclature for the emerging cultivated meat industry.
Cultivated meat nomenclature studies
This series of studies tested the effectiveness of nomenclature for the cultivated meat industry. Studies included qualitative word associations, surveys and experiments, and focus groups.
Perceptions
What do consumers think about plant-based meat, fermentation-derived proteins, and cultivated meat? The studies below report on people's perceptions of alternative proteins.
Alternative protein focus groups to determine influence opportunities
This study performed in different cities across the U.S. developed insights from a diverse group of consumers regarding their perceptions and experiences with alternative proteins. The detailed analysis provided deep insights for developing new strategies to expand the alternative protein market.
Predictors of plant-based and cultivated meat acceptance
This peer-reviewed article investigates consumer perceptions in the U.S., China, and India.
Future research
Plant-based meat holds a tremendous potential to reduce demand for conventional meat, provided that plant-based meat meets consumers' expectations and is marketed effectively. While market shares of plant-based meat, eggs, and dairy are increasing, there are still barriers to increased consumption of plant-based products—understanding those barriers will help accelerate the adoption of alternative proteins. But only a relatively small body of market and scholarly research has examined consumer perceptions of alternative proteins.
Regarding cultivated meat, we are at a critical juncture—the product is coming to market, and yet consumer awareness is relatively low. We therefore have the opportunity to inform consumer opinions. It is far easier to inform opinions than it is to change them, and it is far more effective to lead a narrative than it is to react to others' narratives. To date, most research on cultivated meat has focused on identifying acceptance rates, benefits, and barriers.
Consumer research priorities
This report outlines some of the most urgent, high-impact consumer research areas for alternative proteins. GFI selected each research topic due to its ability to accelerate the sales of plant-based products or effectively introduce cultivated products into the market. The authors identified research gaps after performing a comprehensive literature review, obtaining feedback from academic and nonprofit researchers, and conducting interviews with plant-based and cultivated meat companies.
Sign up to receive the latest insights
Our Alternative Protein Opportunity industry newsletter delivers the latest market and consumer research, policy updates, GFI resources, and events and opportunities to your inbox.