Subway is about to offer Beyond Meat
Subway (the world's largest fast-food chain) is bringing the Beyond Meatball Marinara to 685 locations for a limited trial this September.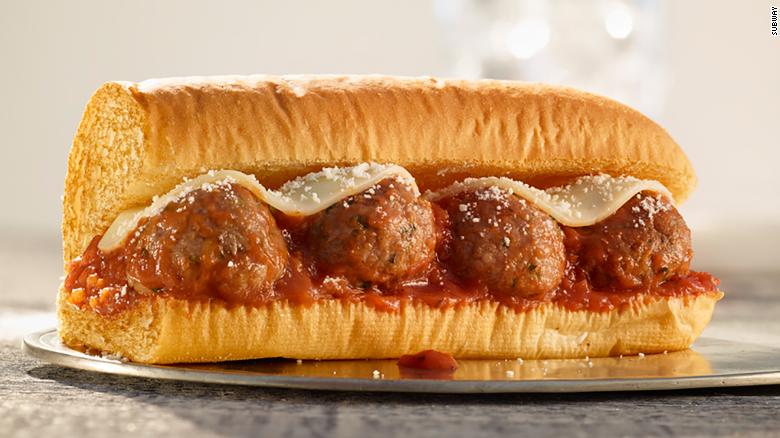 UPDATE (AUGUST 12, 2019): Beyond Meat has announced the launch of a partnership with Aramark. The food service provider will now offer Beyond burgers, sausages and other items at schools, hospitals, baseball stadiums and other businesses across the country. Aramark serves nearly 2 billion meals each year, enabling Beyond Meat to reach huge numbers of new diners!
"The trick for us is to develop and offer unique meatless options that taste great and appeal to consumers who might want to try something new and those who follow plant-forward diets," said Heidi Hogan, Vice President of Product Development and Culinary Innovation at Aramark in a press statement.
Team. Sometimes wishes are granted.
On a road trip with my family this past weekend, we stopped at a Subway for sustenance. The plant-based options were not totally satiating.
Exhibit A:
What a providential surprise then that just 48 hours later Subway announced a new "strategic culinary partnership" with Beyond Meat!
Subway is bringing the Beyond Meatball Marinara to 685 locations for a limited trial this September.
Folks living in (or passing through) Jackson, Mississippi; South Bend-Elkhart, Indiana; Fresno-Visalia, California; Louisville, Kentucky; Harrisburg, Pennsylvania; and Halifax, Nova Scotia in Canada will get to try the newly minted Beyond Meatball—specially created for this partnership. 
Exhibit B:
"Although this is a test, I am confident that the consumer response will lead Subway to roll it out nationwide," said GFI Director of Corporate Engagement Alison Rabschnuk. "Every chain that has added next-generation plant-based meat has met with great success."
This is a significant milestone for the plant-based industry as a whole. Subway is the biggest fast-food chain in the world. With 43,000 locations, it's bigger than McDonald's or Starbucks.
"In a year of amazing news, the Subway-Beyond Meat deal is one of the biggest," according to GFI Executive Director Bruce Friedrich. "No other restaurant chain has the ability to bring plant-based meat to more people in more places. It has the potential to be a giant leap forward for the availability of the better meat consumers want."
In Subway's press statement Beyond Meat founder and CEO Ethan Brown said, "We're excited to partner with Subway and are grateful that the menu team through to senior management has entrusted us as their innovation partner to deliver delicious plant-based proteins to their guests. We look forward to a long-term partnership with Subway as we together serve and delight existing and new fans of this iconic chain."
Anyone wanna road trip to Nova Scotia?
Header image: Beyond Meatball Marinara | Credit: Beyond Meat