New GFI State of the Industry Reports show alternative proteins are poised to flourish post-Covid-19
Our latest Plant-Based and Cultivated Meat State of the Industry Reports show that, even with the vast economic and public health challenges Covid-19 presents, there are reasons to remain optimistic about the future of sustainable protein production.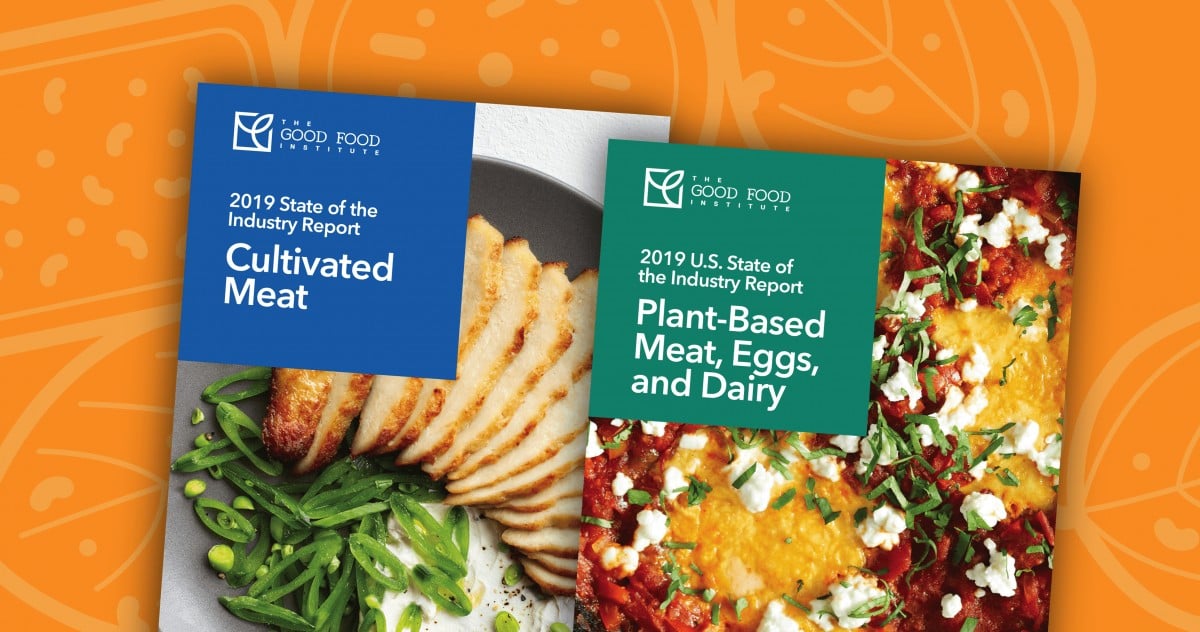 2019 was a year of huge milestones in the alternative protein industry: Beyond Meat had a successful IPO, Impossible Foods raised $300 million in funding, and Burger King rolled out the Impossible Whopper nationally. Several of the largest meat companies in the United States launched plant-based or blended product lines, and plant-based food retail sales reached $5 billion. The number of cultivated meat companies grew by 57 percent and reached a venture capital fundraising record. In early 2020, the Covid-19 pandemic struck, impacting many aspects of society, including the global food system. Despite economic instability, difficulties for foodservice, and an unfolding public health crisis, there are reasons to remain optimistic about the future of alternative proteins—many of which are highlighted in GFI's new Plant-Based and Cultivated Meat State of the Industry Reports.
GFI's State of the Industry Reports are the most comprehensive, in-depth analyses of the alternative protein landscape available to date:
The Plant-Based Meat, Eggs, and Dairy State of the Industry Report: This report offers unique insight into a ground-breaking year for the U.S. plant-based food industry. GFI's open-access analysis delves into retail and foodservice sales data, investment analytics, technical advancements, consumer insights, industry predictions, and more.
The Cultivated Meat State of the Industry Report:

This open-access report provides a global analysis of the cultivated meat industry. GFI experts detail the investments, competitive landscape, consumer insights, and scientific progress in this rapidly accelerating, transformative market sector.
Both of these reports demonstrate three key advantages in this uncertain time for the alternative protein industry.
Plant-based food suits new consumption patterns
Covid-19 has led to a drastic increase in retail food sales and at-home consumption. SPINS data compiled by GFI shows that U.S. plant-based meat retail sales grew by 18 percent in 2019 to $939 million. This growth significantly accelerated when Covid-19-induced buying began. Since February, year-over-year growth of plant-based meat sales has greatly outstripped conventional meat. This could indicate that mainstream consumers value the practicality, safety, and shelf stability of plant-based foods, and may be incorporating it as a staple in their diets and source of comfort and nutrition.
Although many plant-based food companies may be unable to launch new products through foodservice channels in the short term, these nimble companies are well positioned to sell their products direct-to-consumer through e-commerce channels (about 10 percent of all grocery sales pre-Covid-19) and delivery. Many restaurants and cloud kitchens are experiencing robust pickup and delivery demand. Increased scrutiny of food safety by consumers may also bode well for plant-based food, which provides substantially lower risk of pathogens than conventional meat. In China, Starbucks, KFC, and Papa John's all launched plant-based meat products in early 2020.
Alternative protein companies will have access to funding
Plant-based food companies based in or selling in the United States raised nearly half a billion dollars in venture capital funding in 2019, meaning there is significant capital for these companies to use for product R&D, production capacity, supply chain resiliency, and new go-to-market strategies. Further, in early 2020, despite Covid-19, several plant-based meat companies raised significant funds. For example, Impossible Foods raised another $500 million, Rebellyous raised $6 million, Plantible Foods raised $4.6 million, and Chinese plant-based meat company Starfield raised its seed round. In March 2020 the LIVEKINDLY co. was formed, with a $200 million investment, to accelerate the market for plant-based chicken.
In addition to already-invested capital, there is adequate "dry powder" (investable capital) to keep protein innovators growing, although fundraising may not be as easy for startups as it was six months ago. In the past two years, the most active venture capital funds in the plant-based food and cultivated meat space collectively raised funds totalling in the hundreds of millions.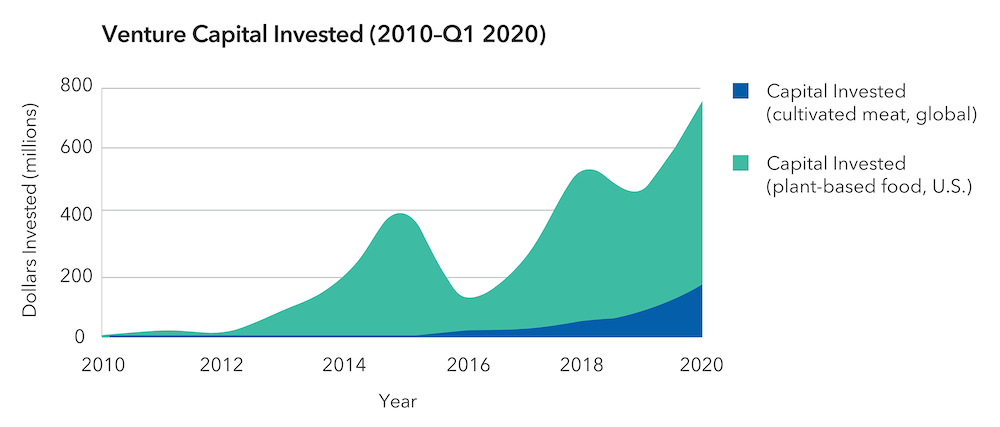 Alternative protein innovation is at an all time high
As described in our Plant-Based Report, pioneering innovators in the plant-based food industry have jump-started a virtuous cycle of product innovation, customer acquisition, and investment. In addition to plant-based food consumption and investment, 2019 saw an incredible number of scientists, entrepreneurs, and corporations developing innovative plant-based ingredients, production methods, and marketing strategies.
The past year also saw the introduction of paradigm-shifting technological innovations that will likely help deliver the next generation of delicious plant-based proteins. These innovations include biofabrication, shear cell technology, and 3D bioprinting. As Covid-19 slows the world down, these companies will have time to focus on perfecting product formulations, scaling up new production methods, and building out their online sales infrastructure.
In the cultivated meat sector, 55 companies formed across five continents by the end of 2019. Twenty of these companies formed in 2019 alone. Furthermore, seven of these startups are focused primarily on serving cultivated meat companies business-to-business, a strong indicator of industry maturity. As it becomes clearer that cellular agriculture is the future of animal meat production, increasingly more investors, governments, scientists, and entrepreneurs are diving in.
Alternative proteins more resilient, efficient, and secure
It is now, more than ever, apparent that our current system of meat, eggs, and dairy production is vulnerable and inadequate. Given the inevitability of zoonotic disease spread, it is not feasible to use animals to supply the world's growing population with protein safely and sustainably. Covid-19 is ravaging U.S. slaughterhouse workers, leading to shutdowns of meat processing facilities and threatening a nationwide meat shortage. Additionally, an outbreak of H7N3 bird flu in South Carolina has also led the European Union to embargo all U.S. poultry products, while African swine flu continues to devastate Chinese pork supply. Animal agriculture margins are already thin, so even slight downturns to their business can lead to bankruptcy. Setting aside the public health impacts, plant-based supply chains are simply more efficient, more resilient, and more responsive to consumer demand. Furthermore, the plant-based food and cultivated meat supply chain can be turned "on" and "off" by storing ingredients with longer shelf lives.
Governments and NGOs will likely become aware that changing the way we make meat is necessary for biosecurity and food security. This should mobilize unprecedented funds to support the emerging alternative protein industry—like the government of Singapore did in 2019.
The trillion-dollar-plus meat market is poised to fundamentally transform. Consumer demand is proven and growing. In this "new normal," we must shift to alternative proteins to improve public health and enhance food security. There are logistical advantages over incumbents. Revolutionary technology is in development. The future of food is plant-based and cultivated, but the alternative protein industry is still in its early days. Despite great growth so far, the field needs more capital and resources in order to meaningfully transform our food system to one that is secure, stable, and sustainable.
Want more insights about the alternative protein industry? Check out GFI's State of the Industry Reports. Visit GFI's Investor Resources webpage for further resources.
About the data

The data summarized here represents U.S. retail sales of plant-based foods that directly replace animal products, including meat, seafood, eggs, and dairy, as well as meals that contain animal ingredient replacements. This data covers the grocery marketplace and was obtained over the 52-week and 104-week periods ending December 29, 2019, from the SPINSscan Natural, Specialty Gourmet, and Conventional Multi Outlet (powered by IRI) channels. The data is based on custom-GFI plant-based categories that were created by refining standard SPINS categories. Due to the custom nature of these categories, the presented data does not align with standard SPINS categories.
1,2 The Food Industry Association & IRI. (2020). Understanding the plant-based food consumer [Webinar].
*Note: SPINS does not report non-UPC meat counter sales. To account for this, the plant-based meat total retail share calculation uses the $95 billion total meat market size reported by Nielsen, as this number includes both retail packaged meat sales and non-UPC meat counter sales.