Smithfield, the world's largest pork processor, launches plant-based products
Smithfield is the latest major food producer to step into the plant-based protein market.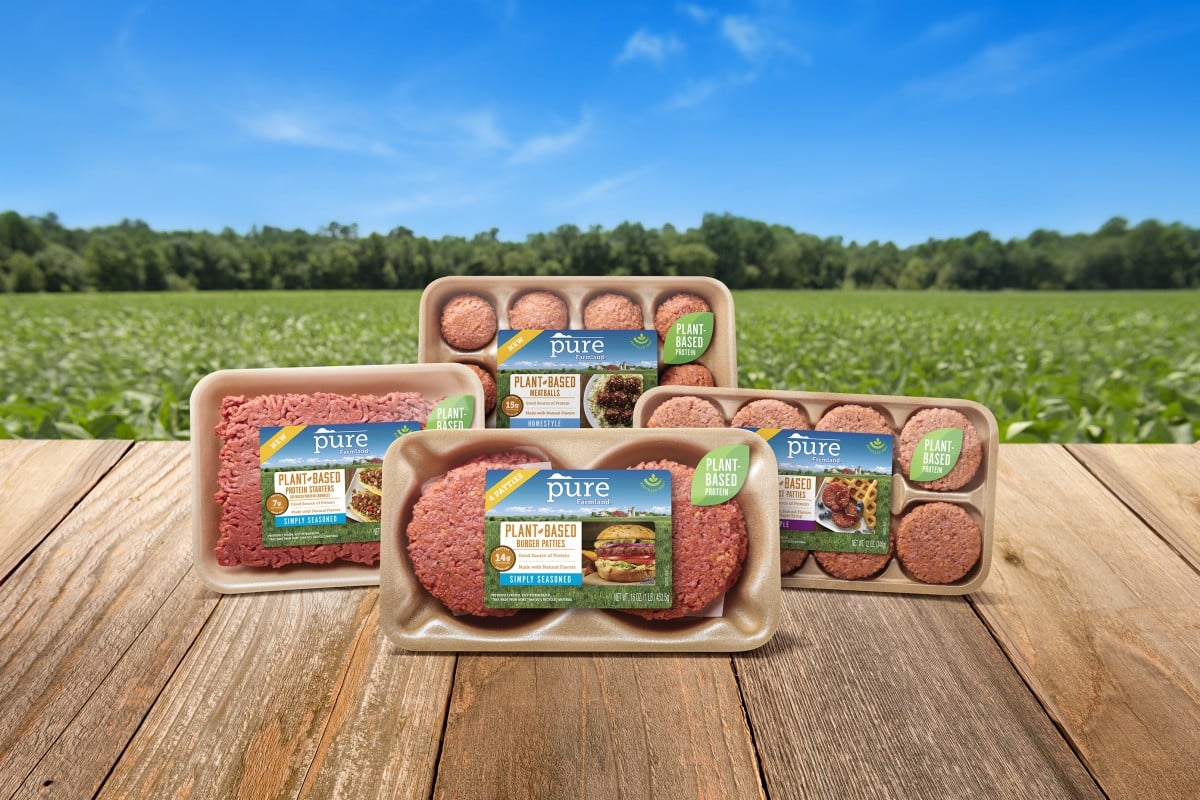 The world's largest pork processor is angling for a share of the growing plant-based market. Smithfield just launched a line of plant-based burgers, meatballs, and more under its Pure Farmland brand.
According to Smithfield chief commercial officer John Pauley, the new plant-based products will be available in the refrigerated section of major retailers in September. Reuters reports that these include Target, Sprouts, and Kroger. They'll be available at over 5,000 retail locations come February 2020.
Big Meat is moving with the market
Smithfield joins Tyson, Perdue, and other major food corporations in expanding into the plant protein market. Perdue has begun to explore the plant-protein market with their Chicken Plus, which blends chickpea protein with conventional chicken meat. Similarly, Tyson recently launched a blended burger as well as their new Raised & Rooted line of meatless nuggets made with pea protein, egg whites, bamboo, and flaxseed.
Smithfield is jumping in with 100 percent plant-based meat offerings. Pure Farmland is offering eight new soy-based products, from Homestyle Plant-Based Meatballs to Maple Plant-Based Breakfast Patties (with Italian Style and dairy-free parmesan seasonings in between).
The new Pure Farmland products will be available in the fresh, refrigerated section of major retailers. Merchandising plant-based meat alongside conventional meat, where consumers are already shopping for center-of-the-plate protein, is one of the most effective ways to make plant-based options convenient and accessible to more people.
Flexitarians are fueling the growth
The U.S. plant-based meat retail market has grown by 37 percent over the past two years—primarily driven by flexitarians. Ninety-five percentof people who bought a plant-based burger at a fast-food restaurant last year were meat eaters. Producers increasingly recognize and are seizing the opportunity to serve the valuable and large market segment of flexitarians.
Pauley said, "We've been exploring the alternative protein space and have taken our time to get it right. With this launch, we are bringing together our expertise in creating market-leading food products, our organizational commitment to sustainability, and our deep understanding of flexitarian consumers to deliver a broad variety of flavorful plant-based protein choices that consumers want and can afford at a great value."
Want to learn more about how big meat is diversifying? Sign up for the Good Food Conference livestream, September 4-6, to hear from Tyson Ventures CFO Tom Mastrobuoni, JBS global innovation lead Christy Lebor, and more!