Seth Goldman is taking the meat market Beyond Meat
Executive Chairman of Beyond Meat and Founder of Honest Tea Seth Goldman talks mission, impact, and scale. He'll be speaking at The Good Food Conference. Preview his awesomeness here.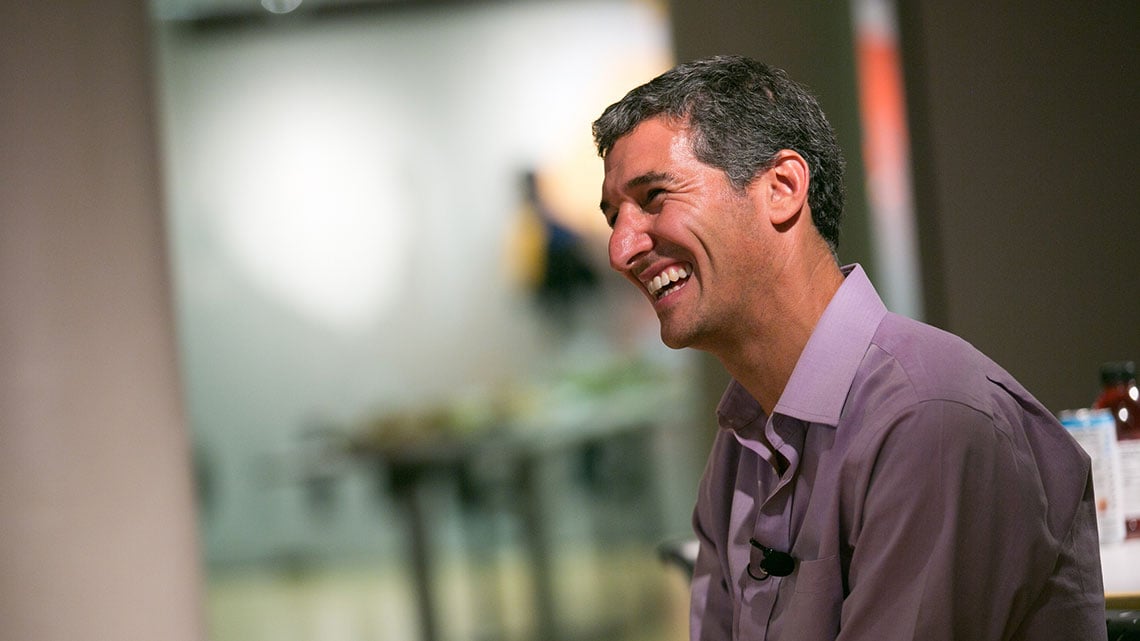 Burgers and iced tea: a classic cookout pairing. Also apparently, a pair of paradigm-shifting foods.
Just ask Seth Goldman. When he founded Honest Tea in 1998—selling a healthier, less sweet iced tea—the ice tea market came to meet him. Even Snapple lowered the amount of sugar in their beverage. Now as a subsidiary of Coca-Cola, Honest Tea and their organic, fair trade, and lower-sugar standards are major features of the ice tea market.
Goldman has since joined Beyond Meat as Executive Chairman and is working toward a similar impact in the meat market. But this time it's not sugar, it's the animal that he's cutting out—aiming to make the sector follow suit.
Who better to talk about the future of meat at The Good Food Conference on September 6th-7th? You can watch Seth speak at the conference on our free livestream. In the meantime, read on for a preview of his awesomeness.
After the amazing success of Honest Tea, why did Beyond Meat pique your interest?
I launched Honest Tea because I was thirsty. My involvement with Beyond Meat came about because I was hungry. My family and I chose to become vegetarian 13 years ago based on the belief that we could meet our nutritional needs without killing animals, not because we hated the taste of meat. We've never regretted that ethical decision, but we've certainly regretted the taste of some of the meals we've eaten. When I learned about Ethan Brown's vision to transform the meat aisle into the protein aisle by making plant-based meat that delivered all of the culinary and nutritional aspects of animal-based meat, I sent an email to info@beyondmeat.com and offered to help. And I'm so glad I did. I now split my time between Honest Tea (as Co-Founder and TeaEO Emeritus) and Beyond Meat (as Executive Chair). I never imagined I could become as engaged and as passionate about any other business but Beyond Meat has delivered all of the impact and challenges that I expected of a mission-driven business, and I feel very fortunate to be part of the journey.
How did you talk grocers into stocking the Beyond Burger in the meat case?
The biggest challenge was in getting the appointment because the first meat buyers we approached told us they don't eat veggie burgers and they don't buy veggie burgers. After some persistence, we managed to get in front of a few buyers, and then we let the burgers do the rest.
What lessons did you learn building Honest Tea that have been applicable to Beyond Meat's strategy?
The first is to not compromise on your mission. When you and your teammates believe in your enterprise, you attract others who share that same passion. And that's more important than compromising for any short-term opportunities that might arise. Other than that, it's all the basics — make a great product, build a powerful brand, hire the best people and inspire and empower them.
How did Coca-Cola's acquisition of Honest Tea shape your thinking around the dynamic between multinational corporations and mission-driven food startups?
Today Honest Tea is ten times larger than we were when Coca-Cola first invested in us ten years ago. Our drinks are now carried in more than 130,000 outlets, including McDonald's and Wendy's. And yet our brand is more "Honest" than we were when we started — today everything we sell is certified organic, all of our teas are Fair Trade certified, and we offer more zero-calorie drinks than ever before. Every industry has its own dynamics, but our relationship with Coke helped Honest Tea scale our enterprise and our impact more quickly and more powerfully than we could as an independent company.
An honest mission + impact + scale = a great recipe for paradigm shift.
Hear Seth and other leaders of the plant-based and clean meat industries discuss these paradigm-shifting foods on our free livestream.
All images courtesy of Beyond Meat.