New GFI report shows which U.S. retailers are winning with their plant-based strategies
GFI's new Good Food Retail Report shows that the United States' largest grocery chains are adapting their plant-based food strategies to capitalize on growing consumer demand.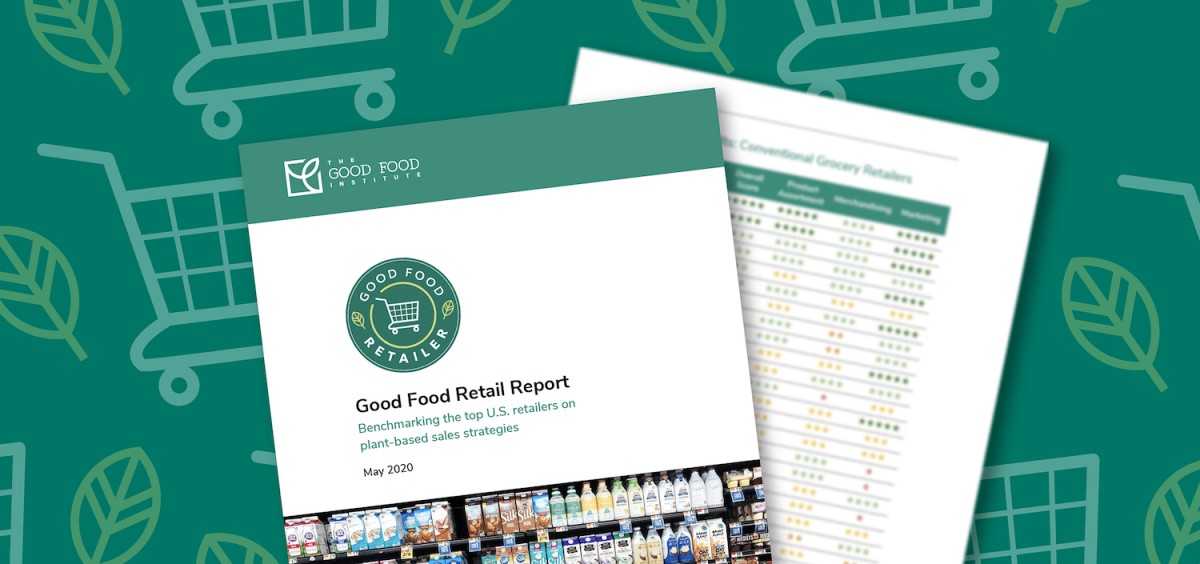 Plant-based meat sales have skyrocketed as Americans continue to stock up on food supplies in response to Covid-19. Amid this growth, GFI's inaugural Good Food Retail Report shows that the United States' largest grocery chains are shifting to—and winning with—plant-based foods.
Plant-based meat dollar sales grew 265 percent over the eight-week period ending April 18, 2020, which was six times faster than conventional meat sales, according to Nielsen. And in 2019, more than 700 new plant-based meat, egg, and dairy products hit the shelves at U.S. retailers as consumer demand continued to increase. To demonstrate how retailers are adapting their plant-based food strategies to capitalize on consumer demand, the Good Food Retail Report evaluates the top 15 U.S. retailers on their product assortment, merchandising, and marketing of plant-based meat, eggs, and dairy.
How are the top U.S. retailers seizing upon enhanced demand for plant-based products? The report reveals five key insights:
1. The best product assortments feature as many as 530 plant-based meat, egg, and dairy products.
Leading retailers offer as many as 150 plant-based meat products and 380 plant-based dairy products, compared to 70 plant-based meat and 200 plant-based dairy products at the average retailer in the group. Leading retailers also offer multiple products in the plant-based egg category, which is in an early stage but rapidly growing. By strengthening product assortments, positioning products to appeal to mainstream shoppers, and developing compelling store brand plant-based products, retailers are helping to bring about the rapid democratization of plant-based foods.
Whole Foods, with a top five-star rating in product assortment, is one of the retailers leading the charge, winning best overall product assortment and best in-store foodservice offerings. Featuring plant-based meat in prepared foods and foodservice sections can increase trial and customer access to convenient plant-based foods and meals, driving purchase of the on-shelf product.
Wegmans had the most plant-based products on shelf, with more than 500 stock-keeping units (SKUs). The retailer offered two times the number of plant-based meat SKUs than the average retailer covered in the report, with more than 100 across refrigerated and frozen sections.
2. Plant-based meat is increasingly merchandised in the meat aisle.
"Traditional meat eaters and flexitarians are embracing plant-based products, which means it is critical for retailers to employ plant-based strategies that attract the mainstream consumer. Plant-based eating is no longer niche. Retailers are leaving money on the table when they isolate plant-based sets in hard-to-find sections or use exclusive category language, like 'vegetarian,'" said GFI associate director of corporate engagement Caroline Bushnell.
Moving plant-based milk to the refrigerated milk set a decade ago was key to introducing it to a larger consumer base, growing category sales, and increasing household penetration (now 41 percent, according to the Food Industry Association and IRI). Retailers have made great strides in merchandising—91 percent deploy integrated merchandising for multiple categories beyond plant-based milk. Despite this progress, not a single retailer was awarded five stars in the merchandising category, revealing that retailers need to more consistently incorporate best practices across plant-based categories.
Giant Food won best merchandising, with integrated or integrated-segregated merchandising sets across multiple categories. Target and Albertsons were also in the top three for merchandising.
3. 57 percent of retailers featured aisle signage for plant-based refrigerated or frozen meat products.
Retailers can learn from Giant Food and King Soopers, who tied for best signage, displaying prominent aisle signage in the refrigerated and frozen plant-based meat sets and communicating plant-based at a product level with shelf tags. Target had excellent examples of plant-based shelf tags used consistently across food and beauty products.
"The plant-based market is thriving because meat eaters and flexitarians are embracing plant-based products. Plant-based signage and inclusive marketing strategies that appeal to these consumer segments will dramatically increase household penetration and drive category sales," said Caroline.
When designing shelf tags and aisle signage, retailers should consider evidence-based recommendations for category language to better help customers find and ultimately purchase plant-based products. "Plant-protein" and "plant-based" terms are the category terms that are most appealing, as demonstrated by GFI's study on driving plant-based food purchasing.
4. Retailers should incorporate marketing strategies that appeal to traditional meat eaters and flexitarians.
A winning plant-based marketing strategy taps into taste by upping the indulgence factor and showcases delicious plant-based options as alternatives to animal-based options. Retailers can leverage evidence-driven strategies for increasing plant-based purchases.
78 percent of the top 15 U.S. retailers had at least one plant-based category promotion or marketing event, and 39 percent of retailers featured plant-based products next to conventional products in promotions (e.g., plant-based meat alongside conventional meat in a summer grilling ad). Several retailers are implementing forward-thinking plant-based marketing strategies, with Whole Foods, ShopRite, Stop & Shop, King Soopers, Ralphs, Kroger, and Target all earning five stars. With more than 50 social media posts throughout the year promoting plant-based at the category level, Whole Foods won for best social media.
The Kroger Company won best retailer-published magazine for its Live Naturally magazine showcasing plant-based products as viable alternatives to their animal-based counterparts and promoting them via recipes, nutrition, and wellness guidance.
5. Store-brand plant-based assortments are on the rise, but there's plenty of room for growth.
Some retailers are seizing the private-label opportunity—King Soopers, a Kroger banner, had the best private-label assortment with more than 35 private-label items across product categories, including the new Emerge refrigerated plant-based meat line.
Despite progress from the top 15 retailers in developing private-label products, milk—the most developed plant-based category—remained the only category in which every retailer offered a private-label plant-based product.
One example of a private-label whitespace is plant-based yogurt. According to GFI's SPINS market research, the overall yogurt category is worth $8 billion, and plant-based yogurt is worth $283 million. Though many stores stock 40 to 60 plant-based branded yogurt products, next to none offer private-label plant-based yogurt.
No retailer wants to lose plant-based consumers to competitors with better plant-based assortments. With the plant-based shopper spending 61 percent more than the average shopper, retailers should provide an array of great-tasting plant-based products to keep these valuable customers, while attracting new customers to these basket-building products.
Want to learn more about plant-based retail trends and see how the top chains compare? Dig into GFI's Good Food Retail Report to see the overall ratings for the top 15 U.S. retailers, as well as product assortment, merchandising, and marketing insights.