Have a plant-based Cinco de Mayo!
Plant-based Mexican food is the next big flavor trend. In April alone, Chipotle, Taco Bell, Del Taco, and QDOBA spiced up their menus with new plant-based options.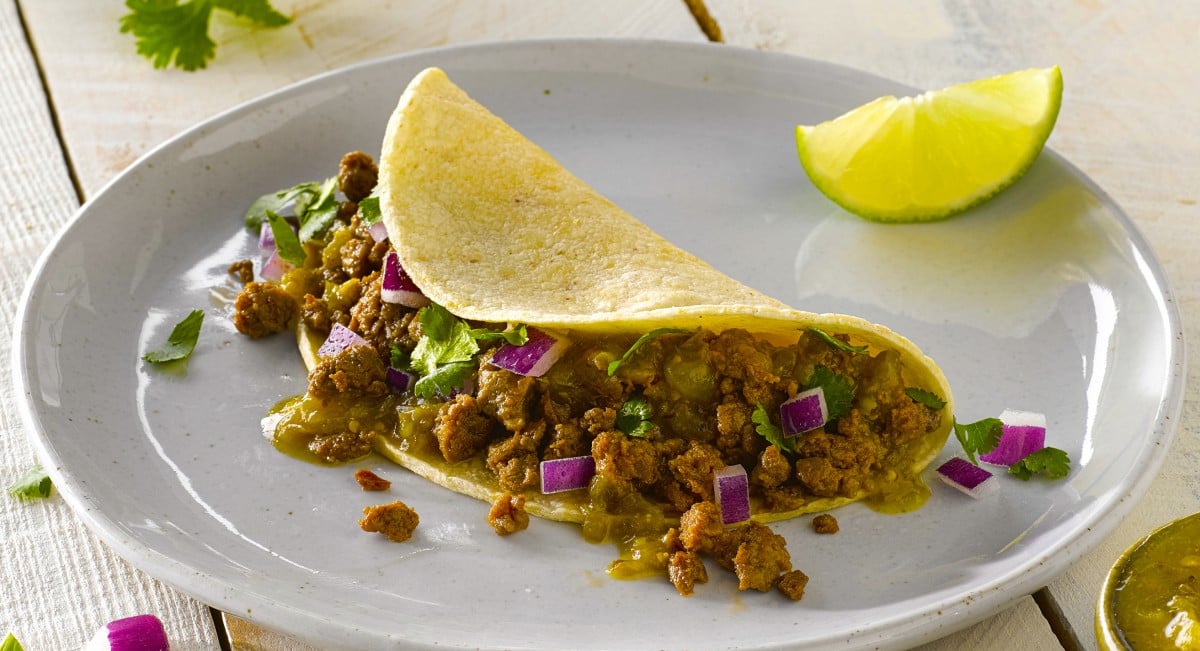 Plant-based Mexican food is the next big flavor trend—at least according to the sensory scientists, culinary experts, and food technologists at leading seasoning and spices company McCormick & Co. I'd say their opinion is as expert as it gets.
McCormick's Flavor Forecast spotlights the combo of plant-based and Mexican: "This amazing duo has been suddenly appearing on menus of restaurants and food halls in major cities across the globe."
Those restaurants include some of the biggest Mexican chains in the United States. In April alone, Chipotle, Taco Bell, Del Taco, and QDOBA spiced up their menus with new plant-based options. This Cinco de Mayo, we're taking you on a tour of the new plant-y items you'll find at these Mexican chains.
Taco Bell
Taco Bell is testing a plant-forward menu in Dallas that features two new items, the Vegetarian Crunchwrap Supreme and the Vegetarian Quesarito, as well as the "fan-favorite" 7-Layer Burrito. (The Crunchwrap Supreme and the 7-Layer Burrito can be ordered "fresco" to be fully plant-based).
Taco Bell's Global Manager of Nutrition and Sustainability, Missy Schaaphok told us, "Earlier this year, we decided to make New Year's commitments based on what our customers are craving, including a commitment to be even easier and better for vegetarians and flexitarians. Our goal is to find ways to incorporate more plant-forward options in the future without sacrificing big, bold flavors and value."
Schaaphok noted that the menu being tested in Dallas "reflects the same uniquely Taco Bell standards while appealing to other consumers looking to try new food items that appeal to their dietary lifestyle."
Provided that the Dallas menu test goes well, Taco Bell is aiming for a national rollout of this plant-forward menu by the end of 2019.
QDOBA
QDOBA will be adding Impossible Meat to its menus nationwide (read: 730 locations) by the end of May, following the success of its trial run of the Impossible offerings at select Michigan locations.
QDOBA vice president of marketing Jill Adams told us, "During our test, we quickly learned that consumers loved our unique take on Impossible, making it an easy decision to launch nationally."
Impossible has scored distribution through a number of national chains—including a forthcoming nationwide launch at Burger King—but it's a pretty burger-heavy scene out there right now. The QDOBA partnership means people can enjoy Impossible Meat in a new (i.e., non-burger) format with QDOBA's Impossible Bowl and the Impossible Taco. Crucially, folks can just sub Impossible Meat in for beef on any menu item.
Adams continued, "Our Impossible offering appeals to both meat lovers and vegans, while also delivering on the big, bold flavors that we're known for at QDOBA." Bun or shell or bowl, the same themes hold true: flavor is key, and meat eaters are the target market.
Chipotle
"Taste, price, and accessibility" —the primary drivers behind consumer choice—is a GFI mantra, and Chipotle is clearly on our wavelength.
Chipotle with its 2,500 locations has long been an easy go-to option for a 100 percent plant-based meal (see our 2018 Restaurant Scorecard). They recently upped the accessibility factor by adding digital shortcuts for plant-based bowls on their app and website. The goal, according to Chipotle spokesperson Stefani Green, was "to make plant-based eating easy and convenient."
She told us, "We've found that many people are increasingly seeking out food options that fit with their lifestyles. We wanted to make it easier for our customers by creating digital shortcuts so they can get to get flavorful food options for their unique dietary lifestyle."
Chipotle also gets the price thing: "When you go Veggie, Guac is not extra!"
Del Taco
Del Taco is the first Mexican chain to sport Beyond Meat on its menu. As of April 25, all 580 locations will offer the Beyond Taco. Customers can order it with cheese for a vegetarian moment or can opt for avocado to eat fully plant-based. And importantly, Del Taco patrons can simply sub in Beyond Meat for any other protein item on the menu.
Beyond Meat & Del Taco worked together to develop Beyond items with Del Taco's signature seasonings and began with a test run in Southern California. Clearly, the test run went well.
Del Taco president and CEO John Cappasola said in the press release, "After receiving overwhelmingly positive feedback from fans during our tests in various parts of the country and across social media, we knew it was time to bring our craveable Beyond Tacos to guests nationwide."
And the partnership got another huge visibility boost when Beyond Meat declared May 3rd Beyond Day (on the heels of its record-breaking May 2nd IPO) and offered free Beyond Meat through its restaurant partners. Free is a price that consumers adore, and that food outlets adore writing about.
Leaders get the press
This is just one instance of how adding plant-based items has been publicity fairy dust for chain restaurants. Adding some plant-based innovation benefits consumers and restaurants (and the planet!) alike. For restaurants and retailers looking to capitalize on this trend, there is still plenty of plant-based white space to explore.
But for this Cinco de Mayo, let's all tuck into a plant-based taco.