Plant-based first tastes at Expo West
Team GFI took to the trade show floor to sample the latest breakthroughs for plant-based meat, eggs, and dairy.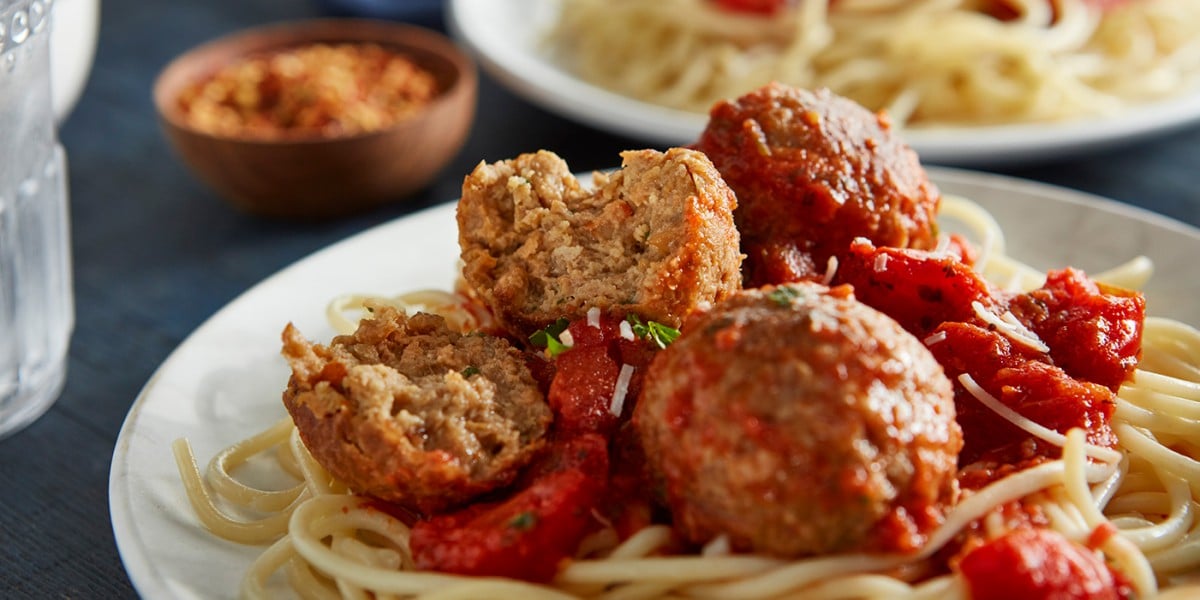 More than 3,500 natural product retailers gathered at Expo West this week to share their latest innovations. With the ever-accelerating pace of the plant-based industry, team GFI took to the trade show floor to sample the latest breakthroughs for plant-based meat, eggs, and dairy.
Check out GFI's Plant-Based Guide to Expo West to get a sense of the landscape. There is so much goodness going on, we've barely had room in our stomachs—let alone in a single blog. Here is a sampler platter of the exciting new products coming down the pike:
Alpha Foods, a brand that began with frozen burritos and pot pies, is soon rolling out nostalgia-inducing chicken nuggets. Truly a taste of childhood. They're aiming to launch in retail later this year.
PigOut Chips by Outstanding Foods are the mushroom's answer to bacon. They're currently available online but will be coming to retail in the near future. Eventually, they may expand to pizza and salad toppings through food service.
Wild Brine, historically a company specializing in sauerkraut and kimchi, is applying their fermentation expertise to plant-based cheese. Their talk-of-the-cocktail-party bries are made with cashews and coconut oil + a proprietary culture. They'll be soft launching in a few retailers on the west coast this spring.
Riot is a plant-based party. This subsidiary of Canadian food company GreenSpace Brands is serving up plant-based cheddar, pepper jack, and butter. If anyone was wondering, grilled cheese just got an upgrade. Riot plans to launch in June.
Good Catch was sampling their newly launched tuna-free tuna and crab-free cakes. They released their product line earlier last month and are piloting a new spicy flavor at the Expo booth.
Beyond Meat gave a first taste of their newest product: Beyond Beef, which was announced just this week. It's made with pea, mung bean, and rice protein to deliver a complete protein and an even meatier chew. Look out for it on shelves in the second half of 2019.
We almost missed out on Sweet Earth because we assumed we were seeing conventional beef under that chef's knife. We're very glad we doubled back to sample their Awesome Burger. I can attest, it's not a misnomer.
Worthington is taking a bold burger step with their new Xmeat patty, which they grilled up on site. Worthington's new Xmeat line is a high-fidelity, high-protein reformulation of their plant-powered staples. The target launch date is Spring 2019.
And plant-based meat isn't just about entrees. Pan's Jerky, a shiitake doppelganger for the animal-based snack, hits the sweet spot for convenience and umami. Their jerky has been reformulated since last year to be 100% plant-based.
This was just a small sample of the incredible innovation we saw on the floor at Expo this year. Stay tuned for more dispatches from the Expo experience. And follow GFI's newly launched Instagram to get the scoop in real time.
Banner image courtesy of Beyond Meat