It's a Perfect Day. Cellular ag brings us animal-free ice cream.
Cowless dairy producer Perfect Day launched three limited-edition ice cream flavors today. Get the inside scoop. Pun intended.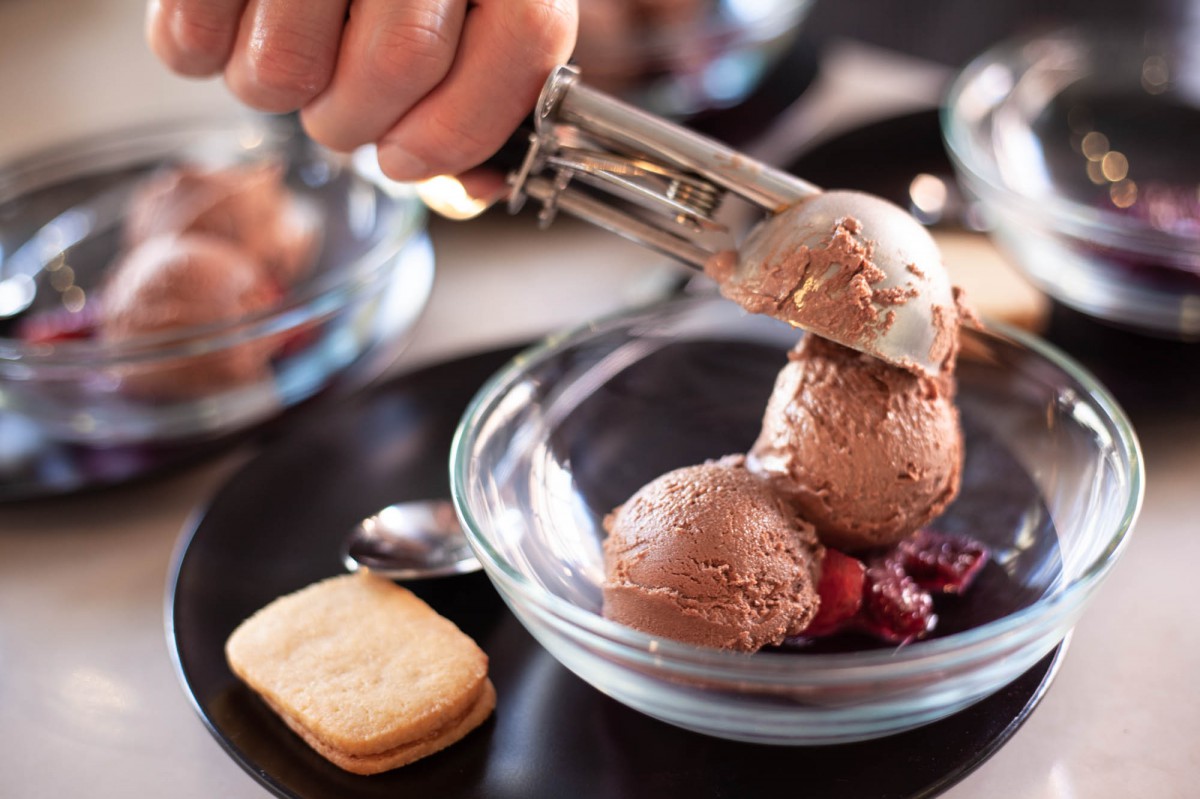 The good food universe just got sweeter. Animal-free dairy producer Perfect Day just launched limited-edition ice cream flavors: Milky Chocolate, Vanilla Salted Fudge, and Vanilla Blackberry Toffee.
The Bay Area startup produces dairy proteins (casein and whey), no cows about it. These proteins are important for giving different cheeses their signature stretch and ice cream its classic creamy meltiness. Producing casein and whey without milking a cow means we get the functionality of dairy, just with none of the industrial animal agriculture. Perfect Day's proteins can be used to create milk, cheeses, ice cream, and all sorts of other foods that have dairy ingredients.
"Our goal has always been impact — to pave the way for a kinder, greener planet," Perfect Day co-founder Perumal Gandhi said in a statement. "The best way to achieve this will be to work with food companies that already purchase huge amounts of dairy ingredients. While our B2B deals come to fruition, we are eager to share our progress with the world."
In other words, consumer-facing online retail is not Perfect Day's end game. This is a proof-of-concept moment.
And the concept — while uncharted — is not unprecedented. Perfect Day uses microorganisms to make these proteins, and we already rely on microorganisms to help us make all sorts of foods and even medicines. It's common knowledge that yeast help us make bread and beer. But yeast also produce the insulin diabetic patients rely on. (We used to harvest insulin from pigs and cows. That's no longer necessary.) Microorganisms also make rennet, an enzymatic protein needed in cheese production. (We used to harvest rennet from the stomachs of calves. That's also no longer necessary.) Perfect Day is extending the utility of microorganisms to the proteins in dairy too.
Enter limited-edition ice cream.
Perfect Day CEO and co-founder Ryan Pandya explained, "We wanted our first debut to be under the care of our own brand, so that we could demonstrate the consumer benefits inherent to our protein, while starting a conversation about this new approach to making food."
In the short term, that means cowless Milky Chocolate, Vanilla Salted Fudge, and Vanilla Blackberry Toffee ice cream for anyone who can get to Perfect Day's site fast enough. (Supplies are limited, y'all!)
In the long term, it means major food producers will start using dairy ingredients that are sustainable AF*. That's a beautiful, delicious food future.
UPDATE: Perfect Day's limited-edition stock sold out within hours! The world is hungry for no-cow ice cream.
*animal-free