Perdue announces blended chicken products
Nuggets, patties, and tenders just got some plant power.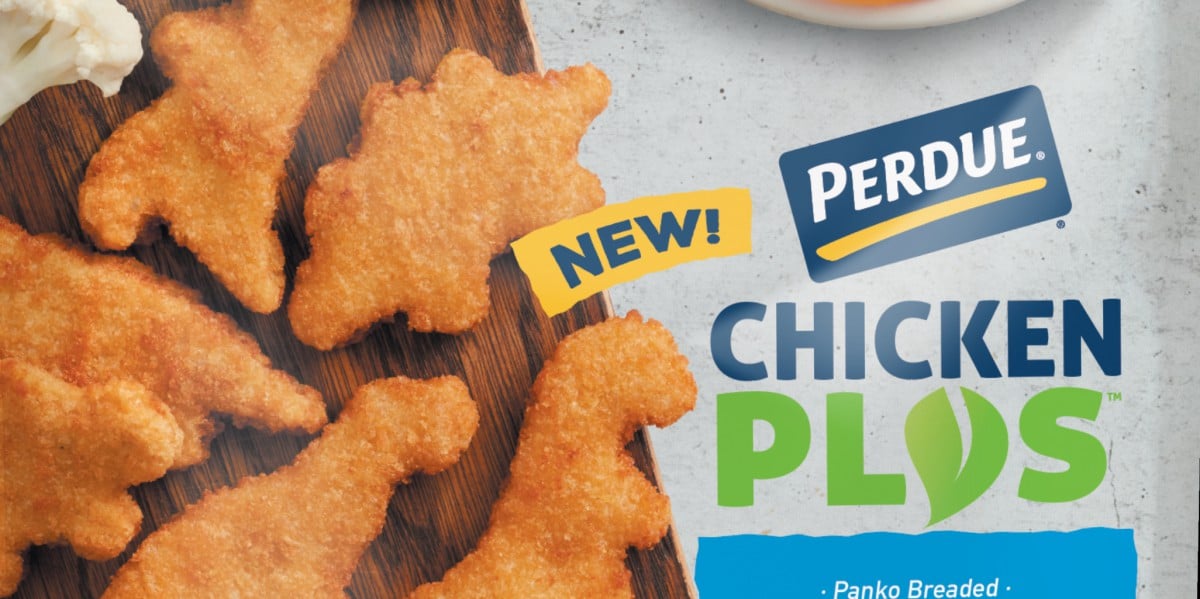 Perdue is putting plants in the patties. This morning the poultry giant announced a new line, PERDUE® Chicken Plus™, which blends in "cauliflower, chickpeas, and plant protein to create the next generation of frozen chicken nuggets, tenders and patties."  
It's a combo approach. One serving of their new blended chicken nuggets contains one half serving of vegetables. It's also reminiscent of the James Beard Foundation's Blended Burger Project, which invites chefs to develop more sustainable burger patties by incorporating fresh mushrooms. Perdue is bringing a similar blending idea to childhood classics like chicken nuggets.
Perdue quotes GFI director of Corporate Engagement Alison Rabschnuk in their press release: "We are very pleased that Perdue is offering a blended product, and we welcome this important step forward. By integrating plants into their core products, Perdue has started on the journey to diversify their offerings and meet the growing consumer demand for plant-based proteins."
Perdue chief marketing officer Eric Christianson said "By blending plants and vegetables with the Perdue chicken families love, not only are we helping to meet demands for millions of parents but we are appealing to the growing number of flexitarian families who have an increased commitment to getting more plants and vegetables in their families' diets."
Leveraging Perdue's distribution, branding, and loyal consumer base for products that incorporate plant proteins is potentially game-changing. It gives more people more sustainable choices.
Seeing the meat industry leaders begin to innovate in the plant protein space is an important market signal that this surge in consumer interest is a new normal, not a passing trend. It also speaks to the transformative power of innovators and entrepreneurs to move the market. Perdue worked with plant protein startup The Better Meat Co., who pitched on stage at the Good Food Conference last year, to source some of their plant ingredients.
Alison said, "Perdue is listening to consumers and responding to the meteoric rise in interest in plant-based foods. It's clear from the research that consumers are looking for plant-based foods that deliver on taste, texture, and nutrition, while also offering flavor experiences that are familiar."
Perdue's new blended chicken line will be in food service and freezer aisles come September 2019.
Read our media statement here.