GFI releases first-ever State of the Industry Report on fermentation in alternative proteins
Plant-based and cultivated meat have been recognized as two primary pillars of the alternative protein industry, but fermentation is increasingly proving its incredible promise for the future of alternative proteins.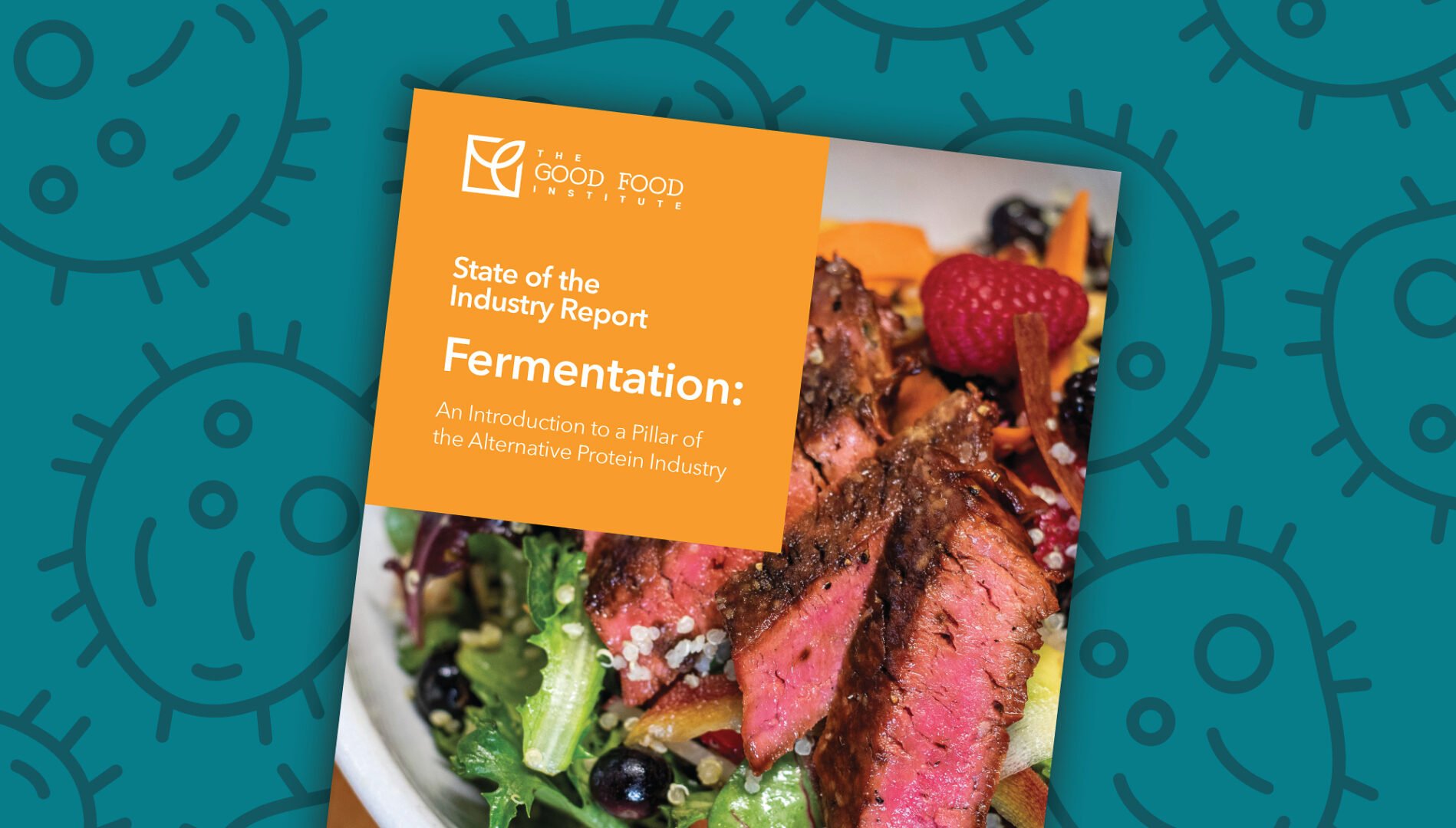 Plant-based and cultivated meat have been recognized as two primary pillars of the alternative protein industry, but fermentation is now emerging as a key alternative protein platform in its own right. New applications of fermentation as a primary source of proteins and as an enabler for both plant-based products and cultivated animal products show incredible promise for the future of alternative proteins. To highlight the tremendous potential impact of fermentation, GFI is launching the first-ever deep-dive analysis of fermentation science, entrepreneurship, policy, and investment.
GFI's report dives into the primary ways fermentation is used in alternative proteins, the competitive landscape, ingredient applications, investment trends, opportunities for innovation, a regulatory primer, new graphs and figures (like our industry mind map, below), and more.
What is fermentation, and how is it being used?
Fermentation—the use of fungi, bacteria, mycelium, microalgae, and other microbes as a bioproduction platform—has a long history in food production. Beer, leavened bread, kimchi, and many ancient staples all exist thanks to rudimentary fermentation methods. In recent decades, modern technology has empowered these microbes to create functional food processing agents and ingredients like enzymes. For example, fermentation-derived chymosin has replaced rennet (formerly sourced from calf stomachs) as the primary coagulant in modern cheese production. Most people today are regularly consuming products that rely on fermentation.
Fermentation is also already enabling the next generation of animal-free meat, egg, and dairy products, with a radically lower environmental burden than livestock. In addition to industry pioneer Quorn's mycoprotein-based meats, new products like Perfect Day's ice cream (pictured left), the heme iron in the Impossible Burger (pictured center), and Meati's steak (pictured right) are opening up a whole new class of alternatives to industrial animal products.
"Given the breadth of applications, we believe that fermentation could solve many current challenges faced by alternative proteins. On the one hand, biomass fermentation can create nutritious, clean protein in a highly efficient and low-cost way. On the other hand, the potential for precision fermentation to produce value-added, highly functional, and nutritious ingredients is very exciting and could revolutionize the plant-based category," said Rosie Wardle, investor at venture capital firm CPT Capital.
With fermentation rapidly establishing itself as the next pillar of the alternative protein industry, GFI's fermentation report is a must-read for anyone who wants to understand the future of food. Highlights include:
Segmentation of the category into traditional, biomass, and precision fermentation.
Cataloging of 44 fermentation companies focused exclusively or predominantly on alternative proteins, half of which have formed in 2019 and the first half of 2020. 24 additional companies have initiatives in the sector, like the world's largest meat company's use of MycoTechnology's mycelium protein in its new line of animal-free meats.
Aggregation of $837 million in venture capital invested in dedicated alternative protein fermentation companies from some of the world's top investors, food companies, and governments. $274 million was invested in 2019 and $435 million was invested in the first seven months of 2020 alone—85 percent of all-time funding.
Development of a value chain framework for technological innovation opportunities in target molecule selection, host strain development, bioprocesses design, purification, and end product formulation and manufacturing.
Analysis of the impact of this technology on global health, sustainability, and food security, and predictions for the future.
Thomas Jonas, CEO of Nature's Fynd, said "[T]his is really something the industry needed. For the first time, someone articulated a full, sector-wide view of the space, and clarified the different types of fermentations. [GFI's] work is going to put on the map a fact that people have completely missed, which is that fermentation is rapidly becoming the number one tech in terms of investments towards new proteins. Fundamentally, the rational is simple: Fermentation is just more efficient, and markets hate inefficiencies."
Want to learn more about fermentation? Download Fermentation: a pillar of the alternative protein industry. And check out a Chinese-language version of this landmark report, courtesy of GFIC—GFI Asia-Pacific's strategic partner in mainland China.