Watch legendary oceanographer Dr. Sylvia Earle talk plant-based and clean seafood
Dr. Sylvia Earle joined GFI Senior Scientist Dr. Liz Specht at the Good Food Conference for some real talk about why our oceans are so overfished and underloved and what we can do about it.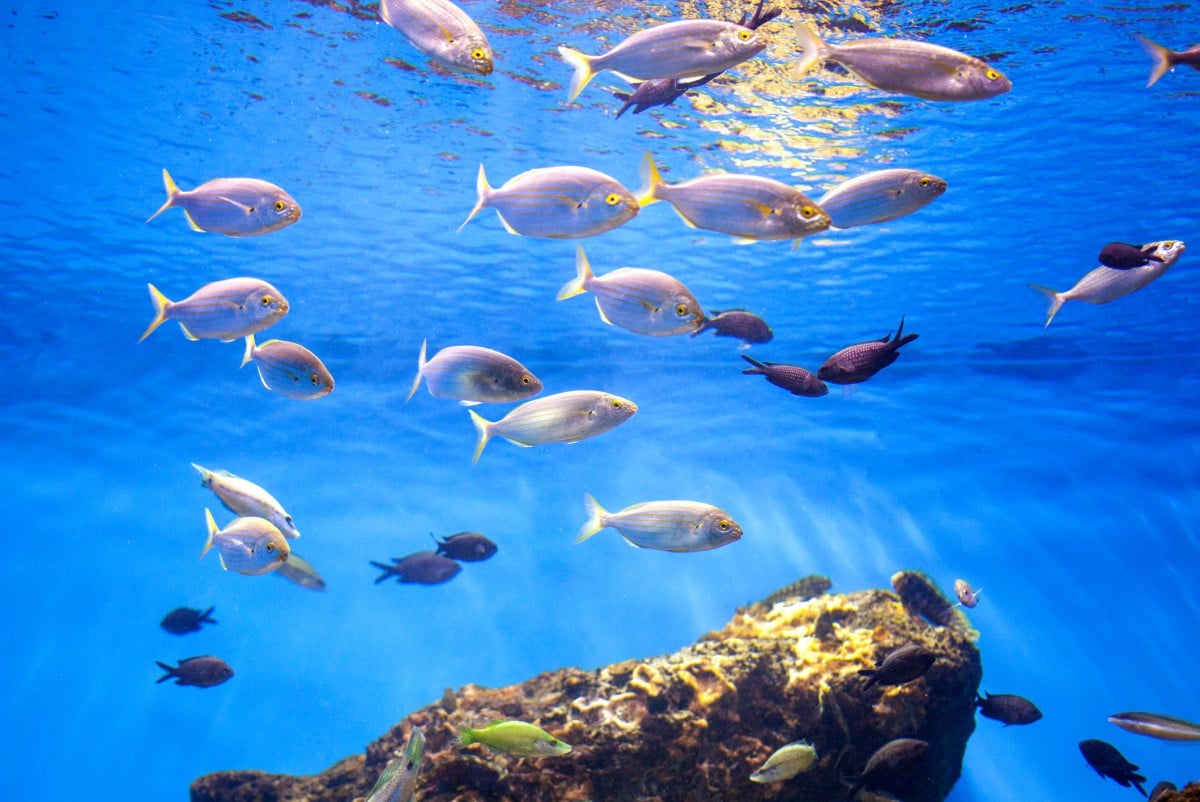 Dr. Sylvia Earle joined GFI Senior Scientist Dr. Liz Specht at the Good Food Conference for some real talk about why our oceans are so overfished and underloved and what we can do about it.
Her deepness takes the stage
Dr. Sylvia Earle is President and Chairman at Mission Blue, Founder and President of the Sylvia Earle Alliance, Explorer-in-Residence at the National Geographic Society, and Former Chief Scientist at NOAA. She has been dubbed "a living legend," "a hero for the planet," and my personal favorite: "Her Deepness."
This incredible conversation launched Dr. Specht's "An Ocean of Opportunity Action Paper," which outlines the troubles facing marine fisheries and aquaculture systems and ultimately the solutions that plant-based and clean meat offer. If you couldn't make it to the conference this year, don't succumb to that gnawing sense of having already missed out (#HAMO). We recorded the conversation, and we are thrilled to share it with you below!
Scroll down for an overview of the highlights.
What this conversation covers
Dr. Earle challenges the claim that we must take large quantities of wildlife from the sea in order to feed the world and debunks the myth that eating fish is healthier and more sustainable than consuming land animals.
She calls our attention to the true cost of a fish's life. Our food economy doesn't take into account the value that a living fish provides to our ocean ecosystem. We only calculate what it costs to put a fish filet on someone's plate—and frankly, we don't even do that properly. Allow me to explain:
Being older & higher up on the food chain matters
Dr. Earle reminds us that the most desirable fish on the market (e.g., bluefin tuna) are much older than the terrestrial animals that we raise and slaughter: "We don't eat 15-year-old chickens…We don't eat old sheep. We eat lamb. Why? It's not just because it's tender. It's because it's cost-effective."
A tuna, by contrast, is:
Predatory, meaning it's high up on the food chain
Typically 10 years old before it's big enough to be sold at market (and even that is young—they can live to be 30)
This is a double whammy in terms of resources. This means a tuna being sold at market spent at least 10 years eating other fish, which were eating other marine lifeforms, which were eating phytoplankton. When you get all the way down to the bottom of the food chain, how many resources really went into that tuna? Dr. Earle posits it may be 100,000 pounds of phytoplankton.
A look at our grocery bill
The reason we can fathom eating a 10-year-old animal is that no one bears the cost of raising a wild-caught tuna all its life. Even the tuna aquaculture systems that have been developed involve taking juveniles out of the ecosystem rather than raising tuna from eggs. In both cases, the extraction of ocean resources is tremendous. Dr. Earle again:
If you really account for the cost out of the ecosystem, it's a pretty expensive choice…We think of fish as free. Free goods, there for us to extract, not really thinking about what is taken out of the system—this long tail of groceries that have been invested in every swordfish, in every halibut, in every cod or grouper or snapper, or 20-year old lobster.
And this is what makes plant-based and clean meat such a delightful solution, as Dr. Specht points out: plant-based and clean meat "level the trophic playing field." Trophic levels are essentially links on the food chain—the higher up you go, the more resources are required.
It takes basically the same amount of resources to make a plant-based product that tastes like tuna as to make a plant-based product that tastes like a sardine. It's just different flavorings that you're adding. Different textures. Same with clean seafood: you're feeding cells directly, so there's not this "long tail of groceries."
Now for the grand finale
And if you were wondering about how Dr. Earle feels about the concept of clean seafood, well, I'll let her say it:
I remember hearing about cell cultivation when I was a student many years ago—undergraduate. The very idea that you could take a few cells from an orange and maybe get orange juice without a tree—what a concept! To be able to take a few cells from a tuna and actually get tuna meat or beef or whatever it is without having the whole animal, I mean, it's a fascinating concept and one that we really ought to be embracing.
She is speaking our language! Okay, so I know you watched the whole thing because it is a spell-binding conversation with one of the most legendary and influential oceanographers in the world. And now that we're all fired up about how we can address the challenges ahead of us, download Dr. Specht's amazing "An Ocean of Opportunity Action Paper" to dive in even deeper.