Burger King, McDonald's, and White Castle step up their plant-based game
The biggest fast-food chains are taking note of the incredible consumer demand for plant-based options, and upgrading their menus accordingly.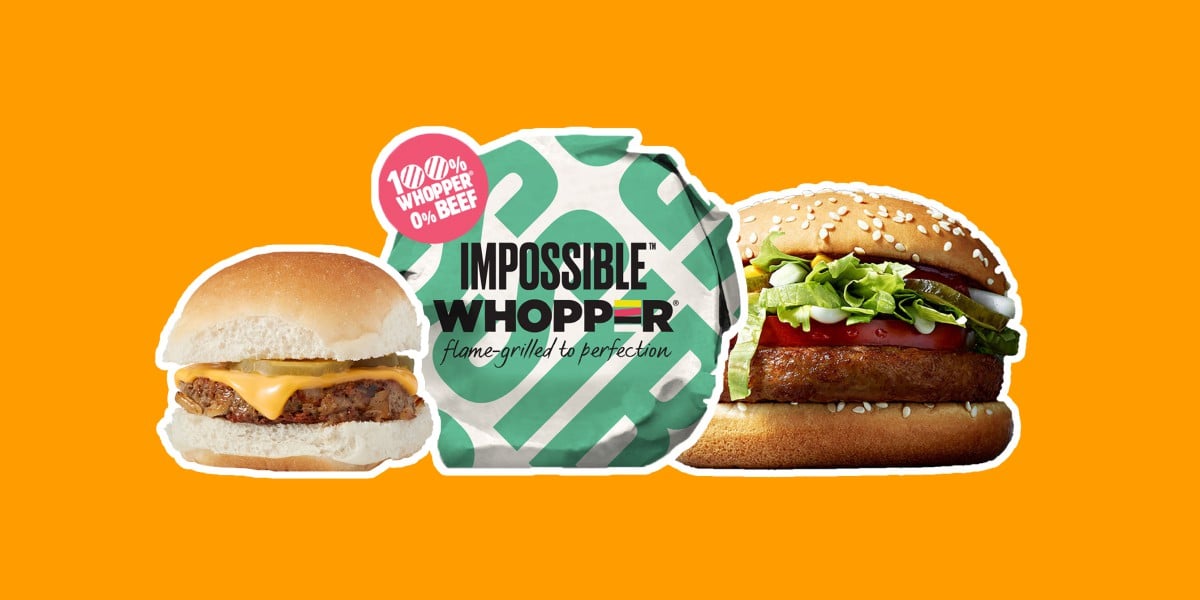 It has been a WEEK (yes, the all-caps kind) for the world of plant-based meat and dairy. The biggest fast-food chains are taking note of the incredible consumer demand for plant-based options and upgrading their menus accordingly.
In case your newsfeed doesn't constantly inundate you with all things plant-based food, here are some awesome updates from the past seven days:
Burger King is taking the Impossible Whopper coast to coast
Burger King launched a market test of the Impossible Whopper in its 59 St. Louis locations on April 1st. Just four weeks later, they have announced that they will roll out the Impossible Whopper nationwide before the end of 2019.
With more than 7,000 locations across the country, the Burger King launch will double the number of locations carrying the Impossible Burger. Good thing Impossible already has a second Whopper-dedicated production line.
McDonald's Germany goes pflanzlich
McDonald's is trying plant-based on for size in international markets. McDonald's Germany is launching the Big Vegan TS, featuring Nestle's plant-based Incredible Burger—unbelievably meaty but made from plants a la Beyond and Impossible.
McDonald's has been adding a variety of plant-based items in numerous markets: a plant-based Happy Meal in the U.K., veggie nuggets in Norway, the McVegan burger in Sweden and Finland, and more. The Big Vegan TS rolls out nationwide in Germany today. We can't wait to see the next plant-based innovation from McDonald's Munich test kitchen!
Speaking of test kitchens…
White Castle is testing plant-based cheese
White Castle is searching for the perfect plant-based cheese to adorn its Impossible Slider. White Castle was one of the first big chain restaurants to partner with Impossible, and the Impossible Slider has been available at its 380 locations since last year.
The combination of a nondairy cheese offering with the Impossible Burger would make White Castle one of the first major chain restaurants to add a fully adorned, 100 percent plant-based burger to its menu. Go, White Castle, go.
Offering plant-based options is just plain good business
Having plant-based options on the menu insulates restaurants from the "veto vote," where an entire group opts out of a restaurant because one person in their party can't eat there. Offering plant-based options also enables regular customers to branch out and try something new but familiar.
And clearly, it makes for good press. Each of these chain restaurants has enjoyed a flurry of headlines and heightened visibility with the addition of their plant-based [Whopper/Slider/fill in the blank]. Being among the first to a new category positions these brands as pioneers. There's still a great deal of plant-based whitespace for the biggest chain restaurants to explore. Check out our list of missing menu items for inspiration.
The plant-based market is growing by leaps and bounds. This is the part where we point out that:
GrubHub saw a 19 percent increase in orders for plant-based dishes in 2017;
Per Datassential, the word "vegan" now appears on 11.2 percent of U.S. restaurant menus—this is a 490 percent increase from 2008;

The Dining Alliance reports that purchases of vegetarian options, including plant-based meats, increased by more than 28 percent from 2017 to 2018;

And U.S. retail dollar sales for plant-based meat grew by 23 percent

last year, compared to total U.S. retail food dollar sales growth of 2 percent.
As more and more restaurants expand into the plant-based market, the supply chain for plant-based meat, eggs, and dairy becomes increasingly robust. In turn, this makes it easier and easier for restaurants and other foodservice providers (think: corporate cafeterias, hospitals, universities etc.) to tap into the groundswell of plant-based food production.
It's a beautiful positive feedback loop. And it's moving the market closer and closer to a world where, compared to conventional fare, plant-based options are equally—or more—accessible, affordable, and delicious.