Big Meat is giving plant protein a go
Perdue, Tyson, Hormel, and Nestle are responding to consumer demand for plant protein.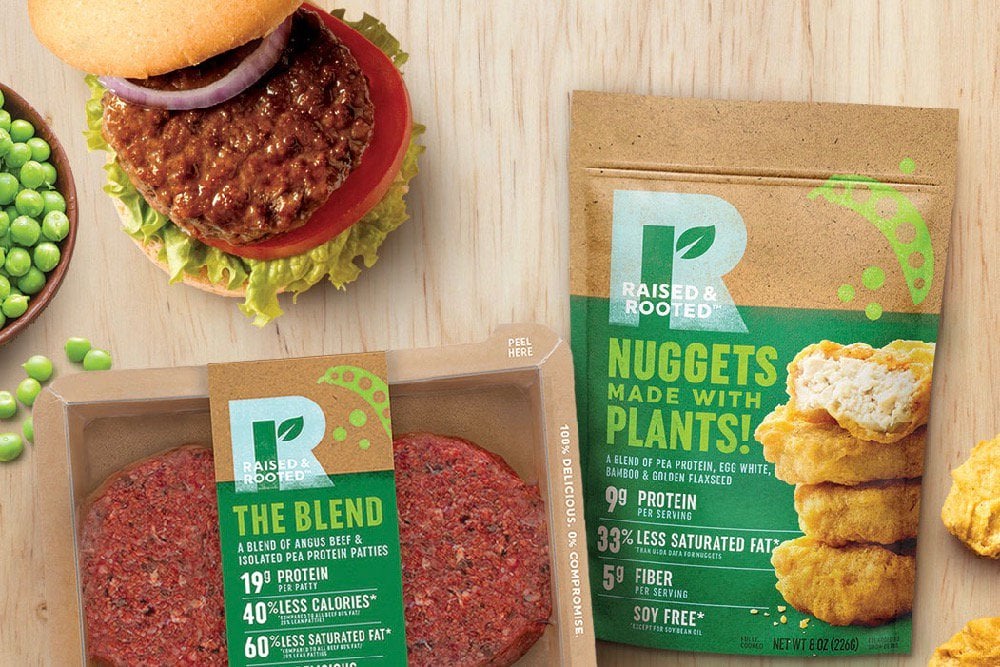 It has been a big week in the land of big meat.
Perdue announced their new Chicken Plus line of nuggets, tender, and patties featuring chickpeas, cauliflower, and plant protein blended with conventional chicken meat. As GFI director of corporate engagement Alison Rabschnuk said in Perdue's press release, "We are very pleased that Perdue is offering a blended product, and we welcome this important step forward. By integrating plants into their core products, Perdue has started on the journey to diversify their offerings and meet the growing consumer demand for plant-based proteins."
Tyson, the biggest meat producer in the United States and second-largest in the world, unveiled their much anticipated Raised & Rooted line, which will offer two new products featuring plant protein. Their plant-centric nuggets comprise pea protein, egg white, golden flaxseed, and bamboo. Tyson is also introducing a blended burger, which incorporates pea protein and beef. The new offerings will be available at several major retailers later this summer. While neither product is fully plant-based, we welcome this encouraging development as a step in the right direction toward meeting consumers' increasing interest in plant proteins.
Hormel may make the leap from blended products to fully plant-based with a new pizza topping. At the 2019 dbAccess Global Consumer Conference in Paris, Hormel chief executive Jim Snee said, "The consumer seems to be speaking about having plant-based as a choice." The meat giant recently launched the Fuse Burger, a blended product made with ground turkey and brown rice, under the Hormel brand. Also earlier this year, Hormel subsidiary Applegate introduced the Blend Burger (turkey plus mushrooms or beef plus mushrooms). It's promising that they're now working to bring a 100-percent plant-based pizza topping to market.
Nestle brand Sweet Earth previewed their 100-percent plant-based Awesome Burger at Expo West in March. The Sweet Earth team told Reuters that the Awesome Burger is planned to debut in restaurants and retail later this fall. Meanwhile, in Europe, Nestle has launched the Incredible Burger in several countries and at McDonald's Germany's 1,500 locations. And they may be looking to expand distribution further. Reuters reports that Marco Settembri, the Chief Executive of Nestle's Europe, Middle East, and North Africa business, said, "McDonald's is an exciting and big customer, but it is not the only option and we have quite good capacity to cope with a (possible) extension beyond Germany." In other words, stay tuned.
Encko Holding, a Europe-based food group, divested from all meat production and rebranded as Vivera Foodgroup, with a sole focus on plant-based foods. Vivera CEO William van Weede told Food Navigator, "We are making significant investments in our operational footprint to keep up with the growth of the business, resulting in a duplication of production capacity, including expansion into the newest technologies."
Rabschnuk told Food Dive, "Ultimately, all those companies want to go where their consumers are going and consumers are showing through research, as well as through sales in retail and in food service, that they are looking to eat more plant-based food." While consumer interest is surging, plant-based meat producers are scrambling to keep supply at pace with demand. For the global slaughter-free meat industry to grow to a $140 billion market by 2029, as Barclays has projected is possible, major infrastructure developments for increased production capacity are required. The engagement and existing infrastructure of massive meat conglomerates will be necessary to move the needle fast enough.