Beyond Meat goes public, raises $241 million
The plant-based meat maker offered 9.625 million shares at $25 apiece, raising roughly $241 million.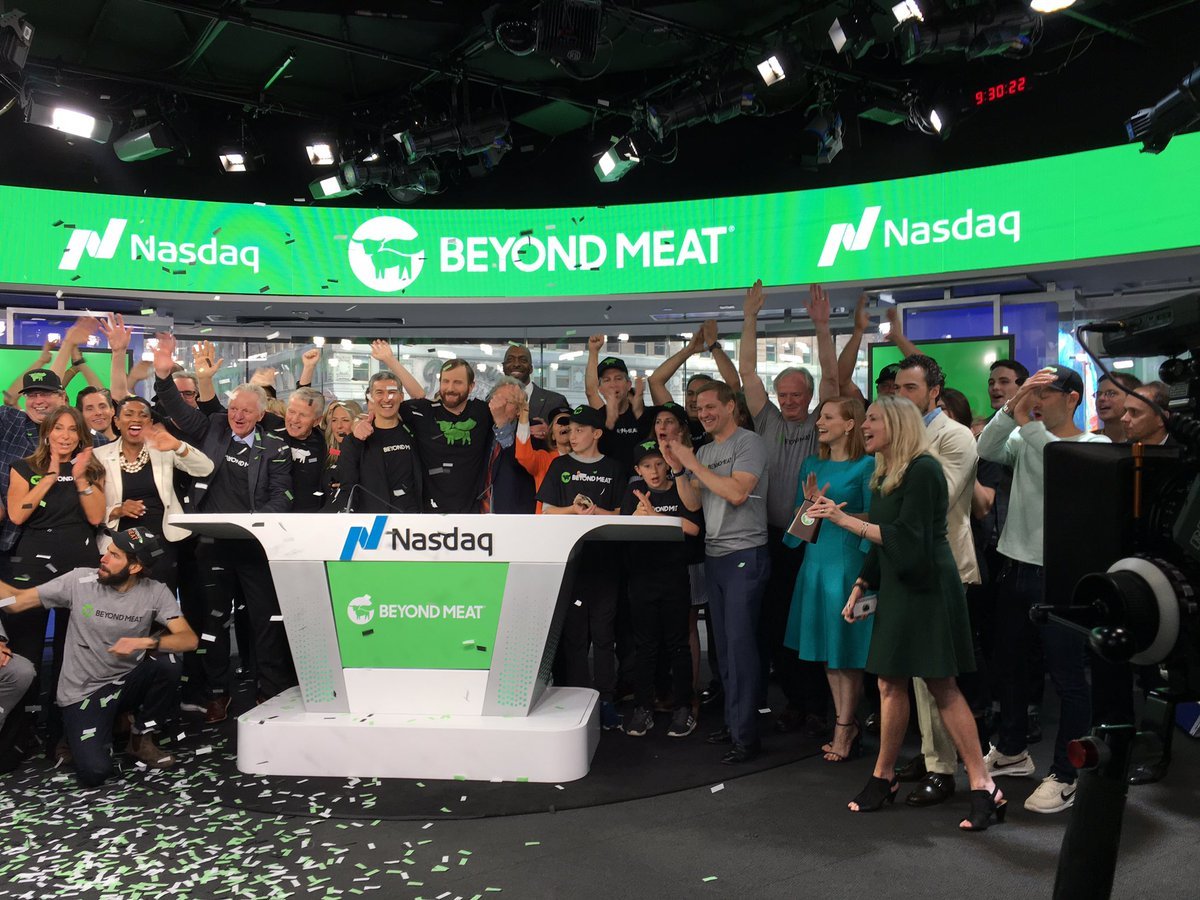 It's official: Beyond Meat has gone public. (They even rang the Nasdaq opening bell this morning!)
The plant-based meat maker offered 9.625 million shares at $25 apiece, raising roughly $241 million. The lead underwriters were Goldman Sachs, JPMorgan Chase, and Credit Suisse. The stock skyrocketed 163 percent in the first day of trading, bringing the company's market value to $3.77 billion by the time the market closed on Thursday.
Going (BYND)
GFI Executive Director Bruce Friedrich noted, "The move could pave a way forward for other plant-based meat makers who will be watching." Beyond Meat is the first plant-based meat company to go public in an industry where exit strategies are generally mergers or acquisitions.
Beyond Meat increased its share price and stock offering two days before trading began, an indication of high investor interest.
The media flurry around the IPO has zeroed in on Beyond Meat's rapidly growing revenue and narrowing losses. Between 2017 and 2018, Beyond Meat more than doubled its revenue from $32.6 to $87.9 million while shrinking its losses from $30.4 to $29.9 million.
While Beyond Meat is not yet profitable, researcher David Trainer notes in Forbes that, "At 20 percent, its gross margins have already surpassed Tyson Foods (TSN), the largest meat producer in the U.S."
The Motley Fool's Eric Volkman points out that Beyond Meat's international sales are "growing at a torrid pace," increasing from one to 7 percent of the topline from 2017 to 2018. And those international sales seem primed to continue growing. A few days ago, Beyond Meat dropped the news that 3,000 Canadian grocery stores will start selling Beyond products this May.
In the U.S., Beyond Meat now boasts spots on the menus at Carl's Jr and Del Taco. Per Beyond Meat's IPO prospectus, there are many new Beyond products in the queue and plans to roll them out on a yearly basis. The new funds secured through the IPO will allow Beyond Meat to increase supply and help meet the heretofore insatiable consumer demand for plant-based meat.
Hungry hungry market
Demand doesn't seem to be slowing down anytime soon. Burger King recently announced the coming addition of the Impossible Whopper to its 7,000+ U.S. locations, and nearly simultaneously, McDonald's Germany opted to roll out Nestle's Incredible Burger nationwide. Consumer enthusiasm for plant-based options is only gaining momentum.
And investors are fueling the development of an even broader range of animal-free options: Clara Foods, a company producing egg proteins without chickens, closed a series B funding round a week ago, while Singapore's cell-based meat company Shiok Meats secured $4.6 million in seed funding within the past week.
In a statement about Beyond Meat's IPO, Bruce pointed out, "Investors recognize that this is not a niche but a mainstream movement and a huge business opportunity."
Yup. Consumers and investors alike are hungry for alternatives to conventional animal agriculture. And now that Beyond Meat is public, consumers get to be investors as well.
Header image via Deena Shanker's twitter