Why 2020 will be the year of plant-based breakfast
Plant-based products are a growing global trend, evolving from niche proteins to major center-of-plate contenders — and now they're poised to take over breakfast.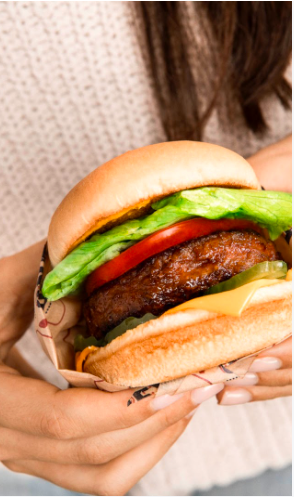 Plant-based patties are attracting loads of attention and keep launching in new foodservice outlets almost every day. The continued success of plant-based burgers at iconic chains such as Burger King and Carl's Jr. indicates that plant-based is a mainstream phenomenon with staying power. While there is a lot of growth ahead for plant-based burgers (which still represent less than 3.5 percent of U.S. fast-food burger sales), a very different category is poised for its plant-based star turn: breakfast.
Dunkin' is partnering with Beyond Meat to make a plant-based breakfast sandwich available in 9,000 locations nationwide on November 6, two months ahead of schedule, after a successful test of the product this summer. According to CNN, the Beyond Sausage Sandwich is currently the second best-selling item in Dunkin's Manhattan stores, with sales results twice as high as expected.
Why plant-based meat is now competing for breakfast
Breakfast aficionados looking for a plant-based start have long relied on oatmeal to get their fix. And don't get me wrong, I'm just as big a fan of Starbucks oatmeal as the next person. But the average American breakfast is often animal-protein-heavy: fried or scrambled eggs, bacon, ham, sausage, or breakfast cereal with animal-based milk.
Milk was the first breakout plant-based category in foodservice, mostly coffee and smoothie shops, and was powered by increased consumer awareness from dairy-adjacent placement in the retail milk cooler. Burgers have been the second wave, demonstrating the power of plant-based competitors that can compete with animal products on the basis of taste, price, convenience, and accessibility. Now, plant-based sausage and eggs are poised to start capturing the true center of the breakfast plate — omelets, breakfast sandwiches, breakfast burritos, and more.
The plant-based foray into AM eating couldn't be more timely. Breakfast is currently the darling of the restaurant business, with breakfast foods on 27.6 percent of U.S. menus and growing 19.5 percent over the past four years. Since the other dayparts of lunch and dinner have had slower growth, breakfast has become a hotly contested segment in the restaurant business. Dunkin' is scoring an early win by becoming the first national U.S. chain to bring the consumer appeal of plant-based protein to the battle for breakfast market share.
What's next for plant-based products
A full complement of products stand to benefit from the emerging plant-based breakfast trend. Beyond Meat's new breakfast sausage joins existing sausages already on the market from Morningstar Farms, Boca, Hilary's, Tofurky, and others. Besides sausage, companies like JUST, Spero Foods, and ZeroEgg offer plant-based scrambled eggs, and Follow Your Heart recently debuted pourable VeganEgg and a high-protein pancake batter.
The emergence of plant-based sausage on the heels of the plant-based burger trend is not an arbitrary evolution. Ground products like burgers are easier to mimic than whole muscle products like steaks, and the flavor profile of sausage is forgiving for plant-based product formulators. This is why burgers have been the first big plant-based meat category, and why we expect plant-based versions of pork sausage, chicken nuggets, and ground beef to be the next waves of plant-based disruption.
We're already seeing Mexican chains embrace plant-based chorizo and ground beef, and we soon anticipate being able to order a plant-based bratwurst at hotdog chains like Portillo's and Coney Island. GFI expects to see major launches of plant-based meat applications like pizza toppings, meatballs, soups, and meaty sauces such as bolognese in 2020.
Plant-based products are bigger than burgers. Plant-based meat is a growing global trend, evolving from niche protein to a major center-of-plate contender. Consumers already expect beef, pork, seafood, and chicken on most foodservice menus, and increasingly, they're also expecting plants. Innovators like Dunkin' are poised to reap large profits as they introduce Americans to plant protein awesomeness for the most important meal of the day.
If you're a foodservice operator and would like more information about the plant-based meat supply landscape, consumer research, how to market plant-based dishes effectively, or projections for the future of plant-based protein, please contact GFI. 
Banner Image: Beyond Breakfast Sausage | Source: Beyond Meat