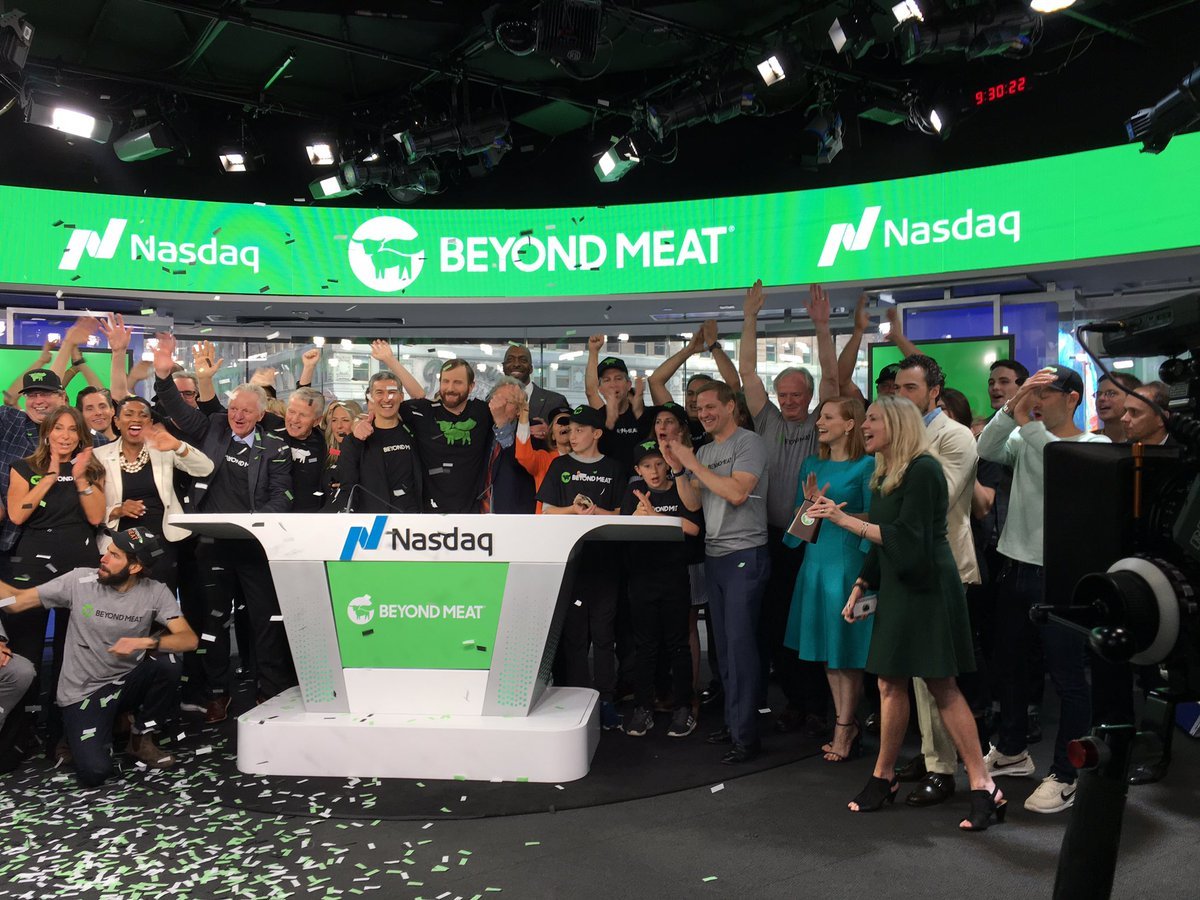 Plant-based meat market "on fire" says GFI executive as Beyond Meat revenue triples to $40.2 million in Q1
6 June 2019
Beyond Meat stock closes up 15 percent on strong first quarterly report; clear proof that plant-based meat is now mainstream
Good Food Institute Executive Director Bruce Friedrich says plant-based meats have exceeded what were already very high expectations, as startups, corporates, and food service race to meet surging demand.
"Beyond Meat's stock shot up 20 percent in the hour of their earnings call, and the company continues to surpass expectations. It is clear from these results that the plant-based meat industry is gaining momentum and shows no sign of slowing," said Bruce.
"This is a market sector on fire. Beyond Meat's performance is the tip of the iceberg, and we're seeing phenomenal acceleration within the plant-based meat sector that Ethan and his team pioneered," he said.
"Beyond Meat's results are clear proof that plant-based meats are living up to expectations, and investors, food companies, and food service are jumping aboard.
"It is a very good sign that Nestlé, Tyson Foods, JBS, and other food giants are launching their own plant-based meat products. Far from stealing market share or creating competition for a limited pool of consumers, the introduction of the legacy meat and food companies shows that the plant-based meat sector is here to stay.
"Their entry creates a much bigger market and far more consumers who might otherwise not have tried plant-based meat. These new product introductions are great for Beyond Meat and Impossible Foods because they introduce plant-based meat to entirely new audiences and create a much more robust plant-based meat market sector."
Bruce's TED Talk on the topic has been viewed almost one million times since it was posted just over two weeks ago. In his powerful talk, now translated into eight languages, Bruce calls for shift in meat production to plant-based and cell-based meat to address global climate and health emergencies.
Bruce says the mainstream adoption of plant-based meat is a critical step in this food system transformation.
Bruce Friedrich is the founder and executive director of The Good Food Institute, an independent non-profit accelerating plant-based and cell-based meat, eggs, and dairy. Check out his recent interviews with Recode Decode, Rich Roll, i24News, and the Smithsonian. Friedrich's TED talk from April has been seen 1 million times in the past 3 weeks.
Media inquiries: Maia Keerie at The Good Food Institute on 415 767 8973 or via maiak@gfi.org
Background on the Plant-Based Meat Sector:
The global plant-based meat market is projected to reach between $100b and $370b by 2035 (J.P. Morgan, A.T. Kearney, May 2019).
Nielsen data compiled by GFI shows that retail sales of plant-based meat grew 23 percent between 2017-2018 and exceeded $760 million, while total U.S. retail food sales grew just 2 percent.
GFI's State of the Industry reports show that more than $16 billion has been invested in U.S. plant-based meat, egg, and dairy companies since 2009, including $13 billion in 2017 and 2018 alone.
The Good Food Institute (GFI) is a 501(c)(3) nonprofit working internationally to make alternative proteins delicious, affordable, and accessible.