U.S. retail market data for the plant-based industry
Explore our overview of retail sales data for plant-based meat, egg, and dairy products in the U.S. market including key category insights, size, growth, and purchase dynamics for the industry.
Get the full 2021 retail market data report
Learn more about the plant-based retail market and new insights.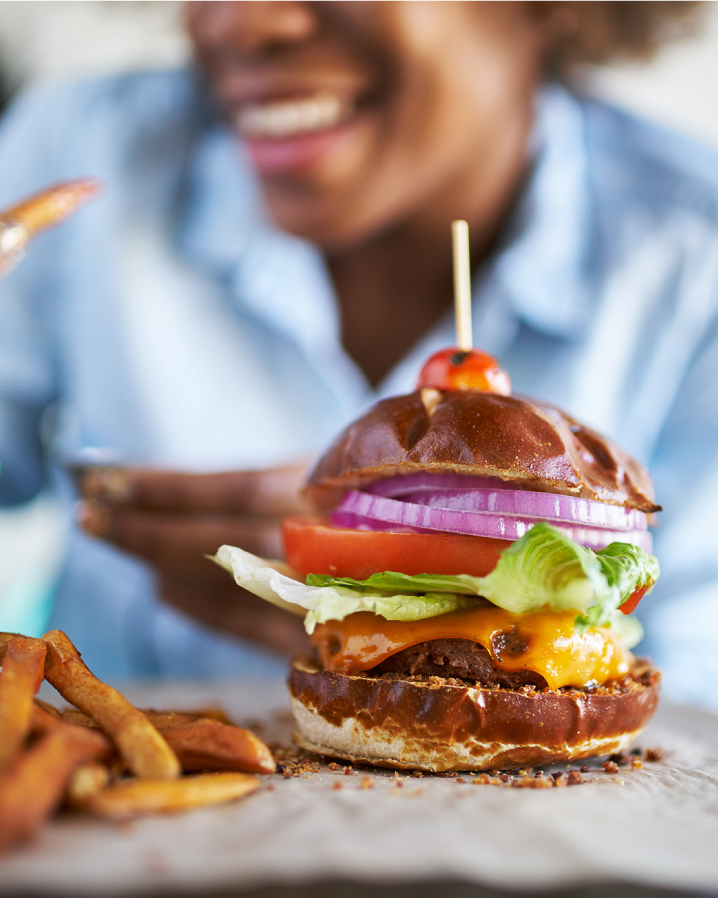 Plant-based foods are a booming business.
Food manufacturers ranging from startups to leading CPG companies to the world's largest meat companies are innovating rapidly in the plant-based market. Next-generation plant-based meat, egg, and dairy products are increasingly competitive with animal products on taste, price, and accessibility, though there is more work to do. Distribution is expanding, and a growing number of mainstream consumers are buying plant-based options. In the U.S., 98 percent of people who buy plant-based meat also purchase conventional meat.
In the U.S. alone, plant-based foods are a $7.4 billion market
Plant-based products are a key driver of sales growth at grocery retailers nationwide, growing three times as fast as overall food sales. SPINS retail sales data commissioned by GFI and PBFA shows that grocery sales of plant-based foods that directly replace animal products have grown 6 percent in the past year—and 54 percent in the last three years—to $7.4 billion.
Note: The data used in this report is based on SPINS plant-based positioned attribution, with the additional inclusion of plant-based private label and a custom plant-based eggs category. Due to the nature of these categories, the presented data may not align with standard SPINS categories. Read more about our methodology. We've summarized highlights from the data below to help you understand the size and growth of the U.S. retail plant-based food industry. We cover both the plant-based food market as a whole and key plant-based categories like meat and milk.
$7.4b
The retail market for plant-based foods is worth $7.4 billion, up from $6.9 billion in 2020.
6%
Plant-based food dollar sales grew 6 percent in the past year.
54%
Plant-based food dollar sales grew 54 percent in the past three years.
3x
Plant-based food sales grew three times faster than total food sales in 2021.
Summarizing plant-based food market sales data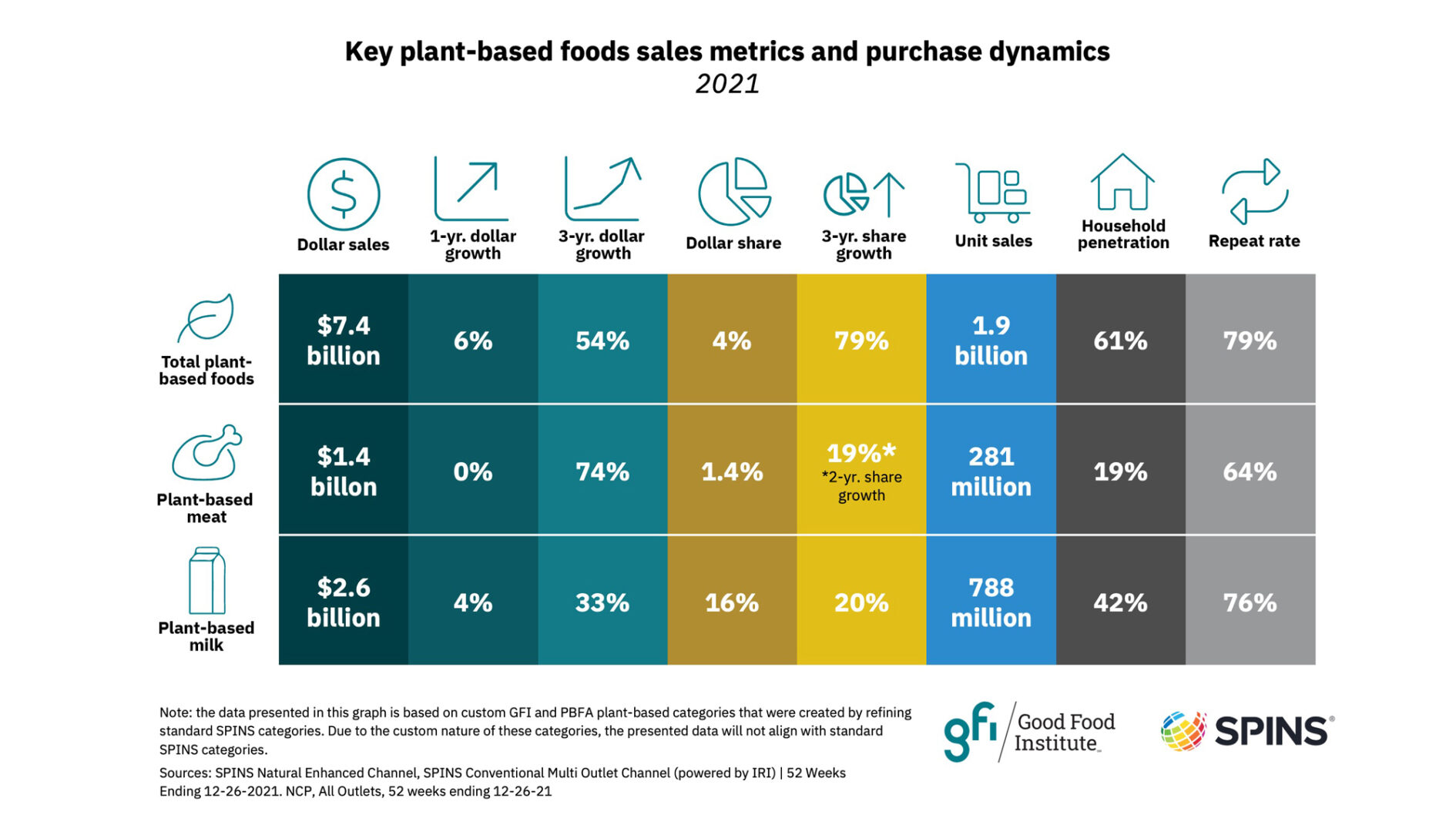 Breaking down 2021 performance
Pandemic impacts
To contextualize the sales performance of plant-based categories in 2021, it is important to note that 2020 was an unusual year. While there was strong growth across the overall food market due to pandemic impacts, there was particularly strong growth for plant-based categories. Lapping such a high-growth year with significant noise in the data makes comparables challenging and may be particularly difficult for an emerging industry that is still scaling production capacity. This, compounded with ingredient shortages and continued supply chain disruptions, may have resulted in plant-based meat sales falling short of the industry's expectations for further rapid growth in 2021.
Ingredient shortages and supply chain disruptions
As one notable example, Canada, the world's largest producer of yellow peas (commonly used in plant-based meat products), recorded a 45% decrease in yellow pea production as of September 2021. Because of the relatively small size of plant-based categories, even modest supply chain issues like this could contribute to declines in growth. According to FMI's 2022 Power of Meat Report, 38% of consumers reported seeing increases in out-of-stocks in the meat department. Market conditions resulted in changed meat and poultry purchasing patterns for 58% of consumers.
Comparing plant-based meat and conventional meat performance
Another factor that adds complexity to comparing plant-based meat's sales performance with that of conventional meat is inflation. Inflation has been a large story in the protein category—and across the entire food market—in 2021. Examining dollar sales growth alone can lead to the conflation of increased consumer demand and increased prices. Unit sales and average price per unit can help tell a more complete story. Despite experiencing slightly lower dollar sales growth than total food and conventional meat, plant-based meat saw comparable—or less—unit sales declines, and markedly more modest price increases.

Although short-term data is subject to noise, there is evidence in the last few months that plant-based meat continues to experience flat or declining dollar and unit sales. It's clear that despite the growth seen in the last decade, the success of the plant-based meat category is not inevitable. To meet and further stimulate consumer demand and enable plant-based proteins to compete with conventional products on the table stakes of consumer choice—taste, price, and accessibility—greater investments from both the private and public sectors will be needed. Such investments can ensure we realize the potential of plant-based meat to help sustainably and efficiently feed billions of people, protect public health and lessen the risk of future pandemics, and mitigate the global climate impact of our meat production —all while giving consumers more options for taste, affordable proteins.
Note: Throughout most of this report, plant-based meat products (including refrigerated, frozen, and shelf stable types) are compared to the total conventional category (which had 0% dollar sales growth). Based on limited data availability for shelf stable conventional meat units, this table compares plant-based meat to a conventional meat category that does not include shelf-stable products.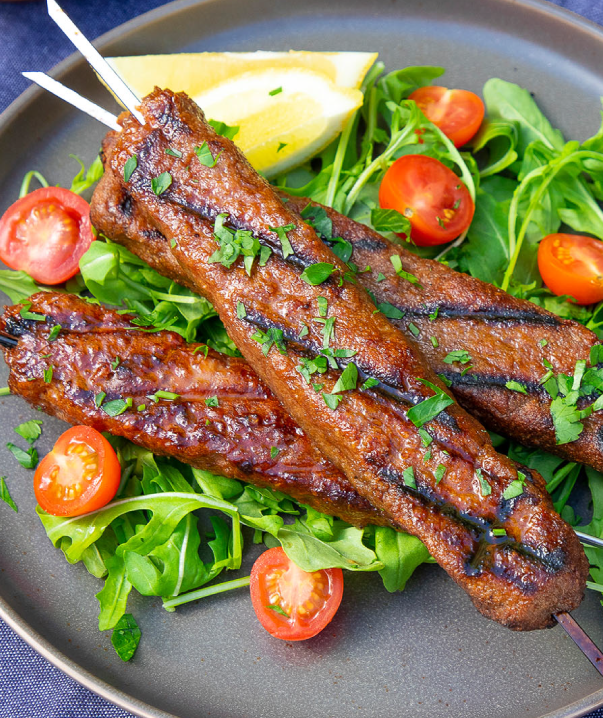 Plant-based meat and seafood market
After a record growth in years prior, 2021 plant-based meat and seafood dollar sales remained steady, delivering a repeat year of $1.4 billion in sales.
Key insights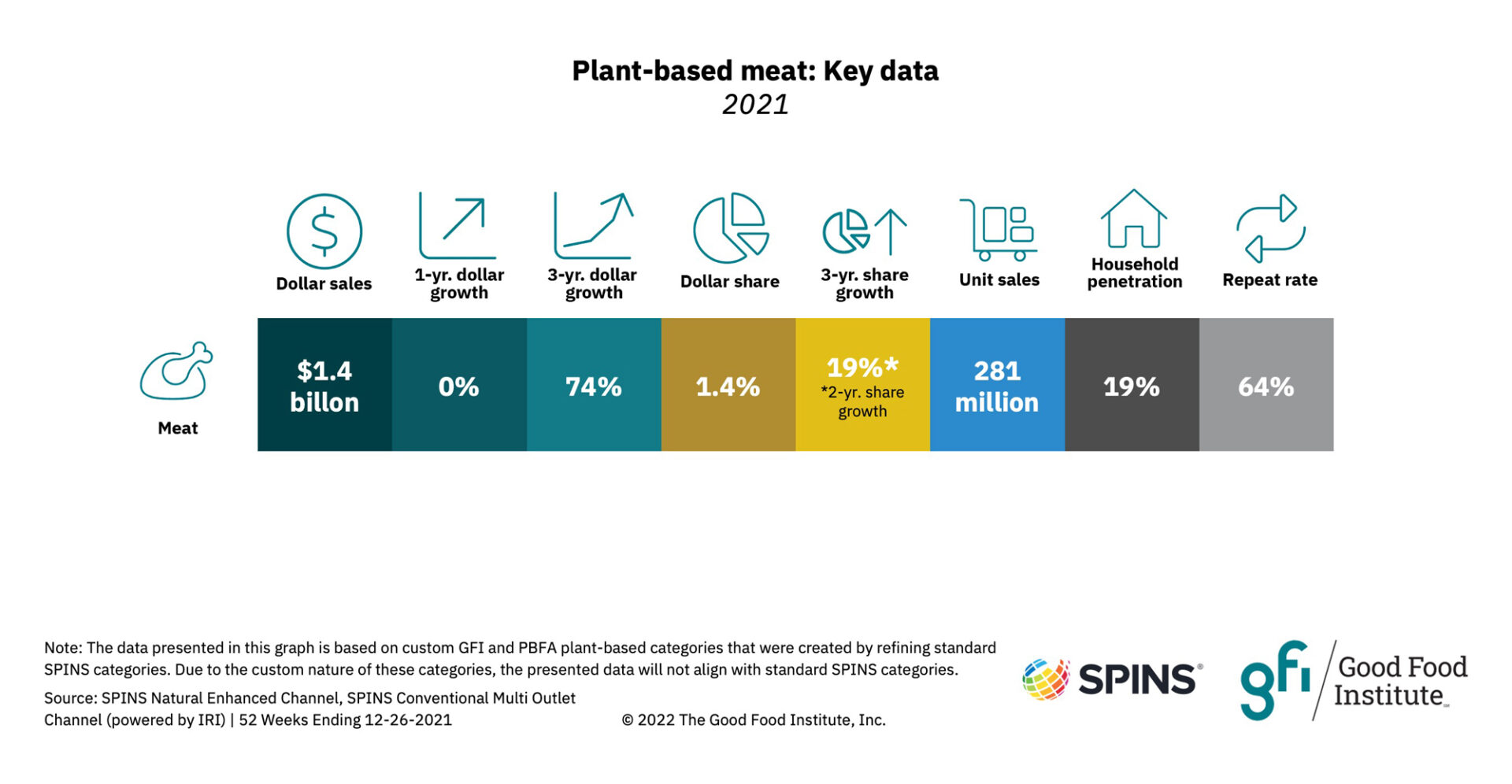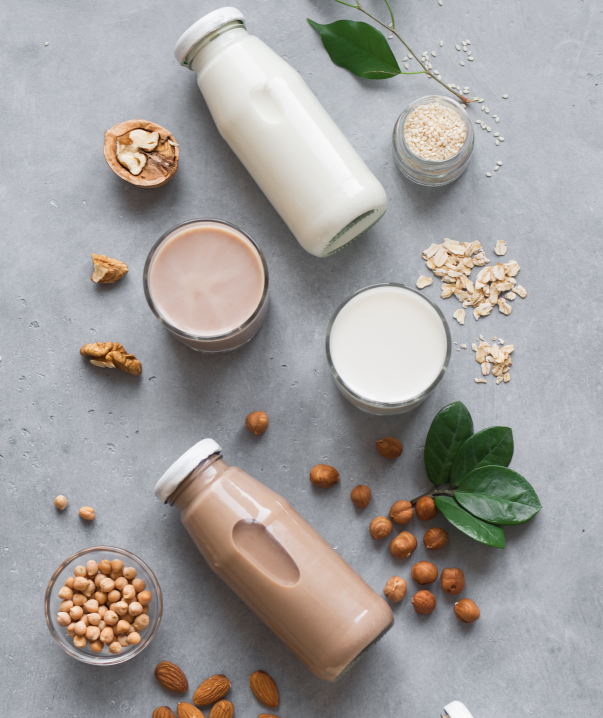 Plant-based milk market
The plant-based milk category is the most developed plant-based category, worth $2.6 billion.
Plant-based milk alone accounts for 36 percent of the total plant-based food market.
Key insights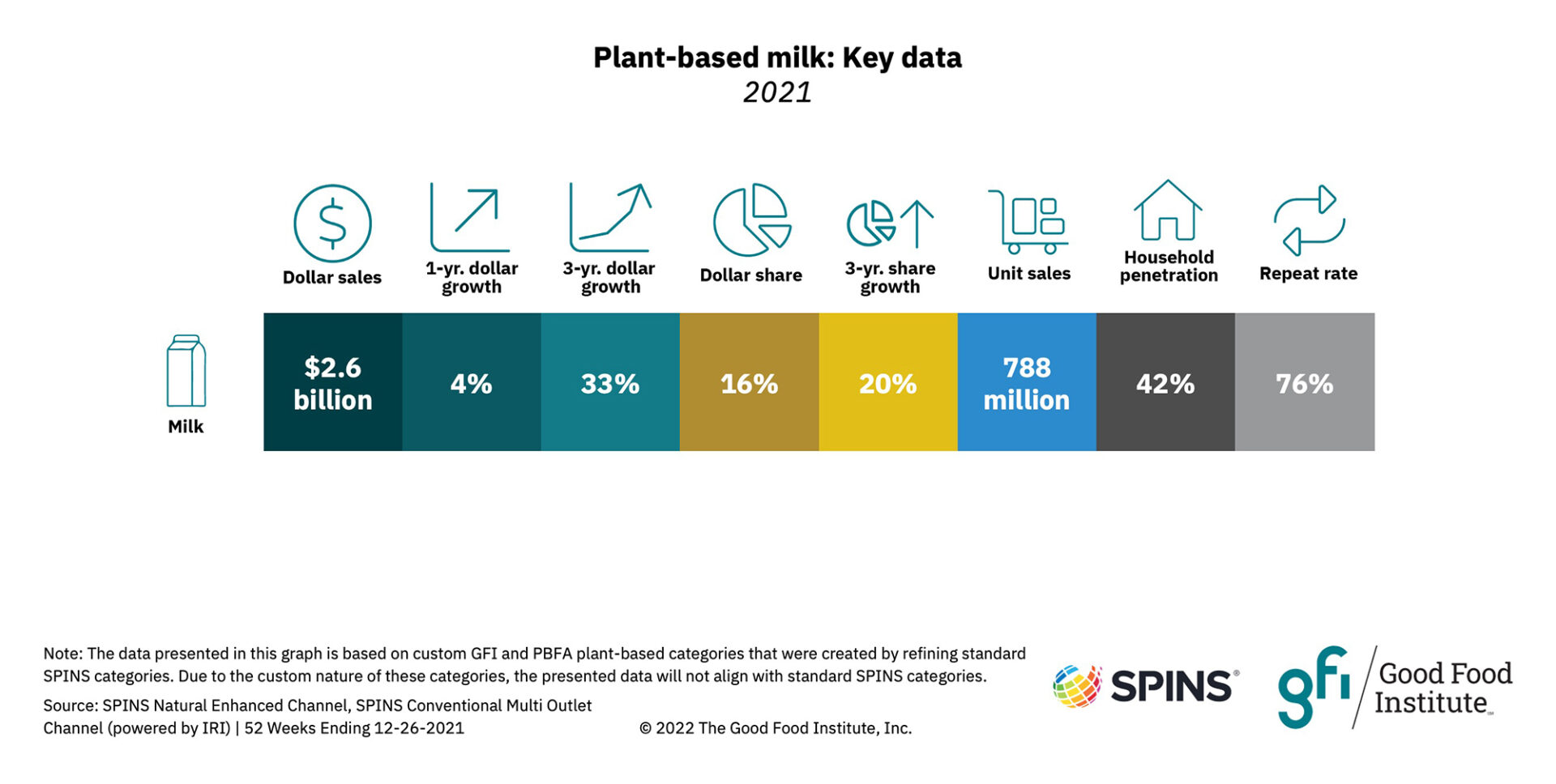 Category sales
Plant-based milk sales
Plant-based milk—already a sizable category accounting for 16 percent of all dollar sales of retail milk—experienced sustained growth in 2021.
Plant-based milk now serves as the innovation leader in the milk category, supported by key advancements in ingredient diversification and product development that seeks to replicate both the sensory experience and nutritional value of cow's milk.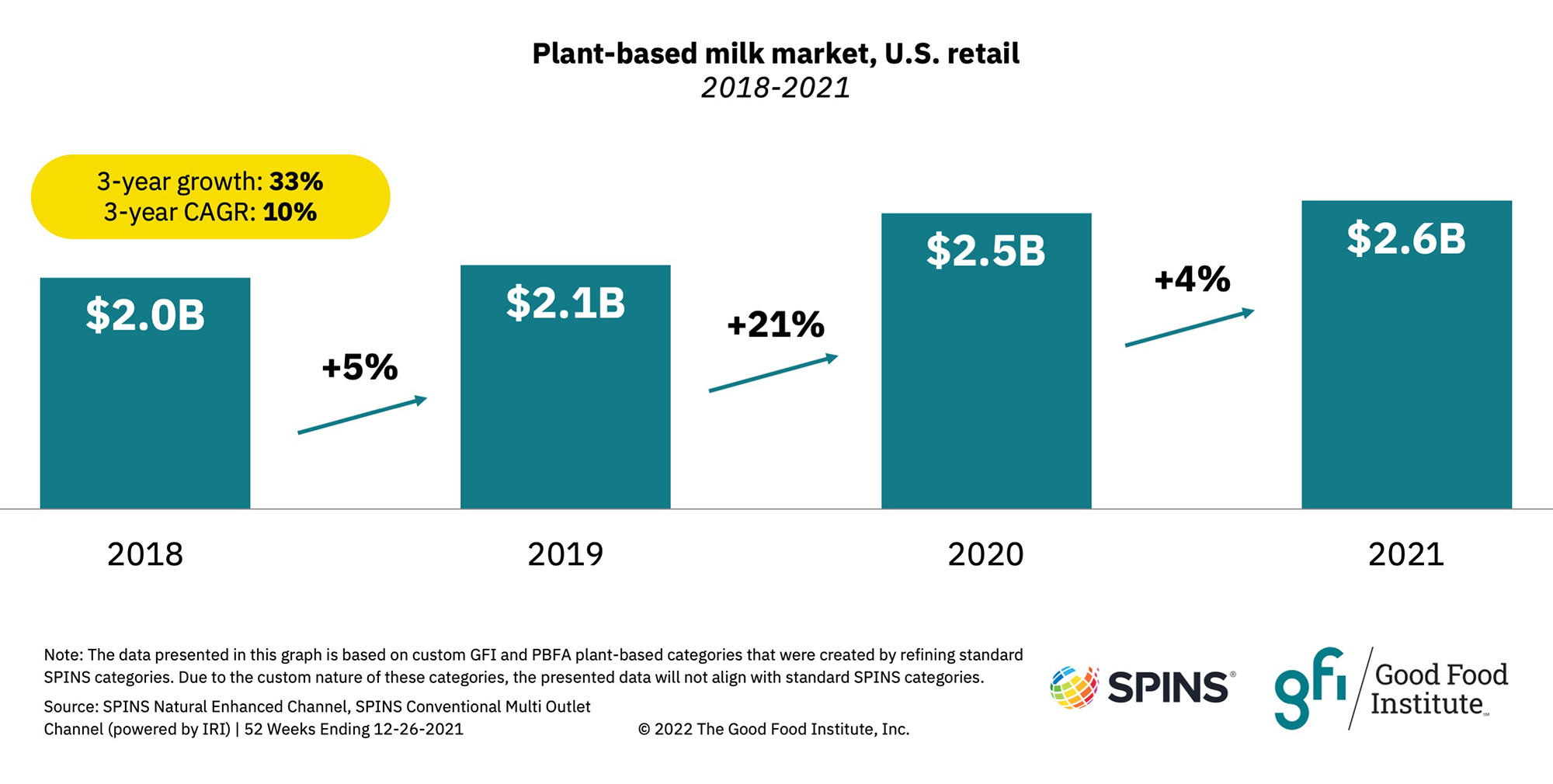 Key insights
Plant-based milk is the growth engine of the milk category. Plant-based milk dollar sales grew 4% in 2021, and 33% in the past three years, to reach $2.6 billion—while animal-based milk sales declined 2% in 2021.
Plant-based milk's dollar share continues to grow. Plant-based milk, which now accounts for 16% of all retail milk dollar sales, contributed $105 million in growth, while animal-based milk's decline equated to a loss of $264 million.
In the natural channel, plant-based milk is a sizable portion of the total milk category. Innovation often starts in the natural channel, where plant-based milk represents 40% of all milk sold, up from 34% in 2018.
Segment insights
Plant-based milk segment insights
Ingredient base

As the largest category in the plant-based market, plant-based milk continues to benefit from product innovation and expanded merchandising space and assortment.
Almond milk is the category leader, accounting for 59% of the total category.
Oat milk growth is the second-largest segment, growing more than 44 times in the past three years. Oat milk now makes up 17% of category sales, up from only 0.5% in 2018.
Refrigerated vs. shelf stable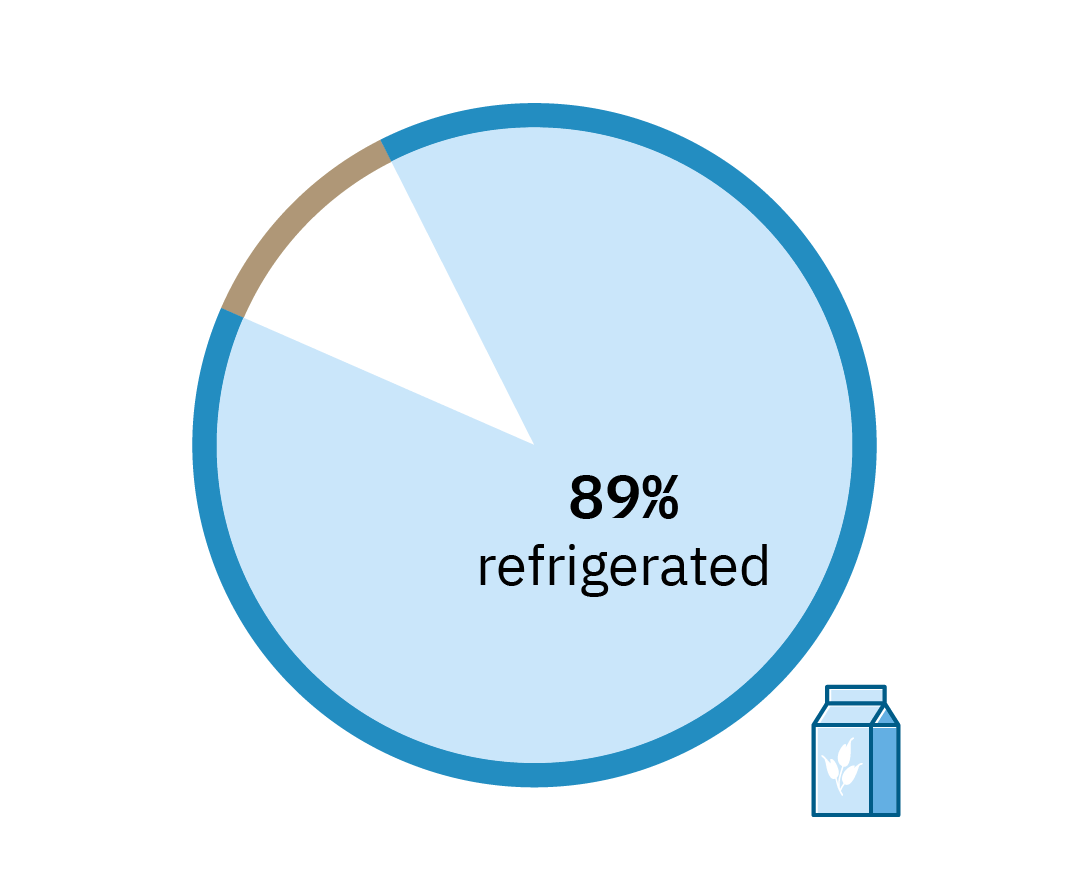 Refrigerated plant-based milk continues to dominate the category.
Today, refrigerated milk is consistently shelved adjacent to its animal-based counterpart. This has been critical to the rise of plant-based milk over the past decade to the 16% market share of total milk dollar sales it has today.
Refrigerated plant-based milk composes 89% of total plant-based milk sales, while shelf-stable plant-based milk makes up 11% of the category.
Growth in dollar sales of refrigerated plant-based milk continues to outpace that of shelf-stable plant-based milk.
For more insights on how to leverage merchandising to best capitalize on the growing plant-based market, check out our merchandising guide.
Purchase dynamics
Plant-based milk sales
Household penetration and repeat purchase
Household penetration for plant-based milk is on the rise. Plant-based milk is a major entry point for households trying products across plant-based categories. Plant-based milk leads in household penetration at 42%, laying the groundwork for consumer adoption of other plant-based categories.
Plant-based milk also leads the way in category repeat rates. Plant-based milk has a category repeat rate of 76%, indicating that the category is largely meeting consumer needs.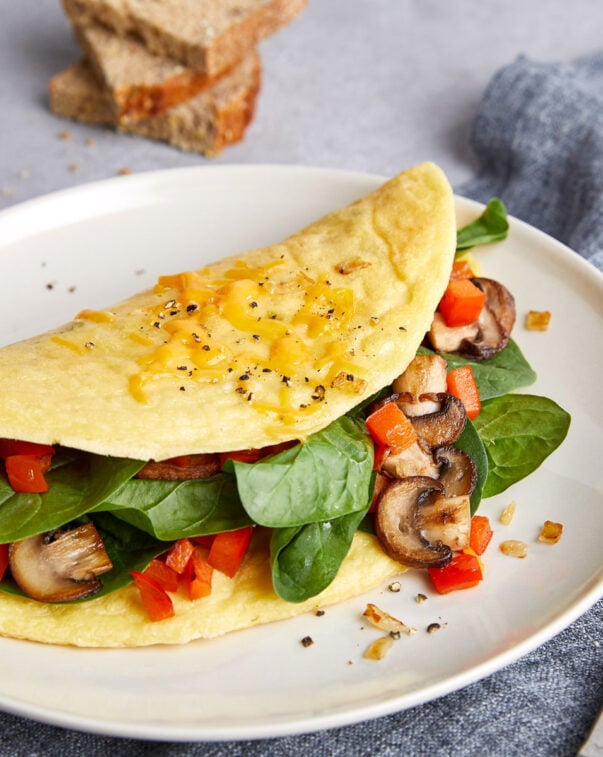 The market for other plant-based dairy and eggs
Emerging plant-based dairy and egg categories have experienced some of the greatest dollar sales growth.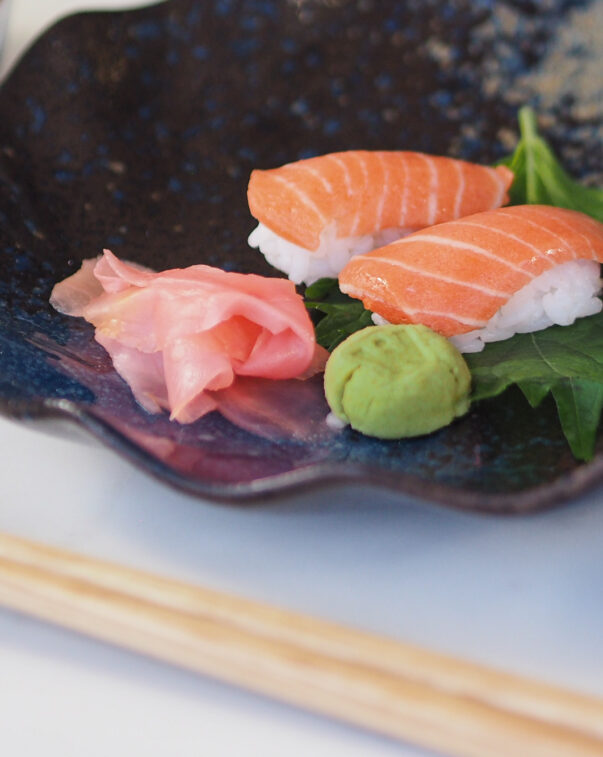 Other plant-based foods
Additional plant-based food categories such as meals, protein liquids and powders, protein bars, tofu and tempeh, and condiments, dressings, and mayo provide additional options to consumers seeking more ways to add plant-based foods to their diets.
About the data
Point-of-sale data
To size the U.S. retail market for plant-based foods, GFI and PBFA commissioned retail sales data from the market research firm SPINS. The firm built the dataset by first pulling in all products with the SPINS "plant-based positioned" product attribute. The dataset was further edited by adding plant-based private label categories and subcategories, and refining the plant-based eggs category. Inherently plant-based foods, such as chickpeas and kale, are not included. Due to the nature of these categories, the retail data presented on this page may not align with standard SPINS categories. SPINS obtained the data over the 52-week, 104-week, 156-week, and 208-week periods ending December 26, 2021, from the SPINS Natural Enhanced and Conventional Multi Outlet (powered by IRI) grocery channels.
SPINS defines these channels as follows:
● Conventional Multi Outlet (MULO): More than 104,000 retail locations spanning grocery, drug, mass, dollar, military, and club.
● Natural Enhanced: More than 1,800 full-format stores with $2 million+ in annual sales and 40 percent or more of UPC coded sales from natural/organic/specialty products.
This is generally considered the broadest available view of retail food sales, although not all retailers are represented. Some companies, such as Whole Foods Market, Trader Joe's, and Costco, do not report their scan data to SPINS or IRI. Please note that this methodology has changed compared to that used in previous reporting by GFI. We do not recommend comparing data released in prior years to the data included here.
Consumer panel data
To understand consumer purchasing dynamics and demographics, GFI and PBFA also commissioned consumer panel data from SPINS based on the same custom plant-based categories. SPINS acquires its panel data through the National Consumer Panel, a Nielsen and IRI joint venture composed of roughly 100,000 households. SPINS obtained the data over the 52-week period ending December 26, 2021, and the 52-week period ending December 27, 2020, from all U.S. outlets.

About SPINS
SPINS LLC is a wellness-focused data company and advocate for the Natural Products Industry. Over the past two decades, SPINS' investments have led to a common language used across the industry as well as laid the foundation for the next generation of innovation, while providing dynamic data, actionable insights, and digital activation solutions that drive growth for our clients and partners and contribute to a healthier and more vibrant America.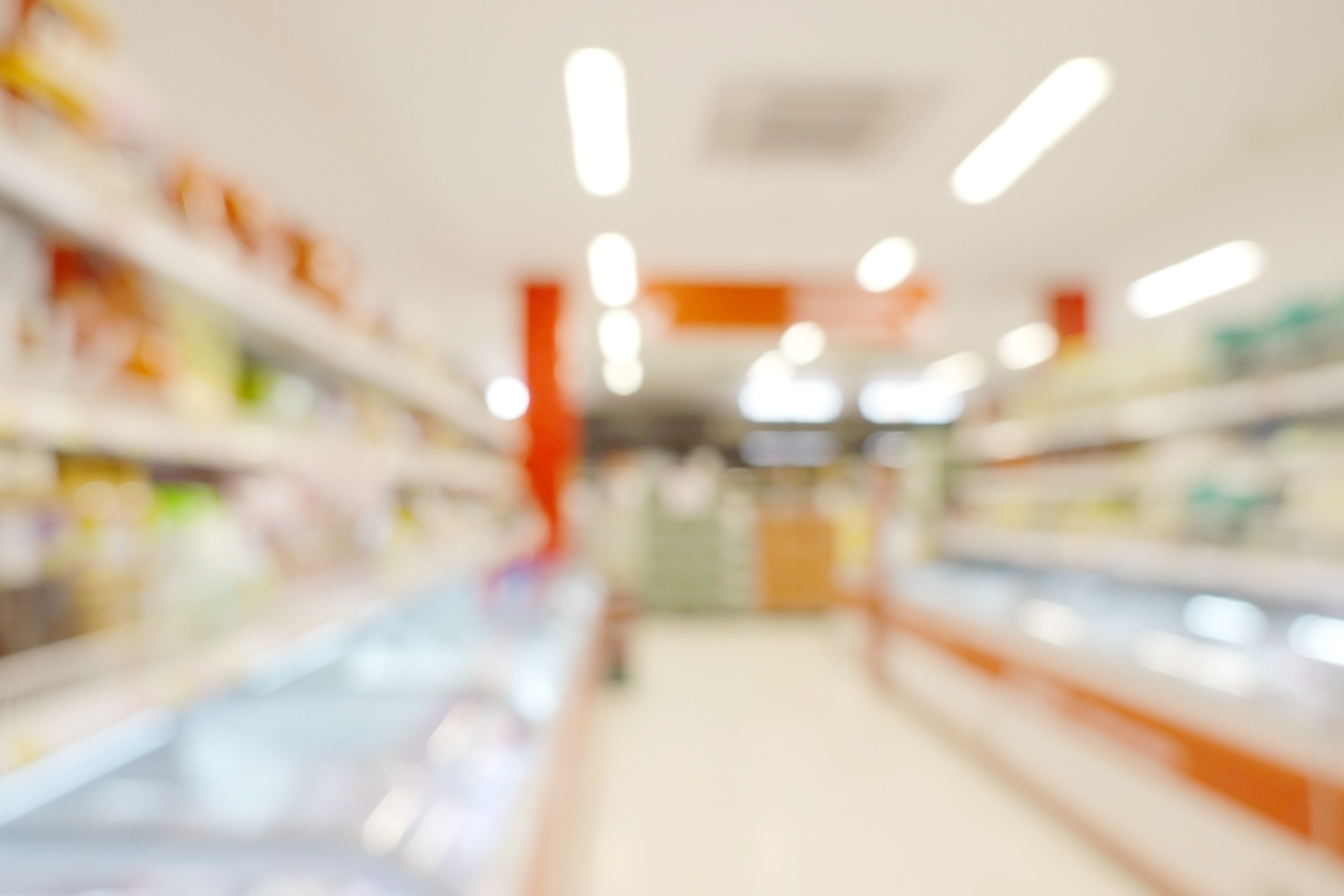 On-demand webinar
Watch our on-demand webinar with special guests from the Plant Based Foods Association and SPINS for an overview of the plant-based retail market.
Check out related resources
Contact us
Have questions? Would you like to learn how to work with us? Get in touch!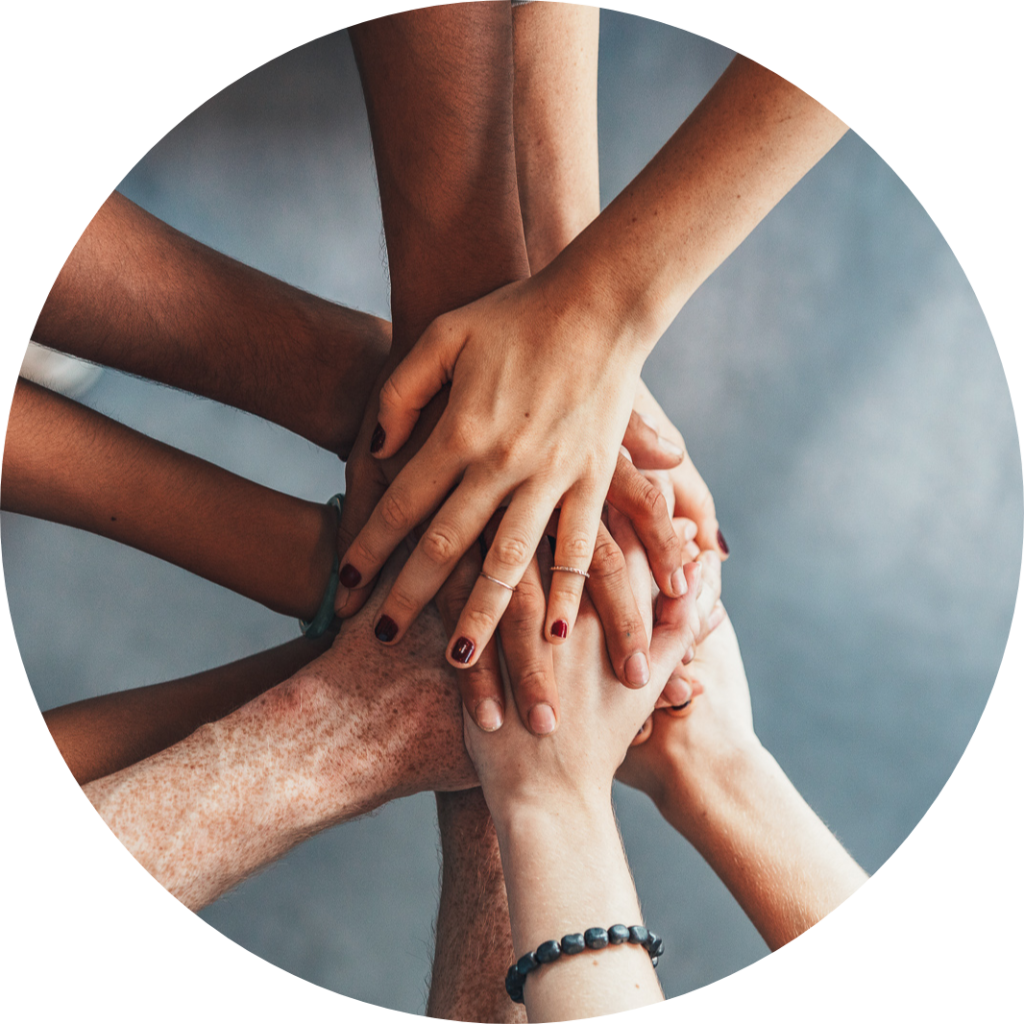 Support our work
Our industry engagement is made possible thanks to our generous, global family of donors. Philanthropic support is vital to our mission. Connect with us today to discuss how you can help fuel this transformative work.