World's first-ever clean-leather-bound book!
Auction benefiting GFI allows you to own a piece of the future.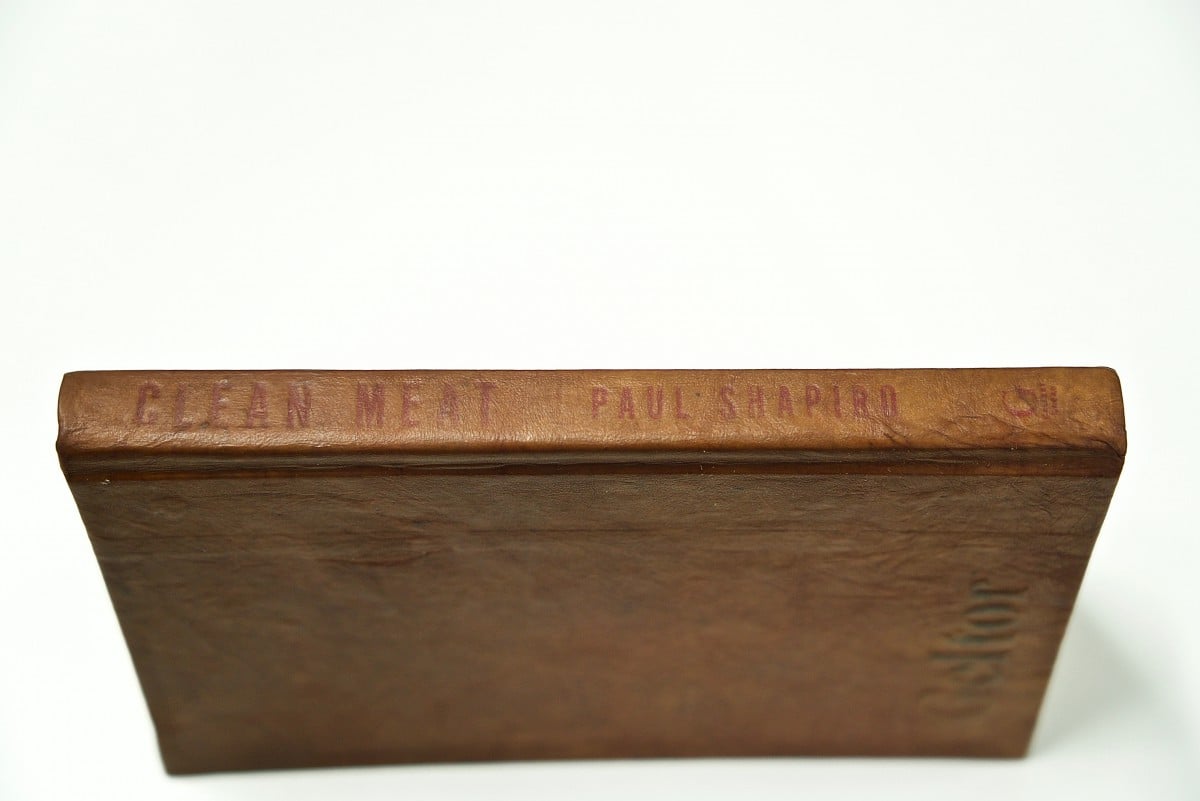 Update: At 8 AM EST on January 22, this piece of history sold for $13,000, with all proceeds donated to The Good Food Institute. As you read this, we're putting that money to work creating a better future for our food system.
— — — — — — — — — — — —
Remember the world's first clean hamburger, debuted in 2013 by Dr. Mark Post? Well, today, there's a new first for clean animal products. 
The newly released book Clean Meat, a Washington Post bestseller, is the first to chronicle the rapidly evolving field of cellular agriculture: an innovation allowing us to produce real animal products without slaughterhouses.
Today, one copy of Clean Meat is earning a place in history by becoming the first-ever book (like first ever in human history — I just need to say that again!) to be bound in real leather that was grown cow-free, via cellular agriculture. While no cows went to auction to produce this collector's item, the book itself is going to auction, with all proceeds to benefit GFI!
Our friends at Geltor grew the first-of-a-kind cover via microbial fermentation in their Northern California HQ. While Geltor's platform for designing and building texture with biology has launched products in cosmetics and food, this is the company's first foray into materials.
The historic book, signed by its author, is listed on eBay and already has a first bid of $10,000. All proceeds from the auction will support GFI's work to further the field of cellular agriculture. The auction goes live today and will conclude at 8 a.m. ET on January 22.
"This book is about the future, both in its content and its cover," Paul Shapiro notes. "Because of pioneers like those chronicled in Clean Meat, the day will come when we view our present-day factory farming of animals as a relic of a technologically primitive past."
For leather at least, that day is not far off. In fact, one company working in this space, Modern Meadow, plans to have its animal-free bioleather, called Zoa, in the marketplace in 2018.
Now go tell a friend — or tell Elon Musk — before bidding closes!
Psst… Also, if you missed our interview with Paul about the writing of Clean Meat, check it out here. You can buy your own copy sans the groundbreaking binding here.