Big Food on big opportunities in alt meat
GFI brought together some of the biggest names in the meat industry to talk with business students at Northwestern University about the plant-based and clean future of meat.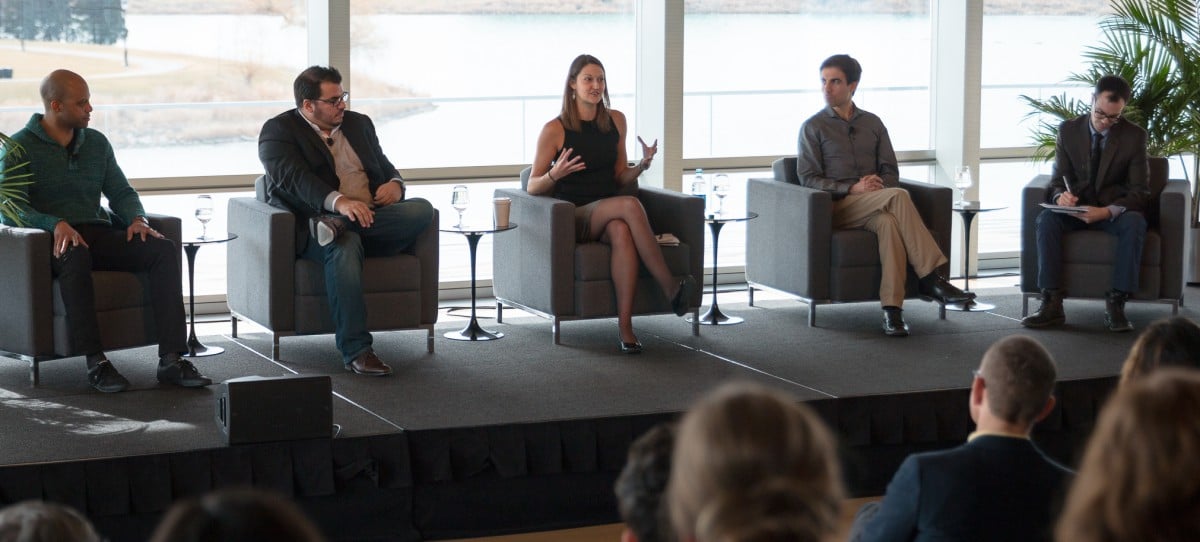 The Good Food Institute is uniquely positioned to bring together today's innovators and the most established companies in the meat industry, and we're inviting the next generation of entrepreneurs to focus their attention on the intersection of these two groups: a space where they can pursue profitable and high-impact ventures to change food.
Double win.
To spread the word about leading-edge business opportunities in the new meat industry, GFI hosted the panel event Rethinking Meat: Entrepreneurial Opportunities in the Future of Protein at Northwestern University's Kellogg School of Management.
Moderated by Wall Street Journal journalist Jacob Bunge, panelists included GFI Senior Scientist Dr. Liz Specht, Tyson Foods Chief Sustainability Officer Justin Whitmore, UPSIDE Foods Communications and Sustainability Manager David Kay, and Kraft Heinz Springboard Brands General Manager Sergio Eleuterio.  Future opportunities in the meat industry will not take place on a factory farm for a laundry list of reasons: Investors are wary of the material risks factory farms pose. Consumers are increasingly interested in alternative proteins. Animals are inefficient production platforms for meat. We planet cannot sustainably support the pollution inherent in intensive animal farming. Need we continue?    These points are not lost on traditional meat companies:  
"We don't want to be disrupted," Tyson's Whitmore said. "We want to be part of the disruption."
In recent months, the meat industry has been shifting its future-facing strategy and beginning to buy into the burgeoning plant-based and clean meat market:
Want to get involved? Join our entrepreneur group and check out our overviews of the plant-based and clean meat industries. Then watch the full presentation!