From Oatly to Baskin-Robbins, plant-based ice cream keeps getting hotter
Would you like that in a cone or a cup? Revenue in the U.S. retail plant-based ice cream and frozen novelty sector increased 67 percent over the last two years.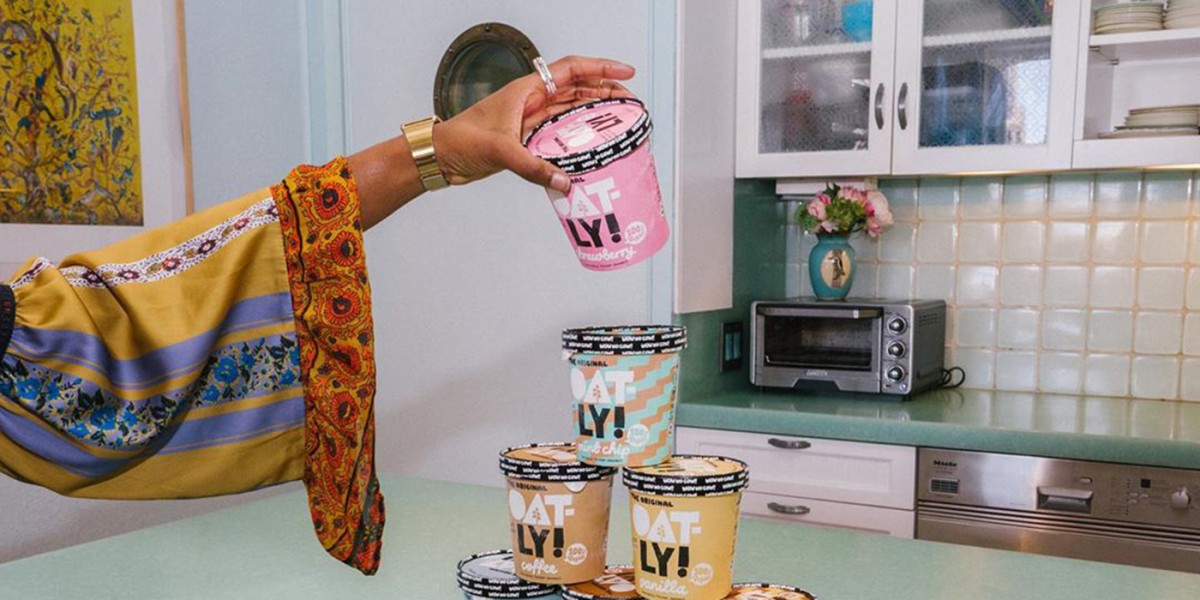 As we endure one of the warmest summers the United States has ever seen, cooling down with some ice cream seems like an especially sweet move. To make our days even sweeter, novel plant-based ice creams are popping up at grocery stores and scoop shops around the country.
Ice cream and frozen novelties comprise $304 million of the U.S. retail plant-based market as of April 2019, according to our most recent data from SPINS. Revenue in this sector increased 26 percent over the previous year and 67 percent over the previous two years. Plant-focused innovators and established food conglomerates alike are now capitalizing on the opportunity to meet the intensifying demand for ice cream churned without animal derivatives.
Oatly turns up the coolness factor on oat milk
In July, Swedish oat milk producer Oatly launched their ice cream at Wegmans, FreshDirect, and small retailers in New York City and Los Angeles. The selection consists of vanilla, chocolate, strawberry, chocolate chip, mint chip, coffee, and (surprise!) oat.
"We saw a really big gap in the plant-based or vegan frozen set in the ability to execute classics or staples in a really high quality way," Oatly's general manager Mike Messersmith told Nosh. "Our approach was, let's try to do the classics but no dairy, no nuts, no soy, in a non-GMO way."
Oatly started operating their first non-European processing plant last spring in New Jersey to keep up with the growing American thirst for their milk. Every month, the facility manufactures 750,000 gallons of their proprietary oat base—the primary component of the company's ice creams and other delicious creations. The success of plant-powered brands like Oatly and growing consumer demand for plant-based options has even inspired conventional ice cream producers to branch out.
Baskin-Robbins introduces plant-derived scoops
Baskin-Robbins, one of the biggest names in ice cream, debuted animal-free flavors across their U.S. locations this past week. Perfected over the span of two-plus years with almond butter, coconut oil, and other rich ingredients, plant-based Chocolate Chip Cookie Dough and Chocolate Extreme have earned a spot in the Baskin-Robbins line up.
"We're excited to expand our ice cream portfolio into the vegan space and offer our guests increased options, especially with such high consumer demand for a product like this," said Carol Austin, Baskin-Robbins' vice president of marketing, in a
press statement
.
"It was important for us to take the time to get it right," added Jeanne Bolger, the chain's director of research and development. "Both flavors are so smooth and indulgent, and the final product delivers the incredible quality that our customers have come to expect from any Baskin-Robbins ice cream."
More companies, more plant-based growth
A host of other businesses are venturing into the plant-forward ice cream space, too. Mainstream favorite Ben and Jerry's released several alternatives to traditional ice cream earlier this year and currently boasts a dozen such choices in all. With their extensive So Delicious line, dairy giant Danone is deep in the non-dairy ice cream game as well. Then there are regional establishments like Philadelphia-based Little Baby's Ice Cream, who sell scores of coconut-cream-based flavors alongside their dairy flavors, and Austin-based NadaMoo!, who concoct the entirety of their offerings using coconut milk.
Globally, a consumer
report
predicts, the market for plant-based ice cream could climb more than 9 percent annually to hit $3.4 billion by 2026. Sounds like a lot of ice-creamy goodness — minus the sticky consequences of conventional dairy production — to sweeten up the future worldwide! So, would you like your scoop in a cone or cup?
Header image source: Oatly
About the data

The data summarized here represents U.S. retail sales of plant-based foods that directly replace animal products, including meat, seafood, eggs, and dairy, as well as meals that contain animal ingredient replacements. This data covers the grocery marketplace and was obtained over the 52-week and 104-week periods ending December 29, 2019, from the SPINSscan Natural, Specialty Gourmet, and Conventional Multi Outlet (powered by IRI) channels. The data is based on custom-GFI plant-based categories that were created by refining standard SPINS categories. Due to the custom nature of these categories, the presented data does not align with standard SPINS categories.
1,2 The Food Industry Association & IRI. (2020). Understanding the plant-based food consumer [Webinar].
*Note: SPINS does not report non-UPC meat counter sales. To account for this, the plant-based meat total retail share calculation uses the $95 billion total meat market size reported by Nielsen, as this number includes both retail packaged meat sales and non-UPC meat counter sales.