How Miyoko's product developers found their way to food science
A chef and almost-opera-singer share how they became pioneers in the science of plant-based cheese.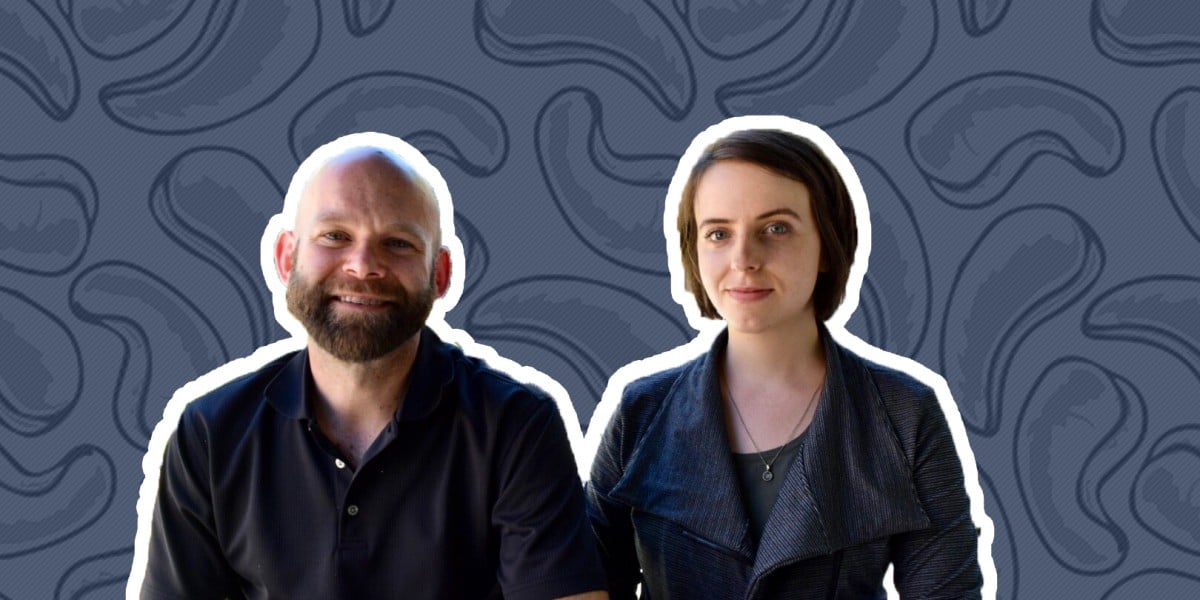 This interview has been excerpted from the GFI series "Pioneers of the Future of Food." We profiled some of the trailblazing scientists and engineers building a sustainable food system. Explore the full series here.
Daniel Rauch and Rose Bechtel are food scientists at leading plant-based dairy producer Miyoko's. They came to the work of developing plant-based cheese and butter via completely different paths. Daniel spent many years learning about food as a chef before deciding to pursue food science to make a larger-scale impact. Rose, a recent graduate student at UC Davis, left behind a potential career in opera to pursue a degree in food science, enabling her to unleash her longstanding love for food creativity. Now, both scientists work hand in hand with the rest of their team to create plant-based products that are winning space in the dairy aisles across the country.
How did you learn about the plant-based meat, dairy, and egg industry and have your initial impressions of the industry change with time?
Daniel: I first heard about the industry in connection with Impossible Foods—that was the first real big plant-based company to get my attention. I thought what they were doing was ambitious and it definitely struck a chord with me. This industry is the wave of the future, and it is necessary for so many reasons. Impossible Foods piqued my interest, and then a few years after that I heard about Miyoko's who happened to be hiring. I thought it would be a great opportunity to join the movement.
Rose: Growing up in California, I was surrounded by a lot of vegetarians and vegans—as well as people who just happened to eat Tofutti Cuties and other plant-based foods like that. I heard about Impossible Foods and Beyond Meat when I started studying food science, and the plant-based animal alternative industry was really exciting to me from an almost chemical engineering perspective. I became vegan later in my life, and the industry became very relevant to what I hope succeeds in the future.
Daniel, what motivated you to shift away from being a chef into the food science sector?
Daniel: I became a chef because I wanted to learn how to cook and I was really passionate about food. After a couple years in that world, I realized that I would have a much bigger impact if I was cooking on a really large scale, and the natural transition was to get into food science.
At that point in my life, I had an undergraduate degree in physical science from UC Berkeley, but I hadn't studied food science. I applied for a few jobs as a product developer but at that time companies wanted people with food science backgrounds in their product development departments. So, I went to UC Davis, got my master's in food science and started working as a product developer at Mattson. I also did some product development work for Safeway, as well as a few other food and food tech startups, before ultimately landing my current role at Miyoko's.
Does your background as a chef influence the way you now think about product design?
Daniel: Working as a chef teaches you how to taste, how to be discerning about food, and how to think about and critique food. You don't just mindlessly eat. Successful food scientists and product developers ultimately learn that, but I believe I came into the field with a head start. Working as a chef also trained me to work fast at my bench, whereas other people I met who started out in food science worked a lot slower but more meticulous and detail-oriented than me.
As a chef, I had a bad habit of moving really fast to make food taste right without weighing ingredients and writing everything down, so I had to learn how to slow down and be more meticulous as a food scientist. However, because I'm used to the face-paced energy of a kitchen, it feels natural to me to move quickly and have multiple projects going at once.
Rose, what led you to Miyoko's and this area of product development?
Rose: Well, as I assume most food scientists do, I started out studying Opera… that's pretty standard, right? I studied classical vocal performance for about five years before I realized it wasn't the right path for me. Since I was a kid I have been obsessed with baking, cooking, and experimenting in the kitchen. When I was around thirteen, I remember thinking: "One day, I'll have a lot of time and I'll just bake cookies and have every single variable of a chocolate chip cookie recipe. I'll figure out how it all works, and I'll tell everyone how it works." Then, I found out that food science existed and I didn't have to make thousands and thousands of cookies!
So, I earned an associate degree in chemistry at a lovely community college and then completed a bachelor's degree in food science. Having that initial exposure to a "DIY approach" and trying to just figure it out before I actually earned a science degree fostered in me a much more curious approach and characterizes how I approach my work as a food scientist. I have a lot of passion for this work, and maybe because I studied music first, I'm not afraid to ask weird questions and be creative.
How do you see research opportunities in the alternative protein field evolving in the coming years based on areas in need of continued innovation?
Rose: The alternative protein field is a very open and multimodal field that I think is one of the more exciting areas for research because it's so uncharted. For example, with the fermentation of cashews in a nut cheese matrix, there's so much we don't know about how they are fermenting compared to dairy fermentations. Metabolically, it just hasn't been looked at yet, nobody has characterized the flavorful volatile metabolites and nobody has conducted any sort of sensory research. It's growing incredibly quickly but the research hasn't caught up yet because the funding doesn't exist for it in the same way as it does for dairy research, which is often supported by dairy associations. It can certainly be done, and you're already seeing a lot of exciting publications about plant-based food innovations from countries such as the Netherlands and Denmark, most often funded from public sources. At this point, it seems like a lot of the different meat and dairy analogs are advanced enough that the issue with adoption might be solved in the sensory science realm where focus groups and descriptive analysis can be used to determine what is working and what isn't working, and pinpoint how to motivate people to integrate them into their everyday lives.
What have you found most rewarding about working at Miyoko's in particular?
Daniel: One of the most rewarding things about working here is working with a founder who is so passionate and so involved. Miyoko is just incredibly inspiring, a great visionary and such an inspiring leader. It's been awesome working for her, and I had missed the same degree of passion at other food companies I've worked for. Some of those companies were in the industry for the wrong reasons, and it's really refreshing to be at a company where I am so aligned personally with everything we are doing.
Rose: This is my second job in the food industry, and I definitely appreciate all the things that Dan mentioned. My previous employment was in academic sensory science research, and in moving from a science-driven workplace to a private company that is incredibly values-driven, I've found that there is a totally different atmosphere. It really feels like we're working together towards something revolutionary, and we're surrounded by people who really believe in our company's mission statement. 
This interview has been condensed and edited for clarity. Check out the full interview series here.