Is quinoa the new pea protein?
Dr. Ofir Benjamin, a scientist in Israel and a recipient of GFI's research grants, is exploring this high-protein grain's capacity to be a breakout ingredient in plant-based meats.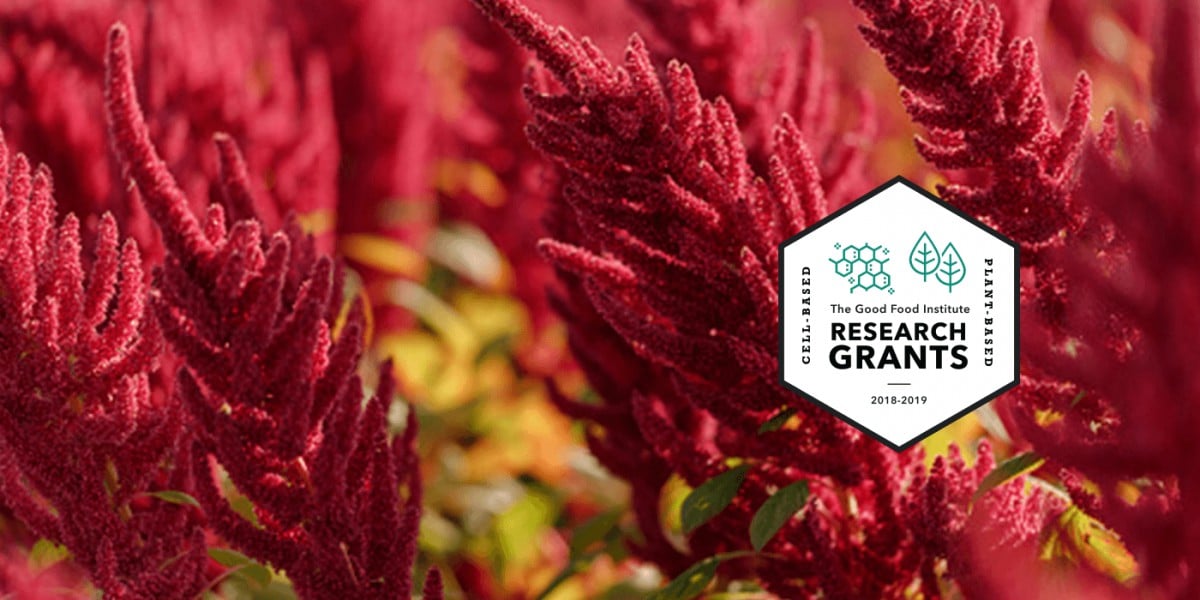 Quinoa, commonly the star of grain bowls, could become a key input for plant-based meat.
Dr. Ofir Benjamin, a scientist at Israel's Tel Hai College and a recipient of GFI's research grants, is exploring this high-protein grain's capacity to be a breakout ingredient in plant-based meats. He is tackling two key areas of the supply chain: sourcing and optimization of raw materials.
Along with Dr. Lior Rubinovich at the MIGAL — Northern R&D Research Center, he is cultivating a quinoa varietal with increased protein content and double the average yield. Dr. Benjamin is a food scientist with expertise in food sensory characteristics and food structure, and Dr. Rubinovich is a plant scientist with expertise in crop development. Their collaboration enables these scientists to undertake research from field to fork.
We had the chance to speak to Dr. Benjamin about his integrated focus on the supply chain and end-use application of quinoa for plant-based meat. Read on to discover the versatility of this small grain, packed with all the essential amino acids and rich in minerals.
Why did you decide to embark on this research project?
Meat consumption is increasing rapidly worldwide. Demand is higher than ever before and will only continue to rise. Producing enough meat to fulfill this demand is a genuine challenge. In light of the future, it is urgent to lessen the environmental burden of meat intake. Plant-based meat is a great alternative.
How do you see quinoa research benefitting Israel?
Quinoa research in Israel may encourage local farmers to include it in their crop. Although quinoa is mostly cultivated in Bolivia and Peru, it is grown around the world. Research can increase quinoa farming and provide an incentive for innovation in the food industry. What techniques did you use to cultivate quinoa that grew at double the average global yield?
During the past three years, we conducted many field experiments with high-yield quinoa. We examined different parameters in agrotechnology including location, sowing (planting) dates, sowing densities, and fertilization. The remarkable yields came from quinoa in our research farm in the Golan Heights. The altitude is 375 meters above sea level and the quinoa was sown during winter, both variables that positively affected the crop.
What makes quinoa such an interesting candidate for creating plant-based meat products?
Quinoa seeds exhibit high nutritional value. They also have high levels of protein, an average of 14—15%, which is higher than many other grains. Quinoa is one of the most promising novel candidates for plant-based meat.
How do you anticipate being able to increase protein content per production unit?
We will conduct two field trials during the winter of 2018-19. The purpose is to examine whether agrotechnical management will affect quinoa protein yield per production unit. In the first trial, the effect of plant density per unit area will be examined. In the second trial, the effect of nitrogen fertilization will be tested. We will also conduct field trials during the winter of 2019—20 to screen for novel high-protein quinoa accessions. The accessions will be acquired from Equinom, an Israeli-based seed breeding company. Equinom focuses on breeding enhanced-protein crops to be used as high-quality raw materials in the plant-based food industry.
How are the varying types of quinoa protein ingredients (i.e. quinoa protein concentrate and quinoa protein isolate) used in producing plant-based meat?
The functionality of quinoa protein is versatile. Quinoa protein can be used in emulsions, gels, and retaining the moisture content in food (its water-holding capacity). The main protein group in quinoa is 11S globulin, commonly found in legumes and easily absorbed by the body. It composes 37% of the total protein content and can be integrated into different food applications.
We will greatly increase the potential of quinoa protein isolate, a very high-protein substance used in plant-based meat. Investigating and developing methods for protein extraction will improve quinoa protein isolate. Quinoa's protein yield is relatively high at 268—402 kilograms of useable plant protein per hectare. (For comparison, beef has 17.5 kg of usable protein per hectare. Milk has 84. Quinoa definitely has the advantage here.)
What makes quinoa's protein content unique among other cereal grains?
Quinoa protein concentration is relatively high to begin with. It contains all of the essential amino acids, which cannot be produced by the body and must be obtained through food. The plant even includes lysine, which is the major limiting amino acid in most cereal grains. Quinoa can provide protein requirements as mandated by the FDA and be a sustainable source of protein for plant-based meat products.
Dr. Benjamin is researching quinoa with funding through GFI's Competitive Research Grant program. Want to learn about other scientists transforming the conventional meat market? Check out the program here! GFI Senior Scientist Dr. Erin Rees Clayton provides context for all fourteen plant-based and cell-based meat projects.