This scientist is developing new cell lines for slaughter-free meat
GFI Research Grant recipient Dr. Gareth Sullivan is developing new cell lines for cultivating slaughter-free meat in order to bring down the cost of R&D for good food companies everywhere.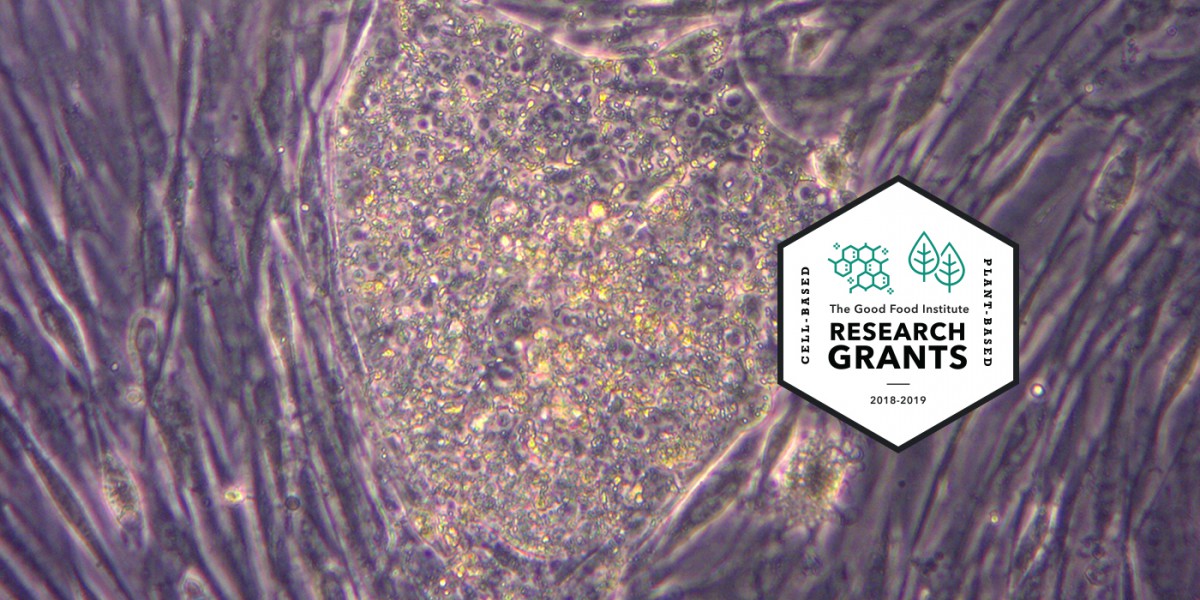 Ten years ago, a radical development in food security came to life: the Svalbard Global Seed Vault, a seed bank designed to preserve diversity in agriculture. Founded by the Norwegian government, the Vault now has nearly one million seeds from across the world.
Today, we introduce you to a pioneer in Norway creating a different type of storehouse. Dr. Gareth Sullivan is developing a cell line repository for cell-based meat with his colleagues at the Norwegian Stem Cell Centre.
Cell lines are vital to cell culture. To cultivate meat, you can either source the cells from the tissue of an animal directly or from a cell line. Immortal cell lines—ones that can divide indefinitely—offer several advantages. They are cost-effective, easier to use, and provide an endless population of cells for biological research. And yet, this critical part of culture is difficult. Tissues are hard to acquire and the process is time-intensive. Today, precious few cell lines are accessible to scientists and companies. Dr. Sullivan aims to change this reality and expand the potential for all cell-based meat.
His project will make the labor-intensive process of growing cell-based meat easier and more accessible. The cell lines will be available to academic labs and commercial industries around the world for cell-based meat research. Read on to hear Dr. Sullivan explain frozen arks, the search for species, and how cell-based meat can benefit Oslo.
How will a cell line repository advance cellular agriculture?
Presently, very few academic labs are involved in cell-based meat research. One potential barrier to conducting research in this area is the need for cell lines for animals commonly consumed as food, including livestock and poultry. Suitable cell lines for many of these animal species do not exist. For the few that do, the cell lines are either proprietary material or time-consuming and difficult to obtain. Thus, most academic cell-based meat research must begin by dedicating time, effort, and resources to cell line creation. As more and more research labs begin to work in this field, it will be extremely inefficient for each lab to have to generate their own cell lines. To help make it easier for labs to pursue cell-based meat research, this project will develop a "Frozen Farmyard," a cell line repository for agriculturally relevant animals such as cow, pig, goat, chicken, and duck. We will provide the cellular agriculture community with standardized lines in a centralized cell line repository. Common lines from different farmyard species can be used for R&D purposes. The lines will help develop procedures to optimize cell-based meat production and advance the industry.
What sparked your interest to research cell-based meat?
First is to reduce animal suffering. Secondly are climate issues, as we are in a part of human history where the population is growing at an unprecedented rate. We need to find ways of effectively feeding large populations while reducing our carbon footprint. Using cutting edge technologies, such as our approach with pluripotent stem cells, is an exciting prospect for cell-based meat. It is still a relatively new technology with many other applications in addition to cell-based meat production.
What are your guidelines for finding the ideal breed for a cell line? Is the search limited to Norway?
We limited our search to Europe, where we have contacts in Portugal, Serbia, the UK, and Norway. It has been a difficult process to obtain access to samples for cell lines. We have made a number of connections and are further expanding these by reaching out to vets, farmers, industrial players, etc. We are exploring other EU countries and will aim to expand our search globally once we have streamlined our process. We are using a mixture of commonly farmed animals as well as some of the rarer breeds. We hope the repository will be an ever-growing resource that could potentially be expanded to endangered species of animals.
Were you influenced by the Svalbard Global Seed Vault?
Not initially — I've had an interest in so-called "frozen Arks" for many years, but the Seed Vault was established only in 2008. Now, the fundamental idea behind the seed bank does have an influence. It would be fantastic to raise funds for the project at a state or global level. With expanded funds, we could have a centralized cell line repository of mammals for future generations.
Do different kinds of meat (e.g., cow, pig, goat, chicken, and duck) require different cell culture media?
I would predict that protocols could be translated from one species of animal to the other. In order to produce meat, I think we will use very similar formulations to produce muscle or liver. We are currently collecting fibroblasts from different animals. Fibroblasts are a common type of cell that provide the structural frame for connective tissue in animals. Fibroblasts and pluripotent cells use basically the same cell culture media, with some slight differences in supplements.
How do you plan to make the cell lines available to others?
Cell lines will be open to both academic labs and commercial research. Standardized cell lines are important to drive the cell-based meat industry and to be translated to the commercial arena. As the repository grows, we will need a centralized biobank for distribution. This will not be possible in a purely academic environment, so we will actively apply for further funding. I am investigating potential routes of distribution, including national or European-level biobanks as well as industrial partners.
How can the population of Norway benefit from cell-based meat research?
If we get this right, it will not just benefit a single country but have global implications. Norway is a country pushing sustainable initiatives. Its work is reflected through Oslo being chosen as the European Green Capital this year. Our project really complements this effort. If we are successful, we will bring welcomed light on Norway. We will also create the possibility of other cell-based businesses to strengthen the economy.
Dr. Sullivan makes it sound like the sky is the limit for cell-based meat! The Norwegian Stem Cell Centre is truly revolutionizing the industry, for the benefit of not only Norway but the global population.
Hungry for more? Check out the other projects here! GFI senior scientist Dr. Erin Rees Clayton explains how the fourteen plant-based and cell-based meat projects are tackling hurdles in the industry and revolutionizing our food system.