First taste of Alpha Foods' plant-based breakfast burritos!
Alpha Foods is launching two breakfast burritos made with animal-free scramble, sausage, spicy cheddar, and vegetables. Alpha offered their first taste at the 2019 Good Food Conference.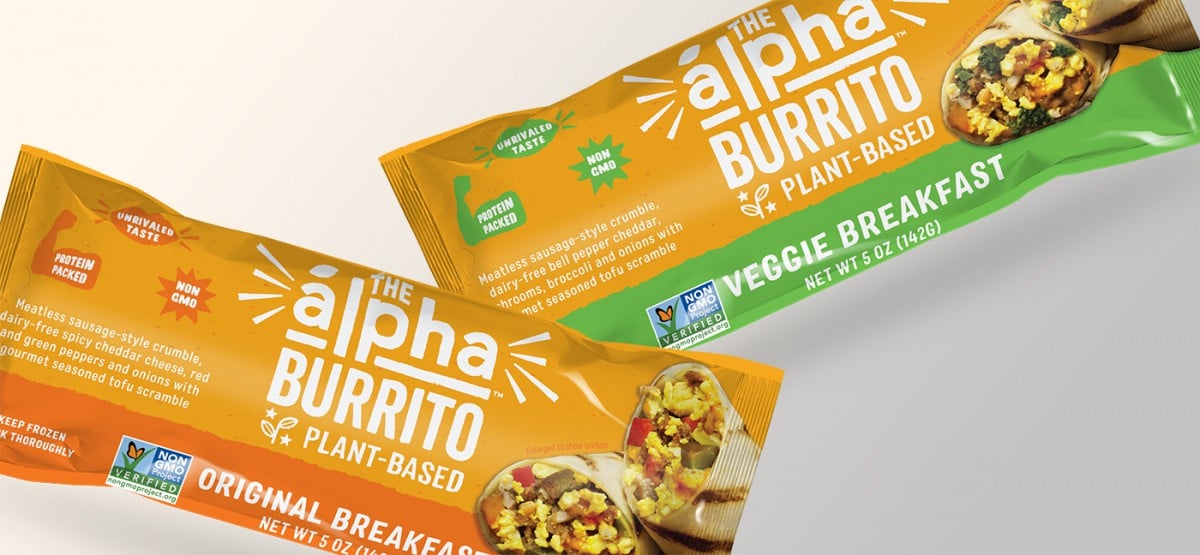 Plant-based breakfast just got yummier. Alpha Foods—a plant-based food manufacturer out of California—is launching two breakfast burritos.
Available in veggie and original varieties, the breakfast burritos are made with animal-free scramble, sausage, spicy cheddar, and vegetables.
With a first taste at the Good Food Conference en route to their industry debut at the Expo East trade show, Alpha Foods' breakfast burritos are expanding the choices for a convenient plant-based start to the day.
Breakfast burritos fill a gap
The Alpha Foods team had zeroed in on providing easy meals that hit the sweet spot (or rather, the savory spot) between comfort foods and plant-based nourishment (take, for example, their BBQ chik'n pizza and beefy chedd'r pot pies). Breakfast was the next horizon.
"We noticed that there was definitely a white space opportunity for a grab-and-go plant-based breakfast option," said Alpha Foods co-founder Cole Orobetz. "Our Breakfast Burritos offer a savory plant-protein-rich solution that still manages to satisfy an on-the-go lifestyle. We have listened to our community of fans and given them what they want, delicious breakfast options made from plants, that will satisfy a savory plant-based breakfast option."
A year of amazing growth
2019 has been a time of incredible expansion for Alpha Foods. Before these breakfast burritos, Alpha Foods put out nuggets, pizzas, and protein pouches. And while broadening their product range, the brand is ramping up distribution in a big way.
When GFI stopped by the Alpha Foods exhibit at Expo West in March, they had recently secured deals to reach 6,000 stores. Now with Expo East around the corner, they're on track to reach nearly 8,000 by the end of the year.
Already in Walmart, Publix, Kroger, and Whole Foods, Alpha Foods items will come to Safeway Albertsons this fall. "We know we're growing the frozen category for a number of retailers," Orobetz told FoodNavigator-USA. "At Walmart, we believe they're expanding the frozen plant-based set from maybe one or two doors to three to four doors. From some market data we've seen, the highest preference in the plant-based category is for prepared meals."
Market data commissioned by GFI indicates that U.S. retail dollar sales of plant-based meals increased 6 percent in the past year and 22 percent over the past two years.
Who's buying these meals? Alpha foodies tend to be flexitarian millennials prioritizing speed, parents feeding families, and vegans diversifying their purchases, according to Orobetz.
Fertile ground for continued growth
Established in 2017, Alpha Foods has developed proprietary formulas and processing methods, said CEO Loren Wallis, and they're researching the newest proteins from peas, other legumes, and mushrooms to continue their buildout.
"In addition to having great timing, Alpha Foods has the ability to grow and scale at a much more rapid pace than many other players in this segment," said Dan Malek, senior venture partner with New Crop Capital, an investment firm backing the startup.
"Right at the beginning," Wallis said, "Cole and I sat down and imagined what the company should be: not a mom-and-pop operation, but something that could go to $100 million, $200 million, to no limits."
Want to catch Alpha Foods' breakfast burritos at Expo East? Check out GFI's new Plant-Based Guide to Expo East to find Alpha Foods (hint: booth 6419) and more plant-based producers at the trade show.