Expo West: The plant-based playbook part 2
The near-future of our food supply will be defined by the trends championed at this year's Expo West. Get in the know.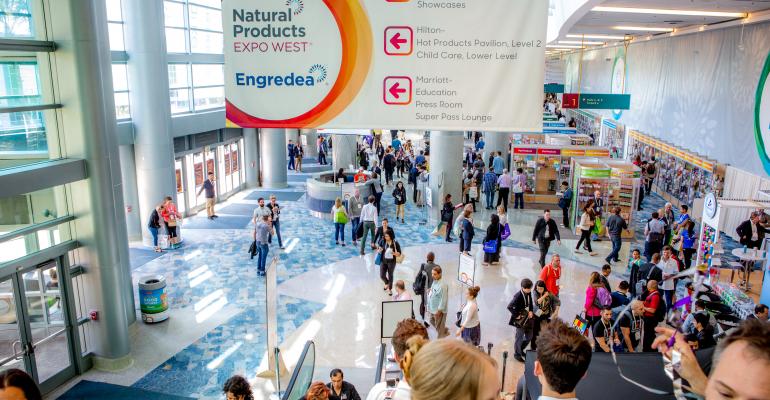 Natural Products Expo West is the largest gathering of its kind, this year bringing together more than 80,000 people for an unprecedented opportunity to meet with key players in the plant-based foods industry and get a holistic view of top trends and brands.
If you're on the hunt for info on the latest and greatest products, check out Part 1 of our Expo coverage here! In this installment, I'll be looking beyond the products and at the underlying trends shaping the near-future of food.
To that end, this Expo was defined by fresh partnerships: Profit met with purpose, innovation was paired with social good, and Big Food allied with scrappy startups.
These themes were strongly represented at a panel moderated by Corporate Engagement Director Alison Rabschnuk, wherein representatives from Campbell Soup Company, Good Catch, and Beyond Meat discussed plant-based innovation and how to take advantage of white space opportunities in the market.
[Session Video: Campbell's and Beyond Meat walk into a room…and talk plant-based innovation]
Specifically, panelists spoke to the unrealized opportunities for clean label formulations and pulse protein optimization on the supply side of plant-based meat, dairy, and egg product development. All spoke to the need for rapid iteration to match the pace of consumer taste evolution and meet climate action goals.
I'd like to pause for a moment at that last sentence.
Today, it almost seems like a given that climate action and consumer preferences are in alignment — something that would have seemed laughably idealistic not so long ago. Now, separating social impact and business strategy is neither standard nor savvy. Consumers are increasingly drawn to companies with an authentic and integrated sense of mission, and the companies that genuinely embody this ethos are being rewarded with consumer dollars and brand loyalty.
These stats from Politico illustrate one facet of this shift:
Conventional food brands lost $19.1 billion in revenue between 2009 and 2014
The natural and organic food and beverage sector, on the other hand, is expected to grow by 75 percent to reach $107.7 billion in sales by 2019
Where many plant-based startups were born with integrated missions, Big Food is playing catch up, collaborating with emerging brands to make purpose-driven plant-based products more accessible and affordable. This shift has led to the sudden explosion of VC arms sprouting from some of the biggest players in the food industry.
To name a few:
Kraft-Heinz launched Springboard Brands (first investment was in Boca's rebrand)
General Mills launched 301 Inc. (which is invested in Beyond Meat and Kite Hill)
Campbell Soup Co launched Acre Venture Partners
Kellogg launched 1894 Capital
Rich's Foods launched a corporate venture arm
While the entire natural products industry rallied around sustainability and the mission to build a better food supply, the leading edge of this industry unveiled plans to launch its own certification to formally define this approach.
Lead by the environmentally conscious team at Dr. Bronner's (with Rodale and Patagonia), the announcement of the Regenerative Agriculture Organic Certification effectively stole the show. This label extends upon the USDA organic label to include animal welfare, worker standards, and more.
As the food industry unifies over a common mission to fix itself, Dr. Bronner's "All One" motto could have been the motto for all of Expo West 2018.
Three cheers for the future, where brands can do good while doing well.
To learn more about The Good Food Institute's work to support transformative plant-based companies, check out what we do.