Eclipse just launched plant-based ice cream designed to overshadow the cow
Plant-based dairy producer Eclipse Foods has rolled out their first commercial product at gourmet ice cream sellers Humphry Slocombe and OddFellows in San Francisco and New York.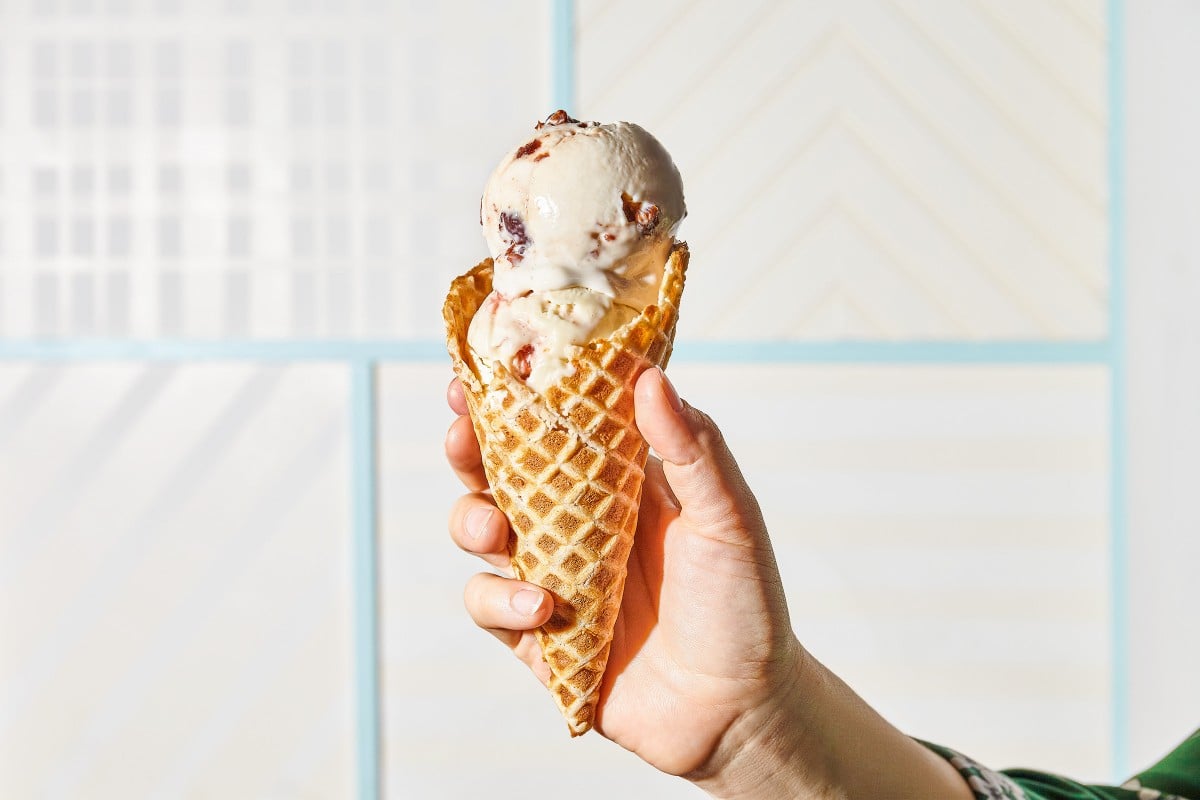 The ice cream scene just got sweeter. Plant-based dairy producer Eclipse Foods has rolled out their first commercial product — ice cream sans cow — in San Francisco and New York.
Following an initial small-scale release at Equinox Restaurant in D.C., Eclipse is now available at gourmet ice cream sellers Humphry Slocombe and OddFellows. They are using Eclipse's moo-less base to make their own flavors — Mexican Hot Chocolate at Humphry Slocombe and Olive Oil Plum and Cherry Miso at OddFellows.
This collaboration with established ice cream vendors is a smart approach.
"Eclipse is following a tried-and-true strategy by offering their products in premium outlets to gain crucial early adopters," GFI foodservice analyst Zak Weston explained. "Sales from OddFellows, Humphry Slocombe, and other outlets will help Eclipse demonstrate product-market fit, refine their production and distribution, and build out their sales capabilities for future launches. Plant-based dairy is a category with a lot of upside, and the team at Eclipse is well-positioned to take advantage of this opportunity."
"While there are a growing number of excellent replacement meat options with brands like Beyond and Impossible, dairy has lagged behind," said Eclipse cofounder Aylon Steinhart (formerly a GFI senior advisor to alternative protein startups), in their press release. "It's been incredible to watch people try our ice cream for the first time and see the total disbelief on their faces when we tell them it is made of plants."
Eclipse uses vegetables like corn and cassava to produce a milk that looks, tastes, and acts like cow's milk. In their words, "Cows wish they made dairy this creamy." Their ice cream base is sold wholesale in plain, vanilla, and chocolate and can be used in any ice cream machine to whip up soft serve, gelato, and other frozen favorites. It contains no nuts, soy, coconut, gluten, gums, or stabilizers. In short, it's an allergen- and animal-free dessert that's easier on the planet than conventional versions.
"We founded Eclipse Foods because we want to make it easy for consumers to make sustainable, healthy, and humane choices," Steinhart said. "Delicious plant-based foods that actually appeal to all types of eaters can and will change the world."
Steinhart and Thomas Bowman, previously JUST's director of product development, started Eclipse early this year to cater to the huge flexitarian-driven demand for plant-based dairy. They attribute their swift market entry and accessible price to their use of inexpensive ingredients and existing milk production facilities.
"One of the beautiful ironies of our products is the best people to help scale us are people that are actually doing dairy products," Bowman told the San Francisco Business Times.
Eclipse's backers include Reddit co-founder Alexis Ohanian, Gmail inventor Paul Buchheit, and Daiya Foods' past chairman Eric Patel.
"I'm excited to be investing in more plant-based foods," Ohanian said. "Aylon and Thomas were immediately impressive as accomplished experts in food science. The quality of the ice cream is already near indistinguishable from its dairy counterpart, and it's only going to get better. This is filling a need in the surging plant-based food space that is competitively priced, sustainably produced, and — most importantly — delicious."