The first head of government to taste cultivated meat takes modern-day space race to new heights
Israeli Prime Minister Benjamin Netanyahu became the first head of state to taste cultivated meat in a tasting event hosted by GFI Israel and Aleph Farms.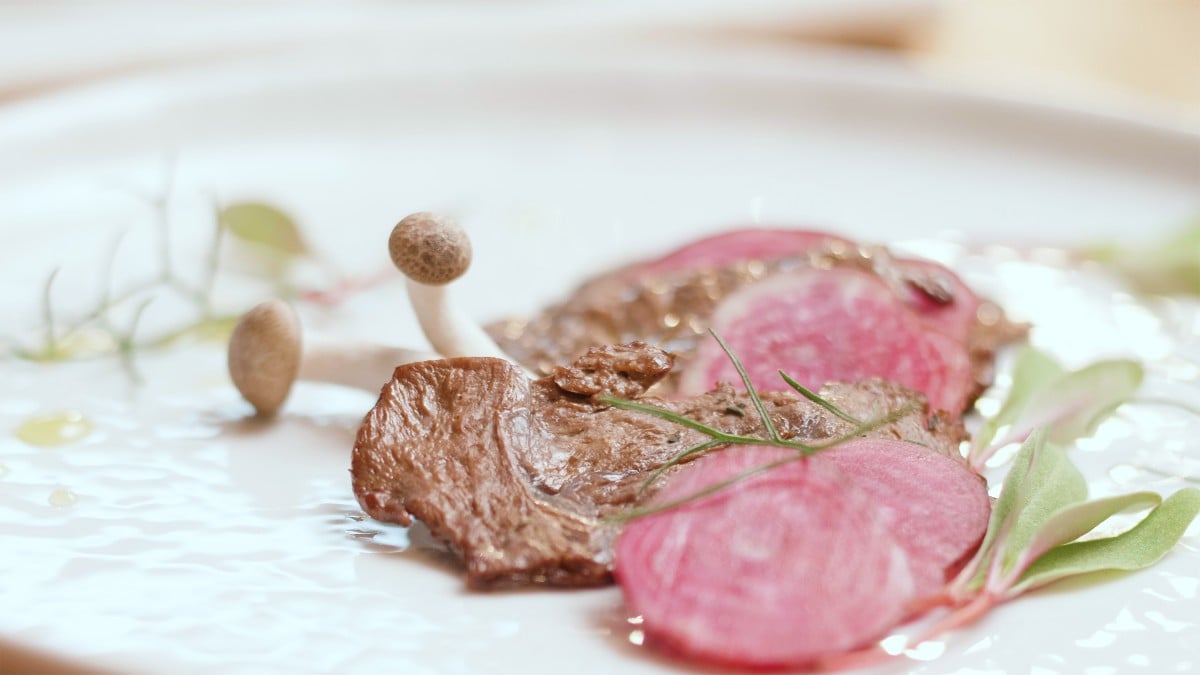 UPDATE: After Israeli Prime Minister Benjamin Netanyahu tasted cultivated meat and was presented with GFI Israel's National Policy Plan—a detailed roadmap for making Israel the global alternative protein leader—the head of government reflected on the huge potential of the technology and the opportunities that lie ahead for Israel and the world. Watch the video below.
Israeli Prime Minister Benjamin Netanyahu just became the first head of government to taste cultivated meat–a landmark moment in the global race to bring cultivated meat to market. The Prime Minister joined GFI Israel managing director Nir Goldstein in a tasting event hosted by GFI Israel and cultivated meat maker Aleph Farms at their headquarters.
After tasting Aleph Farms' cultivated steak, Prime Minister Netanyahu said, "It's delicious and guilt-free, I can't taste the difference."
To meet the growing global demand for protein sustainably, we must shift away from industrial animal agriculture. Cultivated and plant-based meat offer a critical opportunity to do just that–enabling governments to not only enhance their protein system's resilience, but also meet their obligations under the Paris climate agreement. By investing in these crucial food technologies, governments around the world thus have the power to fundamentally transform our global food system.
The modern-day space race is on.
Following the tasting, the Prime Minister directed his State Secretary to appoint a coordinator to serve the alternative protein sector in order to connect and oversee all the stakeholders operating in this field, stating that, "Israel will become a powerhouse for alternative meat and alternative protein."
While the Singapore Food Agency (SFA) was the first to approve the sale of a cultivated meat product in the city-state, Aleph Farms, SuperMeat, MeatTech, and Future Meat Technologies are some of the world's leading cultivated meat companies–and all are headquartered in Israel. Aleph Farms, led by Co-Founder and CEO Didier Toubia, has been the first to cultivate a steak outside of a cow's body and to pledge to become carbon-neutral by 2025. It initiated a first pilot cultivation plant earlier this year. SuperMeat and Future Meat Technologies have debuted the first cultivated meat restaurant and manufacturing plant, respectively.
What will it take to bring cultivated meat to the mass market?
Israel has become a uniquely fertile ground for innovation in FoodTech, with tight connections among academia, industry, and the government. In a move to propel food innovation, the Israeli Innovation Authority established the FoodTech incubators "The Kitchen Hub" and "Fresh Start." Aleph Farms was founded and nurtured by The Kitchen Hub incubator of the Strauss Group, in collaboration with Professor Shulamit Levenberg of the Technion – Israel Institute of Technology, and with support from the Israeli Innovation Authority.
However, this is not enough. Governments around the world should be prioritizing alternative protein research and creating a supportive framework for this critical industry to develop–or they risk being left behind.
GFI executive director Bruce Friedrich said, "Globally, we need a space-race-type commitment toward making meat from plants or cultivating it from cells. This gesture from the Prime Minister really is one small bite for a man, but one giant bite for humankind."
GFI Israel presented Prime Minister Netanyahu with the organization's National Policy Plan, a detailed roadmap for making Israel the global alternative protein leader. Without regulatory support and government investment in alternative proteins, Israeli innovators might choose more favorable grounds for launching the future of meat.
One small bite for a man, but one giant bite for humankind.
It's no surprise that technologically advanced countries like Israel and Singapore are leading the way in making meat in new and better ways, especially since they are both very small. Making meat from plants and cultivating it directly from cells is far more efficient. If Israel and Singapore want to produce meat in their own countries, they can produce much more by cultivating it from cells instead of growing crops across vast areas of land to feed animals and produce meat conventionally.
Alternative protein production could prove to be a central economic growth engine for Israel (and governments around the world). If the Israeli government supports this industry, the country could enjoy 11,000 additional jobs that would earn billions of dollars each year. Moreover, Israel–which currently exports only 5 percent of the food it produces–could become a global supplier of raw materials and advanced production technologies for alternative proteins. Government support has brought plant-based and cultivated meat this far. But to turbo-charge alternative protein innovation and bring these products to market, we need more government funding for scientific research and development.
A sustainable and efficient path forward.
Israel and Singapore are currently leading the way on the transition to cultivated and plant-based meat. Now is the time for the EU, China, the United States, and other governments to put their weight behind alternative protein. Nothing is more important for the climate than a transformation in protein production, and plant-based and cultivated meat offer an efficient and sustainable path forward.
Header image courtesy of Aleph Farms.